My name is Sabrina Lacend, and I'm a 28-year-old woman and a working mother. Today, on my journey, I'm currently working in the dental field after overcoming a bad year due to COVID-19. Last year, I lost my job while working at Episcopal Hospital in the oral surgery department as the floor supervisor. I was recently promoted to that position from only a dental assistant. I was really happy to get a promotion so I could make more money and finally be a manager. I was very happy only to be hit by a pandemic that cost me my job. Thinking back now, it really was a blessing in disguise. I say that because it gave me time to really figure out where I wanted to be in life. Fast forward to now, I currently work at Jefferson Hospital as a dental assistant.
I'm from Philadelphia and lived all my life in the Kensington area. My father is from Puerto Rico, and my mother is from Philly. Kensington hasn't always been a bad place. It just took a turn in the last five years. I really had some good times and met great people in Kensington. I met so many good people who still are in my life to this day. Some people are so close to me I consider them my family. I remember so many good times at cookouts and parties. I'll hold those memories for a lifetime.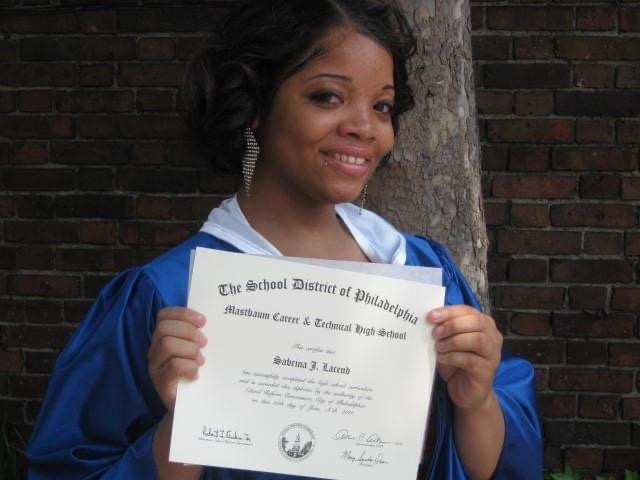 My neighborhood really didn't influence my high school experience. It really just motivated me to work a little harder and go the extra mile to be who I am today. I really didn't gain anything from Mastbaum High School. I solely focused on my work and on graduating. I feel like Mastbaum didn't help me with my development because everything I currently know, down to the profession I am in today, I learned by training and grasping it on my own. I can't say that my math classes, science classes, or the rest of the classes that were taught to me helped me in any way shape or form. To be honest, I feel like kids are just pushed to the 12th grade and left to figure things out alone. The public school system does not mold young adults to be out on their own in the real world.
They should add things that will benefit kids, like credit education, helping with college selections, and teaching students about student loans so they won't be in debt. I really wish Mastbaum would have geared me to be ready for things that would have truly benefited me. I think I would have made wiser decisions for my future.
Despite the odds, I am proud of the fact that no matter what curveballs life throws at me, I overcome them. I'm proud I didn't let a global pandemic bring me down. I really worked hard to get on my feet, not only for me but for my child. I'm proud to say I conquered losing it all to regain it back, times two.
My long-term goal is just to keep working my way up to the top and not stopping as long as I have a child who is watching me. My goal in the next five to 10 years is to be a homeowner and blossom in my career.
---
Editors: Solmaira Valerio, Zari Tarazona, Siani Colón / Designer: Jillian Bauer-Reese