Hi! My name is Matthew Taveras. I am a member of an organization known as Youth United for Change (YUC), a nonprofit youth organizing group. I am 17 years old and am currently a high school senior at Kensington Health Sciences Academy (KHSA).
When Joia McManus, 26, the YUC Kensington organizer, asked me to write about our campaign on addressing the issue of trash in Kensington, I was a little hesitant. This is because of my own feelings of alienation brought on by the issue of trash in my neighborhood, partly because trash has become an everyday thing for me. Whether I'm walking to school or the bodega, I always see some kind of trash.
Although this may seem sad for some, for me, it is just a part of my everyday life. When I joined YUC, I was told that we were working on a campaign centered around the issue of trash. My initial reaction was, "What trash?" Then as we got more in-depth into the work and I really thought about it, I realized trash is everywhere in my neighborhood. For example, trash borders the sidewalk and the street where cars drive and people sleep. We then walk through the street to avoid the trash on the sidewalk.
Read more: A Kensington resident's walk to school: 'There is a visible disparity of where the City chooses to spend their money
By separating ourselves from the trash, we keep ourselves from realizing the effect it has on us. We stop seeing eye to eye with neighbors who are going through the same thing as us. And it prevents us from caring as much about our community. The harsh reality is that we have become accustomed to these conditions. We look at our neighborhood the way others from the outside view us — like trash. Through Youth United for Change's current goal of cleaning up the streets of Kensington, I believe that we as a community will be able to see how this issue truly affects us.
'Walking through my neighborhood, I see the amount of trash that borders the streets'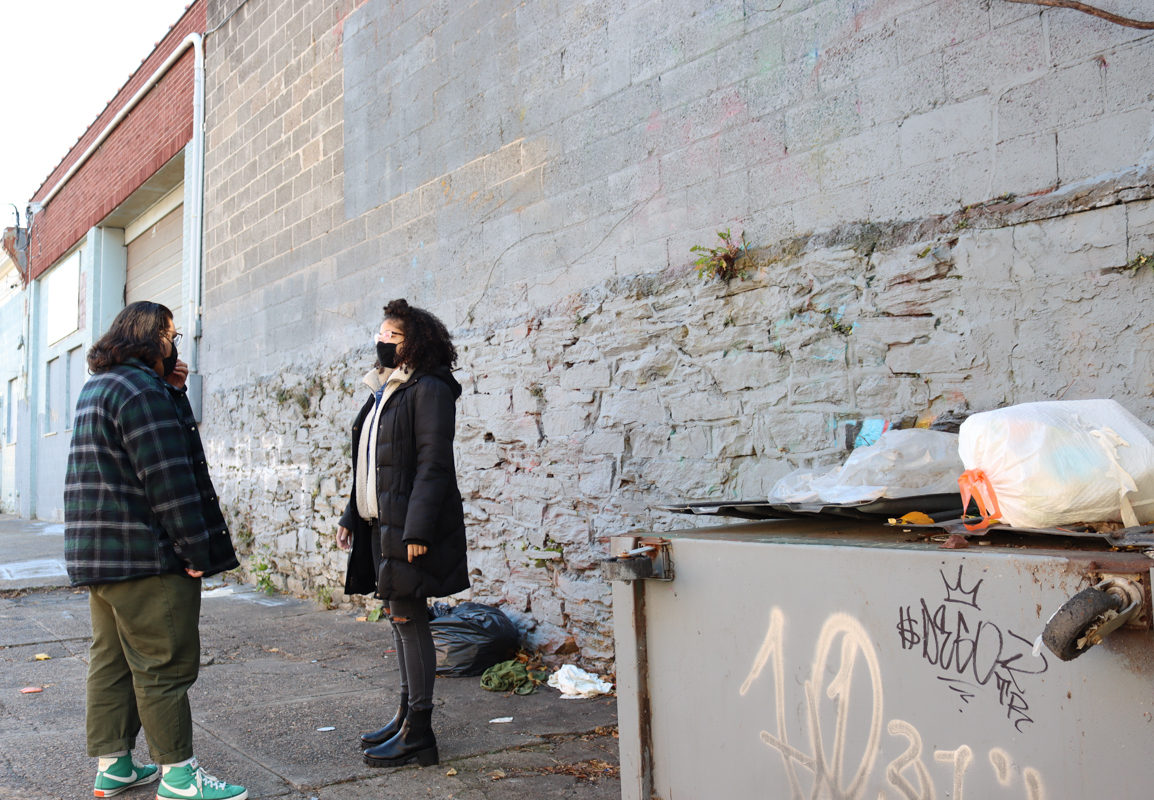 My walk to school consists of walking down the same street without changing lanes, and through this, I am able to see the disinvestment from our neighborhood. I walk south down Emerald Street to get to school. This has shown me how the City has failed us. Walking through my neighborhood, I see the amount of trash that borders the streets. Some streets are cleaner than others because of the cleanups organized by my neighbors. But once I pass the threshold that is Lehigh Avenue, I see the true issue. A neighborhood like Fishtown, which is less than a mile away from where I live, has better properties and is more cared for than the streets of Kensington. We can tell where the City of Philadelphia's true priorities lie, from the disinvestment of Black and Brown working-class neighborhoods to the funding of neighborhoods that have become overly gentrified.
On one side of a block, we have Kensington, a community of Black and Brown working-class people who have been fully disinvested in by the city. Trash piles line the street. Rodents run loose. The people in my neighborhood don't care about themselves or their community because of decades of being neglected by the city. Parks are empty, and kids don't play in the street.
On the other side of that block, we have Fishtown — also known as East Kensington — where the residents are predominantly white middle-class. In their neighborhood, the streets are clean, shops are full, business is booming, and gentrification rules.
Through decades of being neglected, we are able to see the alienation between community members and their community. For generations, the City has given Kensington residents the message that we are not worthy of support, resources, or funding. This has been drilled into our mindset, and now we have an internalized lack of value for ourselves, our community, and others. This mindset, paired with the worsening conditions of the neighborhood, has torn any hope of things getting better for us.

However, YUC knows that through People Power, we can win better conditions for our community. People Power is when people come together as a group to fight for change since individuals do not have enough power to fight against systems and institutions.
Asking the City and community for funding to address trash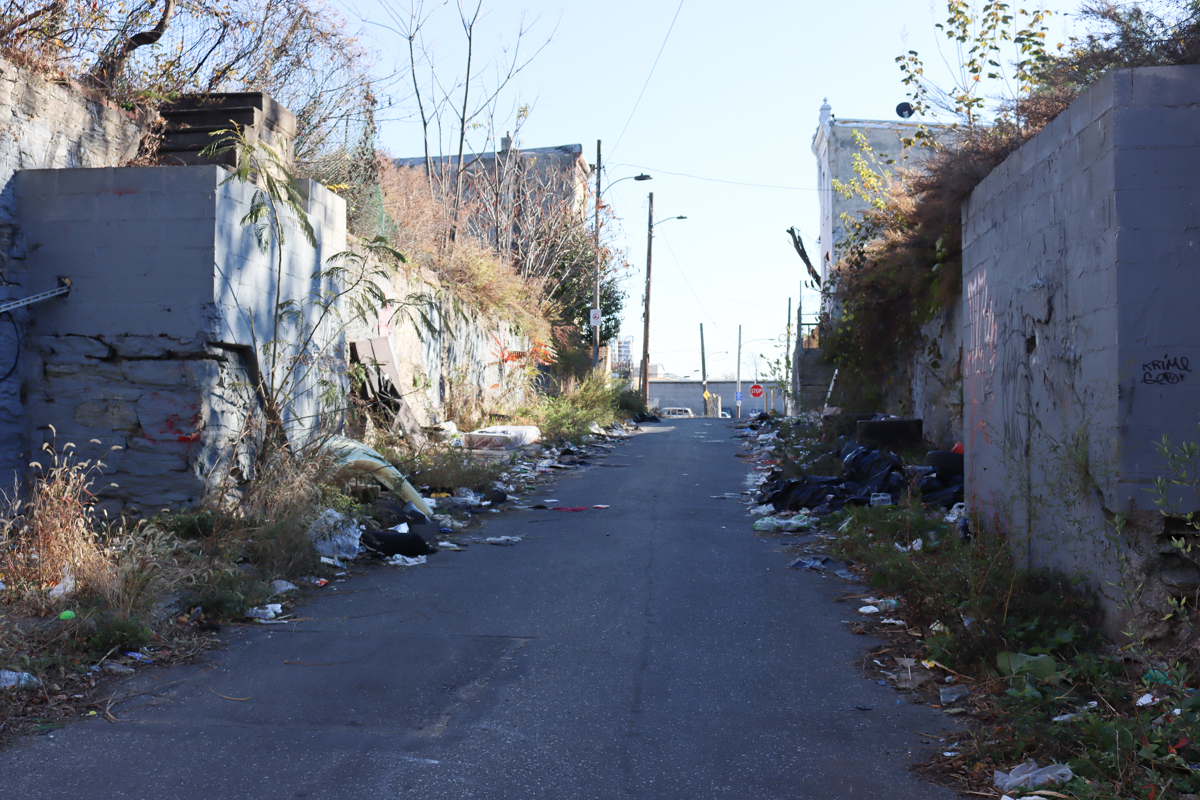 We plan to submit a funding proposal to the City of Philadelphia's participatory budget once the process begins. As part of participatory budgeting, groups and individuals can submit proposals to improve an area or community in Philadelphia. Residents are given the power to vote for the proposal their community needs the most. The participatory budget has $1 million set aside to give to the proposals that win the most votes. All Philadelphia residents can vote, regardless of age or citizenship status. YUC hopes that through our campaign on trash and our organization's hard work, we will be able to get a portion of that money to go toward cleaning up Kensington.
Our main goal with our proposal is to get the City to put funds from the budget into Kensington to help clean up the streets and bring a sense of safety to the community. Our demands are more public trash cans throughout the community, free personal trash cans for residents, and easily accessible dumping sites for large trash items. We want this work to start with the neighborhood surrounding Lehigh Avenue, with plans to expand to other areas in Philadelphia struggling with trash.
To read more about our campaign, check out this wonderfully written article by Antoinette Ellis.
We believe this will change how Kensington looks in the future. Not only will the City be responsible for making sure Kensington stays clean, but this will also bring community members together in the sense that they will be free from what alienates them from each other and their community. Through this, we will be able to reconnect with ourselves, our neighbors, our community, and our environment.
Overall, there are many factors that contribute to the alienation we feel as members of Kensington toward our community. Trash is a major issue that leads to our alienation, and YUC plans to help eliminate that issue. By pushing the City to do something that it should've done ages ago, we can finally feel a sense of safety and belonging in our community.
---
Editors: Zari Tarazona / Designer: Henry Savage