*Editor's note: Matt's last name was withheld for privacy reasons.
Content warning: This essay mentions substance-use disorder and suicidal ideation.
My name is *Matt, and I'm a Dominican and Haitian Philly resident currently living in Kensington. I lived in Northeast Philadelphia for about 26 years. I left home one day, came to Kensington, and ended up sleeping in the streets. I was homeless for at least a month before I met Patrice Rogers, founder of Stop the Risk, an organization that focuses on street outreach and provides an outdoor safe haven in Kensington for at-risk individuals.
I found out about Stop the Risk through Veronica Rex, a case manager at Prevention Point. I used to work for Prevention Point for about two years. In 2019, I ended up getting laid off. Afterward, I worked at Gaudenzia Re-Entry House but eventually left. A client had passed away, and during that time, I actually lost custody of my son. I had come back to Kensington to let my mind go. It was my type of suicide. Veronica helped me get employment with Patrice before even joining Stop the Risk. At first, I was earning funds by cleaning the property where Stop the Risk is located. Then Patrice started to explain to me how she's trying to help men in the community with her program. She explained that there are not a lot of programs out there for men. Stop the Risk aims to help men get back on their feet, obtain credentials, and guide them through the next step in their recovery. After she explained the program to me, I didn't take her up on her offer to join the program the first time. I was a little wary. I had been offered help many times before from other people, but every time I accepted help, the rug was pulled from under me.
For example, I remember I was supposed to get into a program with a lot of perks. They also offered me help with housing. I was first in line, and they still gave it to someone else, even though I did all my paperwork and was ready. In my experience, there's a lot of favoritism when it comes to being accepted into these programs. It's just really rough. Something always went wrong, or people always had a hidden agenda when I accepted help in the past.
After meeting Patrice, I slept in the park and at Allegheny station, wandering around the streets. It got pretty dangerous for me. I had my ID and wallet stolen and got into a couple fights. After that, I found myself back in front of her facility, looking for help, and hoping her offer was still available.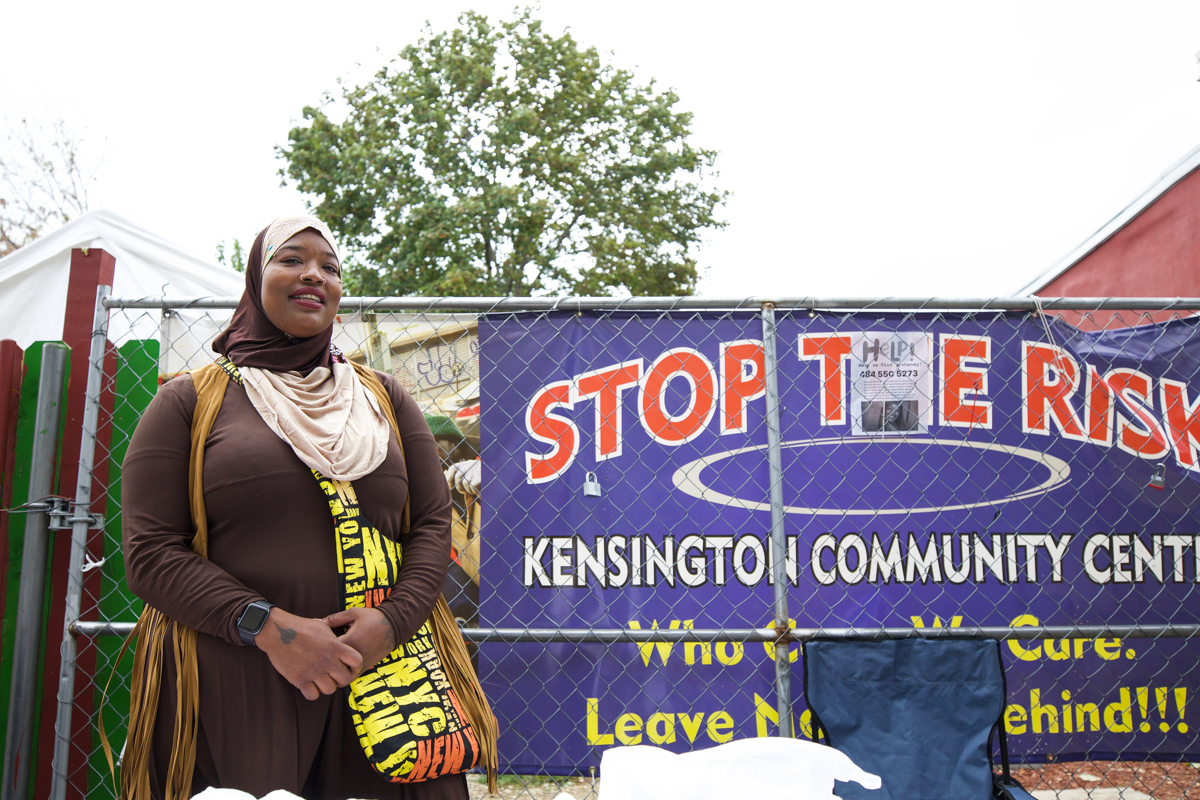 Patrice interviewed me, and I talked to some of the residents here. From that moment on, I was allowed to stay. She gave me a chance to be a part of the program. I was actually excited and a little bit nervous. It was something new. Hearing so much about encampments, I was worried that it would be chaotic. Coming on board, I realized the program had more of a structure than I thought. We have different tasks such as maintaining the property, cleaning the facility and the streets, and assisting with serving breakfast which generally consists of cereal or peanut butter sandwiches. Patrice also gives us personal goals, such as working on getting our ID, our social security card, and other credentials. She also helped me get a job with the Community Life Improvement Program (CLIP) and with a construction crew.
My first night at Patrice's program was amazing because when I had to sleep on the streets, I always had to keep one eye open. So when I first slept here, I slept for two days. Patrice was so surprised. She would come and check on me because she never saw someone sleep for two days. My mind and body needed that rest. It was peaceful, and it was just comforting to wake up and know that all my personal belongings were still here. I also felt good being able to use a bathroom whenever I wanted. Patrice has this little kitchen set up, so it was great to wake up to a meal as well.
After my first night, I thought to myself, "This could work. This could be good for me." It could give me a second chance to settle down, prioritize, and put things back into some sort of perspective. I was blown away at how much she had here for the men: the bathrooms, the food, the tents, the feeling of peace. It was joyful. Despite my initial wariness of the whole program itself, after being here for some time, I've seen only success, and I gained so much beyond credentials. I was blessed with work. I eat regularly. I have clothes. Patrice has even given us the opportunity to network with other programs like Impact Services and One Day at a Time (ODAAT).
Before I met Patrice, I was out just roaming the world, diving deeper into addiction. I didn't have a destination, but I knew that my destination was suicide. I had no intention of living. I had lost everything. Being real is something that people in active addiction need. I recently learned to be open about my experiences, which helped me realize that being adopted played a big role in my addiction. Folks who are adopted are at a greater risk of falling into addiction whether it's alcohol or a substance. Learning about that helped me understand why I jumped into addiction so hard and that I have a very addictive personality. It's the abandonment issues that are tied to being adopted. Because of that I'm trying to better understand myself, why I feel that way, and what I can do differently to better myself in that area.
'I feel like spaces like Stop the Risk are really needed because not everyone finds safety at a shelter'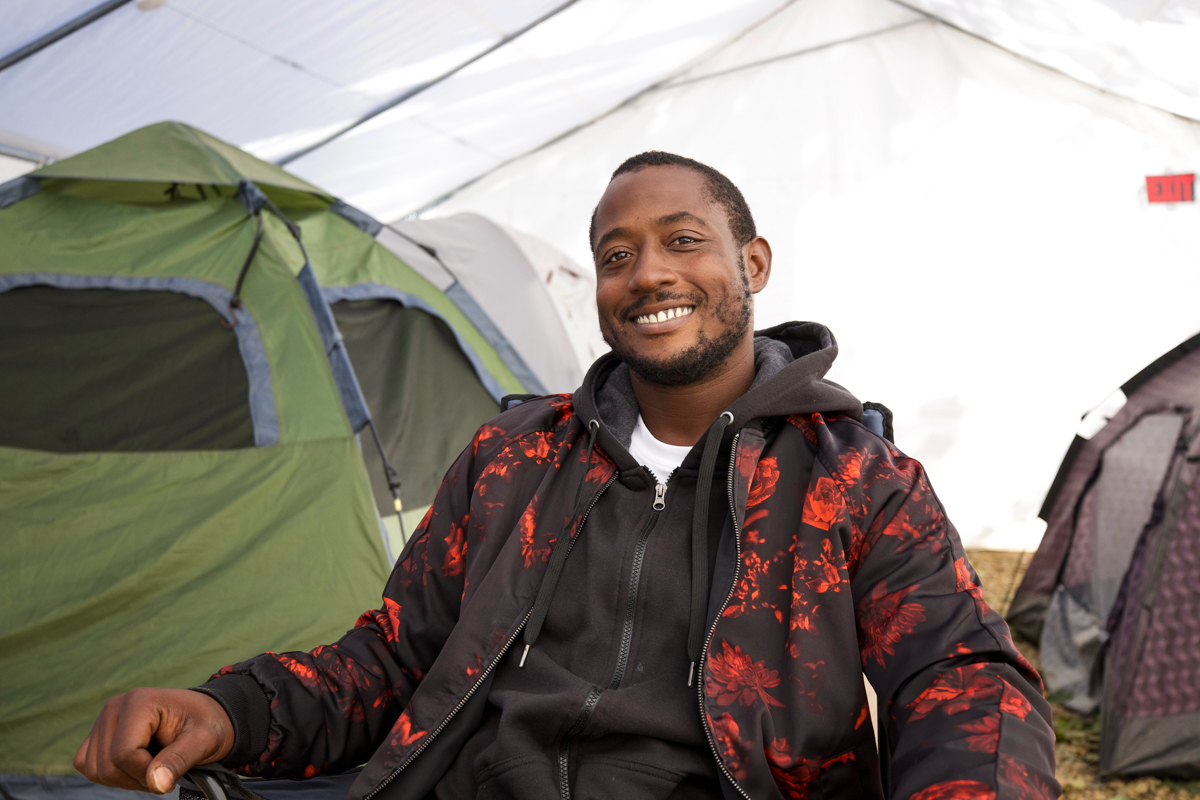 Along with learning more about myself and what works best for me, I figured out that shelters weren't a good fit for me. At the shelter, there were residents who had already been there for a year or two. They have grown accustomed to calling it their home, and even though I call Stop the Risk my home, there's still progress to be made. I felt like I was going to become complacent staying at the shelter.
Being in Patrice's program, beyond the day-to-day goals, there are constant tasks that need to be accomplished, like group projects or events. It encourages you to move. I feel like that has been a vital aspect of the program. In active addiction, I find myself being a loner and veering off course while doing my own thing. The group projects help us build life skills, to stay focused and on task.
The shelters offered groups, such as counseling and Alcoholics Anonymous (AA), and resources like a Suboxone program that would help get you set up to receive medication-assisted treatment (MAT), but you're still to yourself. You can participate in groups, but there's no personal interaction. That's what's missing. At Stop the Risk, we have to get involved. If you didn't know someone's name before, now you do. If you didn't know what they like, now you do. We get to learn more about each other which is good for our development and healing process.
So, I left the shelter because it personally didn't work out there, and being at Stop the Risk was safer. I felt like I made more progress, so for now, I plan on staying here. One thing I told Patrice was that I want to be able to give back for all the help she's given me and others. Staying here gives me a chance to give back to the program and show my appreciation.
Mainly, I feel like spaces like Stop the Risk are really needed because not everyone finds safety at a shelter. They tend to be overcrowded, and with overcrowding, you get overlooked. Spaces like Stop the Risk allow for more one-on-one attention and support since there's limited occupancy. Kensington is missing that type of love and concern; Patrice has that natural gift.
'We are human beings, and sometimes we need people to help us settle down'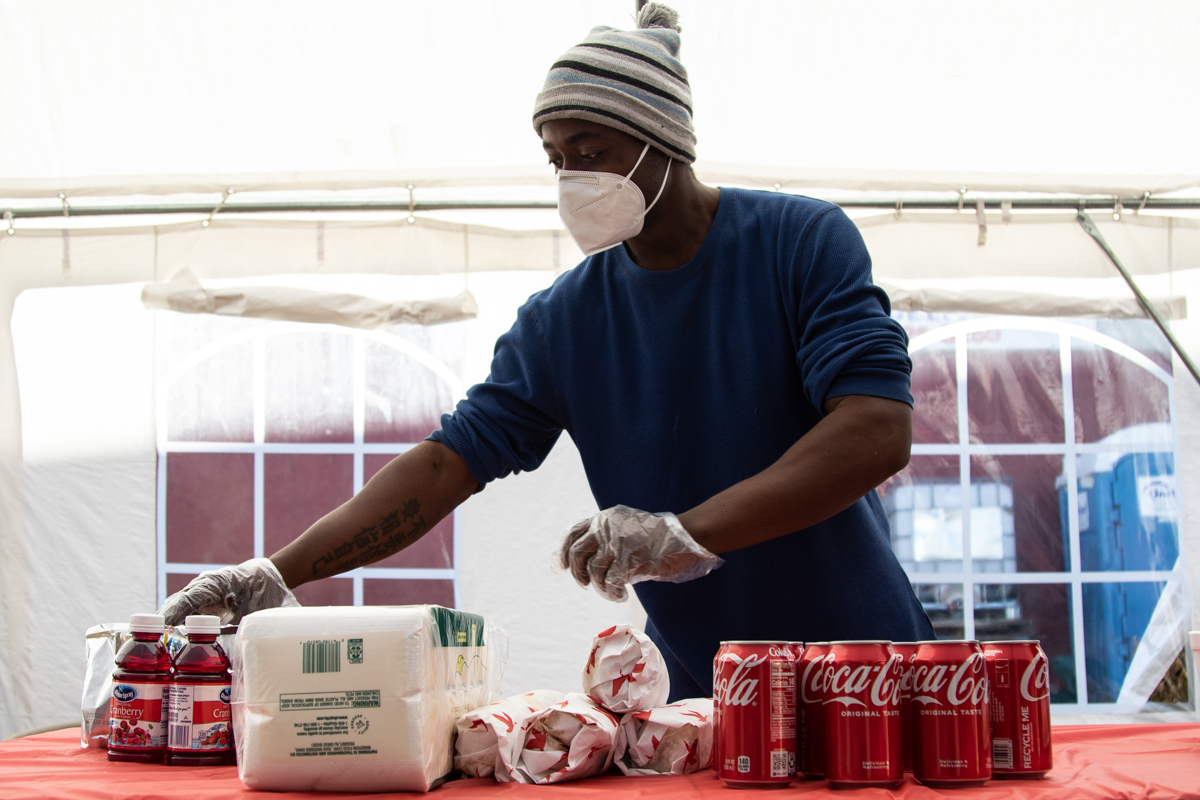 Being at Stop the Risk has given me a chance to find purpose again. It's one of the reasons I'm so appreciative of Patrice. Her program helps me stay focused. Out there in the streets, you're being pulled from one direction to the next. Her program has really helped me tackle each task, achieve success, and accomplish the goals I set for myself. One of the great things about her is she takes the time to reward us as a group for accomplishing goals. In October, she took us to the movies, and we saw the new "Halloween Kills" movie. Soon, we're going bowling. She's really good at allowing us to feel human again and be active members of society. Society has a way of treating folks like crap. What Patrice does makes me feel like I am on the right path and can succeed at overcoming this addiction and homelessness.
In the future, I want to continue my career path in the medical field, specifically nursing. I went to school for medical assistance and phlebotomy. I've also been a certified recovery specialist. Working in the behavioral health field was interesting and eye opening. My past experiences with school allowed me to connect with those in active addiction, and even those who aren't in active addiction. It helped me educate them. But my heart is just driven towards being a nurse. I always look at where I'm gonna be in a few years and consider what jobs are going to be of necessity. The medical and behavioral health field are made up of jobs that people are always going to be needed at because someone always needs medical attention or counseling.
Along with my educational background in the medical field, I've also traveled a lot. My adopted family and I traveled the world. I've taken cruises from the time I was 4 till I was 16. I've been to private school, so I was in the missionary field. We went to Cochabamba, Bolivia; Ponce and Bayamon, Puerto Rico; and Dunn's River Falls and Park in Jamaica. It's a big waterfall that you climb up; it's very beautiful. I've also been to Hawaii twice. When I was 16, I got into mixed martial arts to learn self-defense skills to protect my sister. My mom always told me that if my little sister came home with a scratch, I better come home with the same scratch too. I do have a son, so I'm really into cartoons. I love anime. I just grabbed two graphic novels from the library, and I've been trying to get back into reading.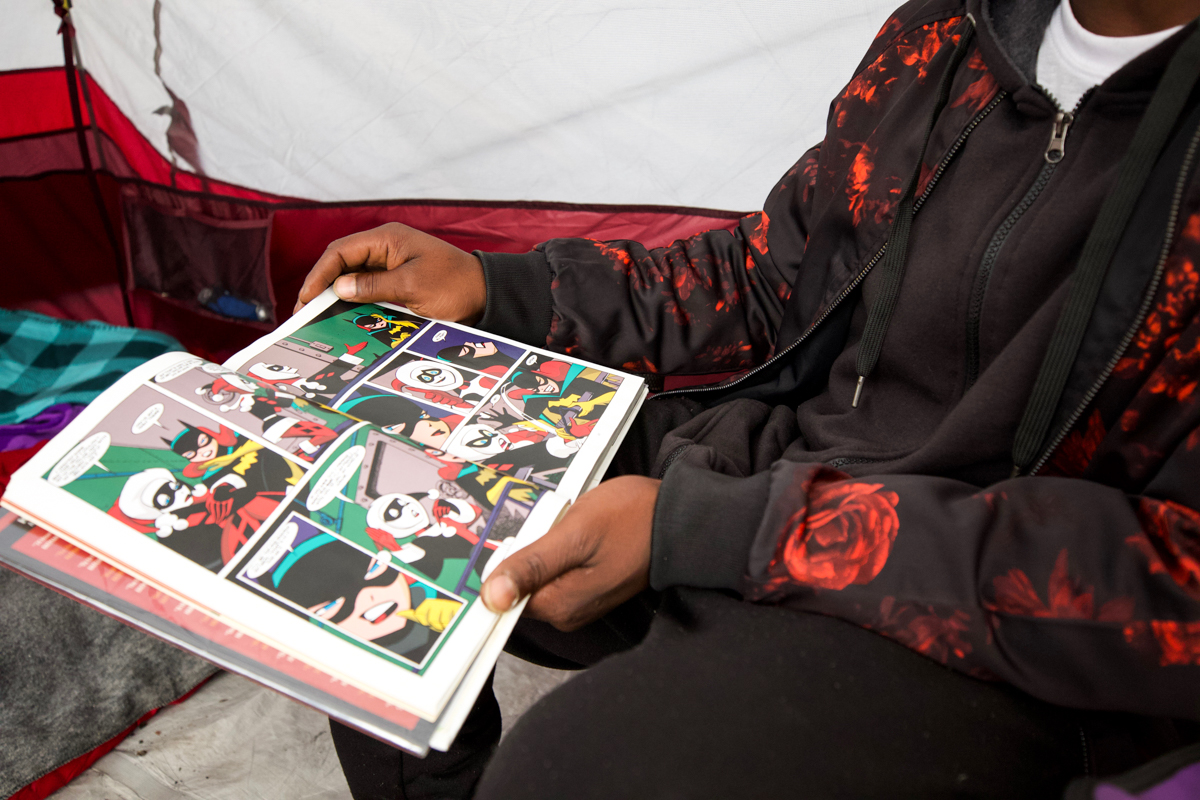 You forget about some of the memories as they become repressed. Sitting here, reflecting, has brought back some really fond memories. Sometimes, you get teary eyed because you recall memories that you didn't even remember were there. This is why programs like Stop the Risk are important. It shows us we are human beings, and sometimes we need people to help us settle down. That's why I love Patrice, for all she's done for me. I came out here to be in a coffin, and she brushed the dust off, dried my tears, and helped me stand back up again.
If there are folks out there who don't believe in programs like Stop the Risk, I hope reading my story will shine some light on it. There's true success that can come from programs like Patrice's. Some folks have succeeded, but we need more people to believe, have faith, and give finances. I told Patrice I'll be here until the very end just because I believe in her program that much.
---
Editors: Solmaira Valerio, Siani Colón, Zari Tarazona / Designer: Henry Savage