Art is our most universal language, and I see clothing as a language in its own right. It's a symbol. It reveals things about your internal world externally. Growing up, I've always created things. It was the only thing that came naturally to me, I could expand my world. I didn't know the term harm reduction as a teenager, but that's what I was regularly doing with my art.
I remember being very sick in high school to the point where I couldn't go to school. Sometimes, I went in for the arts program, but I was homebound for all my main subjects. I had a port and was getting infusions for Crohn's disease in a cancer center at Chester Crozer Hospital every other day. That deeply impacted my life. I took tons of medications like Oxis, Xanax, Soma, etc. I was regularly staying in the hospital.
At 16 years old, I spent time at the Seashore House at the Children's Hospital of Philadelphia. I saw all kinds of kids who were paralyzed, burned, and missing limbs. I remember doing art therapy for the first time there. I did art and music therapy along with all kinds of physical therapy. I saw the importance of it to healing, not just for me as an artist, but for all the patients. Art is inside of us, and we can't unlearn it. Art is medicine to me.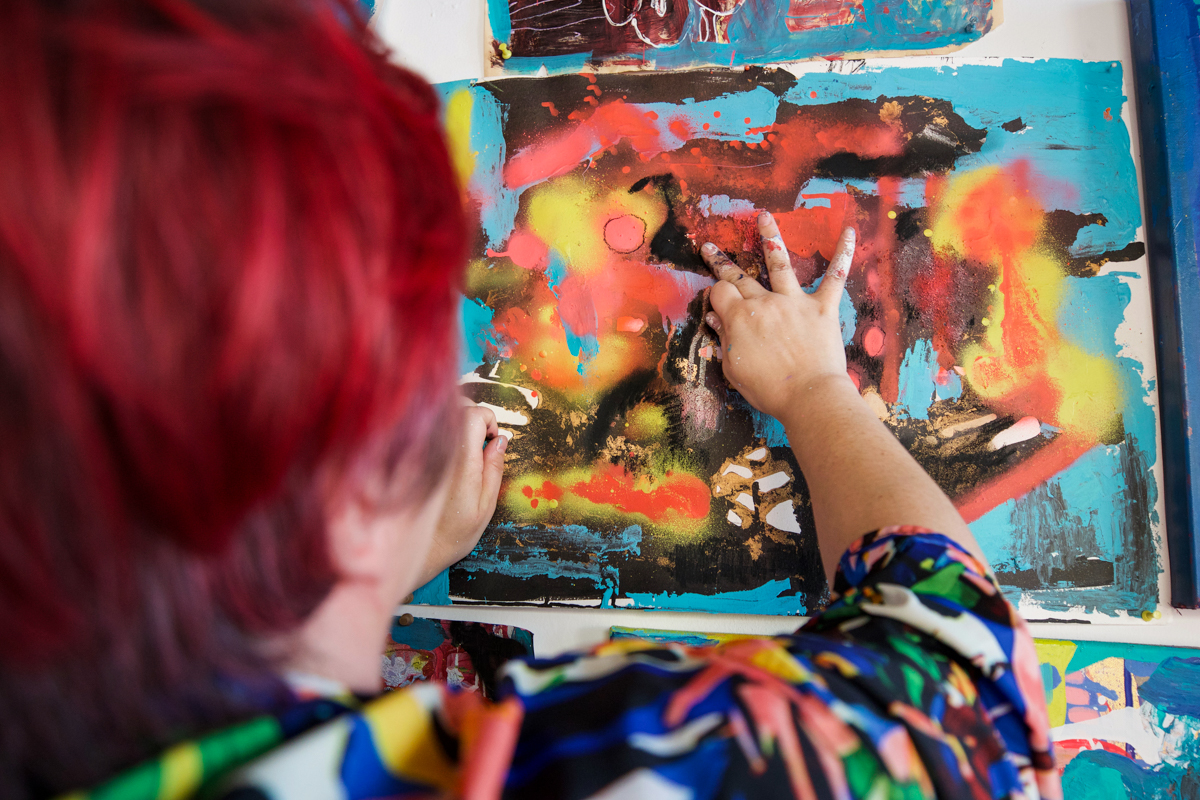 At home, my father was severely disabled. My mom was his caregiver and was suffering from her own diseases. My cousin, who was raised like a brother, died at fifteen years old. There was never a break from pain; it was sort of central to my existence. That pain had to go somewhere. It had to transform into something beautiful. Again, that's where art came in and kept me going. My parents never limited my expression, and I'm grateful for that. They kept me educated, and my education gave me the resources to tell my story.
I am currently an artist working in multiple mediums, including fashion design, painting, spoken word, stop motion animation, photography, digital art, and murals. I received my Bachelor of Fine Arts (BFA) from Moore College of Art and Design in Philadelphia. I've been working in Kensington for six years at the Papermill Art Studios, and I have led workshops at The Kensington Storefront for four years. The Kensington Storefront is a Mural Arts Porch Light Program that provides free art workshops and resources to the community. Mural Arts and the Storefront gave me this artist residency as an opportunity to work with community members to beautify Kensington in a unique way.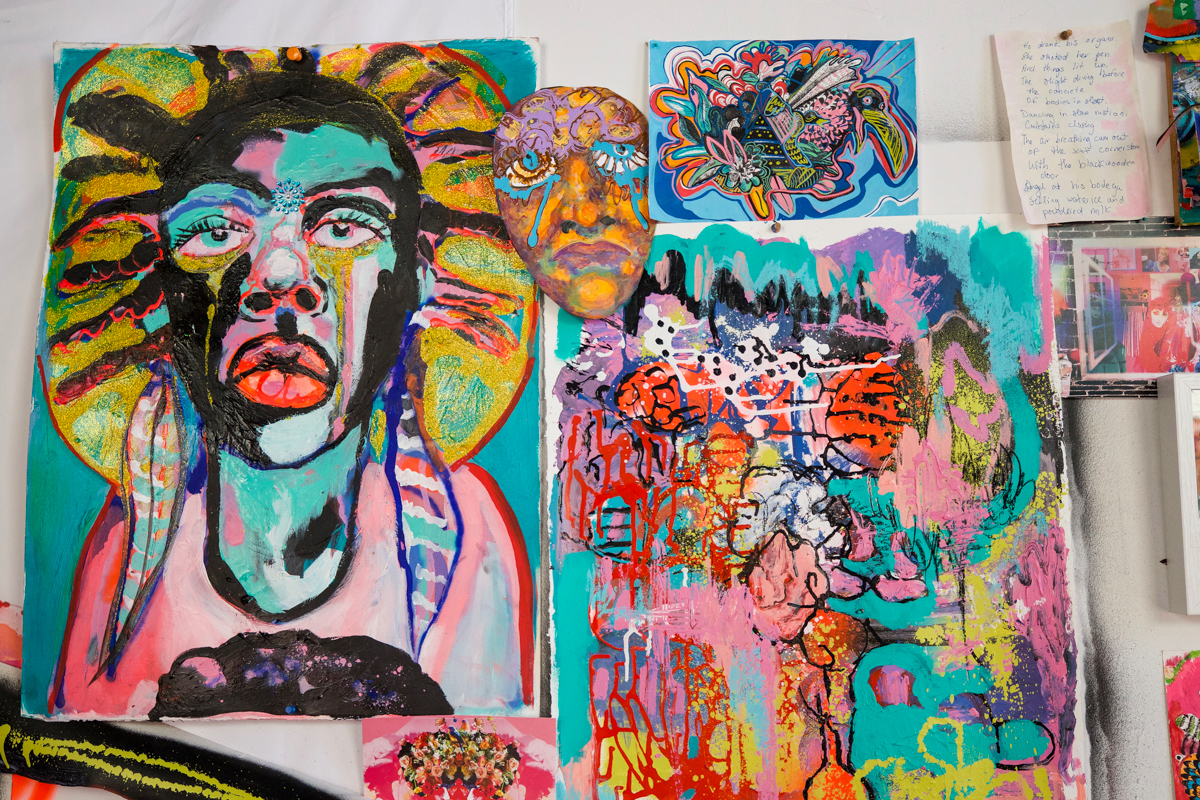 Kensington has an energy, a rhythm, and a remarkable pain. Most importantly, it's undeniably resilient. Personally, I struggle with Treatment Resistant Major Depression (TRMD), Complex Post Traumatic Stress Disorder (CPTSD), and autoimmune diseases that cause chronic pain. I am a single mom living in poverty. I struggle to survive like a lot of people living in this community. I've also lost a lot of people in Kensington to overdoses. Addiction has always been prevalent in my life and working with people who have substance use disorders has been very healing for me.
Some people ask me why don't I just leave; there's so much trauma here. However, I feel a sense of loyalty to this neighborhood. I know I have something to give here. My experience in Kensington has been transformative, especially working with unsheltered people. I have taught art as a form of harm reduction and really focused on being an advocate for the people I work with. I love this neighborhood because it constantly reveals the depths of the human spirit.
One of the ways I have used art as a form of harm reduction is through Streetwear for Survivors, a project that was a part of my residency at the Kensington Storefront. Through that work, I made a line of clothes for the community that is inspired by the community.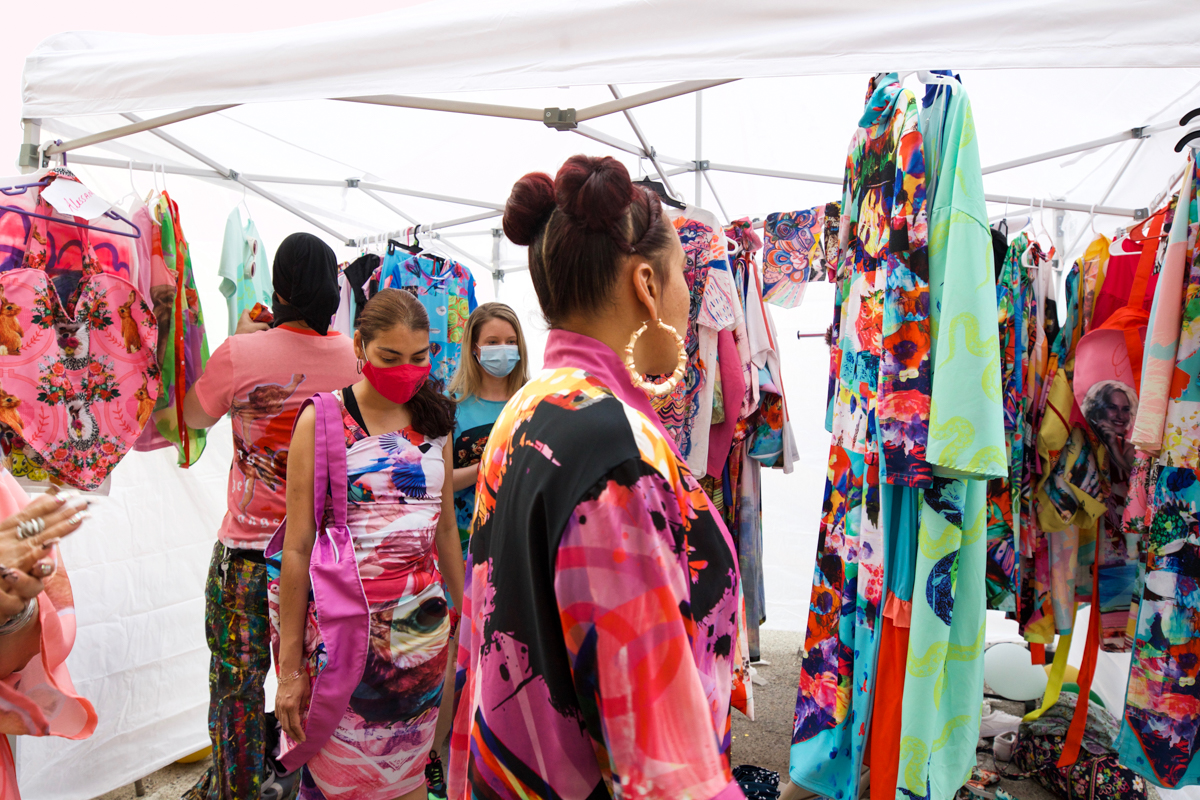 Streetwear for Survivors is more than your average streetwear. It's artwear. I think of clothing, especially since I've been working with unsheltered folks, as a shield. When you see people literally praying for clothes, you really understand how significant clothing is. We need clothing like we need food and water. Our government doesn't recognize that. They give people food stamps, but they forget people need clothes too.
Sometimes, people in Kensington get used clothing. If they're really lucky, they might get something new. However, I've never seen them get something specifically crafted for them.
Winters out here are very desperate for our unsheltered community and it's definitely traumatic for residents to live among all that pain. This collection was made for the spring. It's about rebirth. A new found rhythm. There's vitality. Everything was considered: the texture, color, and movement. Most importantly, I focused on comfort and protection. That's why I made matching masks to protect people from COVID-19.
The design of the pieces are like poetry and storytelling. They are made in prayer that whoever wears them will be protected, and will find comfort within them. Much like when I grew up, my Italian family and I always had to wear horns, an Italian talisman used for protection against the evil eye. I kind of thought of the clothes as a symbol of protection. At least, that was the love and motivation going into the work. This collection took me six months to make.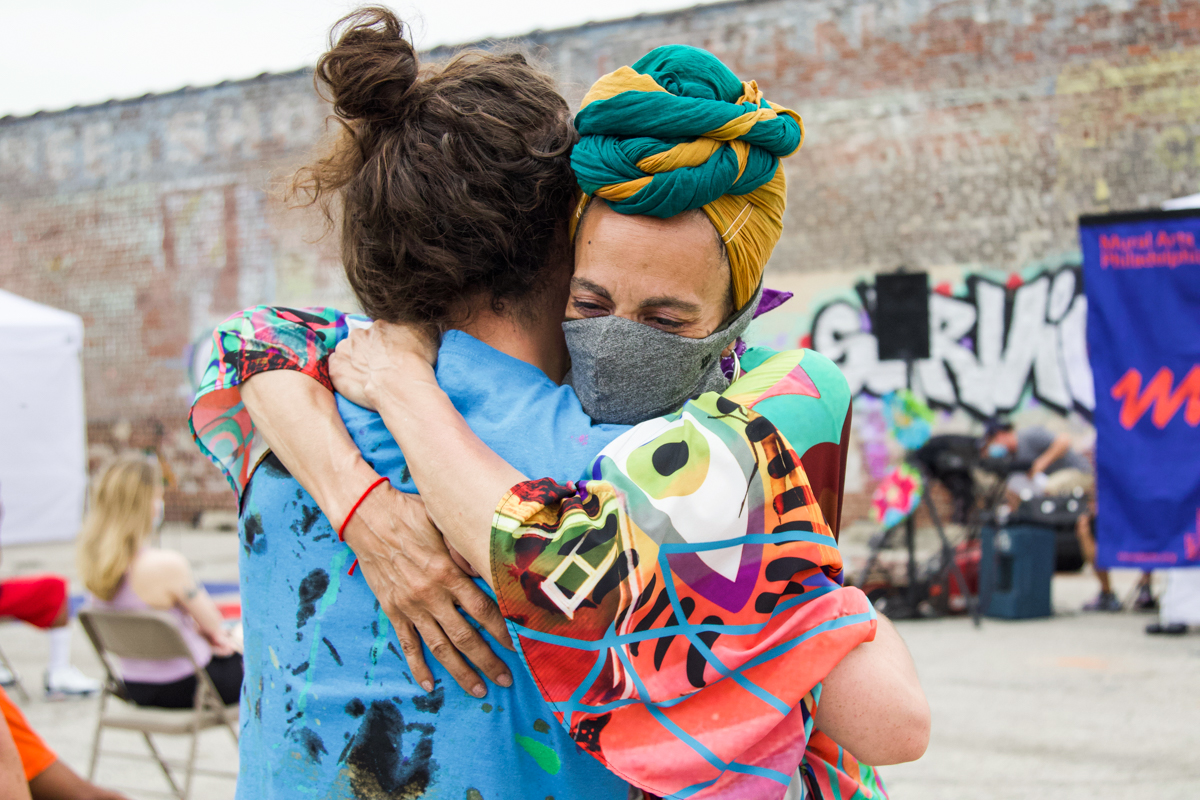 Survivors on the runway
The runway show on May 22 at The Love Lot was the culmination of my artist residency where I revealed my collection. It was meant to really bring the community together, and it was successful. Everything I envisioned it would be. Models and guests included both unsheltered people and residents as well as advocates who have worked in Kensington. Some of the models I chose were because of their stories of survival. There was a remarkable strength and beauty to each of them, so I wanted them to really feel recognized.
Among them was rapper Bianca Rivera, and a poet who goes by CRIP who performed and modeled. Longtime Kensington resident, artist, and activist Marilyn Rodriguez was also one of the models. She really stole the show as she danced up and down the runway, bringing kids from the audience onto the stage.
We were also blessed to have the world-renowned poet Ursula Rucker and her amazing musical partner Miles Butler perform. Together they are a force. They leave you with a real sense of hope and empowerment.
The show also included artists Anthony Carlos Molden, Leon Rainbow, and John C. Zerbe doing spray art. Children were creating their own spray art and graffiti pieces too. I was really happy to see so many children in the audience who were so enthusiastic and really became a part of the show. It was a beautiful evening.
[metaslider id=16419 cssclass=""]
'I didn't make clothes for any specific person, but I did make them for survivors'
After the show, the clothing pieces were donated and divided throughout the community to both residents and the unsheltered community.
As I worked, I thought of the street worker who might return from a date or even a sexual assault, as so many of my friends do, and that she would have the opportunity to change her clothes and wrap herself in one of my kimonos. To be able to have another outfit to change into, to shed that feeling on her skin.
I thought of a mother who has had a day full of worrying and just needs to wrap herself up in something comforting so maybe she can sleep. The person walking down the street who might feel just a little more pride that day. Maybe they have had the same outfit on for a week, and they get to change into one of my pieces.
I made each piece as I remembered people I met here and their stories. I didn't make clothes for any specific person, but I did make them for survivors. People that really keep going despite everything stacked against them. People with remarkable spirits.
I feel really blessed to have had this opportunity to show the Kensington community how grateful I am to the people who have shared their stories with me and inspire me every day.
---
Editors: Solmaira Valerio, Siani Colón, Zari Tarazona / Designer: Henry Savage

Kensington Voice is one of more than 20 news organizations producing Broke in Philly, a collaborative reporting project on economic mobility. Read more at brokeinphilly.org or follow on Twitter at @BrokeInPhilly.