When I left the Florida Department of Corrections (FDOC) in 2012 (after serving one year for selling stolen property at a pawn shop), I was driven in a van to downtown Jacksonville, given $50, and dropped off on the streets to fend for myself. I wore my state-issued gym shorts, a ripped T-shirt, and prison shower slides on my feet.
As I looked around at my environment in awe of my new freedom, I was also worried about what I was going to do to survive. After years of substance use, I had burned down every bridge and was on my own, scared with no place to go.
I used the $50 to get a cheap hotel room, and the next day, out of sheer desperation, I shoplifted work boots and a toothbrush from Walmart. I went two days without eating while I looked for employment. Against all odds, I was able to find a shelter to live in and two menial jobs, then started to put my life back together one piece at a time; however, it was a struggle.
More than 600,000 Americans leave prison or jail every year and many returning citizens, after having paid their debt to society, walk out of a correctional institution with nothing but the department of corrections (DOC)-issued clothing on their back.
They often have no transitional housing secured, no employment opportunities, no cell phone, and no money for food or public transportation. Many leave without the vital documents needed for everything from opening a bank account to starting a new job. Others may have the basic necessities to survive but need additional resources like mental health support, substance use treatment, or mentorship in order to truly succeed. Some just walk out of prison or jail into homelessness – a terrible situation for anyone, but a nearly insurmountable obstacle for someone leaving the justice system.
It wasn't until a week after my release that I discovered a reentry center that could help me – a service I needed so much sooner and was never told about by the FDOC.
I didn't see myself as a victim though. I was contrite and had learned a hard lesson. But it felt like after I'd completed my sentence, I was released with little chance for success. As far as the FDOC was concerned, their responsibility for me ended the second I hit the gate and left – which could be one of the reasons the average recidivism rate (returning to prison) in the U.S. is around 68%. Two out of three people who are released from prison reoffend within three years.
Sometimes all it takes is a helping hand to get on your feet after serving your sentence, but many people don't know the problems faced after incarceration or how difficult it is to find the things needed in order to thrive and be a productive member of the community.
A helpline for resources
One program that could be beneficial to returning citizens in Philadelphia is PA 211, a helpline sponsored by the United Way of Greater Philadelphia and Southern New Jersey. PA 211 is a free, easy-to-remember phone number and website that connects Philadelphians with important resources in local communities, and is available 24 hours a day, seven days a week.
The PA 211 website has a special link to reentry resources for people getting out of jail or prison, and although it is not connected to all city-wide organizations that help with reentry, it has the potential to be a first stop for returning citizens.
"We're doing our best to help the formerly incarcerated community in Philadelphia," said United Way's PA 211 Senior Director, Cinda Watkins. "That may mean finding a job or basics like food and clothing."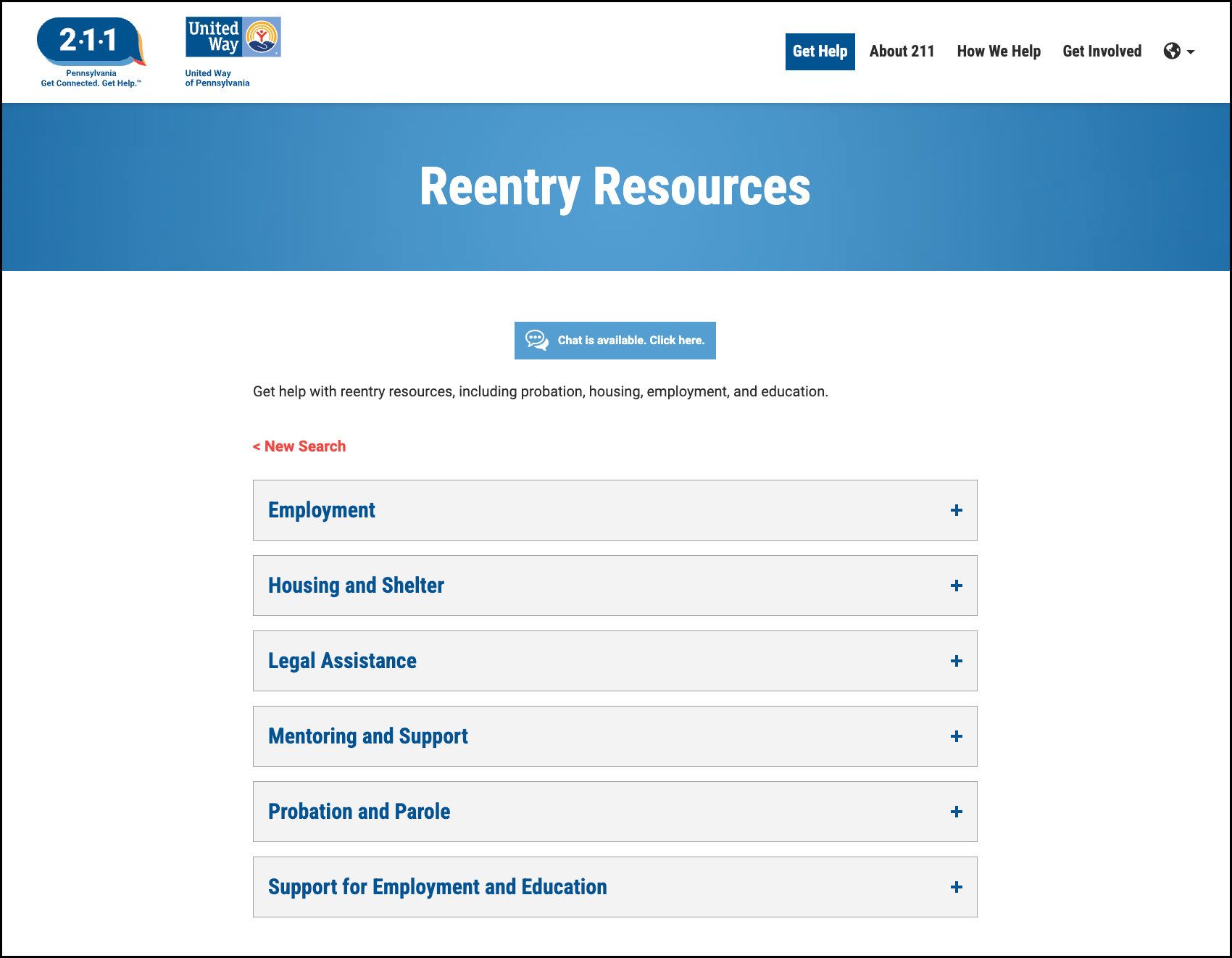 While the reentry resource link does provide links to career centers, the helpline and the website have virtually no housing options for returning citizens. Finding a place to live is one of the biggest problems men and women face when returning home. For example, at the time of this reporting, under the general Housing and Shelter section of the helpline, there are 67 areas of interest with hundreds of resources available; the housing link under Reentry Resources has six, one of which is available for men and LGBTQ+, the rest are only for women.
Director Watkins explained that the United Way can only provide the resources it has in its database, but staff are always open to new partnerships with agencies that provide vital services.
"We'd like to build more organizations into our database, and be able to point people in the direction of other nonprofits that offer resources," the PA 211 director said. "Our goal is to break down barriers and get more partners and service providers."
At present, the United Way occasionally seeks out new partnerships, but mostly leaves the onus on nonprofits and local organizations to contact them. This limits the helpline's ability to offer more services from large stakeholders in the reentry sector like the Philadelphia Reentry Coalition or the Pennsylvania Reentry Council.
Because there's a history of bad players taking advantage of justice-involved citizens, the United Way has strict inclusion/exclusion guidelines seeking to prevent wrongdoers from exploiting the system. As an added precaution, Watkins said her office regularly contacts helpline referrals to make sure that a partnering agency provided the services they claimed.
But as good as the PA 211 is in theory, in practice it needs more partnerships if it hopes to really help returning citizens. Information about obtaining identification, food assistance, child care, transportation vouchers, and mental health services for the formerly incarcerated are also lacking. Still, Pennsylvania is doing better than our neighbors: Delaware, Maryland, and New Jersey offer no reentry services on their 211 helplines.The United Way of Greater Philadelphia and Southern New Jersey receives $750,000 from the state of Pennsylvania, according to Director Watkins, to facilitate the entire helpline. While they do provide resources for Philadelphia's formerly incarcerated, more efforts could be made to add services that people need as soon as they step out of jail or prison.
Providing information to be successful
In order to be successful, reentry must start well before a person reaches their release date and walks out the door. The Pennsylvania Department of Corrections (PADOC) provides some reentry information to incarcerated residents before they leave, but it remains unclear as to how much the prison staff promotes PA 211.
When asked about the helpline, PADOC Press Secretary Maria Bivens stated that she's "not familiar with the United Way 211 service." This unawareness leads one to believe that PA 211 is an afterthought inside state institutions and not a lifeline.
John "Yahya" Moore was recently released from a Pennsylvania state prison after serving 27 years, and was never told about PA 211 while serving time. "That doesn't mean that it didn't exist," said Moore, "but I had never heard of it."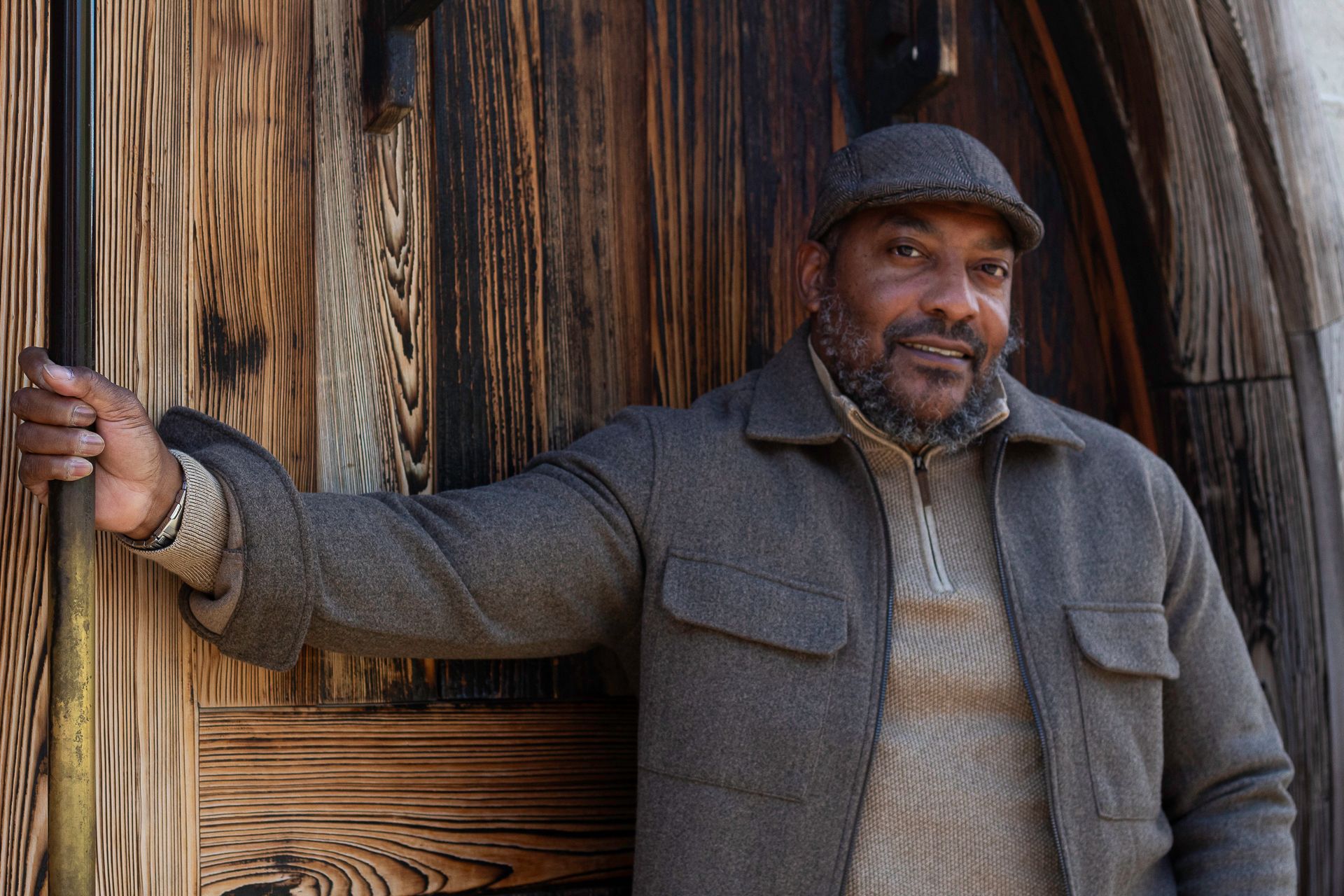 Moore, who won a post-conviction relief appeal, walked out of court after serving decades and had no reentry assistance offered by the state.
"I didn't need anything because I am fortunate, but some people come home to nothing," Moore added. "When you get out the most important thing is a support system, so this could really help returning citizens connect with the services they need."
Having a prison reentry specialist determine what a resident needs before their release, and then discuss the available options through PA 211, could be an invaluable step to assist incarcerated residents. But it has to be endorsed and offered freely.
Luis A. Resto, the PADOC Director of the Office of Reentry Services, countered that PA 211 is in fact a resource used by reentry staff and corrections counselors, and is regularly promoted by their employees.
"We not only provide one-on-one assistance with PA 211, but we have pamphlets and magnets in our reentry offices as well to push the resource," said Resto.
While this may be the policy from the top of the administration, in reality, it falls on overworked correctional officers and civilian employees to relay the important information about PA 211 to incarcerated residents. I know from experience that this does not always happen.
To be fair, some states are putting greater focus on reentry programs inside prison after years of neglect, but more must be done to inform incarcerated residents about the help available to them while they're still inside.
A promising model in Pittsburgh
One of the ways the United Way is doing this is through a pilot-program at the Allegheny County Jail in Pittsburgh, Pennsylvania. Upon intake, every incarcerated resident at the jail receives a personal electronic tablet to be used for communication purposes. United Way has now partnered with the county to provide a PA 211 application on those tablets, allowing people to freely search the database for local resources before they're released.
In addition, the nonprofit is providing physical pamphlets to residents, and has a case manager visit the jail to meet with prospective clients for their reentry services. Having direct contact with the people who need reentry assistance is a very important step, and these efforts can be replicated in any correctional facility in the state.
"We want to introduce the pilot to the Philly area so people have somewhere to turn when they get out," said Director Watkins. "But we need the department of corrections to approve the tablet app and educate their staff on making referrals."
Intrigued by the prospect, I asked Director Resto when we could expect the program in Philadelphia, to which he responded, "If the United Way is interested in expanding their pilot program I'm sure they will reach out to our reentry folks directly."
This apathy seems to be reflected in United Way's lack of reaching out to new partner services to improve the resources available on their PA 211 helpline. When pointing out that the organization has dozens of new partners to choose from in Philly, and that this reporter would be happy to identify some, Director Watkins responded by asking if I could help contact some of them.
While I know that Director Watkins' intentions were good, a multi-million-dollar organization like United Way, which is funded by the state to facilitate the PA 211 helpline, should be taking the initiative, not relying on a member of the media to make introductions. Moreover, the director of reentry programs for an entire state prison system should both be aware of and boosting new reentry pilot programs in Philadelphia, the largest city in Pennsylvania.
Building an inclusive community
If the city of Philadelphia wants to promote public safety, then we should be helping returning citizens before and after they get out; after all, if someone has the resources to succeed, the chances of them reoffending and committing a new crime falls drastically. By offering key social services it reduces the recidivism rate and uplifts a struggling community of people who have paid their dues and want to move forward.
United Way is making headway in the reentry sector, but there remains a question about how effective the agency is with assisting formerly incarcerated Philadelphians. By partnering with more organizations and upgrading the PA 211 website, they could offer a more comprehensive list of resources that includes everything a person could need after incarceration.
There is a clear need for continued alignment of fragmented and siloed efforts in the reentry sector of Philly; the ecosystem is made up of many small programs and organizations who typically work independently and without oversight. In fact, a majority of reentry programs have never been evaluated by outside agencies. According to a 2019 Philadelphia Reentry Coalition study, 57% of programs have never been evaluated at all.
Adding many of these programs to the PA 211 helpline, and continuing service provider accountability, would create a one-stop reentry hub for returning citizens.
Last year, according to United Way's website, there were 850,000 visitors to the PA 211 website and 116,000 referrals to specialists were provided for community members seeking help (no numbers were available for reentry referrals). This sheer volume of inquiries is evidence that residents know about the helpline and will use it – what we need now is a revamping of the reentry resources to reflect the many options available.
"Returning citizens are an important part of our community, and our goal is to get everyone access and have their needs met," said Director Watkins. "It doesn't matter if someone was incarcerated because they're home now, and we want them to be successful."

Kensington Voice is one of more than 25 news organizations powering the Philadelphia Journalism Collaborative. We do solutions reporting on things that affect daily life in our city where the problem and symptoms are obvious, but what's driving them isn't.
Follow at @PHLJournoCollab.
---
Story edited by Syreeta Martin of Love Now Media.