Our annual holiday shopping guide is filled with ideas for where to shop locally in Kensington, especially if you're on a budget.
While gift shopping is typically done with a loved one in mind — a family member, friend, or significant other — choosing to buy locally can be a gift to business owners as well.
We hope you enjoy the following selections grouped by price: gifts under $20 and gifts under $50. The selections were collected through a public Google Form with help from the New Kensington Community Development Corporation's commercial corridor managers.
For information on where to celebrate the winter holidays in Kensington, click here.
Happy holidays!
Interested in having your business included in next year's gift guide? Send an email to editors@kensingtonvoice.com.
Gifts under $20
HOT BARGAIN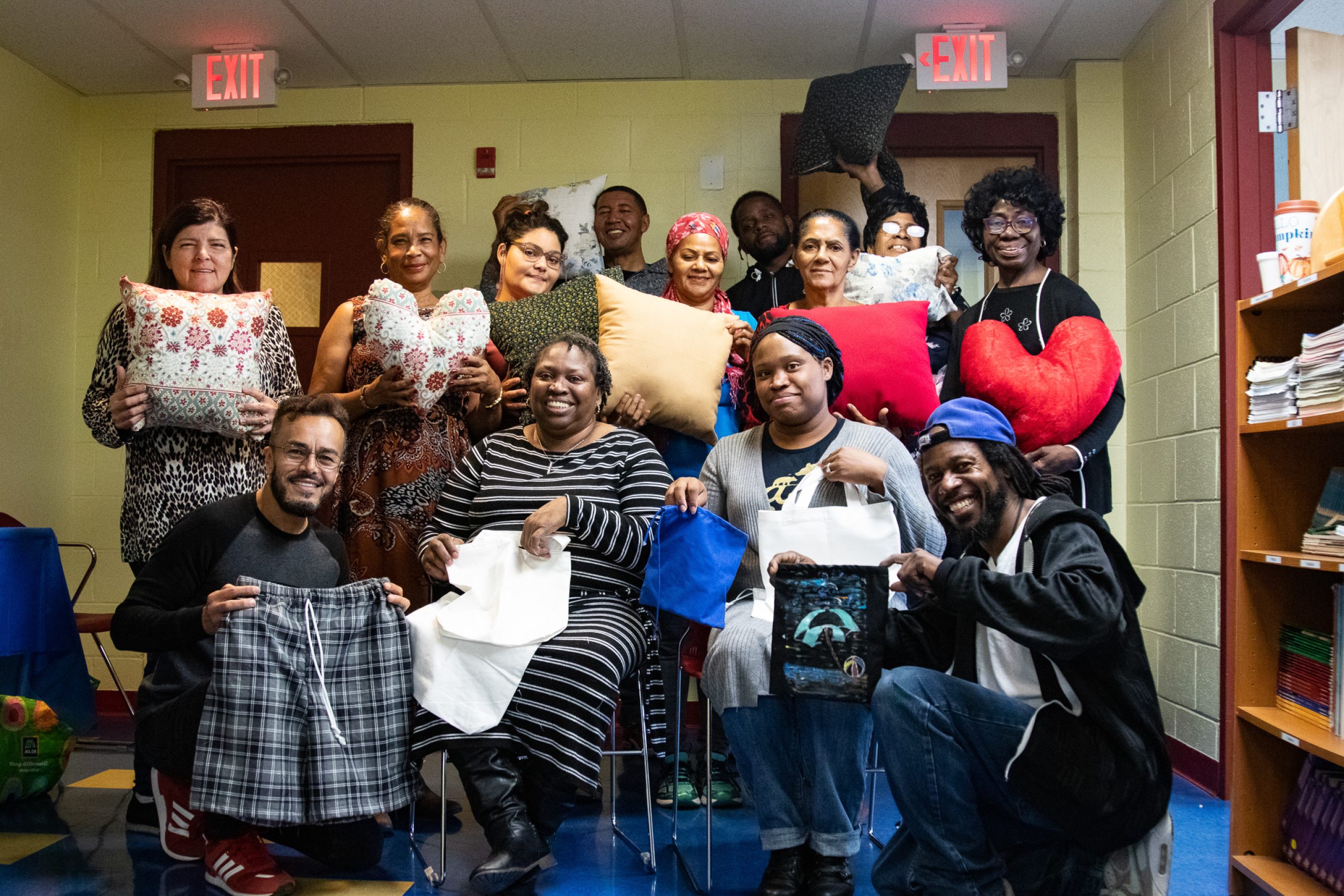 Patrick Ossel, the art director at the Community Center at Visitation, runs a sewing class at the center. Ossel recommends buying the bags made by his sewing class students. The bags will be free but donations to the center are encouraged. For more information, please contact the center.
Address: 2646 Kensington Ave.
Hours: Monday-Friday, 8:30 a.m.-5 p.m.
Phone: 215-426-9422
Email: admin@communitycenteratvis.org
Facebook: Community Center at Visitation
Instagram: @community_center_at_vis
Impresso Coffee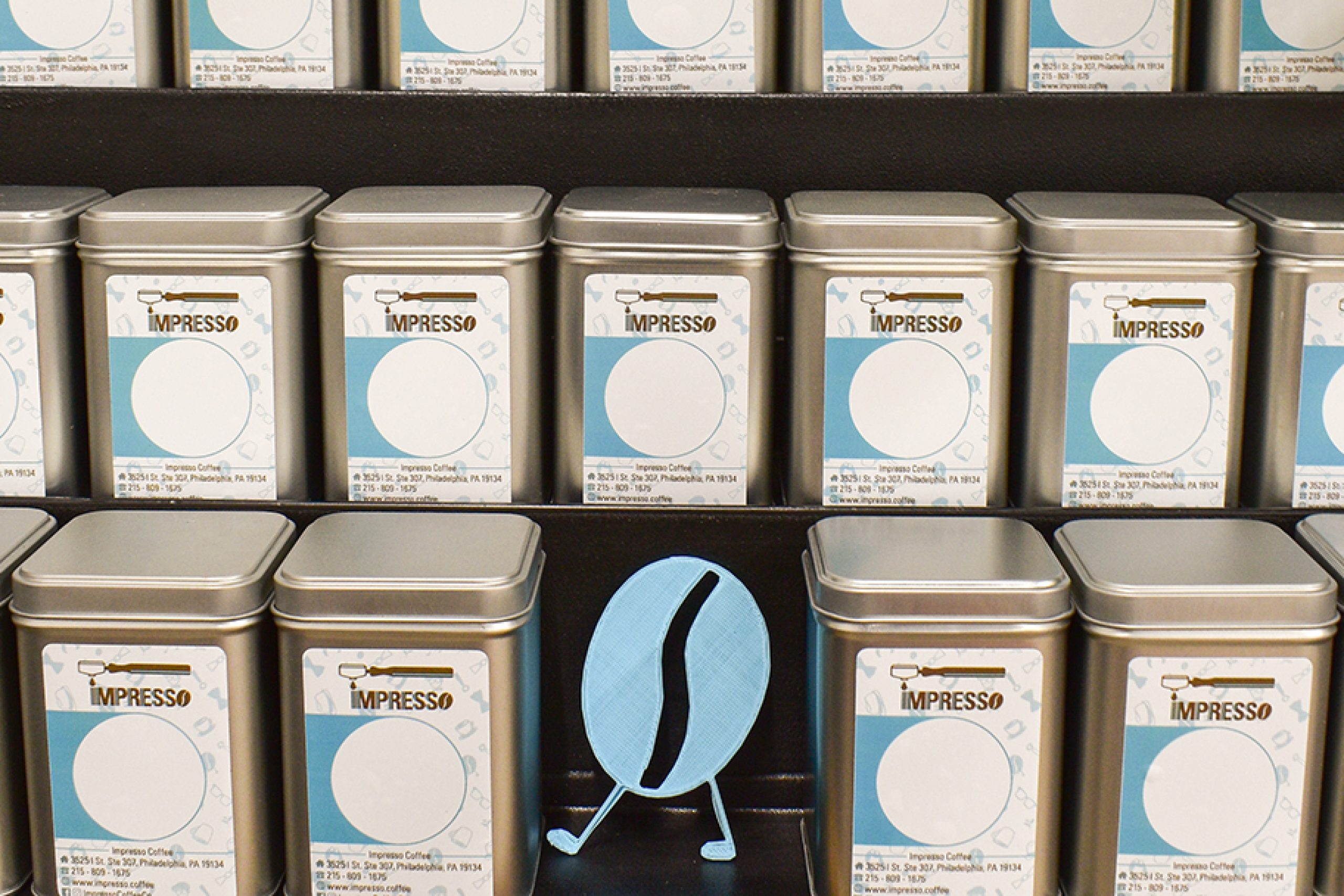 Impresso Coffee is a micro-roastery based in Harrowgate. The business sells an assortment of coffee, teas, and appliances. Owner Keith Rodemer recommends purchasing the Arabica coffee beans, which are sold in recyclable bags, reusable tins, and jars for under $20. Click here to browse Impresso Coffee's online shop.
Address: 3525 I St., Suite 307 (Ghost Cafe is temporarily closed)
Phone: 215-809-1675
Email: hello@impresso.coffee
Facebook: Impresso Coffee
Instagram: @impressocoffeeco
MADCRUMBS Bakeshop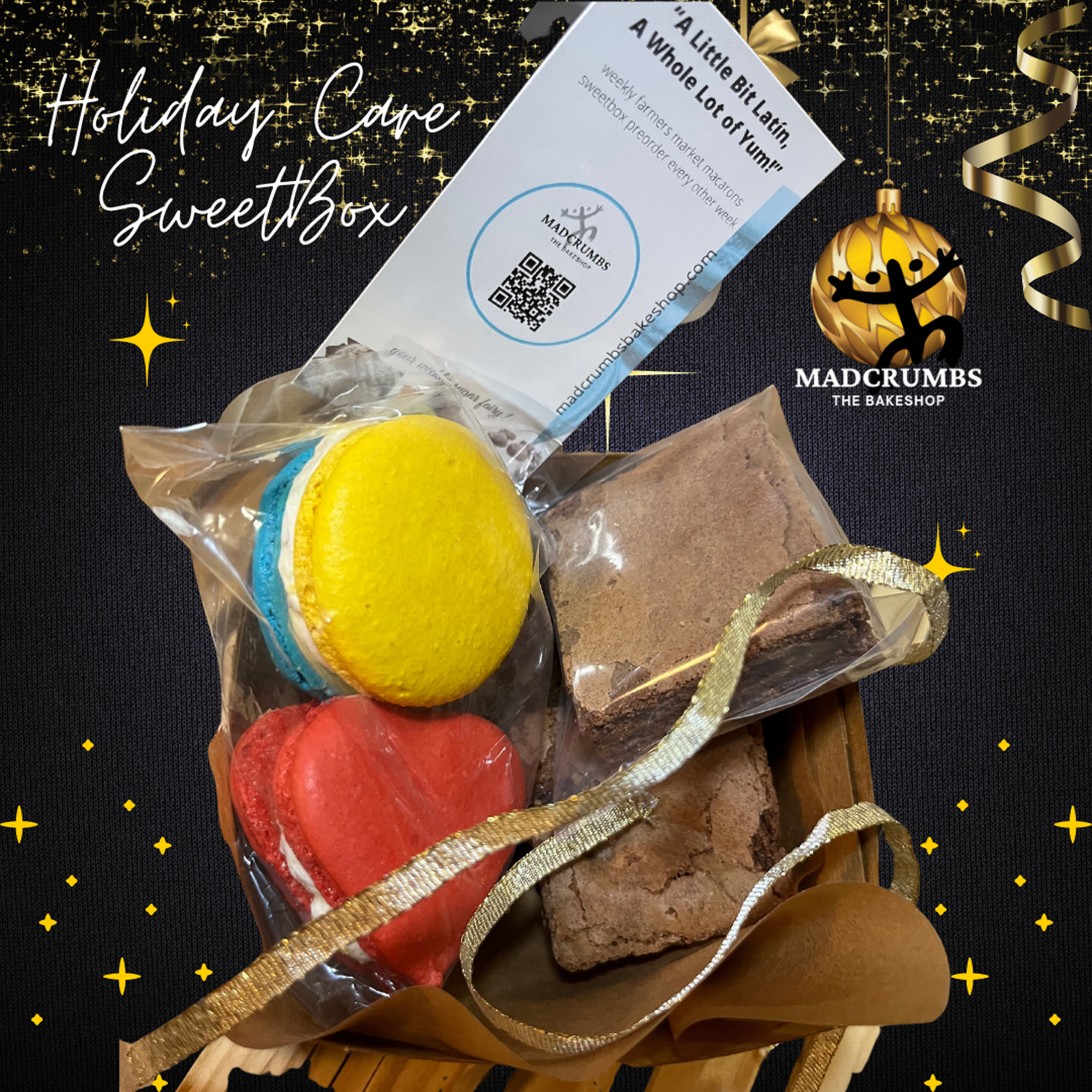 MADCRUMBS is a small-batch, artisanal bakeshop offering macarons and pastries with a Puerto Rican twist available for pick-up or delivery only. Owner Madeline Suarez recommends buying the Holiday Care SweetBox as a gift. The SweetBox includes chocolate truffles, brownies, coconut macaroons, egg tarts, and macarons for $15. The SweetBox will be available for online ordering on Dec. 1.
Address: Delivery and pick-up only; 2139 E. Cumberland St. (kitchen at St. Michael's Church)
Phone: 267-769-8837
Email: madcrumbsnsweets@gmail.com
Facebook: MADCRUMBS by Maddy
Instagram: @madcrumbssb
Sunny's Hot Chili – Vientiane Bistro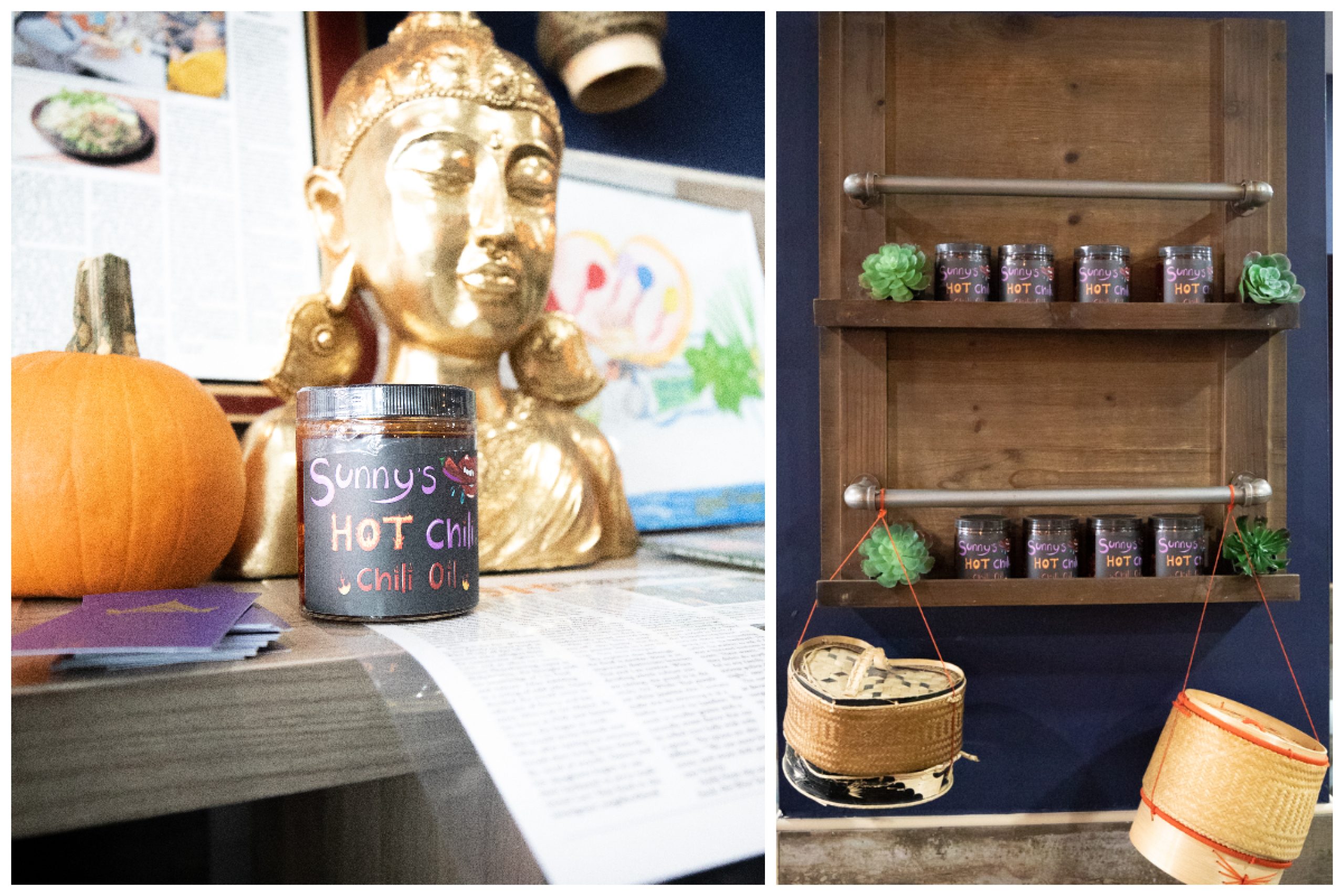 Vientiane Bistro serves traditional Lao-Thai cuisine with vegan, vegetarian, and gluten-free options in addition to meats. Sunny Phanthavong, co-owner and head chef of Vientiane Bistro, recommends buying Sunny's Hot Chili Oil as a gift. You can purchase the spicy garlic-flavored sauces for $12 at the restaurant.
Address: 2537 Kensington Ave.
Hours: Monday-Thursday, 12-7:30 p.m.; Friday-Saturday, 12-8 p.m.
Phone: 267-703-8199
Email: info@vientiane-cafe.com
Facebook: Sunny's Hot Chili
Instagram: @sunnyshotchili
Gifts under $50
Cantina La Martina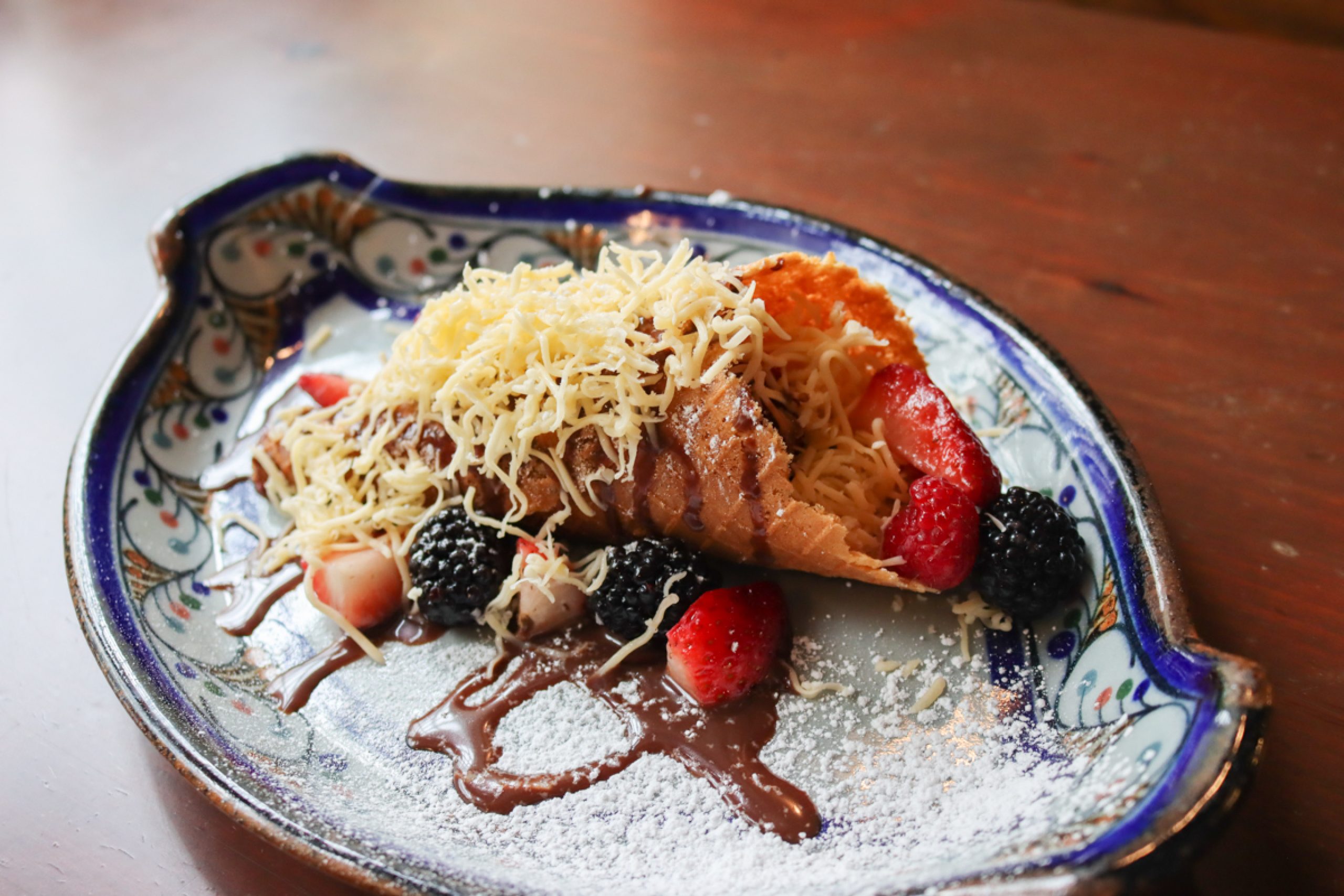 Cantina La Martina is a Mexican restaurant located at the corner of D Street and Kensington Avenue, across from SEPTA's Somerset Station. Dionicio Jimenez, the owner and executive chef, recommends purchasing the restaurant's digital gift cards as gifts. For more information, please contact the restaurant. To read more about Jimenez and why he opened his first restaurant in Kensington, click here.
Address: 2800 D St.
Hours: Monday-Thursday, 11 a.m.-10 p.m.; Friday-Saturday, 11 a.m.-11 p.m.; Sunday, 11 a.m.-9 p.m.
Phone: 267-519-2142
Email: cantina@cantinalamartinaphilly.com
Facebook: Cantina La Martina Philly
Instagram: @cantina.la.martina.philly
Fab Youth Philly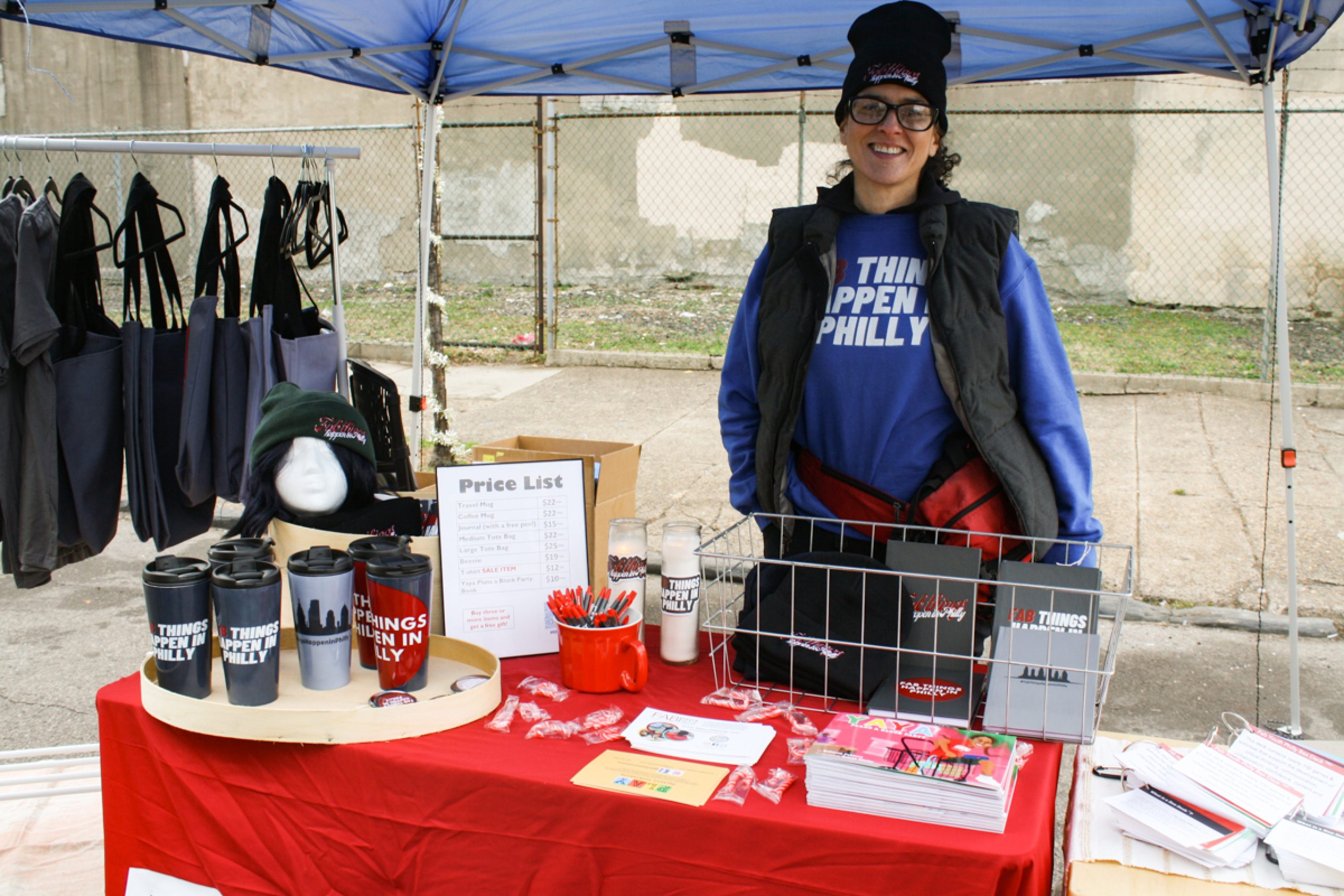 Fab Youth Philly is a nonprofit youth organization based in East Kensington. Rebecca Fabiano, president and founder of Fab Youth Philly, recommends two collections from the online shop as gifts: Fab Things Happen in Philly and Play Safe, Play Hard. Click here to browse items from the collections.
Email: info@fabyouthphilly.com
Facebook: Fab Youth Philly
Instagram: @fabyouthphilly
FAIYA Hot Sauce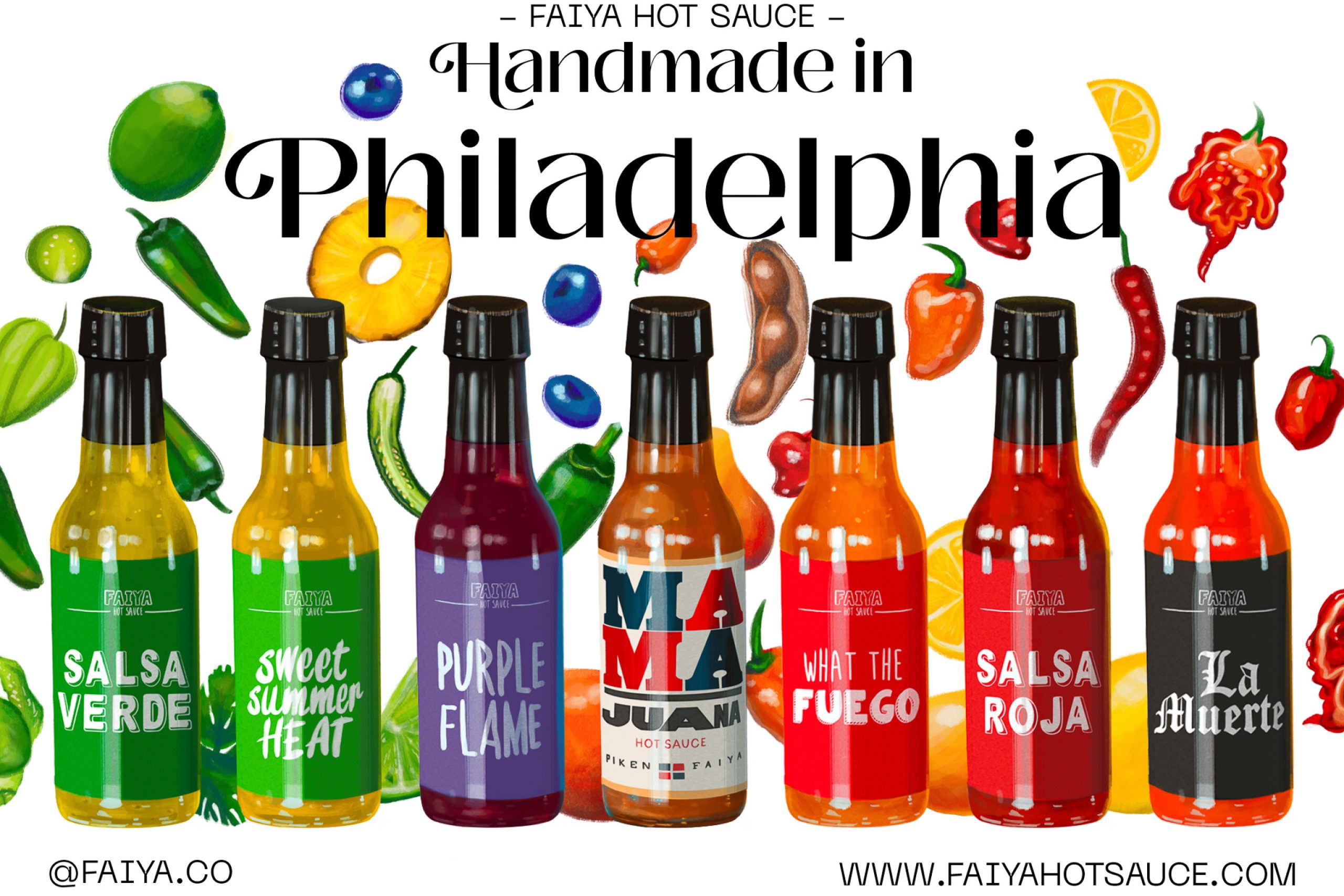 FAIYA, a Dominican-owned business, sells hot sauces handmade in Harrowgate. The hot sauce heat levels are ranked on a scale from one to 10. Not sure which one to choose? FAIYA sells a starter pack of three signature sauces: Sweet Summer Heat, Purple Flame, and What the Fuego for $30. Individual prices range from $10 to $15. Click here to make an online order.
Email: radhi@faiya.co
Instagram: @faiya.co
H&H Books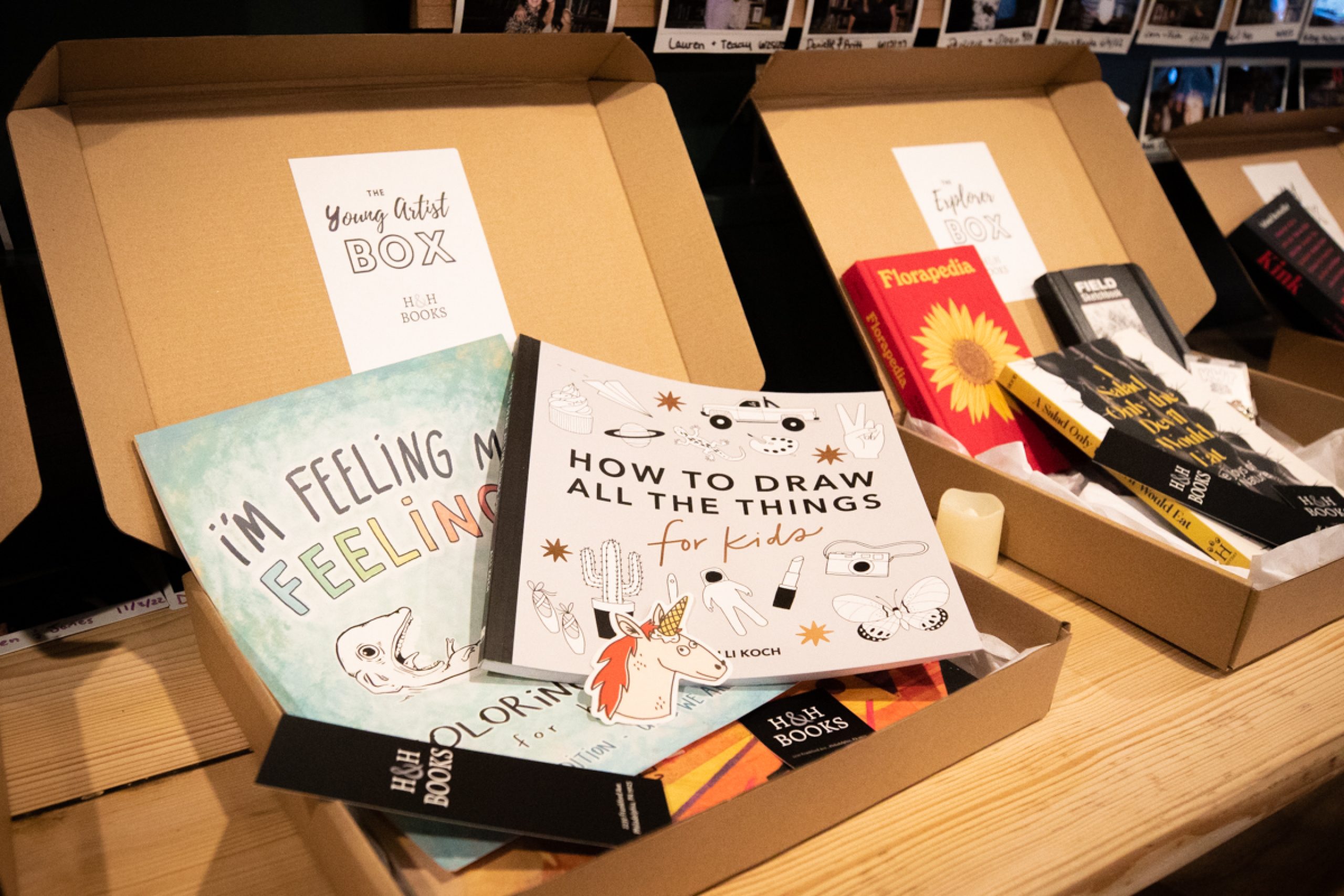 H&H Books is a nonprofit community bookstore on Frankford Avenue, formerly on Coral Street near Lehigh Avenue. Co-owners Claire Moncla and Linda Gallant recommend the store's Holiday Book Boxes as gifts. The hand-packaged boxes include unique books, local maker items, and a special surprise for $50. Click here to order a book box.
Address: 2230 Frankford Ave.
Hours: Thursday-Sunday, 12-5 p.m.
Phone: 484-532-8987
Email: info@theheadandthehand.com
Facebook: The Head & The Hand
Instagram: @theheadandthehand
Julia de Burgos Bookstore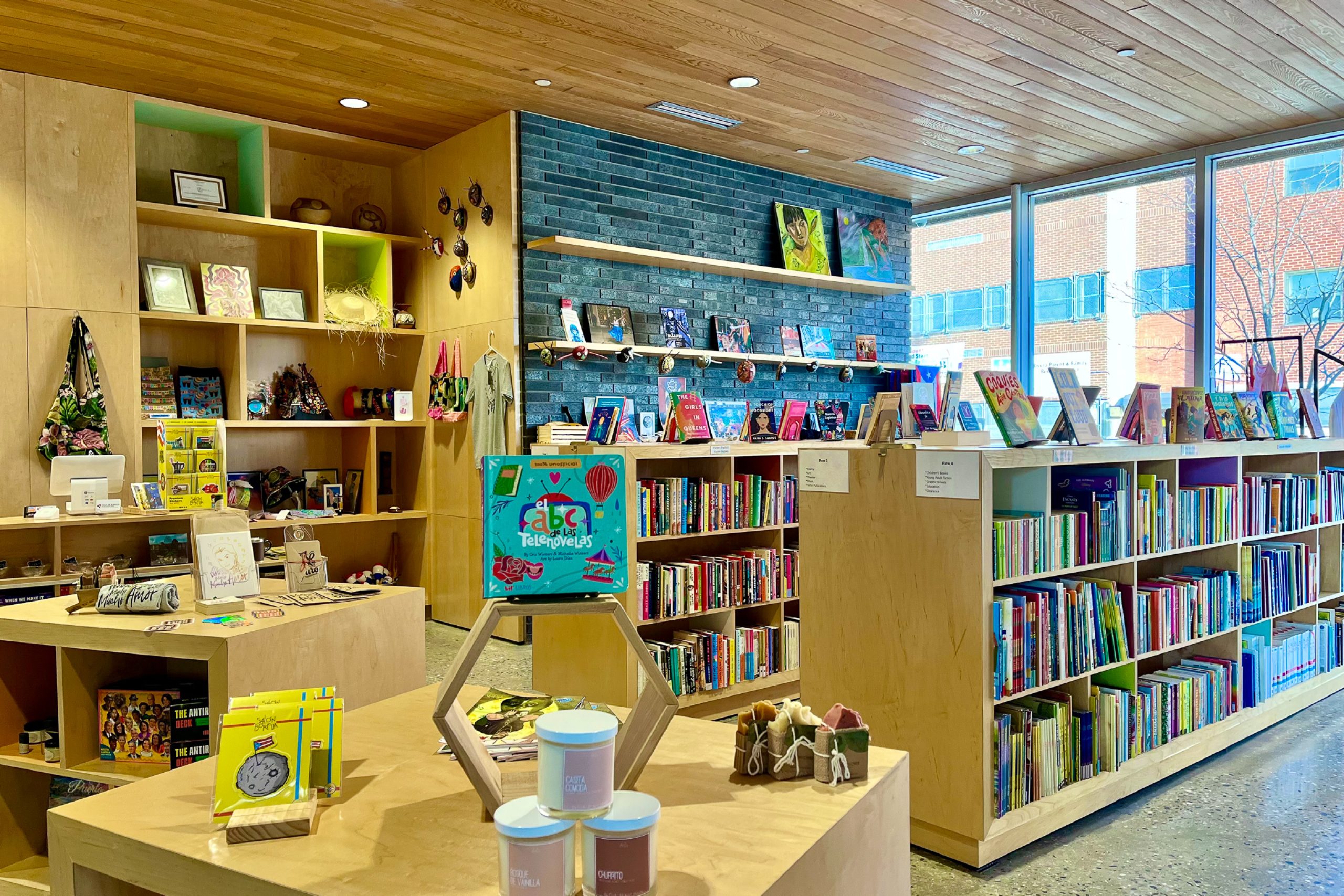 Taller Puertorriqueño's bookstore is located inside Taller, a nonprofit cultural center in Fairhill. The store carries books for all ages in English and Spanish, including bilingual children's books and Bad Bunny graphic novels. There is a variety of gift items locally made and from Puerto Rico, too. Click here to shop online or visit the store in person.
Address: 2600 N. 5th St.
Hours: Tuesday-Saturday, 10 a.m.-6 p.m.
Phone: 215-426-3311
Email: shop@tallerpr.org
Instagram: @juliadeburgosbookstore
Kensington Soccer Club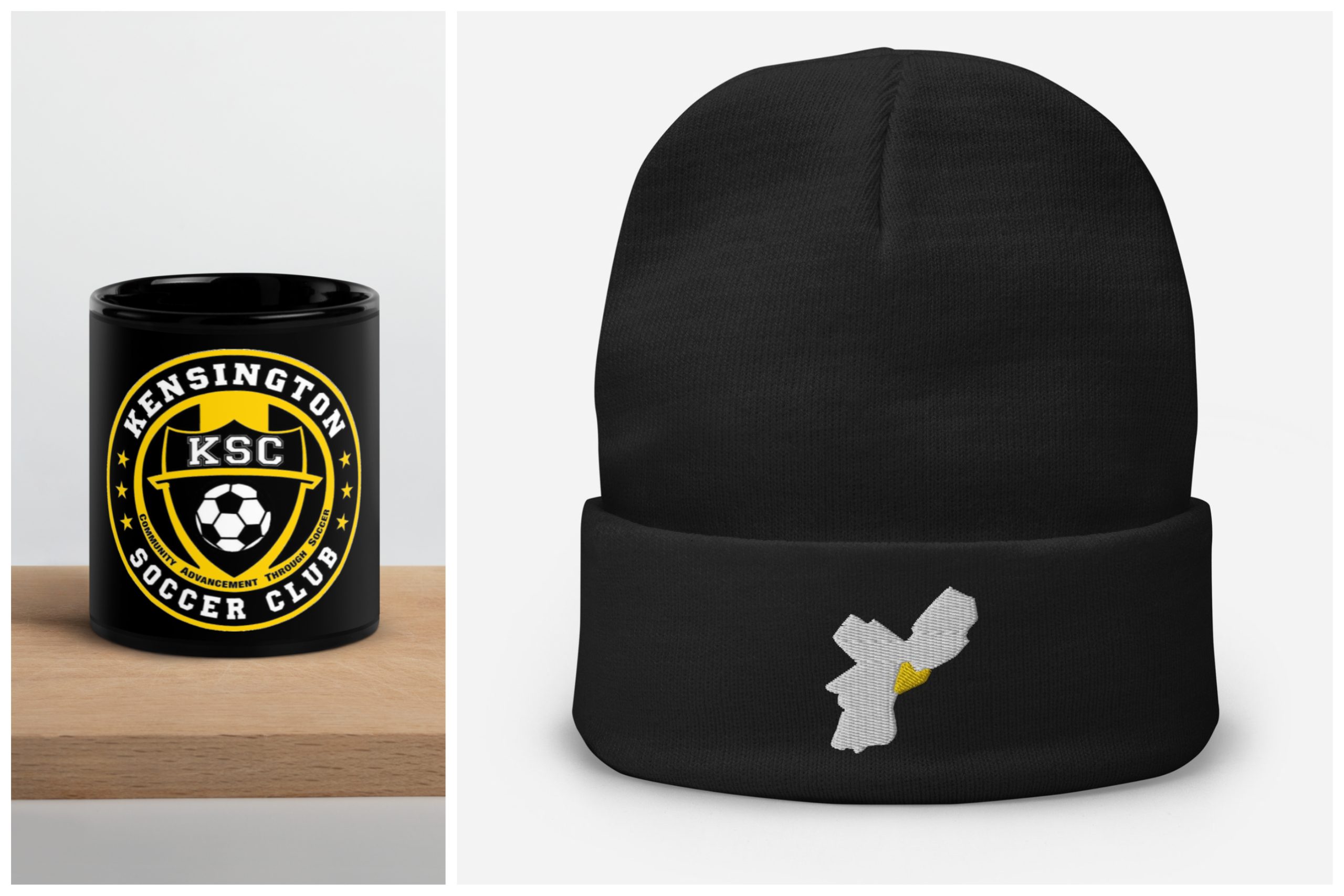 Kensington Soccer Club (KSC) is a youth sports organization with a variety of programming, including competitive travel soccer, recreational soccer, and after-school programs. Founder Jim Hardy recommends buying KSC's merch, which includes scarves, mugs, and beanies. Click here to browse the club's online store.
Address: 3400 J St., Suite G10
Phone: 267-536-2717
Email: kensingtonsoccerclub@gmail.com
Facebook: Kensington Soccer Club
Instagram: @kensingtonsoccerclub
New Kensington Community Development Corporation's Holiday Market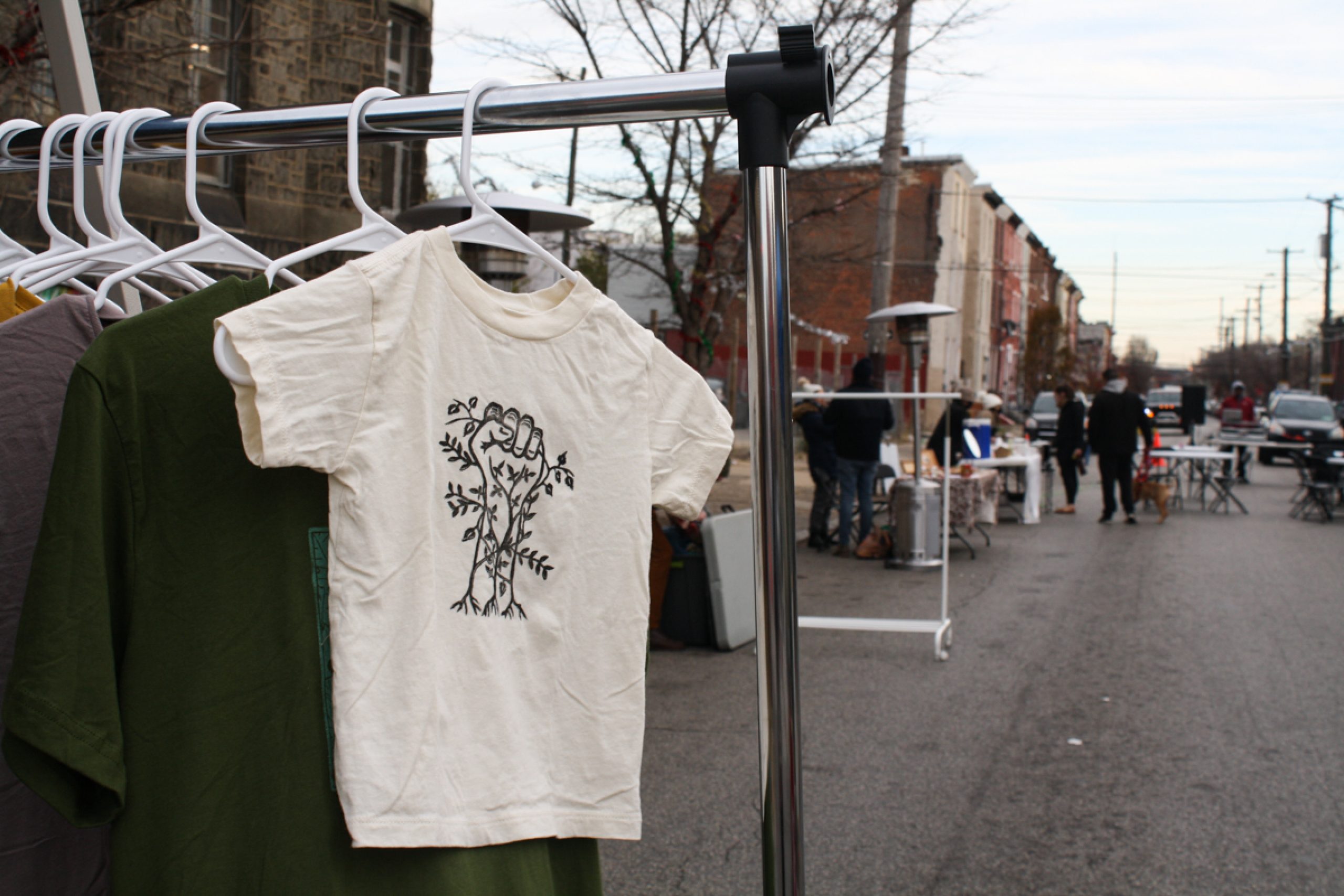 NKCDC's Holiday Market will take place on Saturday, Dec. 3, from 11 a.m. to 3 p.m. Due to forecasted rain, the event has now been moved to a tent space at Cantina La Martina at 2800 D St. The market will have over 30 local vendors, free food, kid's activities, and music and performances. Santa Claus will also be making an appearance.
Facebook: NKCDC
Instagram: @nkcdc
For information about other neighborhood holiday markets, click here.
Waxery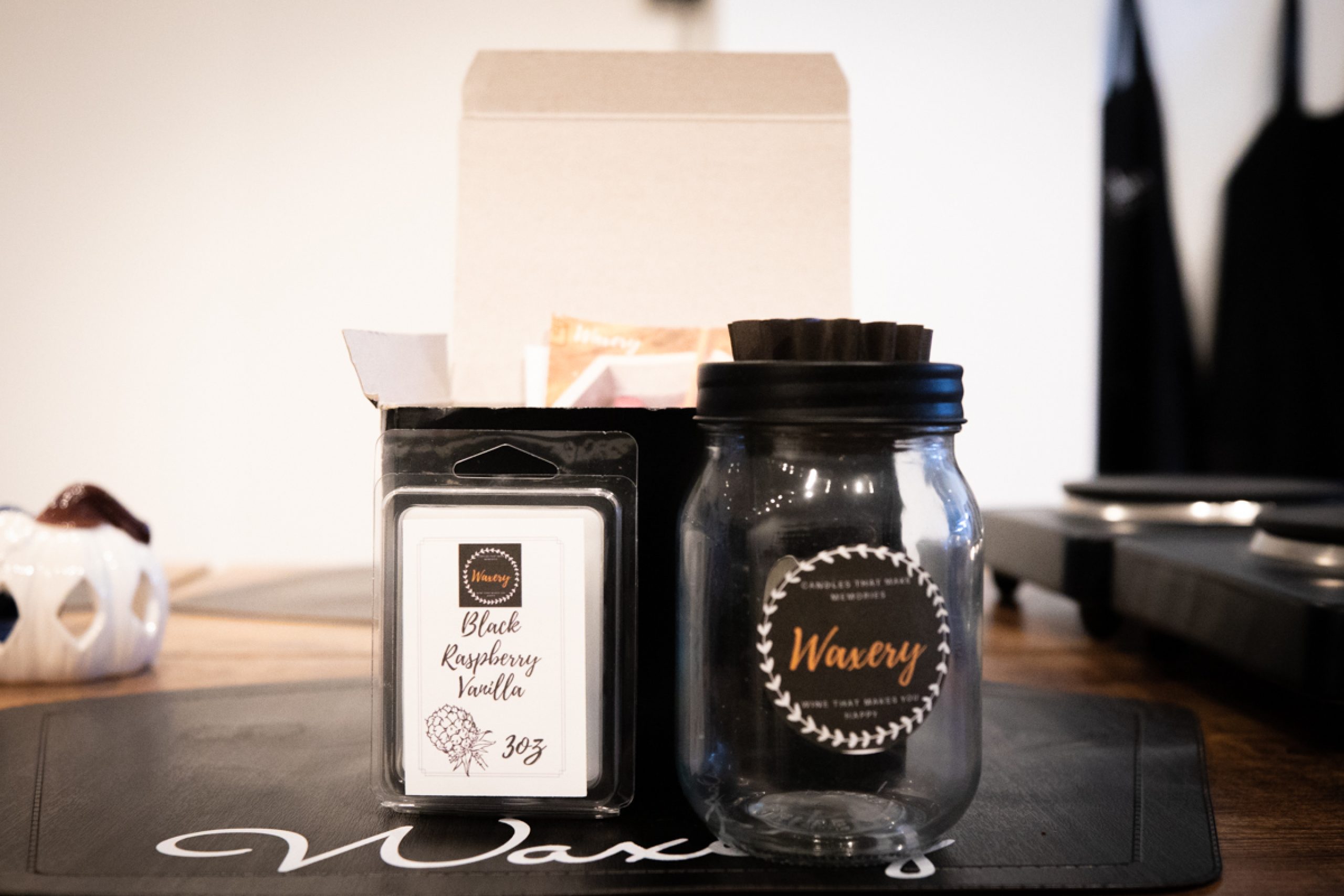 Waxery is a candle-making business in Harrowgate. Owner Crystal Ortiz recommends the store's Wax Melt Kits as gifts. The kit includes wax, tealight candles, and a wax melt warmer for $25. Wax melts are not open-flame candles. Click here to order a kit online.
Address: 3314 Kensington Ave.
Hours: Wednesday-Friday, 5-10 p.m.; Saturday-Sunday, 12-10 p.m.
Phone: 267-689-8973
Email: welcomewaxery@gmail.com
Facebook: Waxery LLC
Instagram: @waxery_
WritingHello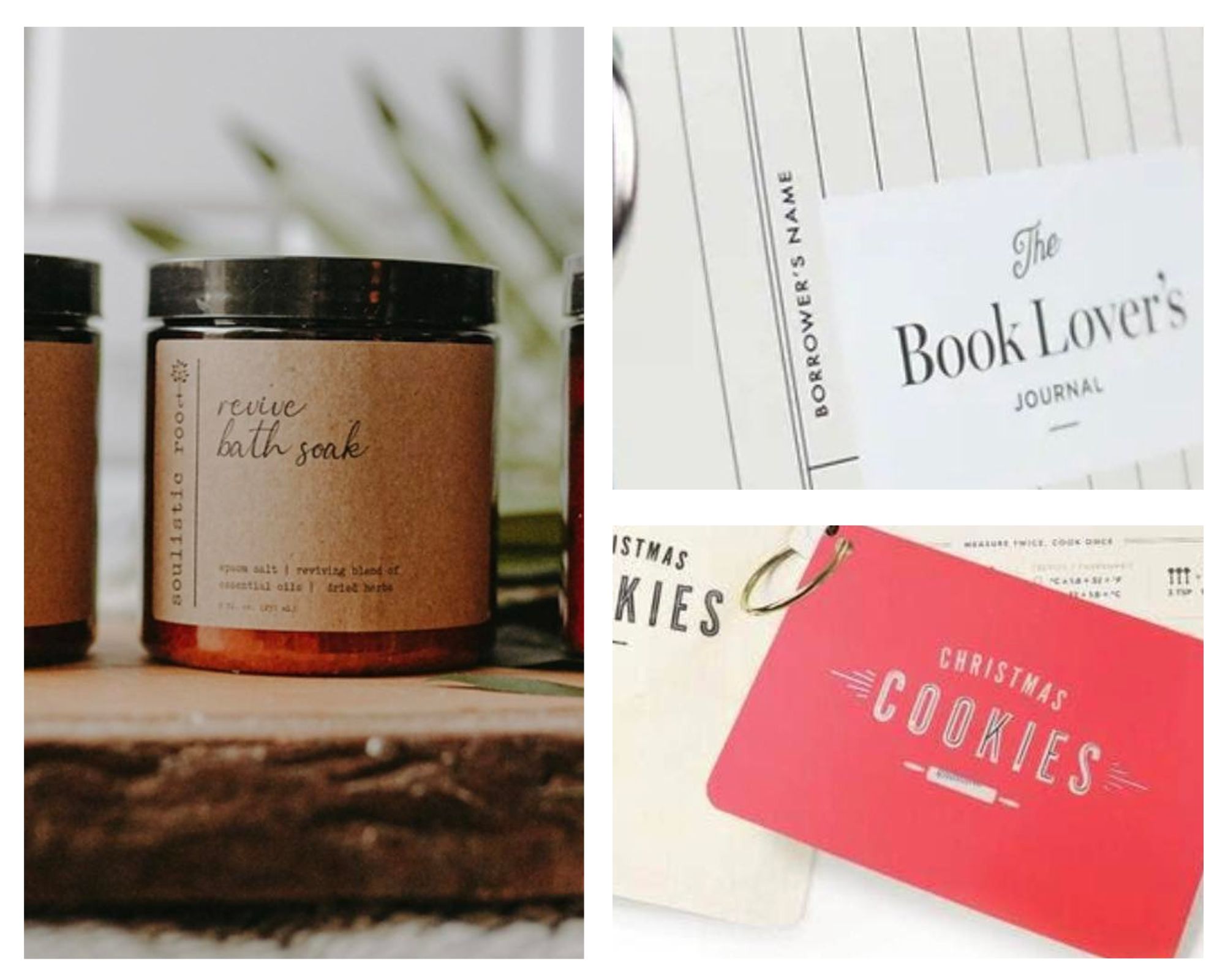 WritingHello is an online shop specializing in mementos, stationery, and travel items. Owner Jasmin Velez told Kensington Voice that the items are for jotting down your adventures, storing your keepsakes, and helping ease your travels. This holiday season, Velez is also selling jewelry. Click here to browse the shop.
Email: writinghellollc@gmail.com
Facebook: writinghello
Instagram: @writinghello
---
Editors: Siani Colón, Christopher Malo, Zari Tarazona Designer: Zari Tarazona