When Vientiane Bistro celebrated its fifth anniversary on Kensington Avenue earlier this month, the family-owned restaurant reached a milestone its owners weren't sure they'd ever see.
"It's an uphill battle every day for small businesses like ours to survive, especially in Kensington, but we want to continue providing quality food and service in this neighborhood for years to come," said Sunny Phanthavong, co-owner of Vientiane Bistro.
The restaurant—opened in 2018 by Phanthavong and her husband Kong Tieu—is a sister restaurant to Vientiane Café in West Philadelphia and serves an authentic mix of Lao and Thai cuisine.
Its roots reach back to the arrival of two immigrant families in West Philadelphia and Kensington from Laos and Vietnam more than four decades ago.
Growing up in Philadelphia
The Phanthavong family moved to Philadelphia in 1979. At the time, Philadelphia was a major resettlement location for Vietnamese, Cambodian, Lao and Hmong refugees escaping the U.S. war and its aftermath in Southeast Asia. Between 1975 and 1986, it was estimated that nearly 19,000 of these refugees came to live in the city.
After arriving from Laos, Phanthavong's family became part of a close knit immigrant community in West Philadelphia. It was there that Phanthavong's mother, Daovy, began serving homemade Lao cuisine out of the family's backyard. By the time she was 10 years old, Phanthavong and her sister Manny were helping their mother cook and sell food.
Eventually, their backyard business was shut down by the health department, but in 2002, with community support, the Phanthavongs were able to acquire a storefront on Baltimore Ave., which became Vientiane Café. Phanthavong was 17 years old at the time and went on to work for 16 years at her family's restaurant.
"I learned a lot," Phanthavong said of the experience. "I was cooking. I was serving. I was managing. I did everything I could to help that business grow to where it is now."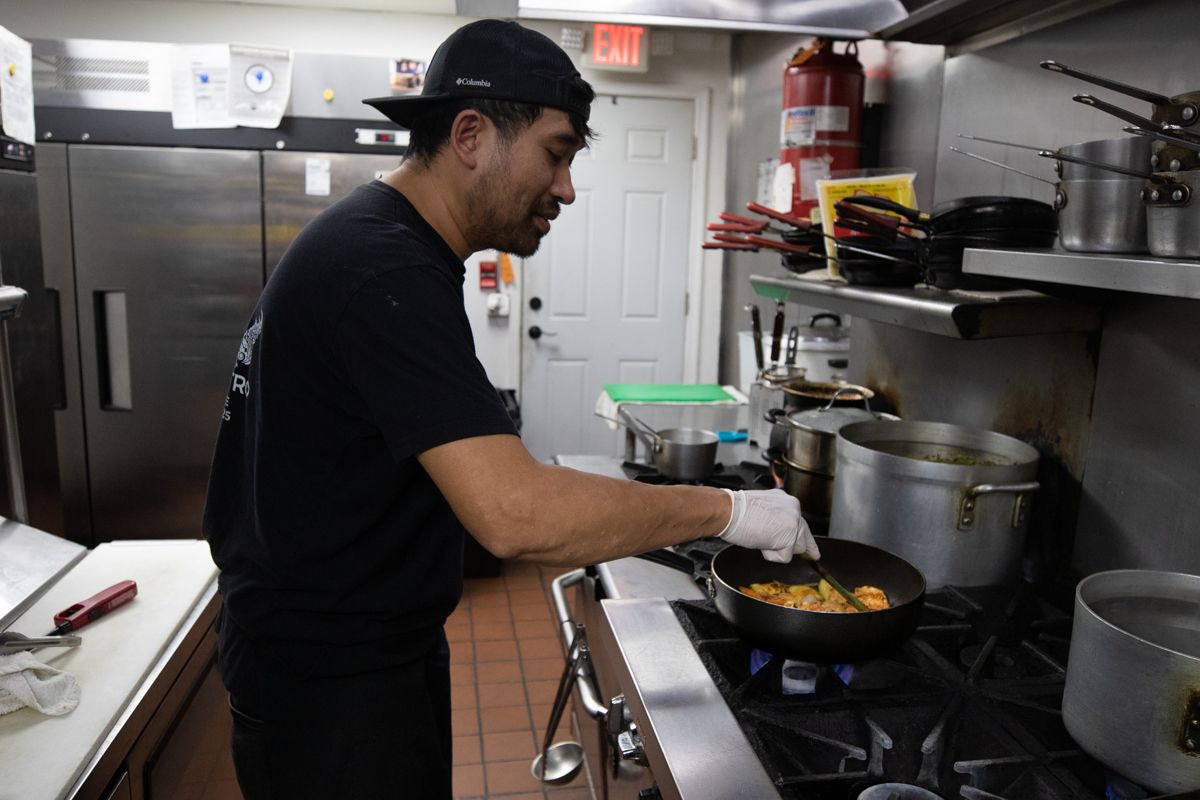 While Phanthavong helped her family's business bloom in West Philadelphia, her husband and business partner Kong Tieu came of age in Kensington. Originally from Vietnam, Tieu was born in a refugee camp in Hong Kong and his family arrived in Kensington in 1984.
"We didn't know English," Tieu said. "We didn't know how to speak for ourselves. They put us here in Kensington and we adapted. We called this home."
From the 1980s through the early 2000s, the Vietnamese immigrant community who lived and worked along Kensington Avenue contributed immensely to the corridor's vibrant mix of small businesses. Families saved and pooled resources, invested in one another's shops, and purchased commercial properties once they could afford them along the Avenue.
"We had a supermarket, pool hall, a pet shop, [and a] hardware store," Tieu said. "We took a lot of pride in this neighborhood and had everything here. It was great."
Although Tieu's parents did not own a business on Kensington Avenue, they lived on Huntingdon Street and worked in a salon near the intersection of 22nd Street and Lehigh Avenue. While they worked, Tieu began school at H.A. Brown Elementary. Throughout his youth, he spent his afternoons with family and friends on Kensington Avenue, going in and out of the small businesses along the corridor.
"There are still a lot of business owners here that have been here since day one," Tieu said. "I grew up with them."
Opening a business on Kensington's main business corridor
Tieu's family roots inspired Phanthavong and Tieu to open Vientiane Bistro on Kensington Avenue in 2018. His family still lives in the neighborhood and owns the building where the restaurant is located. And after witnessing years of disinvestment along the business corridor, Phanthavong and Tieu wanted to be part of a positive change.
Both Phanthavong and Tieu brought years of restaurant experience to the new business, including Phanthavong's work at Vientiane Café's West Philadelphia location. The couple felt confident when Vientiane Bistro opened its doors and, despite a few initial challenges, was satisfied with the pace of business early on.
"We had a lot of customers," Phanthavong said. "All of these tables and chairs were filled every weekend in 2018 and 2019. I felt like I could see it work. But then of course, in 2020 the pandemic hit and just crushed us spiritually."
Phanthavong and Tieu did all that they could to navigate the business through the unprecedented hardships of that year. They accessed emergency grant and loan programs to help keep their expenses covered and employees on staff. Although they were forced to temporarily shut their doors, take-out sales kept their business alive. Phanthavong also kickstarted her hot chili oil business in 2020, selling small batches of hand-filled jars of the Lao condiment online and at local food retail shops to keep revenue coming in.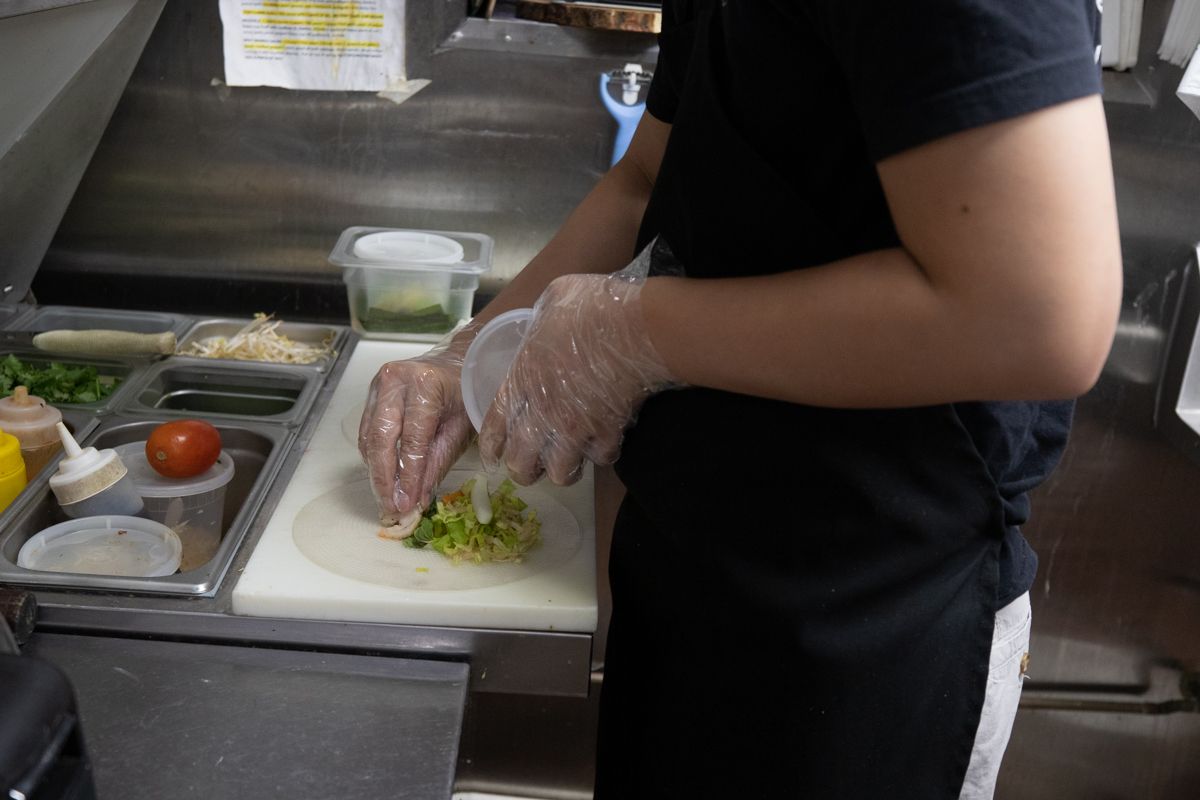 The restaurant was able to pull through that year. However, even after the impacts of the pandemic have subsided in the years since, challenges have persisted, Phanthavong and Tieu said. Today, Vientiane Bistro continues to deal with the compounding effects of issues that burden small businesses along Kensington Ave—such as drug trade, illegal dumping, and migrating unhoused populations outside their doors.
Many days, both Phanthavong and Tieu said, the experience can be overwhelming. But having seen what both their families have overcome in the past, the couple remains determined to push forward through it all.
"It's not fair," said Tieu of the hardships. "But all of my life, this is what it has been. What is fair? So I just work to try to give this community something good."
Looking ahead for the restaurant and Kensington Avenue
As Vientiane Bistro reached its milestone fifth year in business, Phantavong said she has seen a pickup in business that has felt reassuring.
"At the beginning of this year, I had a mindset that if I don't make it this summer, if things don't improve, I'm just going to throw in the flag," she said. "Halfway through the summer, all of that changed… We're seeing more dine-ins and take-outs. I think we're going to be here for a while."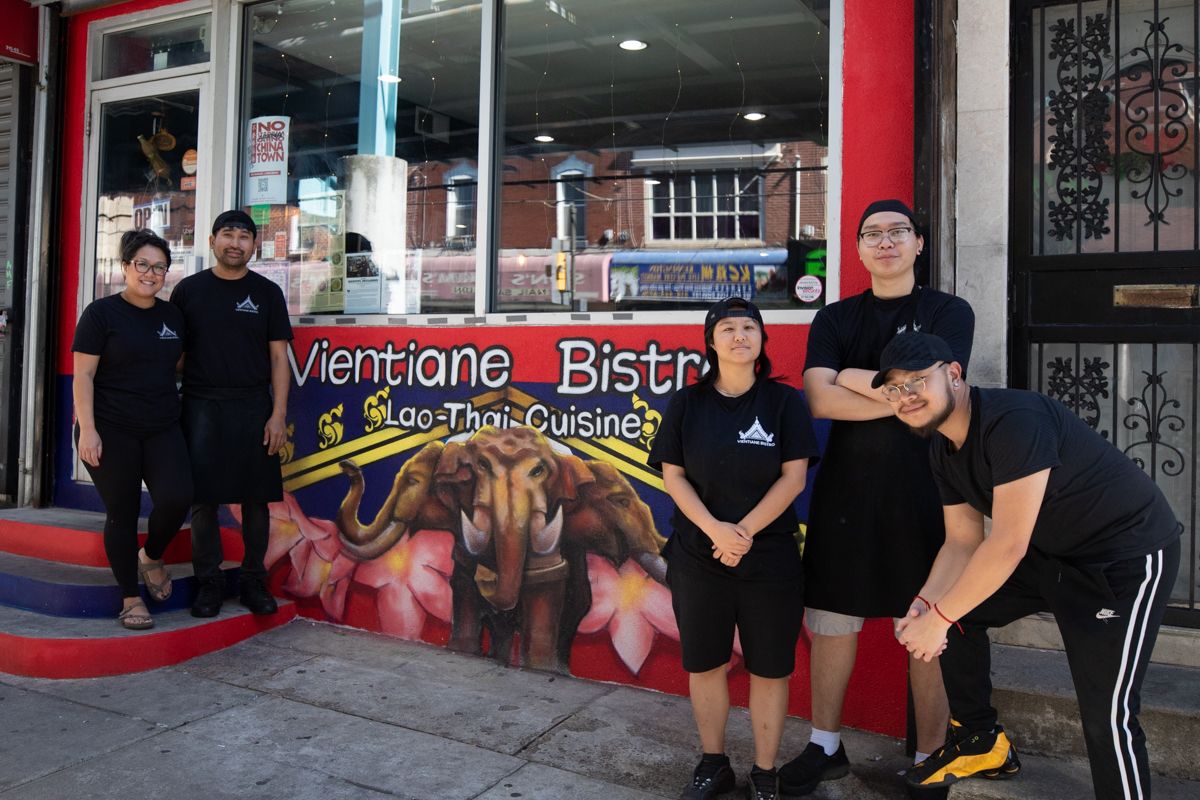 In the time that she has spent working in Kensington, Phanthavong said she has cultivated a deeper sense of connection to the community, which keeps her going.
"Seeing people come and go, getting to know their first name and their favorite food—to me that's very important and I'm pretty sure it's important to them too," Phanthavong said.
Citing other food businesses in Kensington, such as Thang Long, Freddy & Tony's, Cantina La Martina, and Càphê Roasters, as well the neighborhood's diversity of residents, Phathavong sees the variety of cultural experiences available in Kensington as an asset that sets the neighborhood apart from other places.
"I believe that the diversity is what will bring people to this neighborhood," Phanthavong said. "Because there's not just one pocket of culture here—there's a lot. And if everyone can come here and experience five different cultures in a one block radius—why not?"
Tieu's resolve to make a positive impact in Kensington remains as high today as it did five years ago, he said. Feeling the pressures of increasing private development in the community, he'd like to see families who have lived and worked in the neighborhood for decades at the center of determining its future.
"This is still my neighborhood," Tieu said. "I have pride in this place and I want it to be like it was back in the day."
Editor's Note: This news article was written and reported on by NKCDC's Commercial Corridor Manager Lee Nentwig through a community partnership with Kensington Voice. For the next few months, Nentwig will spotlight small businesses in Kensington and the surrounding neighborhoods with support from Kensington Voice staff.
---
Story edited by Siani Colón, Khysir Carter, and Jillian Bauer-Reese.