When coronavirus cut off access to in-person services in Kensington, Step Up to the Plate, a collaboration between Broad Street Ministry, Prevention Point Philadelphia, Project HOME and SEAMAAC, began to provide free meals to Philadelphians experiencing homelessness and food insecurity.
In mid-April, Step Up to the Plate worked with the city to set up outdoor meal sites in Kensington, Center City, and South Philadelphia that followed social distancing guidelines. The Kensington site is located in a parking lot on Ruth and East Clearfield streets that some people call The Love Lot. The food distribution site has grown to include behavioral health resources, COVID-19 testing, live music, and stimulus check assistance.
Clayton Ruley, Prevention Point's director of community engagement and volunteer services, said Prevention Point recognizes that a lot of people, especially in Kensington's 19134 zip code, live in poverty and struggle with food insecurity. Therefore, anything they can do to help alleviate food insecurity is helpful, he added.
A week of services at The Love Lot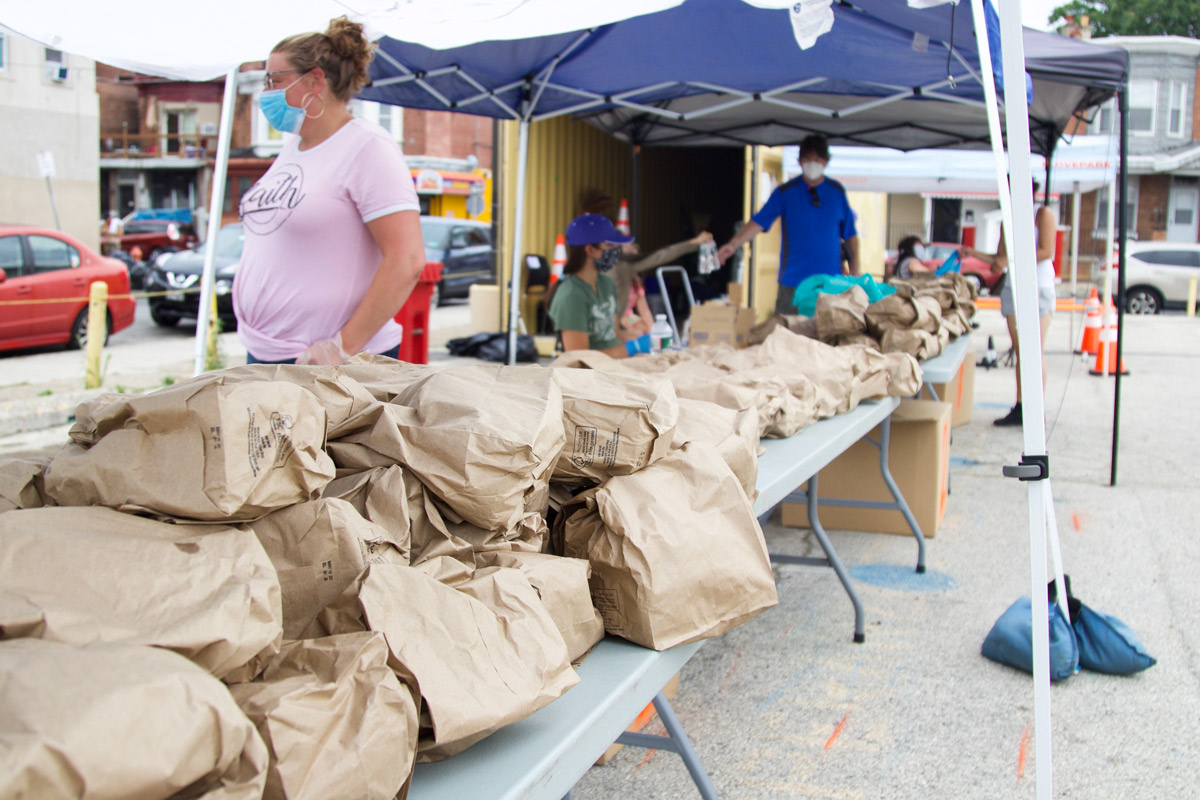 Step Up to the Plate's Kensington location is open Monday through Friday from 1 p.m. to 3 p.m. Prevention Point staff and volunteers have served 560 lunches a day since mid-May.
The meals are prepared by Step Up to the Plate's catering partners, 12th Street Catering, Catering by Design, Garces Group, and Tootsie's Express; and food donors, CookNSolo and Wawa. On weekday mornings, the partners and donors drop off boxes of bagged lunches at The Love Lot. Before the location opens, Prevention Point staff and volunteers unpack the boxes, place the bags on tables, and assemble tents over the tables. The meals vary from day to day, but they are always nutritionally balanced.
"Sometimes it's barbecue chicken over a bed of rice and vegetables. Today, it's a turkey hoagie with pasta salad, a tomato pie, an orange, and water," said Roz Pichardo, founder of Operation Save Our City. "It's all healthy stuff; it's awesome."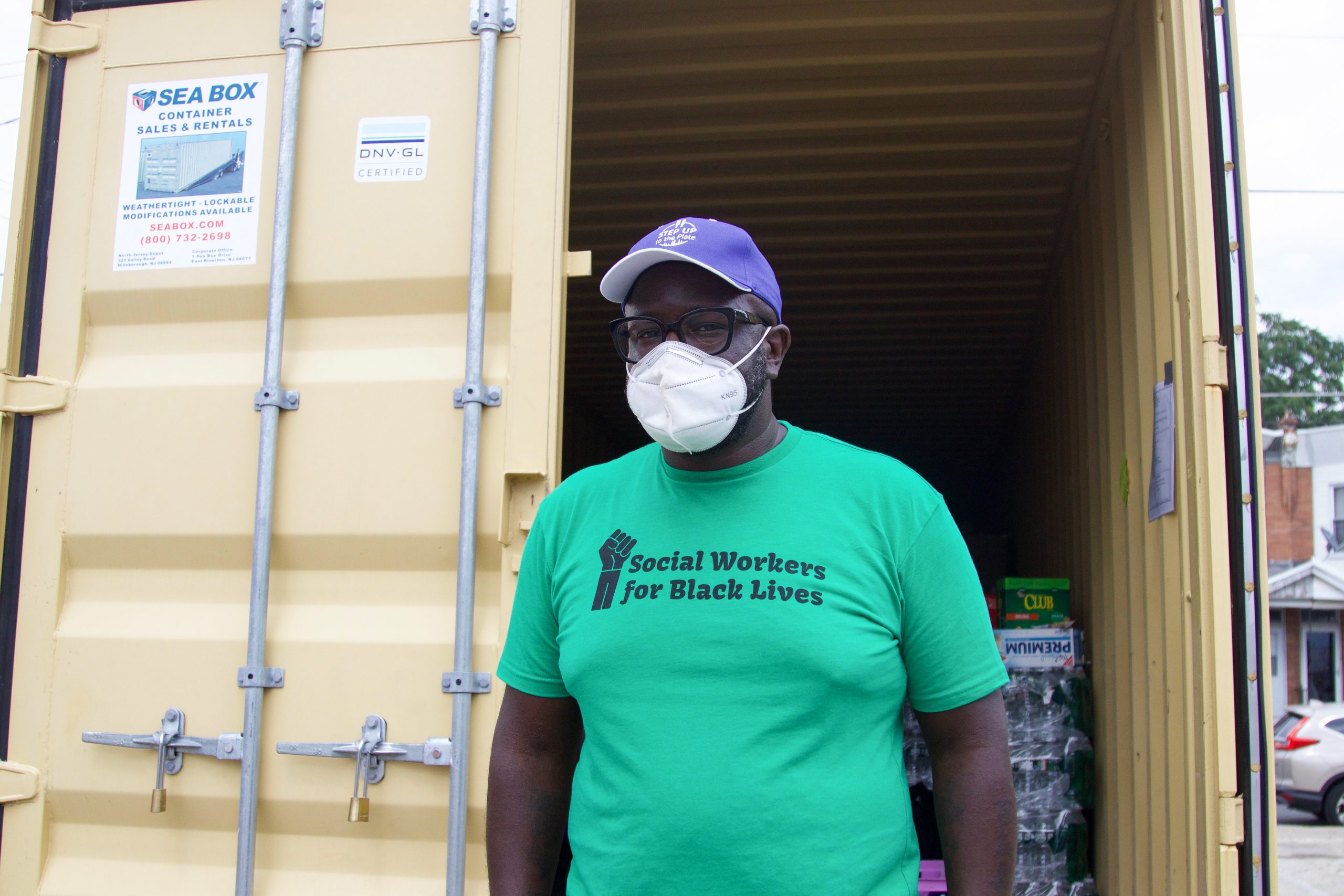 In one tent, Prevention Point helps people fill out stimulus check applications Monday through Friday. According to Ruley, in April, Prevention Point also started offering an additional, free meal on Saturdays.
On Mondays and Wednesdays, the Department of Behavioral Health and Intellectual disAbility Services (DBHIDS) helps people access behavioral health treatment, Ruley said. Merakey, a behavioral health, developmental, and education nonprofit provider with locations in Philadelphia, also offers behavioral health support to people at The Love Lot throughout most of the week.
On Tuesdays, Nabil Abdulhay and nursing interns from the Community College of Philadelphia administer free COVID-19 diagnostic tests and COVID-19 antibody tests to anyone over the age of 18 — and referrals aren't necessary. Guests can also pick up bags filled with face masks, hand sanitizer, Narcan, the overdose reversal medication, and pamphlets with coronavirus information from the Department of Public Health.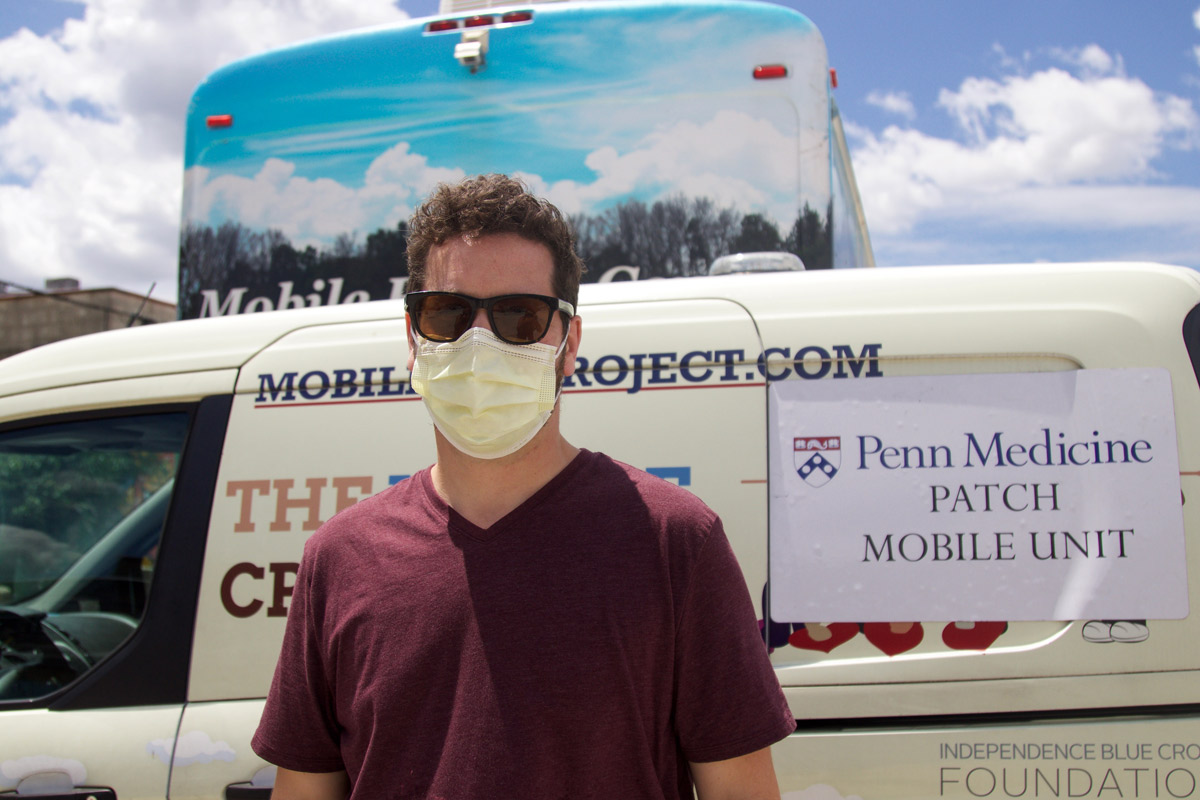 According to Abdulhay, a clinical research coordinator at Penn Medicine, conducting COVID-19 tests at The Love Lot is an opportunity to better understand the prevalence of the virus among people experiencing homelessness and people with an opioid use disorder. His team works with the Department of Public Health and Prevention Point to study how access to resources has changed since the onset of the pandemic, he said.
"We're asking questions like, 'How would you rate the accessibility to drug treatment programs before COVID-19?,' and, 'How would you rate access to public restrooms before and after the pandemic?'" Abdulhay said. "We're trying to better understand how this marginalized community has experienced the pandemic."
Basic contact information is required so that COVID-19 tests results can be provided, but the research questions are voluntary.
Abdulhay said that he hasn't noticed a large number of positive cases among people experiencing homelessness, but expects that the COVID-19 antibody tests will provide more information.
'Healing with Music'
[Best_Wordpress_Gallery id="10″ gal_title="The Love Lot"]
When Roz Pichardo saw the emotional toll COVID-19 was taking on Kensington residents, she decided that the community needed more than food and medical attention to raise their spirits.
"Dealing with all the trauma that I have, I know through experience that music is healing so, I'm like, 'We need to bring music here,' because everybody was sad," Pichardo said. "Everybody was depressed about the pandemic and not getting the services that they're used to getting."
Pichardo founded Operation Save Our City in 2012 after someone murdered her younger brother, Alexander Martinez. As a community organization, Operation Save Our City works closely with families of murder victims by helping them cope with their loss and seek justice for their loved one.
Through a collaboration with Operation Save our City and Prevention Point, Pichardo started the "Healing with Music" project and is seeking musicians to volunteer and perform at the lot.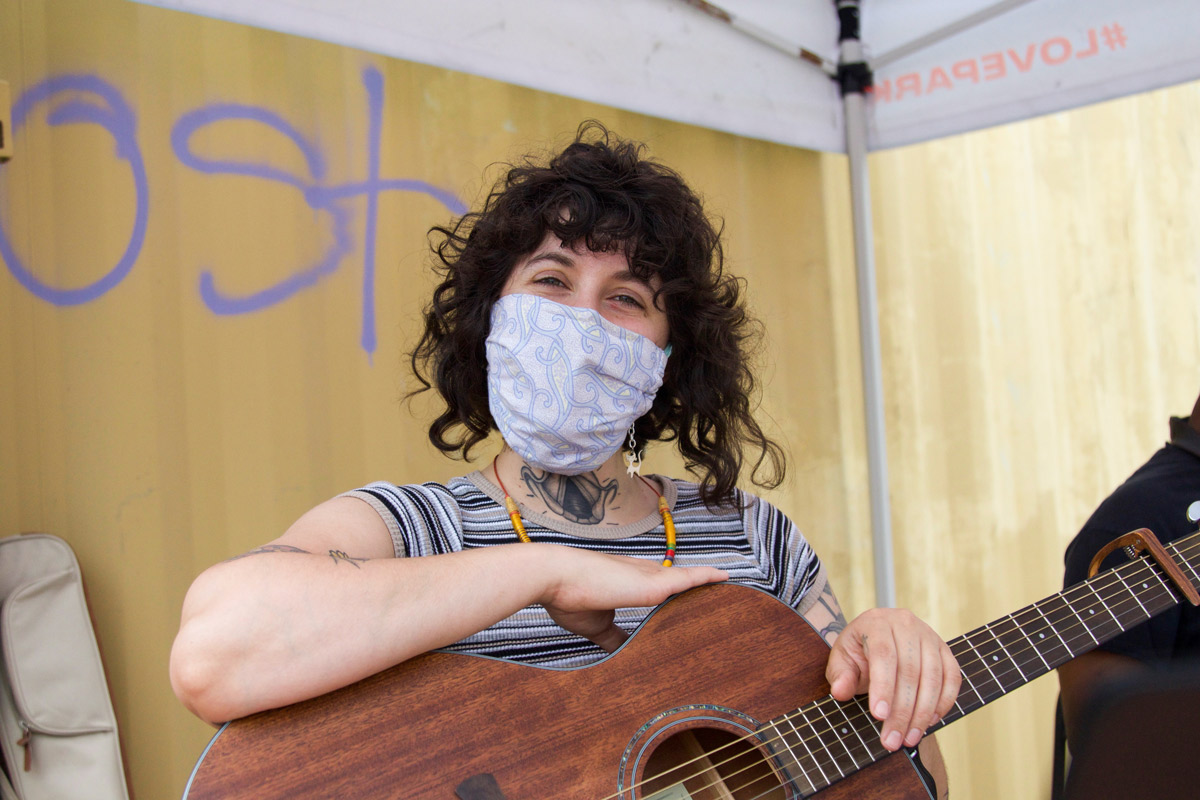 On Tuesdays and Wednesdays, you can find Max Wander, a touring musician and West Philadelphia resident, singing and playing the acoustic guitar at The Love Lot. Meeting and talking to people while Wander's playing brings them joy but also sadness when recognizing the state Philly has left Kensington in, they said.
"It's kind of like a conflict for me when I come here," said Wander, who is a person in recovery and a harm-reduction advocate. "The community is really stepping up to support drug users and people who are struggling, so I wish the city would support drug users in the same way."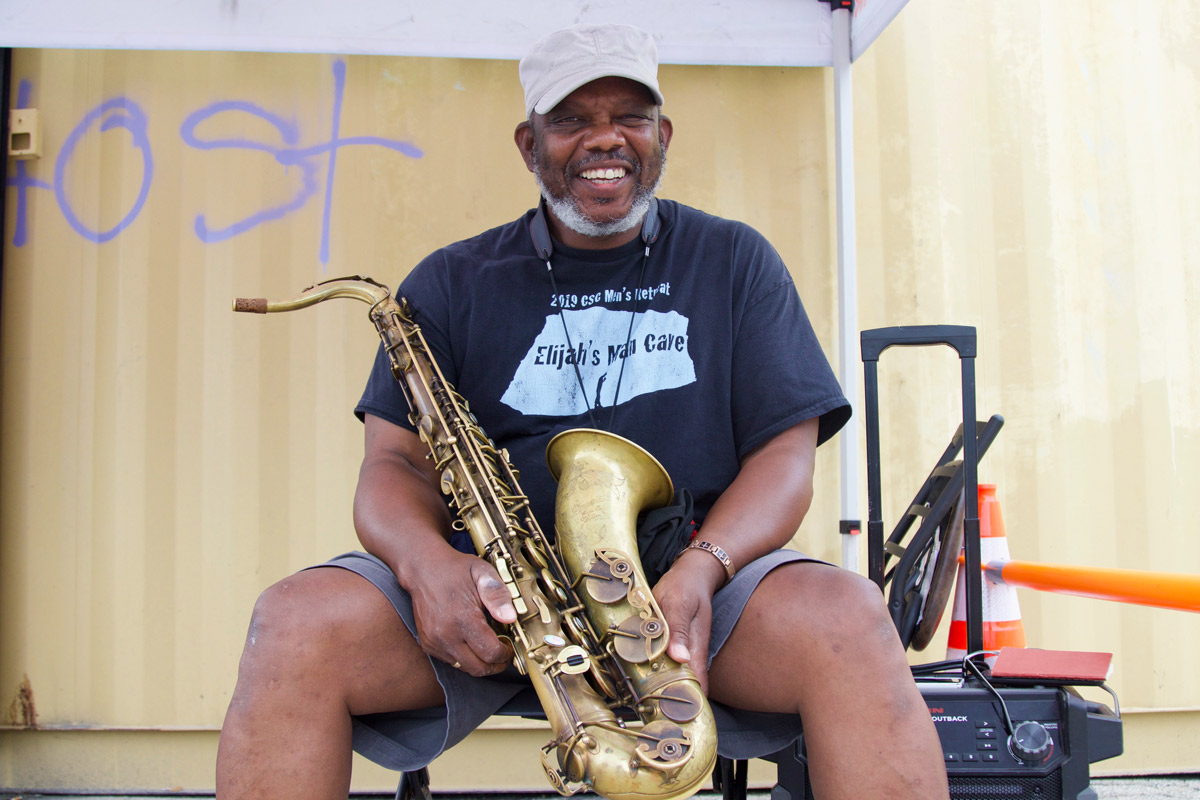 Taking turns at The Love Lot with Wander is Clay Jackson, a Northeast resident and saxophone player, who has been a full-time musician for about 50 years. He often plays at his church, Christian Stronghold Church in West Philadelphia. Jackson began volunteering at The Love Lot after a church friend of his came across the "Healing with Music" project and recommended Jackson reach out to Pichardo to get involved.
Jackson said he believes that Step Up to the Plate is a much-needed resource in the Kensington community, but he doesn't think it's enough to solve the root of a bigger problem.
Filling the walls with hope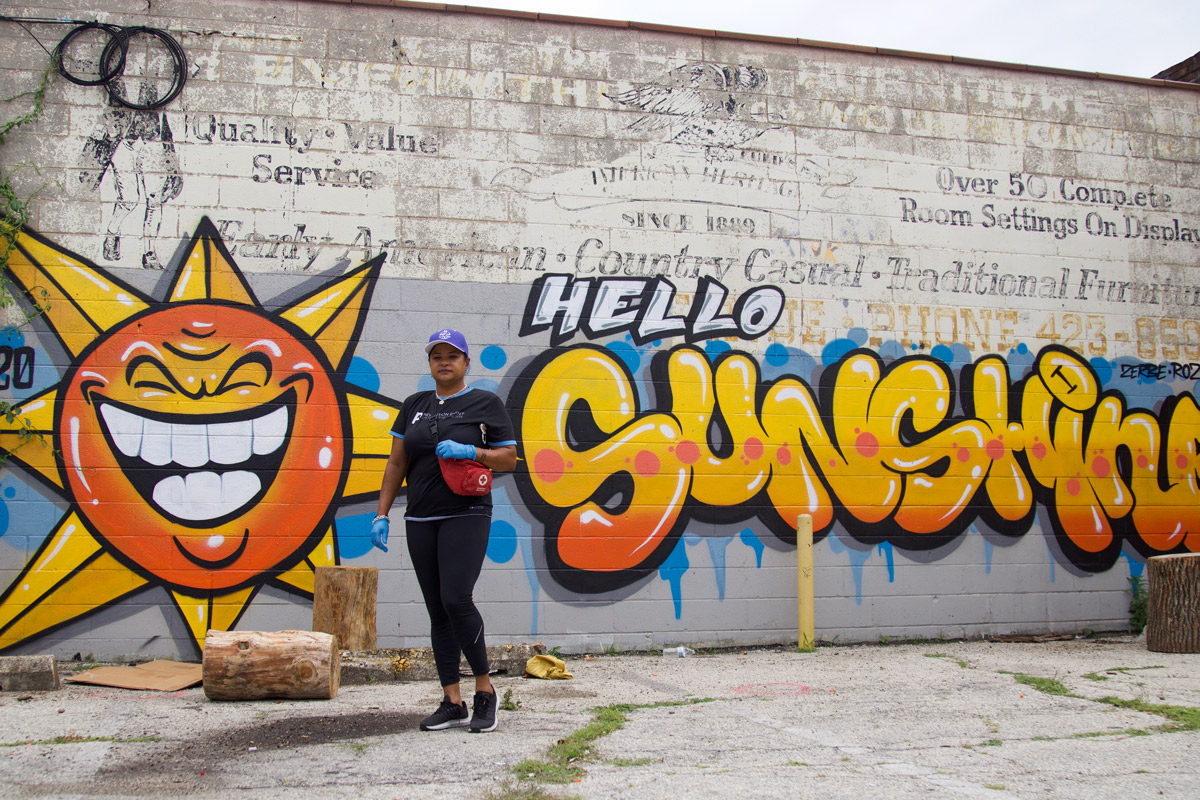 Most days, The Love Lot volunteers distribute all 560 meals. But if there are leftovers, Step Up to the Plate gives extra boxes to Prevention Point's homeless outreach team. Pichardo also fills up a cart with leftover meals to take to residents near McPherson Square.
"People are very surprised that there's a free lunch being served," Ruley said. "I think at first they are surprised they are eligible — because everyone is eligible to get fed."
Many excited families and children stop by for the meals, Pichardo said. Kensington residents can also enjoy the new art pieces that Mural Arts Philadelphia installed in The Love Lot.
The artworks reflect various themes, such as "Fill the Walls With Hope" and "Six Feet of Love," a wall dedicated to social distancing, love, respect, and equality, Ruley said.
Another artistic addition to The Love Lot was the "Hello, Sunshine" mural by Pichardo, John Zerbe, and Leon Rainbow — who all live in Kensington — in late May. The idea came from Pichardo calling everyone in the neighborhood "Sunshine" ever since she noticed that people who use drugs are often called derogatory and hurtful names, she said.
"Everybody on the avenue calls me 'Mama Sunshine,' and everybody else is my 'Sunshine,'" Pichardo said.
Step Up to the Plate is actively seeking volunteers to serve meals or play live music sets. For more information contact Roz Pichardo via email at operationsaveourcity@gmail.com or contact Clayton Ruley via email at CLAYTON@PPPONLINE.ORG
---
Editors: Claire Wolters, Zari Tarazona / Designer: Henry Savage / Translator: N/A
What did you think about this story? Send a note to editors@kensingtonvoice.com, and we'll consider publishing it in our Voices section. You can also tell us what you think in person at our neighborhood events.