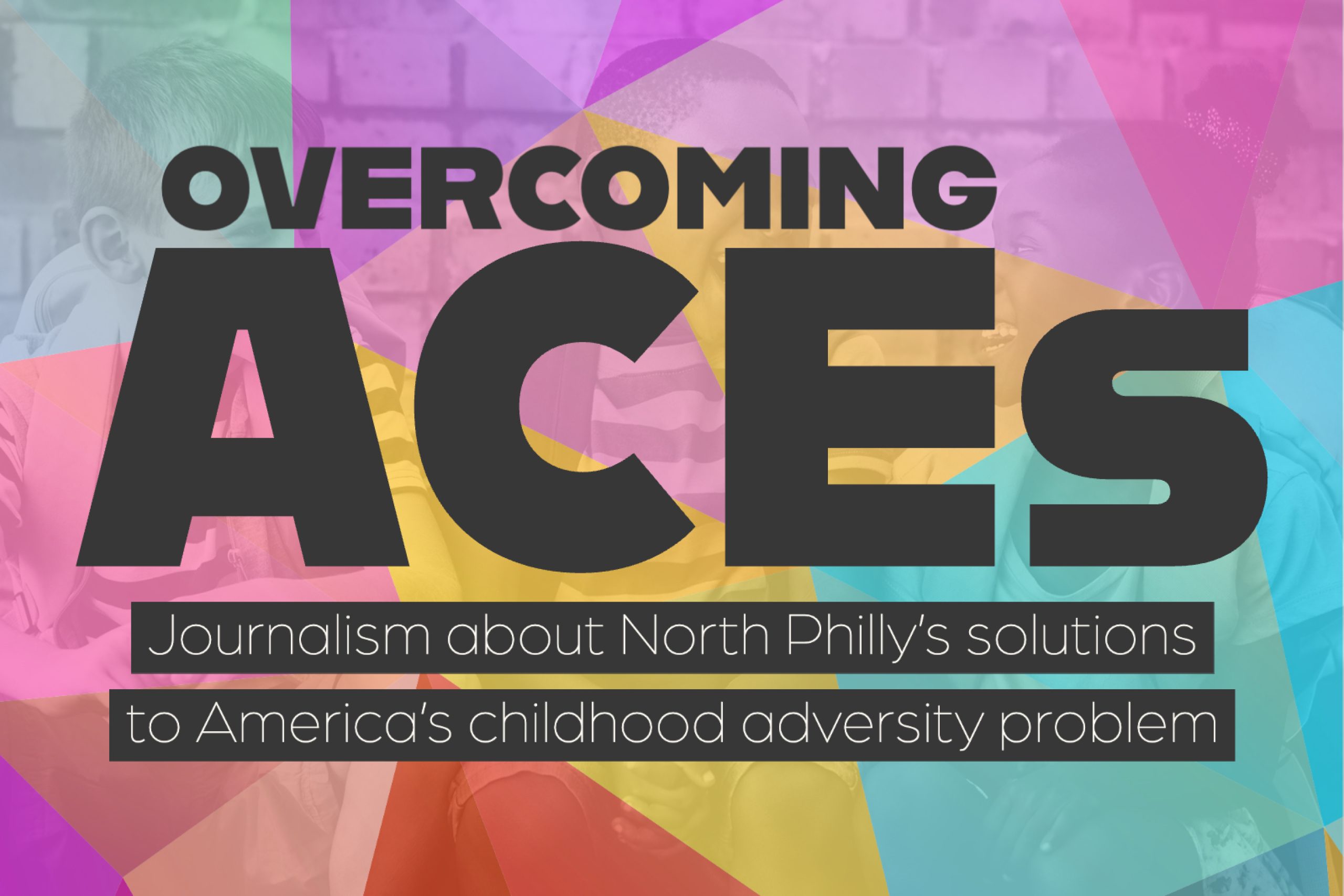 This story is part of our Overcoming ACEs series, a journalism project highlighting North Philly's solutions to America's childhood adversity problem. The solutions we share through this project can benefit people at risk or who have experienced adverse childhood experiences (ACEs). However, not all solutions were designed to prevent ACEs, and not everyone featured has experienced them.
Every child needs a safe environment to learn and play. Safe-Hub Philadelphia is one of the many organizations creating a nurturing environment for young people in Kensington.
Safe-Hub provides afterschool sports programs at Scanlon Recreation Center. Safe-Hub sees its efforts as two-fold, addressing its players' needs both on and off the field. The EduSoccer program focuses on the holistic development of soccer players ages 4-17 while the PlayMaker program offers EduSoccer players ages 15-17 experience in coaching, playing, and work-readiness.
According to Liam Connolly, the executive director of Safe-Hub Philadelphia, AMANDLA is the organization behind the Safe-Hub model. German student Florian Zech cofounded the model in 2007 with a team of volunteers in the Khayelitsha township, one of the largest in South Africa.
Connolly said Zech saw a need for after-school programs in the orphanage where he worked. The township had a lack of access to basic necessities such as housing, running, water, and electricity.
Zech and the other volunteers at the orphanage decided to center their efforts around soccer to keep the kids engaged. But as time went on, they recognized that they needed to have a more holistic approach that addressed issues both on and off the field.
"It wasn't just about play, but what could you learn through play," Connolly said. "And that's when you start to think about incorporating these ideas of social and emotional learning, which you see a lot nowadays, back then it was pretty new."
In 2019, with three Safe-Hub locations in South Africa, each with over a thousand participants and a marked impact on youth employment and community safety, AMANDLA opened its first North American office in Philly. The Philadelphia program used to be at the Lighthouse Field until its move to Scanlon Rec Center in March 2022.
Connolly cited the main reasons for the expansion, including the recognized need for safe spaces, youth development opportunities, and high-quality recreational spaces in certain areas of Philadelphia.
"We say how can we start to scale this so that this isn't just reaching young people here in Kensington, but we can maintain that quality, we can maintain that effectiveness, and bring it to West Philly, bring into Southwest Philly, bring into places outside of the city and use this as a blueprint for really meaningful systemic change," Connolly said.
A case for holistic health programs that reduce childhood toxic stress?
While Safe-Hub was not designed to prevent or treat childhood trauma, the health outcomes it aims to improve (diabetes, hypertension, and obesity) are directly linked to childhood adversity and the "toxic stress response" that often follows it.

Stress can be positive, tolerable, or toxic. Toxic stress occurs when a person's stress response system is constantly activated. Although people of all ages can experience toxic stress, it is especially harmful when it happens to children because they are still developing.

Common causes of childhood toxic stress are known as "adverse childhood experiences" or "ACEs." In high doses, ACEs can lead to negative, long-term impacts on children's brains, immune systems, hormones, and metabolisms. It can also alter their DNA.

Common ACE exposures can be found in family systems, community environments, or both. Additionally, adverse community conditions impact family systems because families exist within broader communities (like neighborhoods). Meanwhile, policy and other social factors trickle down to affect community and family conditions, too.
Family ACE exposures
The original ACEs study surveyed more than 17,000 American adults about their exposure to the following family-level ACEs:
Abuse (physical, emotional, or sexual)
Neglect (physical or emotional)
Parental incarceration
Parental mental illness
Parental loss/separation
Parental substance dependence
That study found that most Americans had experienced one or more ACEs, and the more ACEs someone experienced, the worse health outcomes they had later in life.

People who experienced ACEs were at an increased risk for behavioral health outcomes like:
Alcohol misuse
Drug misuse
High-risk sexual activity
Smoking

They were also at increased risk for mental health outcomes, such as:
Anxiety
Depression
Post-traumatic stress
Suicide
Finally, they were also at increased risk for various physical health disorders, including:
Cancer
Chronic obstructive pulmonary disease (COPD)
Heart disease
Hypertension
Liver disease
Obesity
Stroke
Community ACE exposures
One major limitation of the original ACEs study is that it was conducted with a mostly white, middle- and upper-class sample. Since then, there has been a push in Philadelphia and across the country to look at community-level causes of childhood toxic stress. A leader in this movement has been the Philadelphia ACE Project.

About a decade ago, researchers with the Philadelphia ACE Project conducted the Philadelphia Expanded ACE Survey. The survey aimed to measure family- and community-level adversity in Philadelphia, which has a population with more racial and socioeconomic diversity than the original ACEs study.

The expanded ACEs they researched included:
Bullying
Living in foster care
Neighborhood adversity
Racism
Witnessing violence
The expanded ACEs study found that 70% of Philly residents had experienced one or more of the original ACEs, and 40% experienced four or more.

Additionally, they found that 40% of city residents had experienced four or more of the expanded, community-level ACEs. Importantly, many of the residents who experienced expanded ACEs did not experience family-level ACEs.

That means that while children might have a healthy family system with positive experiences, many of them are still exposed to ACEs outside the home.
Evidence-based ACE supports
However, there are lots of evidence-based supports that reduce the impact of ACEs and toxic stress on behavioral, mental, and physical health.

One specific buffer that reduces the impact of toxic stress is fostering strong relationships between caregivers and their kids. Other effective buffers include building life skills around exercise, nutrition, and reducing negative emotions.

Others include interventions like cognitive behavioral therapy (CBT), psychological education, parent and caregiver training, wraparound services, educational interventions, housing interventions, and more.
EduSoccer Program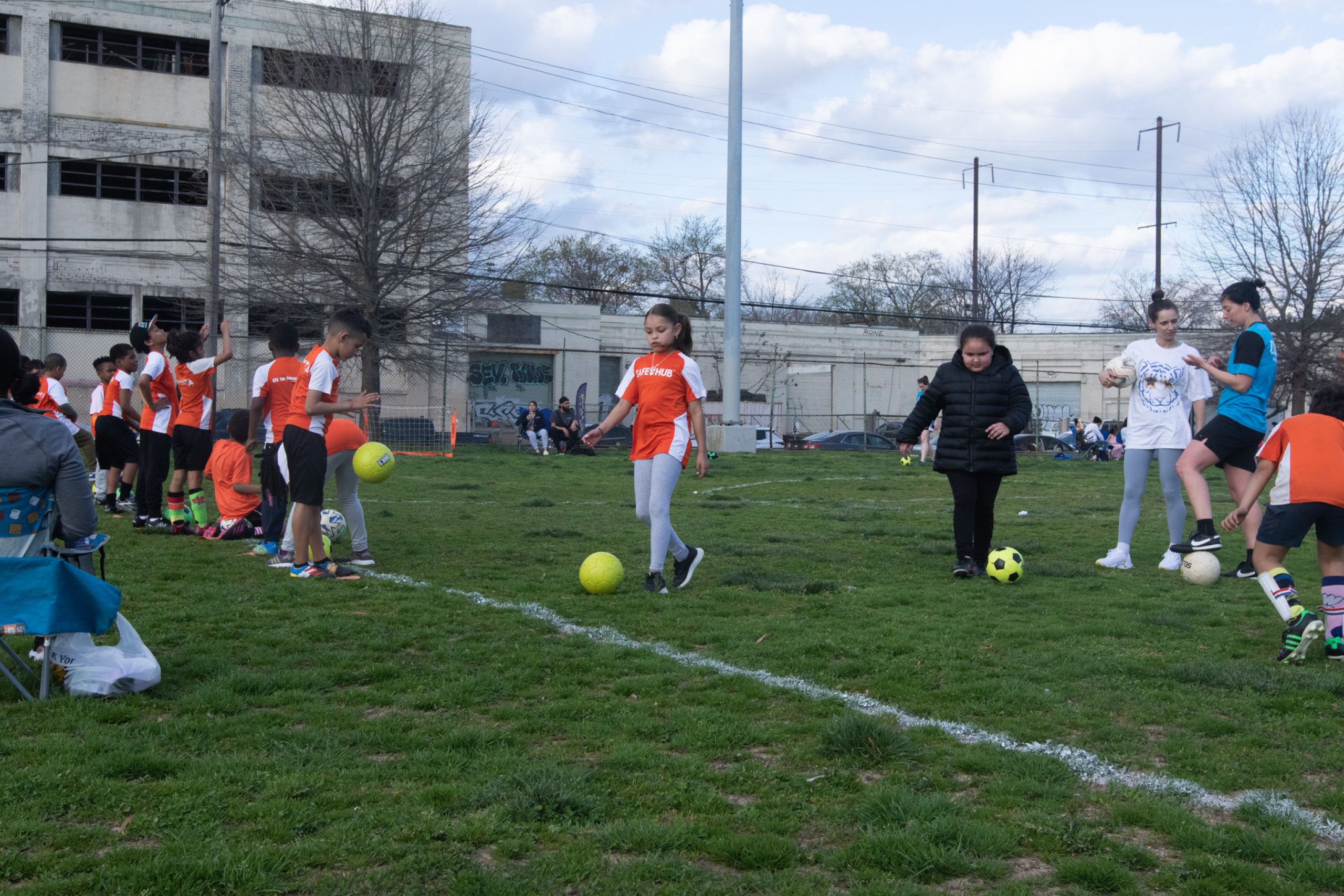 The EduSoccer program is Safe-Hub's flagship program for participants ages 4 to 17. The program is at the center of what Connolly calls a "cradle to career pipeline and curriculum." It is based on existing models applied in South Africa.
According to Conolly, the pipeline provides children with a safe space to play as they go through physical and social-emotional development. When participants reach adulthood, the focus pivots to career readiness.
Safe-Hub's efforts include the volunteer coach mentorship program, where community members learn to coach practices and games. The Edu-Soccer program's impact comes from the relationships and emotional skills fostered by the coaches at each practice.
Soccer practice starts and ends with a "safe zone," a team huddle where a coach facilitates a conversation where they introduce one of Safe-Hub's four key values, self-discipline, teamwork, respect, and perseverance through an age-appropriate prompt provided by Safe-Hub.
Ivan Garcia, a volunteer coach whose children are also involved in Safe-Hub, shared how the program's model has been beneficial to his younger daughter.
"She's the type of person that really gets overwhelmed with people she don't know. [Safe-Hub] actually spend time getting to know her and figured out what's the best way to use the sport to her advantage." Garcia said. "Whenever she felt overwhelmed, they actually stopped, spent a few minutes with her trying to see what they can do to assess the problem and get her more involved. Little by little, she opened up."
The impact of Safe-Hub's coach mentorship isn't just limited to the kids but impacts parents as well.
"Using the stuff I learned with other kids, I noticed things I wasn't doing for my kids," Garcia added. "So it's helped me with that … Last year, I think it's the closest I've been with my kids."
There are 300 participants in this year's EduSoccer season. The spring-fall season began in late March, and the program enrollment and waitlist are closed. To apply for next season, click here.
PlayMaker Program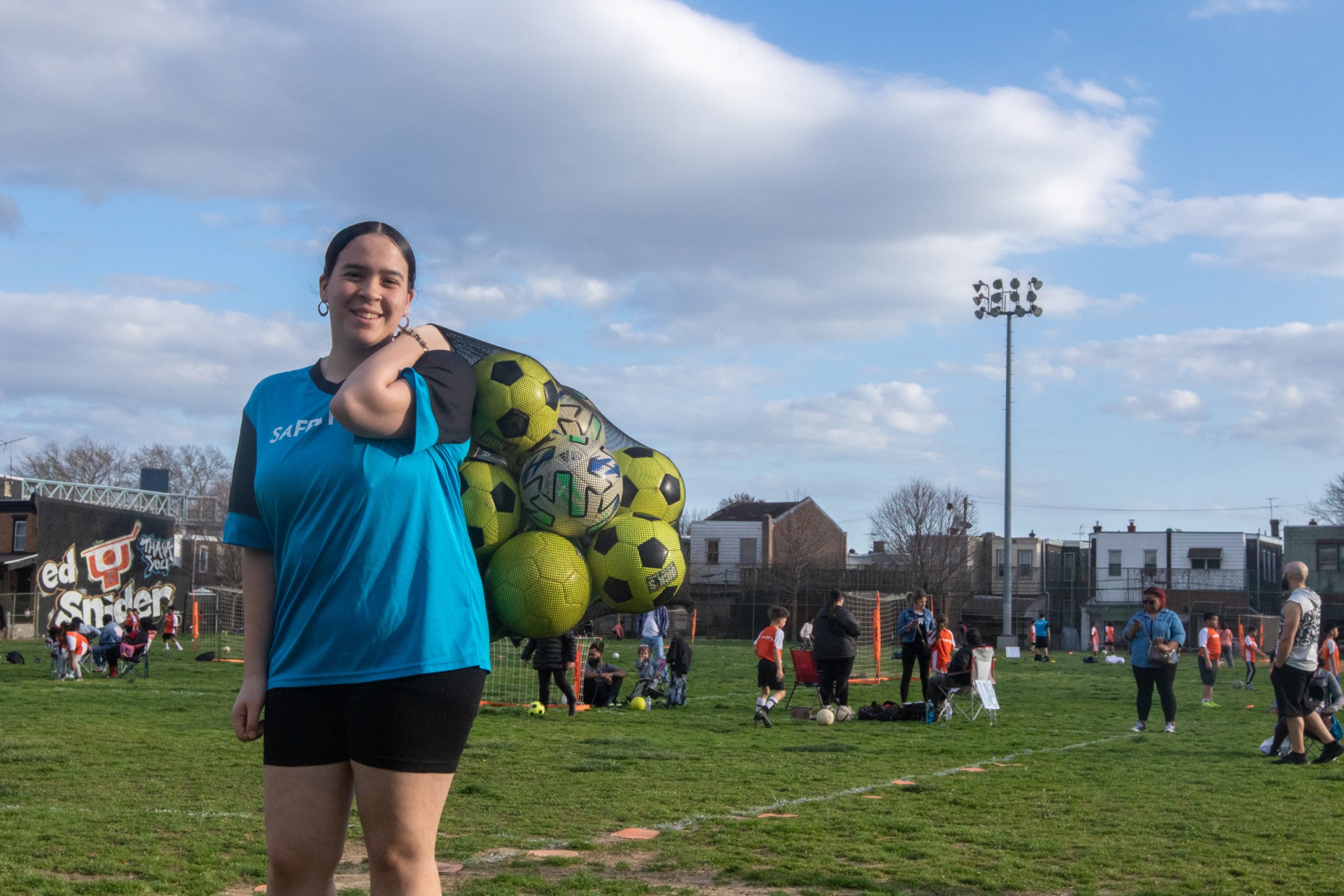 The continuation of the pipeline for EduSoccer players ages 15-17 is the PlayMaker Program. The teenagers are paid to coach and mentor their younger peers. They also have the opportunity to play soccer and participate in off-field workshops to consider their next step in life. 
Amanda Garcia-Roman, a playmaker with the program, said she joined to be involved in her community and to prepare to work with kids in the future.
"I feel like a lot of people really doubt the creativity and the lengths that these kids go through," Garcia-Roman added. "The fact that they just show up and they're so good at comprehending our teamwork capabilities … the teamwork they go through, the strategizing that they go through. It's amazing."
If interested in becoming a PlayMaker, fill out this form.
Collective Impact Program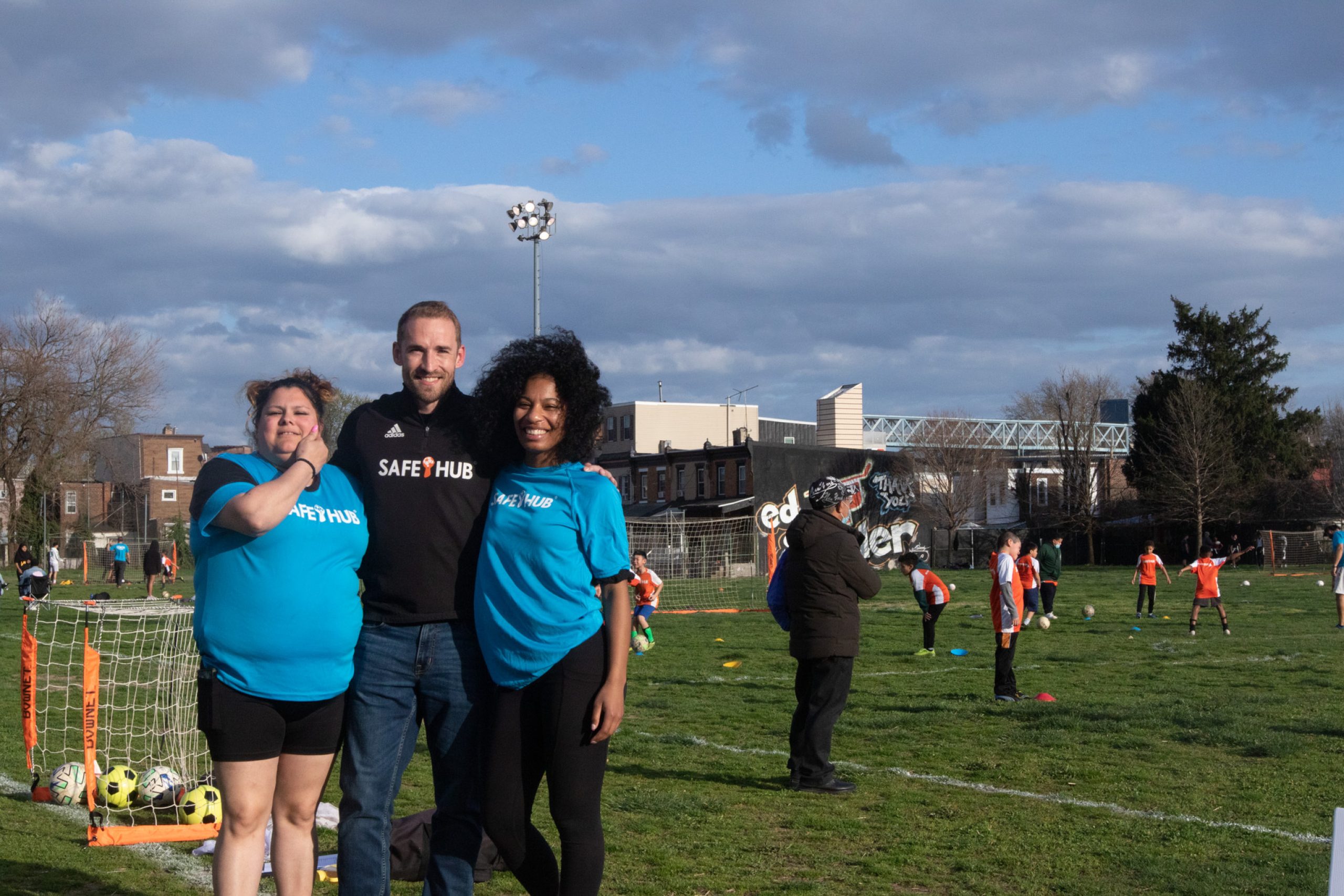 One of the key ingredients in the Safe-Hub formula is centering on-the-field learning with off-the-field support through the Collective Impact Program. One of Safe-Hub's founding principles is its commitment to creating a safe space within its facilities and the surrounding area.
"We've noticed that, particularly in high crime neighborhoods and volatile spaces, a truly safe space is critical for young people to thrive," Connolly said "And so we invest in building out the infrastructure to ensure that there can be a safe space."
Some investments include fenced and well-lit turf fields and workshops at its office/youth center at 3525 I St. Safe-Hub also brings in community partners to provide services for its participants. A committee of parents whose children play on the Safe-Hub team guides these and other Collective Impact efforts.
"This committee helps us refine and reconsider what kind of resources we bring to the space on a regular basis," Connolly said "That could be partners who bring out housing and utility assistance programs and opportunities [for] workshops on financial literacy."
Anna Brantley, the head of the committee, described how the committee organized different events aligned with the needs of Safe-Hub's families. These needs are determined by discussions and meetings with the families involved with the program.
Safe-Hub hosts community events throughout the season. For example, the organization has an Easter egg hunt and annual back-to-school block party at Scanlon Playground. 
Connolly said de-stigmatization is a central aspect of Safe-Hub's efforts to provide resources to its families. The organization partners with Sharing Excess, an organization founded to fight food insecurity, to provide fresh fruit and vegetables on the field every Saturday. Safe-Hub also organized an on-field Narcan training from Savage Sisters Recovery. Safe-Hub is currently building a partnership with UESF to provide people with housing support.
"When we're out there on the field, it's just soccer practice, and kids are out there playing soccer, and their parents are out there hanging out," Connolly added. "And so that creates that nice easy barrier, a low barrier to entry."
To learn more about Safe-Hub Philadelphia or to get involved, click here.
---
Editors: Siani Colón, Zari Tarazona Designer: Zari Tarazona