Squeezing a 40-foot shipping container through the gate of the Kensington Corridor Trust (KCT) garden on Kensington Avenue was no easy feat. However, innovation and problem-solving are core principles behind the workshop at the container.
The container is serving as a creative hub to teach local youth how to be business savvy, learn how to design-build products, and address environmental issues. It is managed by the Youth Volunteer Corps of Philadelphia (YVC Philly) and We Love Philly.
The two organizations partnered with KCT to host the container at the garden space at 3236 Kensington Ave. and run free programming for students.
Social entrepreneurship for change
The project's inception came from two like-minded missions joining together.
We Love Philly is a nonprofit organization that works with Philly students ages 16 to 21 who lack the credits to graduate on time to develop leadership and professional skills while completing their education. When Carlos Aponte founded the organization in 2018, activities centered around digital medium-making, marketing, and social-emotional learning.
"We would do a lot of conflict resolution, a lot of meditation, journaling," Aponte said. "And then it has evolved into just centering our student voices, listening to what they want to do, and then actualizing the projects they want to do."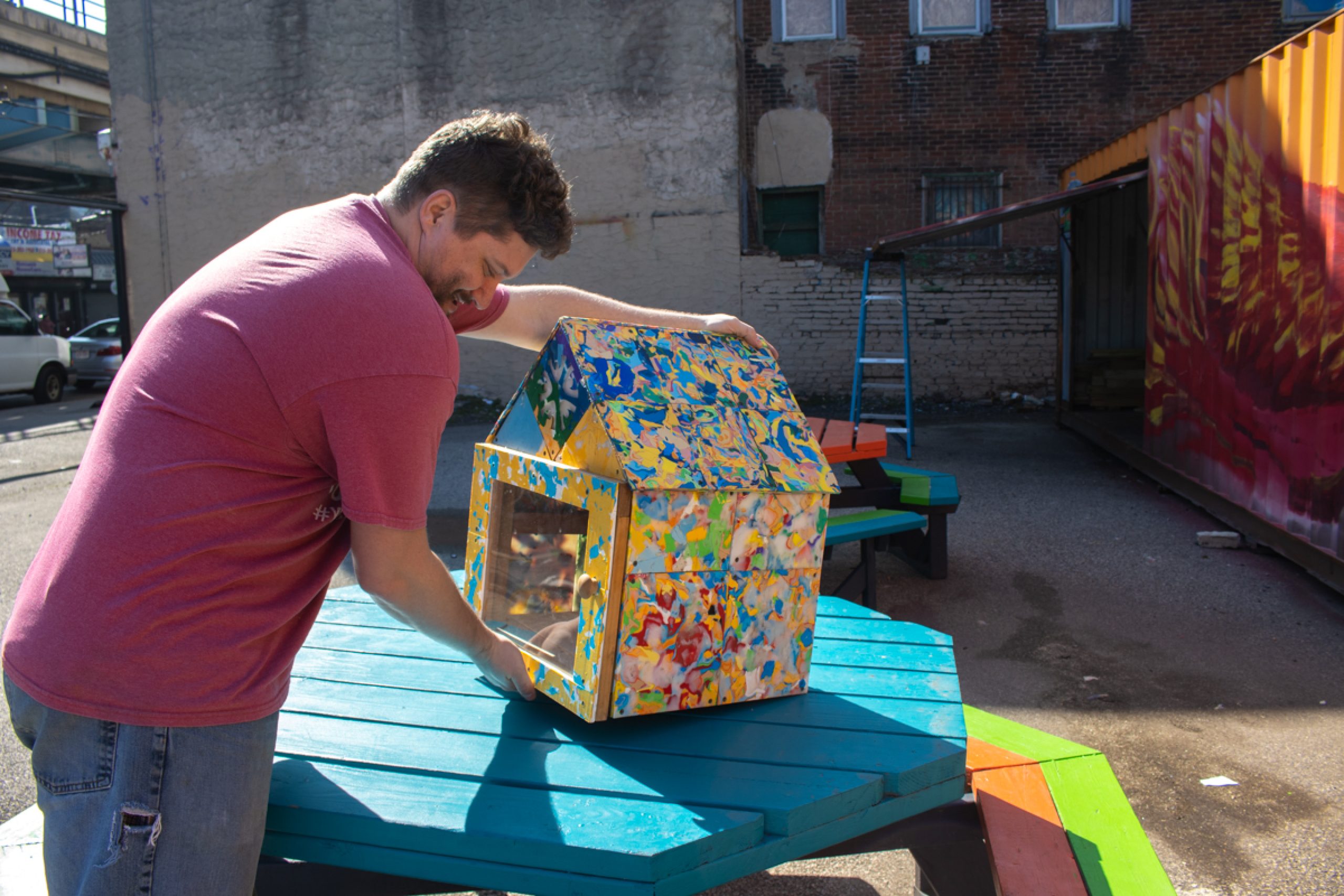 YVC Philly Executive Director Greg Lynch co-founded the organization in 2016 with student leaders to facilitate community service and volunteer initiatives. The nonprofit primarily works with youth ages 11 to 18.
"We're all about just creating meaningful and engaging opportunities so that students have a chance to give back and that they have a good experience with it so that, hopefully, they kind of fall in love with service and that it becomes a lifelong habit for them," Lynch said.
The two nonprofits have worked together in the past with projects that included mural painting, podcasting, and other volunteer opportunities.
YVC Philly has also partnered with other organizations, including United by Blue, a local B-Corp-certified business that creates apparel with low-waste materials and supports community cleanups in highly polluted areas. After the partnership, Lynch said the students from Bodine High School viewed plastic as the most prevalent material for repurposed goods.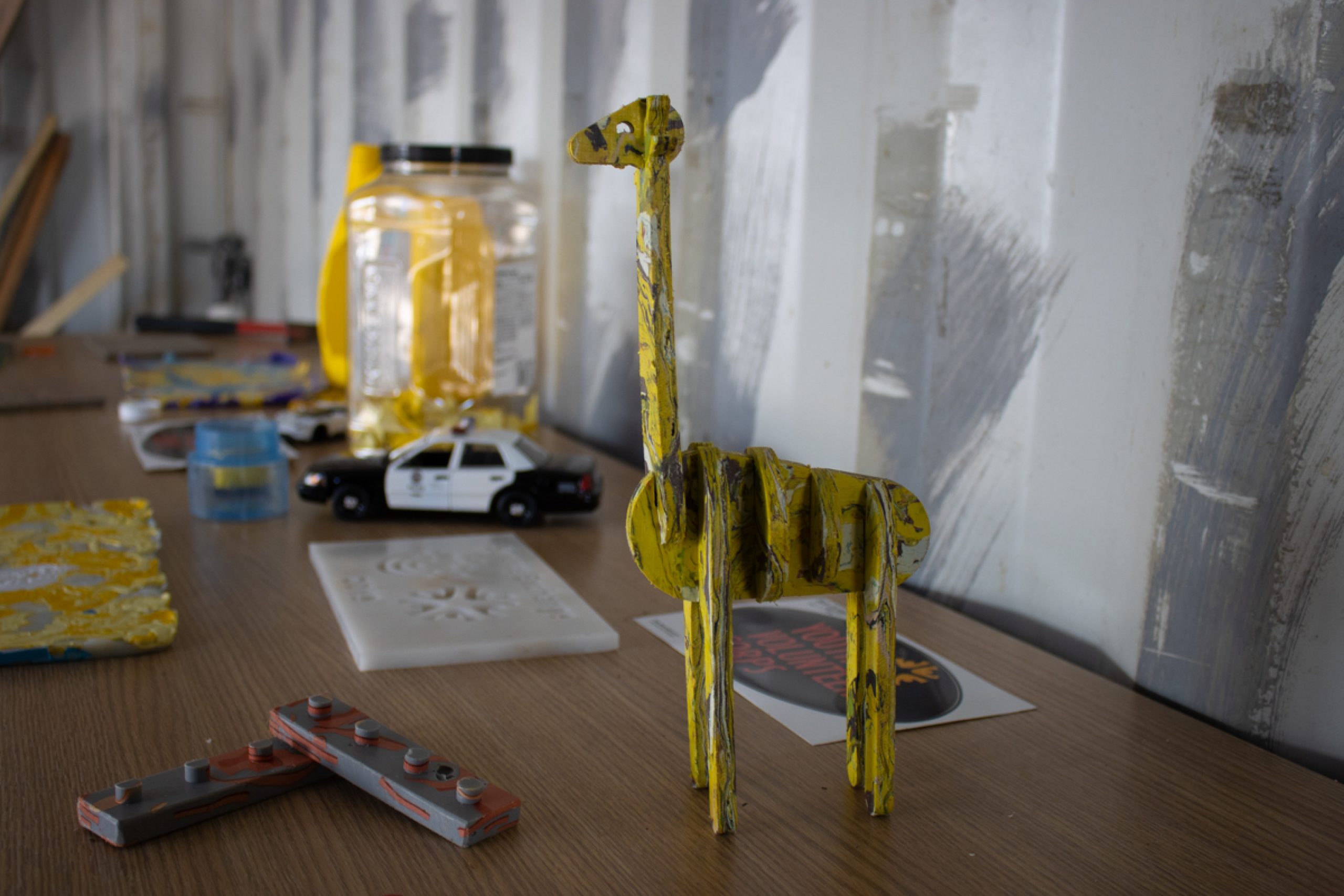 In Philly, plastic is found in the waterways in large amounts.
The Philadelphia Water Department operates boats or "skimming vessels" that collect litter floating in the Delaware and Schuylkill rivers. Philly neighborhoods, including Kensington, get its water supply from both rivers. The agency estimates the vessels collect 1.1 tons of plastic each year and that 1,000 tons of plastic are removed from our sewer system annually.
Most plastic products are made with fossil fuel-based chemicals and can take many years to break down. Plastic pollution harms humans and wildlife because of the chemicals used to produce the material. Health conditions, such as thyroid dysfunction, reproductive impairment, and diabetes, are linked to plastic pollution. Wildlife can ingest or become trapped in plastic, immobilizing and potentially killing them.
To address plastic pollution, Lynch said that YVC Philly's students were inspired by Precious Plastic. The organization provides open-source machine plans, product designs, and business models for others to use as a guide to recycling plastic into a new product, reducing waste.
"Not only would we be doing the service of helping the environment and limiting pollution, then also kind of taking that to the next level by creating usable goods, or things that could benefit the community, out of the trash," Lynch said.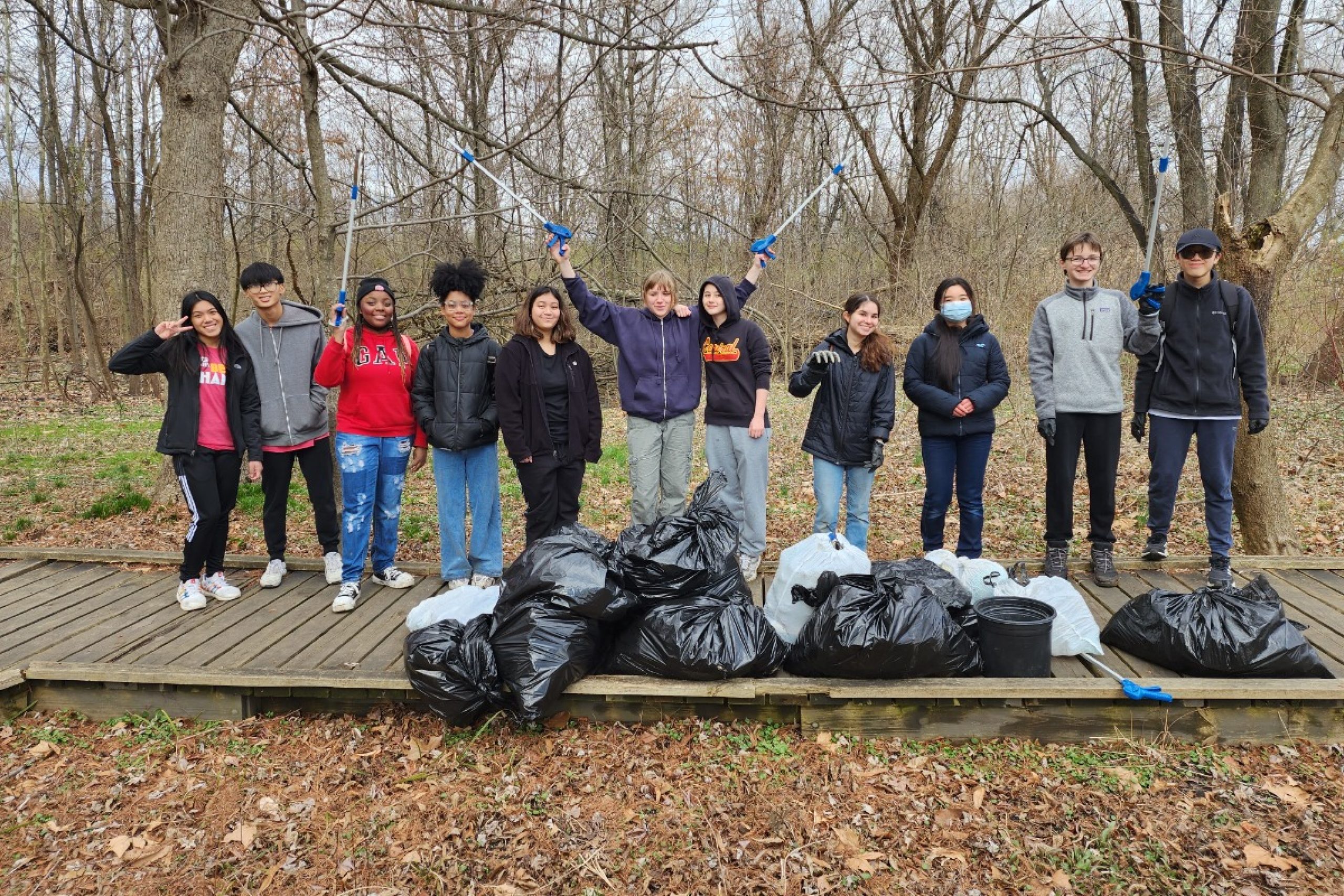 From sketches to pitch presentations, YVC Philly's project continued to evolve until the participants created a workshop with semi-industrial machines to repurpose the plastic collected from community cleanups.
There was just one problem: YVC Philly had no space to host the workshop. Luckily, help arrived through a partnership with We Love Philly.
Shipping containers as hubs for learning and imagination
When We Love Philly's students went out to volunteer, it was their first time leaving their own neighborhood for many of them. According to Aponte, the 2020-2021 student cohort was curious about the increased development and gentrification around the city and wanted to learn more about real estate.
In 2021, We Love Philly participants from four of One Bright Ray Community High School's campuses researched shipping containers as a solution to the affordable housing crisis. After fundraising to purchase a container and supplies, the class of students the following year budgeted, designed, and painted the container at One Art Community Center in West Philly. Throughout the process, students learned about banking, construction, financial literacy, real estate management, and construction.
Aponte's plan to redo the container process with another class came with the opportunity to help solve a problem.
"I was like, we should put our shipping container there because [ Lynch's] amazing and wants to do this recycling container initiative, and I feel like Kensington is definitely a place where it needs to happen," Aponte said.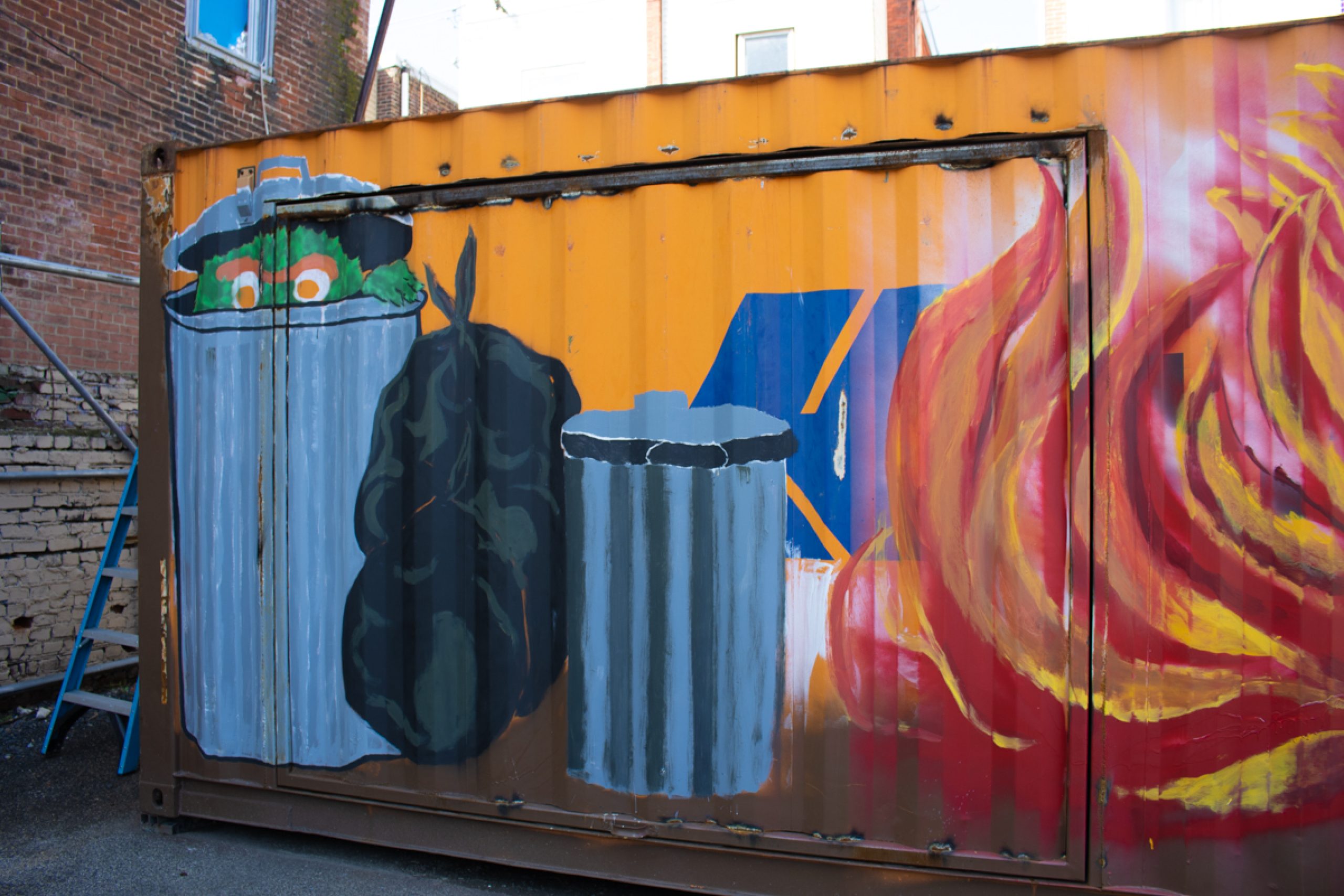 Last spring, We Love Philly students met with Lynch twice a month to get his input as they worked on designing the container at One Art Community Center. After finalizing the construction plan, the group printed a 3D model and ordered the necessary materials.
We Love Philly participants welded and built the container with YVC Philly volunteers. Once the sale and delivery were completed, YVC Philly's recycling workshop had a new home in the container at the KCT garden.
Although other programs have taken place at the garden, such as community barbecues and gardening days, the trust is still looking for more ways to activate the community space.
Jasmin Velez, the community organizer at KCT, wants to see more community ownership of the garden like residents leading their own programs and connecting with neighbors.
"Compared to other neighborhoods, there's not a lot of programming that exists [in Kensington], so having that right there on the avenue and directly accessible to folks like that was important to us," Velez said. "It allows young people to get together, build those relationships with each other, and learn a new skill along the way."
Creating in Kensington
Before the YVC Philly workshop moved into its permanent home at the KCT garden, participants had some practice building recycled goods.
Past creations include a Little Free Library box, legos, figurines, and birdhouses. While the projects are on display at the space, now students can do all that and more in their outdoor classroom in Kensington.
Last June, YVC Philly and We Love Philly hosted a launch event for the recycling workshop at the KCT garden. The "Trash to Treasure Showcase" was primarily organized by the youth from both organizations.
During the event, I am Art LLC painted a mural on the container. It features Sesame Street's Oscar the Grouch, a flaming phoenix, and a treasure chest to represent the trash-to-treasure concept of the recycling workshop. The debut included live musical performances, free food catered by Cantina La Martina, and water balloon fights.
After, in the fall, The Revolution School students made designs for a Day of the Dead celebration. They imported the sketches into the computer software connected to a carving machine. The drawings went from being on paper to 3D models made from plastic bottles.
We Love Philly and YVC Philly's staff supervise the programming with help from older high school students and alumni with plastic recycling experience. All Philly youth aged 11 to 18 can participate, but Lynch wants the programming to prioritize engaging younger students who go to school in Kensington near the container's location.
Looking to the future, the goal is to have weekly programming at the workshop through the end of the year. When summer break arrives, the workshop can be a way to engage youth while they're out of school. Other goals for the container are to have dedicated times for residents to bring plastic to be recycled and to host adult programs.
"Students can use what they learn and use their creativity and combine this plastic recycling initiative with other services priorities that we have and create community good in multiple ways throughout that process," Lynch said.
---
Editors: Zari Tarazona / Designer: Siani Colón