To see more photos of the protest, view the slideshow at the end of the article or follow @KensingtonVoice on Twitter, Instagram, or Facebook.
Updated: 07/09/2020 8:26 p.m.
Dozens of protesters shut down Kensington's main intersection on Wednesday night to call out city leadership for what protesters called a failure to fulfill previous promises made to the neighborhood.
The protest was organized by members of the Harrowgate Civic Association. Around 4:30 p.m., the civic association ushered a crowd of protesters into the intersection of Kensington and Allegheny avenues to listen to an hour of speeches from neighborhood residents. At the same time, people held signs with messages like, "No Heroin in Harrowgate," and "We Want Our Neighborhood Back," while others held photos of littered streets and people openly injecting heroin.
"This environment we live in — dealers threatening people's lives with gun violence; with needles adorning our sidewalks in replacement of flowers — wouldn't be tolerated anywhere else," said Jasmin Velez, a Harrowgate resident and Kensington community member of more than 20 years, during her speech. "We constantly hear promises… but we're never certain these strategies are even coming our way."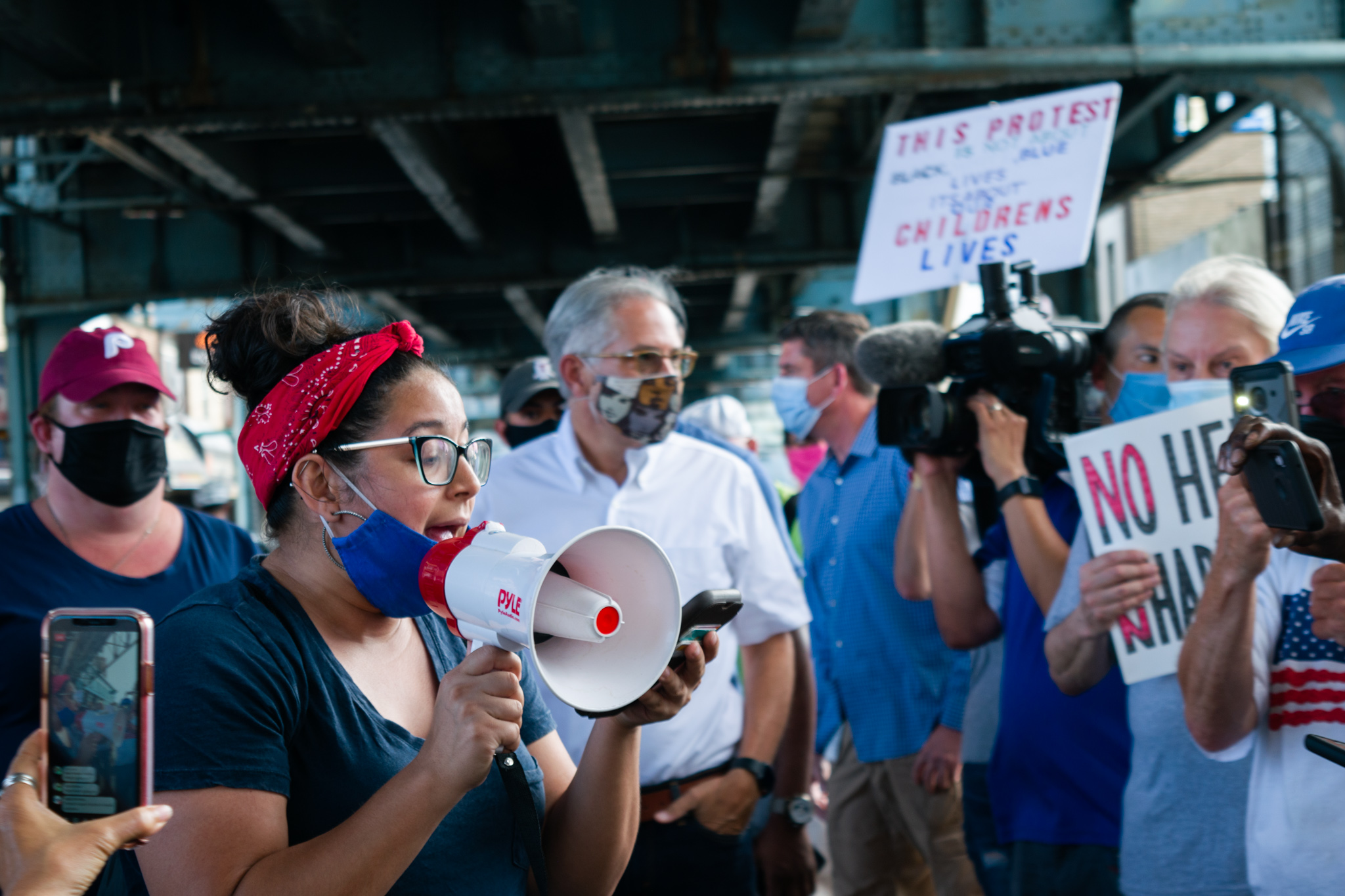 According to the Census, 41% of the people in the 19134 zip code — which covers parts of Harrowgate and Kensington — live in poverty. Additionally, Kensington is the neighborhood most impacted by the city's overdose crisis. Kensington has been a focus of city-backed initiatives to address poverty, drug use and addiction, like the 2018 Philadelphia Resilience Project, which aimed to clear homeless encampments, reduce criminal activity, and increase treatment options and community resources in the area.
Protesters on Wednesday declared that these initiatives have failed them. Now, residents want immediate action, said Shannon Farrell-Pakstis, president of the Harrowgate Civic Association.
"You have to do something, because you promised us this was going to change," Farrell-Pakstis said about Mayor Jim Kenney's administration. "For three years, they tried to help; they say they're going to have housing [for people experiencing homelessness], they're going to offer shelters, that they have street outreach out here everyday."
According to Farrell-Pakstis, the Resilience Project has helped those who were ready for rehabilitation and housing, but people who weren't ready or unable to accept services at the time — they remain living unhoused in Kensington where open-air drug use has only gotten worse.
Farrell-Pakstis wants the city to improve the quality of life for Kensington and Harrowgate residents and give people who are experiencing homelessness in Kensington better access to mental health services and housing outside of the neighborhood, she said. The city's current approach isn't working and is hurting the youth the most, she added.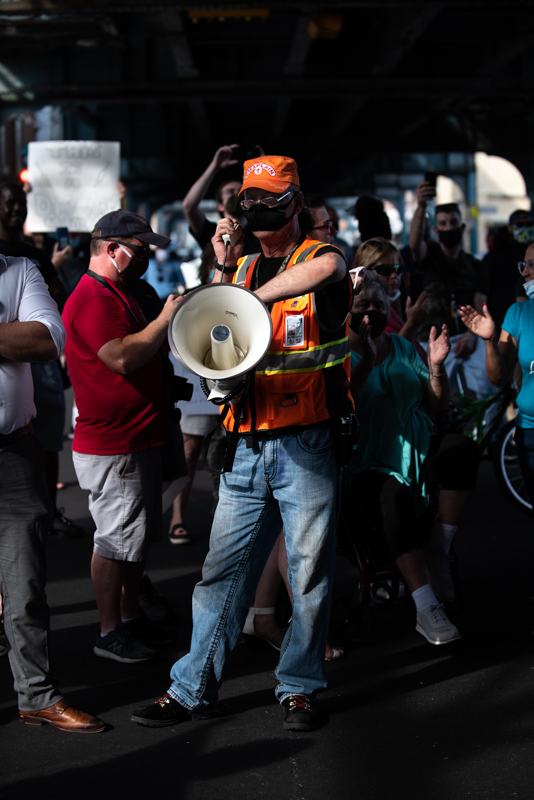 Philadelphia police officers, a few local politicians, and dozens of bystanders watched as life-long residents spoke at length about the neighborhood's vibrant past, city leadership's failures, and first-hand experiences of neglect from the city.
"I remember Kensington streets filled with kids enjoying a hot summer night," said Gilberto Gonzalez, a Kensington resident of more than 40 years. "I remember sitting on steps, parks, and corners — enjoying conversations with my neighbors. I remember struggling to make ends meet but that was okay because at least we had jobs."
"What we have today is poverty, drugs, and daily killings," he added. "What we have is homelessness and people in addiction on every corner of Kensington."
Philadelphia District Attorney Larry Krasner addressed the crowd via megaphone in response to calls for his resignation. Krasner blamed massive job loss in the area, decades of harsh policing, and punitive drug policies for fueling Kensington's current state.
"This was an industrial area; a place where there were plenty of jobs," Krasner said. "That was 60 years ago. The solution has been 'more cops, lock 'em all up' and that's what's been said for 60 years… and that's how you got here."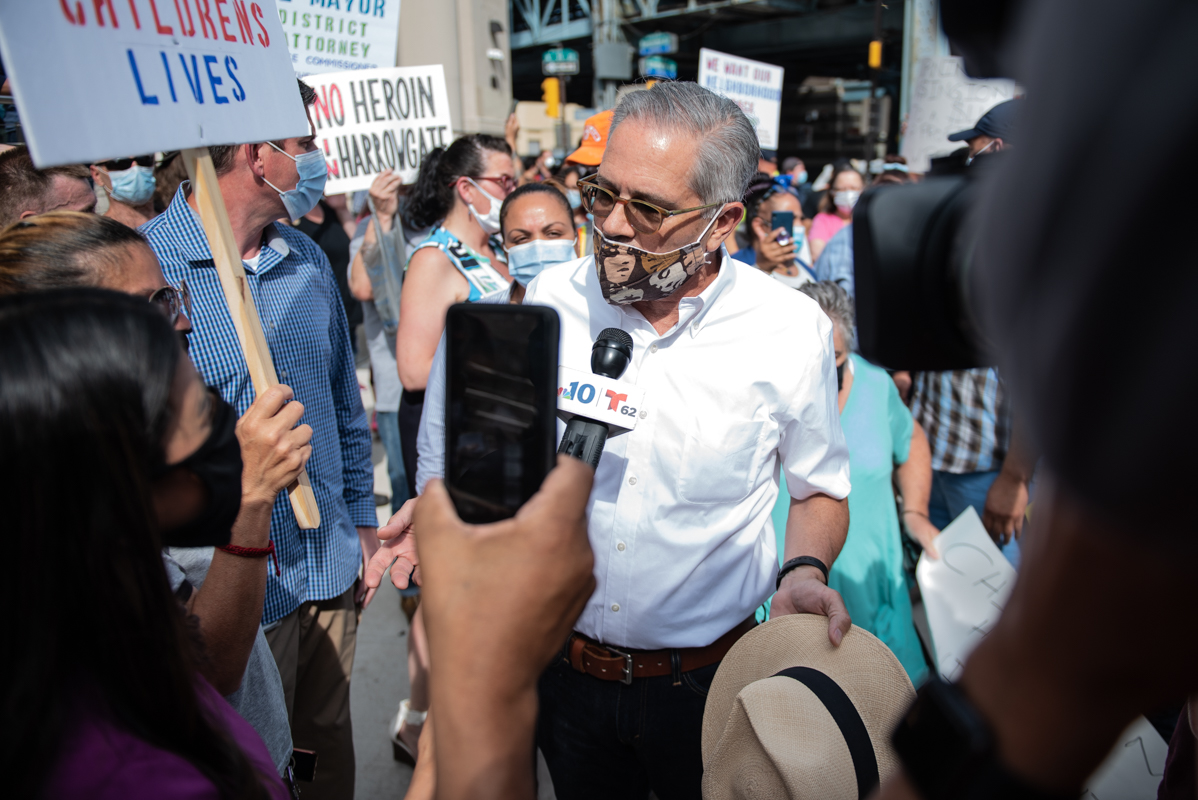 Jeff Walder, a protester and former city employee of 25 years, said the city needs to create a better system for providing access to rehabilitation treatment. Walder feels that people who experience homelessness or people who struggle with their mental health need guidance and healthy environments in which they can rehabilitate — two things that aren't possible in Kensington, he added.
"Where are they going to get a job, a home, or get their needs met?," Walder said. "They need to have somebody to shepherd them through that part. Not in a place like this — but in a structured place with wrap-around services to help get them better."
Farrell-Pakstis and other leaders of the Harrowgate Civic Association said this will be the first of many protests against the city's leadership until changes are made.
As residents grow more vocal about these issues, Kensington Councilmember Maria Quiñones-Sánchez proposed a resolution on June 25 that would authorize City Council to continue holding hearings about the city's treatment and prevention efforts related to opioid-use. The resolution also mentions hearings for Quiñones-Sánchez's 2020 Restorative Investment Plan for Kensington Residents, which would implement daily trash removal, weekly corridor and street cleanings, improved access to mental health and drug treatment, and a new, fully staffed police district or Police Service Area to solely serve Kensington.
But while elected officials and community leaders forge plans for the neighborhood, advocates warn that Kensington's problems can't be solved with simple solutions.
"The issues here are very complex because they're interwoven," Jasmin Velez said. "[Drug] dealing is awful for people because people are afraid to leave their home; businesses are being held hostage. You got drug sales happening on every corner."
"It's a whole other complex set of issues because now you have kids watching people use drugs, injecting themselves — consistently our kids in this community are desensitized," she added. "We could try to fix one thing, but the problems here are very systemic."
In a letter written to Harrowgate and Kensington residents, a day after the protest, Philadelphia's Managing Director Brian Abernathy acknowledged that residents' quality of life is worse than six months ago — and to no fault of their own. He said that the city is committed to implementing Councilmember Quiñones-Sánchez's Restorative Investment Plan and having an operational plan with a timeline and deadlines completed by July 27. In his final remarks, he promised to give residents a community engagement process if a supervised injection site is found able to legally operate by the courts.
[Best_Wordpress_Gallery id="14″ gal_title="K & A Protest"]
Photos by Erin Blewett, Solmaira Valerio, and Claire Wolters.
---
Editors: Claire Wolters, Zari Tarazona / Designer: Henry Savage / Visuals: Erin Blewett, Solmaira Valerio, Claire Wolters