Kensington English teacher Maddie Luebbert is open about their nonbinary identity with students and colleagues. But the School District of Philadelphia's official documents may suggest otherwise.
That's because the school district prohibits staff members from changing their names unless they have also been legally changed. This means that nonbinary and transgender staff members are identified by their legal name, even if that is not their chosen name, in school records. And gender neutral titles like "Mx.," which Luebbert uses, are not offered on the school district employee name change form in place of other titles like "Mr." or "Mrs."
"The district's bureaucratic stuff is very, very entrenched in the gender binary, and many schools are really used to using that language," said Luebbert, who teaches 9th grade English at Kensington Health Sciences Academy (KHSA). "It's a tough habit to break. But, obviously, it doesn't feel good for me, as a nonbinary teacher, to be filling out a form for the district and not even being acknowledged on the form as someone who exists."
Official records affect how names are displayed on more than just forms. They appear on ID badges and email accounts, too. And, according to the city's Fair Practices Ordinance, prohibiting staff name changes in those areas can be illegal.
As of a 2013 update, The Philadelphia Fair Practices Ordinance states that, "for any employer to fail, upon the request of an individual to change that individual's name or gender on any forms or records under the control of that employer, to make such changes to the extent permitted by law," is an unlawful employment practice.
"It blew my mind," Luebbert said about reading the ordinance for the first time. "For a district that, in general and right now especially, is using a lot of language, publicly, to talk about equity and to talk about justice and to talk about affirming and protecting people of marginalized groups, it's especially frustrating to me that we are talking the talk but almost never backing it up with practice and policy."
According to school district spokesperson Monica Lewis, the School District of Philadelphia plans to remove the legal name requirement for staff. The restriction was due to a rule from the state pension board, which mandated the district to provide the Public School Employees' Retirement System (PSERS) with an employee's legal name for retirement purposes, Lewis wrote. The district did not comment on when its requirement will change, or why name changes were prohibited on forms not involved with retirement plans.
"Moving forward, employees who want to change their name will not be required to provide supporting documentation and can select a gender neutral alternative prefix," Lewis wrote.
Staff who wish to voice a concern about the name change process can email the Office of Employee and Labor Relations, at employeerelations@philasd.org, or the Office of General Counsel, at ethics@philasd.org, she added.
Once the change is made, its effectiveness may rely on how widely it is communicated amongst staff and the help they're given to make the change.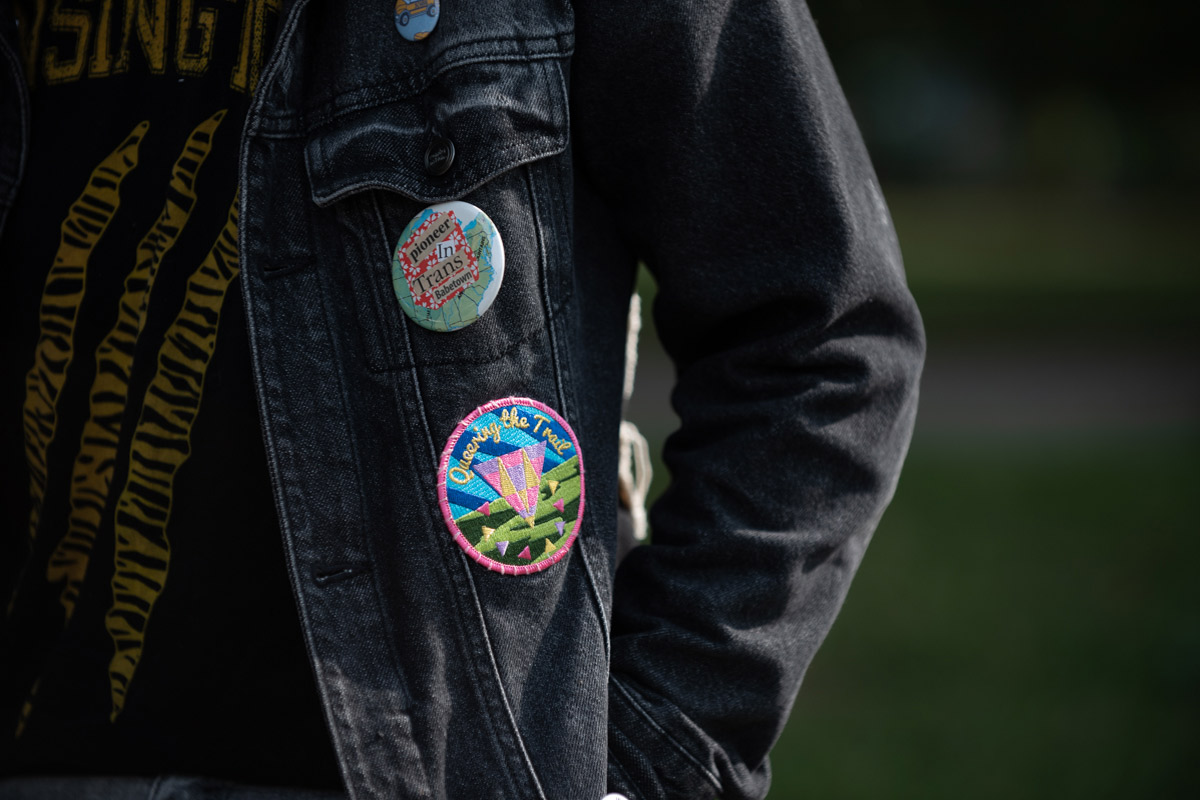 A similar issue was brought up for students this past spring. The school district's policy No. 252 has allowed transgender and gender non-conforming students to change their name on classroom rosters, even without a legal change, since 2016. The purpose of the policy is to guarantee equity, justice, and safety for all students, including transgender and gender non-conforming students. But not everyone knew how to make that change. Notably, there was no paper or online form for them to change their names on.
This past spring, Luebbert drew extra attention to the difficulty of accessing the mandate. They noticed that Google Classroom made it easier for some students to be "outed" to their peers since the system shows their birth name. During the COVID-19 pandemic, the school district is using Google Classroom to facilitate digital learning, which requires students to have a display name next to their video. For nonbinary or transgender students, having a name that doesn't reflect their gender identity constantly lighting up in front of them could be uncomfortable or triggering, Luebbert said.
Luebbert was vocal about the issue on social media and attracted the attention of the school district's Board of Education Member Mallory Fix Lopez, who worked to create an accessible online form for students this fall. Luebbert later created a personal bit.ly link, which can be accessed through a school account, to simplify the process further.
According to Fix Lopez, making sure the form was accessible to students was a priority because without it there could be negative impacts on students' mental health or a student could be incorrectly identified in class.
"Teachers brought it to our attention, and I absolutely made sure it was a priority," Fix Lopez said. "I just made sure that it didn't fall to the bottom of the list because I was concerned that it wasn't simply a name display, it was a person's identity."
Regardless of school district rules, Luebbert has been fortunate in that their colleagues and supervisors at KHSA accept the use of nonbinary pronouns and titles in the classroom, they said. The school allows them to go by "Mx." and "Maddie," a shortened version of their legal name, in school-specific rosters.
Still, they recognize that not all nonbinary teachers in the school district receive the same level of support, they said. Luebbert has been in conversation with about a dozen other nonbinary teachers and colleagues of teachers who are nonbinary who at times expressed a desire to change their names on school forms or expressed discomfort with the district's current system, they said.
"I would imagine that there are many people who maybe would have considered such a change even if it were unofficial, but perhaps don't even feel like they have the ability to start that conversation," Luebbert said. "Who knows how many employees that just aren't even reaching out for support because they don't even feel that it's possible?"
Jerry Jordan, president of the Philadelphia Federation of Teachers (PFT), said that the teachers union will be advocating for staff name changes for people who have not legally changed their names during their next collective bargaining agreement, which will begin in January 2021. However, depending on the timeframe of the school district, the change could happen sooner.
"People should be called the name that they wish to be called," Jordan said. "It's a matter of equality and it's a matter of respect that all human beings are entitled to; they should be treated respectfully."
---
Editors: Zari Tarzona, Siani Colón, Jillian Bauer-Reese / Designer: Henry Savage
What did you think about this story? Send a note to editors@kensingtonvoice.com, and we'll consider publishing it in our Voices section. You can also tell us what you think in person at our neighborhood events.