Kensington Voice regularly collects updates from the Philadelphia Department of Public Health about the COVID-19 pandemic.
Below, you'll find information and recommendations to help you stay protected from COVID-19. This article was originally published on Jan. 28, 2022, and updated on Aug. 24, 2022.
Additionally, here are some other helpful COVID-19 resources:
If you have any questions about COVID-19 or need information we haven't included here, please fill out this form. We'll take your questions directly to trusted health professionals to get you answers.
General information
How many positive cases a day are we seeing in Philadelphia?
As of Aug. 22, the average number of new cases per day was 226.
What is the situation like at Philadelphia hospitals?
As of Aug. 17, there were 221 people in Philadelphia hospitals with COVID-19.
What general information should people keep in mind to stay safe?
Currently, the health department strongly recommends wearing masks indoors in public.
Matt Rankin, a spokesperson for the health department, wrote in an email to Kensington Voice on Aug. 17 that COVID-19 cases and hospitalizations have started to decrease in Philadelphia.
"The high-water mark so far this summer was indeed during mid-July when we hit 367 average daily cases," Rankin wrote. " … However, the health department wants to strongly emphasize that the risk for serious infection is still high. Deaths in Philadelphia have stayed consistent and are rising nationally."
COVID-19 cases could increase again with children going back to school and the fall flu season right around the corner, he added.
Due to the omicron subvariant BA.5's ability to evade vaccines and natural immunity, COVID-19 reinfections are common. That means vaccinated people and people who were already infected with the virus are still at risk of getting COVID-19, according to a White House press briefing on July 12
"We are at a point in the pandemic where most COVID-19 deaths are preventable," said Dr. Ashish Jha, the COVID-19 response coordinator for the White House, during the press briefing. "Our strategy to manage BA.5 relies on making sure Americans continue to have easy and convenient access to these tools."
Those tools, he added, include COVID-19 testing/treatments/vaccines, improving indoor ventilation, and wearing a mask. You can monitor your community's COVID-19 level here. And if you haven't received a vaccine booster in 2022, you should get one as soon as possible, depending on eligibility.
On March 29, the Centers for Disease Control and Prevention (CDC) recommended additional doses of the COVID-19 vaccine for certain individuals. People over the age of 50 who received their first booster at least four months ago and people of all ages who are considered moderately or severely immunocompromised can receive another booster. People in this category who received one dose of the Johnson & Johnson vaccine should have received a second dose of Pfizer-BioNTech or Moderna vaccines and can receive a booster of either.
Meanwhile, the Food and Drug Administration (FDA) decided to wait to approve a second booster for people under 50 until omicron-specific boosters become available this fall.
Lastly, according to the CDC, COVID-19 vaccines are available at no cost to all people living in the United States, regardless of insurance or immigration status.
Now that children under 5 are eligible for COVID-19 vaccinations, what information should parents know about vaccinating their children?
James Garrow, communications director of the Philadelphia Department of Public Health, wrote in an email to Kensington Voice that the health department strongly recommends that all children six months and older get vaccinated. The health department has more information about vaccines for children under 5 on its blog.
"For folks that are interested in vaccinating their child, the first place to look is at their pediatrician," Garrow wrote. "Not every pediatrician is administering these vaccines, though. Some pharmacies are also vaccinating children as young as 3."
Some of the City's health centers accept walk-ins for vaccinations. Health Center 6, the closest location to the Kensington area at 301 W. Girard Ave., has walk-ins every weekday from 8 a.m. to 1 p.m. Click here to view a full list of locations.
How can parents, students, and teachers prepare for back-to-school and flu season during the pandemic?
According to the health department, they should take the usual precautions against COVID-19 and the flu, such as handwashing, wearing a mask, and getting vaccinated.
"Some parents may be worried about getting both flu and COVID vaccines at the same time," Rankin wrote in an email. "Getting both vaccines for flu and COVID at the same time is encouraged and probably easier."
The School District of Philadelphia announced on Aug. 12 that students and staff will be required to wear a mask from Aug. 29 to Sept. 9. After, masking will be optional but recommended except for the following required times:
When the COVID-19 Community Level is high in Philadelphia (check it here)
Classroom or school-wide outbreaks
Return from extended breaks and holidays
You can view more school protocols related to COVID-19, here.
Variants
What is a variant?
According to Nicole Spector, the City's nurse practitioner leading mobile vaccination efforts in Kensington, after a virus infects the body, it makes copies of itself. If a mistake happens during the copying process, those viruses become mutations. Most mutations don't have much of an effect. However, the ones that do survive become new versions of the virus. Those versions are called variants, she said.
Omicron, the dominant variant in the U.S., led to a surge in COVID-19 cases over the holidays in December 2021 and earlier this year.
"The omicron variant was much more easily transmitted than any other COVID variant to date," Garrow wrote in an email. "That means it spread more efficiently between people and was able to get more people sick."
What variants are in Philadelphia?
The discovery of COVID-19 variants in Philadelphia generally runs behind by several weeks, Garrow wrote in an email. Omicron continues to be the dominant variant in the U.S., according to the CDC. The health department is tracking the omicron subvariants.
"Currently, the dominant strain in Philadelphia is BA.5 by a wide margin of approximately 85% of all positive samples," Rankin wrote in an email on Aug. 17.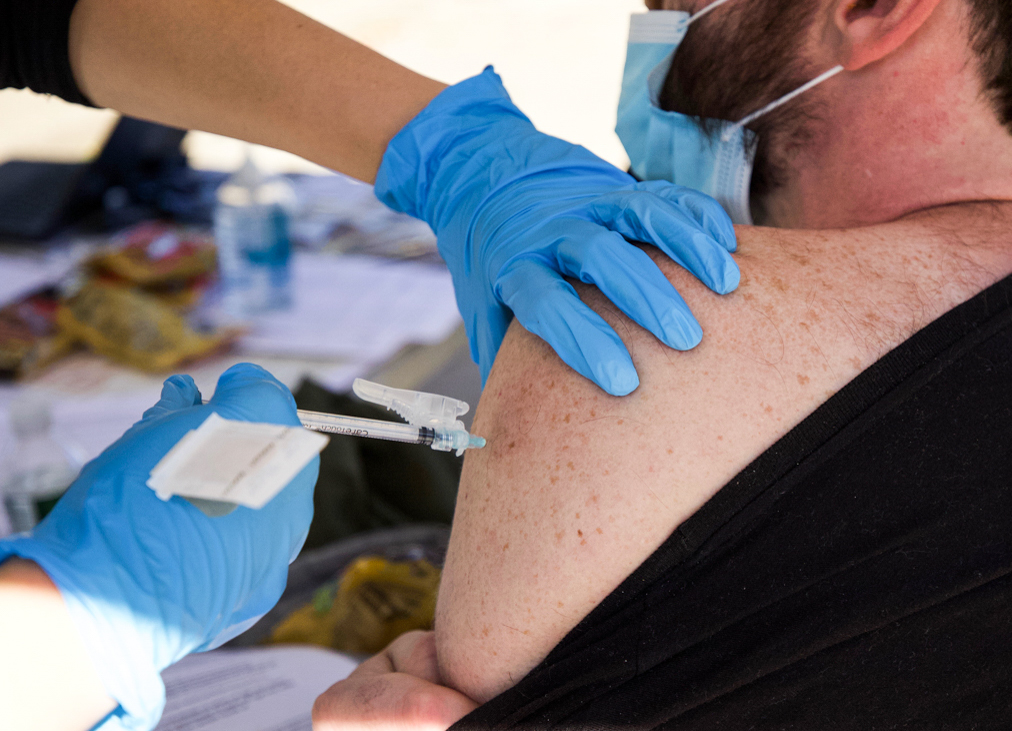 Vaccines & boosters
What is a booster shot?
A booster shot is an additional dose of a vaccine that helps protect your body's immune system in case you are exposed to a disease, like COVID-19, according to the health department.
"Many vaccines that we get throughout our lives require booster doses. Most people know they need to get a tetanus shot every once in a while; the Tdap vaccine you'll get is a booster," Rankin wrote in an email on Jan. 18. "It helps your body's immune system to be ready in case you get exposed to tetanus. There is some evidence that a booster dose [of a COVID-19 vaccine] offers additional protection against the omicron variant."
Why is it important for people who are already fully vaccinated to receive a booster shot?
A booster shot is recommended for people who are fully vaccinated since it helps lengthen your body's immunity to COVID-19.
Early research shows a booster shot was highly effective at preventing COVID-19 related hospitalizations during waves of COVID-19 where delta and omicron were predominant, according to a January report from the CDC.
This means being fully vaccinated and boosted is the best way to stay protected from severe COVID-19 symptoms which could result in hospitalization, according to the City's health department.
"We know that those who are up to date on their vaccines fare better than those who are not vaccinated," Rankin wrote in an email.
What if I've already been infected with COVID-19 before? Aren't I already protected?
A person who recovered from COVID-19 can become infected again; infection-induced immunity decreases over time, according to the CDC. Therefore, the CDC also recommends COVID-19 vaccination for those who have been previously infected.
"The level of protection people get from having COVID-19 may vary depending on how mild or severe their illness was, the time since their infection, and their age," Rankin wrote in an email.
Why is it possible for me to still be infected with COVID-19 and possibly have symptoms, even if I'm vaccinated?
According to the CDC, COVID-19 vaccines are effective at preventing most infections and severe illnesses, but like other vaccines, they're not 100% effective. Still, the latest research has shown being vaccinated can provide two benefits, according to the City's health department.
First, you are much less likely to be hospitalized due to COVID-19 complications if you are vaccinated. According to Pennsylvania's Department of Health, 81% of COVID-19 hospitalizations in the state from Jan. 1, 2021, to May 11, 2022, were unvaccinated or not fully vaccinated people.
Second, being vaccinated can significantly reduce your chances of having severe symptoms of COVID-19.
"Most of the people who are fully vaccinated and test positive for COVID-19 tend to have mild symptoms that resolve quickly," Rankin wrote in an email.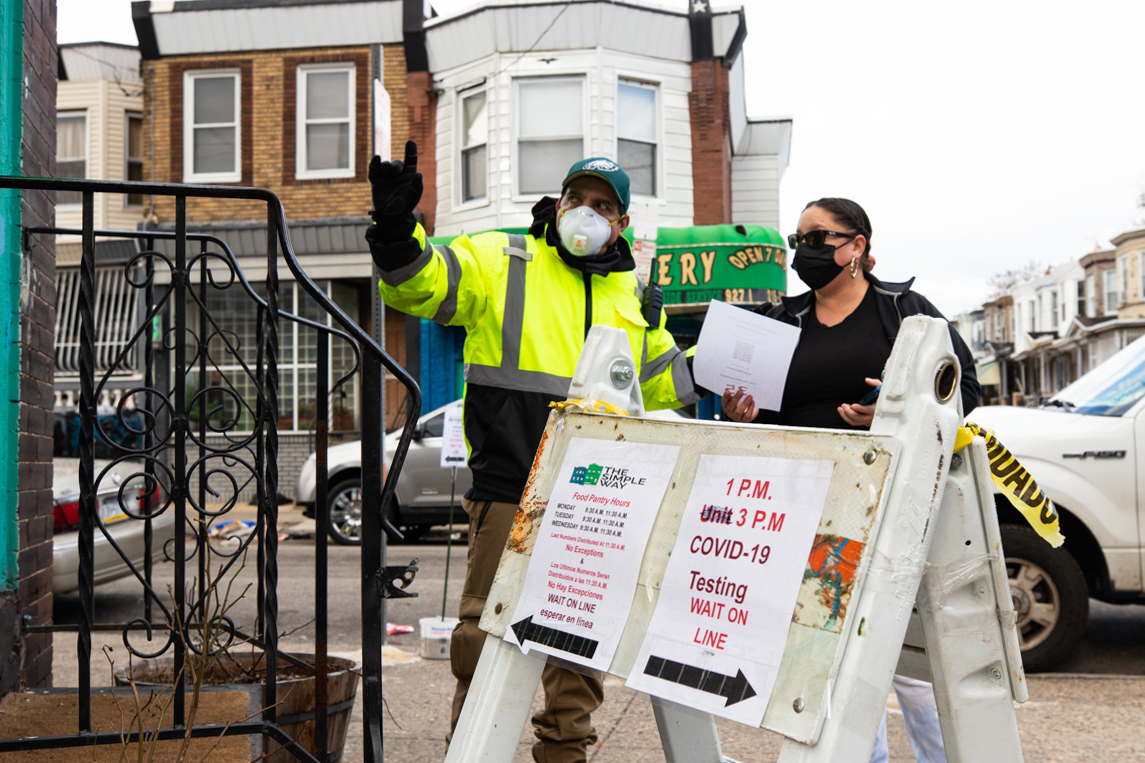 Testing
What is the difference between a rapid antigen test and a PCR lab test? How do I decide which one to take?
According to the City's health department, considering COVID-19 testing supplies are in such high demand, residents should use whichever test is available to them.
Still, a lab test versus a rapid test offer different degrees of certainty. Both COVID-19 tests require you to collect a sample in the same way. However, the way those samples are processed is different, according to Yale Medicine.
A molecular lab test, often referred to as a PCR or diagnostic test, takes longer to process but provides more accurate results. These tests are less likely to provide false-negative results. This means that a negative result from a PCR test is more reliable than a negative result from a rapid antigen test. An antigen test, often referred to as an at-home rapid test, can give you results within 15 minutes. However, the accuracy of an antigen test depends on the stage a person is at in their infection, and the tests are more likely to produce false-negative results. Still, it is uncommon that these tests produce false-positive results. This means that a positive result from a rapid antigen test is in most cases truly positive.
"One thing to be aware of with testing is that tests only tell you if you're negative when you take the test," Rankin wrote in an email. "Testing negative three or five days ago does not necessarily mean that you're still negative."
To order free at-home rapid tests through the U.S. Postal Service, click here.
Where can I get tested for COVID-19 in Philadelphia?
First, if you have been exposed to someone who tests positive for COVID-19 or are experiencing symptoms, the City health department recommends that you quarantine yourself from others and assume you are positive until you are able to get tested and find out the result.
"Even if you have mild symptoms, residents should consider their neighbors and loved ones. They are highly capable of passing the disease off onto someone else who may not be so lucky," Rankin wrote in an email. "Those who test positive should quarantine for five days and stay away from others as much as possible."
For people without insurance, low or no-cost COVID-19 tests are available at health centers and select pharmacies, such as CVS, Rite Aid, and Walgreens. To find one, click here.
To find testing sites near you, click here. To find a mobile testing site near you, click here. To learn where you can receive an at-home testing kit, click here. To request testing kits from the health department for your personal events and celebrations, click here.
Gatherings
What should I keep in mind if I attend gatherings outside the household?
According to Garrow, outdoor gatherings are the safest, and small gatherings indoors with plenty of ventilation are good too. However, large gatherings indoors without ventilation can be dangerous.
"Folks shouldn't just consider themselves," Garrow wrote in an email. "Think about how your actions affect the others in your household or place of work. If you work or live with older unvaccinated folks, your actions could have dire effects on them."
According to a White House press briefing on July 12, people should consider taking a COVID-19 test before attending large, indoor gatherings or visiting people who are immunocompromised indoors.
Is there a full list of precautions in effect for Philadelphia?
The City encourages residents to check the City's COVID-19 homepage at www.phila.gov/covid for updates. To receive the City's COVID-19 updates on your phone, text COVIDPHL to 888-777. To contact the health department's COVID Call Center, call 215-685-5488.
For frequently asked questions, click here. You can also find information on COVID-19 and guidance from the City, here.
---
Editors: Christopher Malo, Zari Tarazona / Designer: Zari Tarazona