Pennsylvania Governor Josh Shapiro announced in Kensington on Tuesday plans for rescheduling two drugs currently affecting Philadelphia and other counties: xylazine and nitazenes.
In Philadelphia, xylazine is mixed into the street supply of heroin and fentanyl. Xylazine is a medication authorized by the U.S. Food and Drug Administration as a sedative in veterinary practices. It can create a longer-lasting high mixed with fentanyl, with dangerous results. In Kensington, repeated use of xylazine has been associated with skin infections resulting in amputations.
Nitazenes are synthetic opioids stronger than fentanyl and linked to overdose deaths.
Shapiro acknowledged Pennsylvania's worsening overdose epidemic while addressing the elected officials, Kensington residents, and press in Impact Services' conference room on Tuesday.
According to drug overdose death data from the Centers for Disease Control and Prevention (CDC), an estimated 5,092 Pennsylvanians died from a drug overdose between October 2021 through September 2022. Drug overdose deaths related to xylazine increased from 2% to 26% between 2015 and 2020 in Pennsylvania, according to the National Institute on Drug Abuse. Naloxone, the opioid overdose reversal medication, can't reverse an overdose caused by xylazine since it isn't an opioid.
"This is devastating to people all across the commonwealth from right here in Kensington, all the way to the other corner of Pennsylvania in Erie," Shapiro said. "We cannot let our friends and neighbors battle this alone."
To combat these issues and increase law enforcement, Shapiro announced that xylazine would temporarily classify as a Schedule III drug and nitazenes as a Schedule I. Shapiro clarified that veterinarians using xylazine for legitimate practices have no reason to worry about the new classification and will still have access to it for their work.
"Scheduling these drugs allows us to put tighter controls, security, and record-keeping requirements in place to keep them out of our communities," Shapiro said. "Manufacturers must add additional checks into their processes to verify that a recipient is authorized to receive the drug before shipping."
Shapiro added that he wouldn't hesitate to use his authority to schedule other drugs as needed.
According to Pennsylvania Code § 25.72, the Schedule I classification means that a substance has "a high potential for abuse, no currently accepted medical use in the United States, and a lack of accepted safety for use under medical supervision." The Schedule III classification means that a substance has less potential for abuse than Schedule I and II substances, is well-documented and currently accepted medical use in the U.S., and may lead to moderate or low physical or high psychological dependence.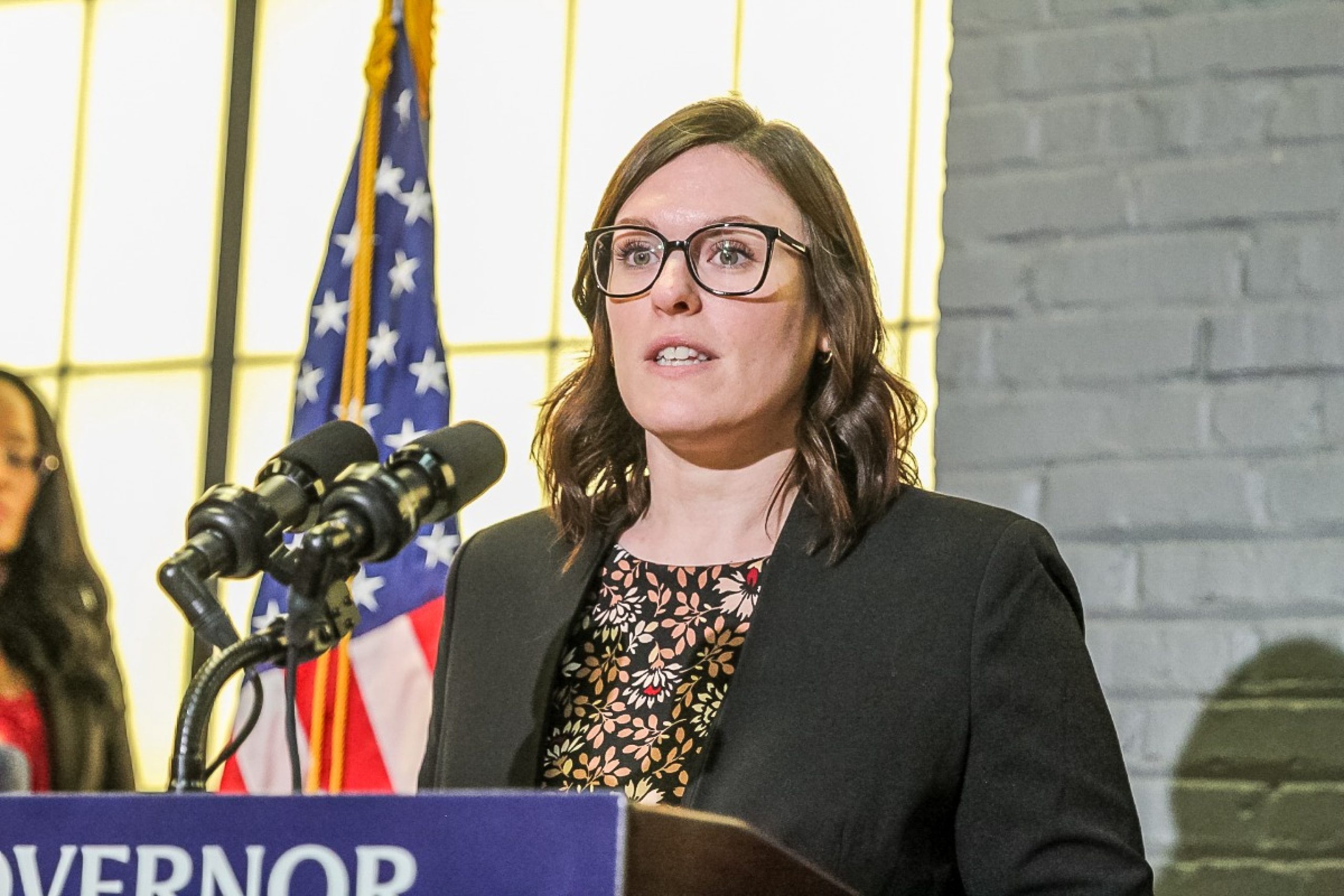 Kristen Rodak, the executive deputy secretary of the Pennsylvania Department of Health, said the department submitted letters of intent about the changes under the state's Controlled Substance, Drug, Device and Cosmetic Act. Next, the notices will be publicly available in the Pennsylvania Bulletin on April 22. The Office of the Attorney General, which already received the notices, will have 30 days to comment before the changes go into effect in May.
As of now, Philadelphia police haven't been able to file charges related to selling or distributing xylazine. John Stanford, the Philadelphia Police Department's first deputy commissioner, said on Tuesday that the governor's move would give police the ability to move forward with investigations. They will still have to rely on the District Attorney's Office to prosecute cases.
"Xylazine has presented a unique problem to our department because it's not a controlled substance, and therefore, it's challenging to prosecute those who are selling it and distributing it," Stanford said. "The addition of xylazine to the Schedule III list will provide us with more tools to crack down on those who are spreading this dangerous drug in our community."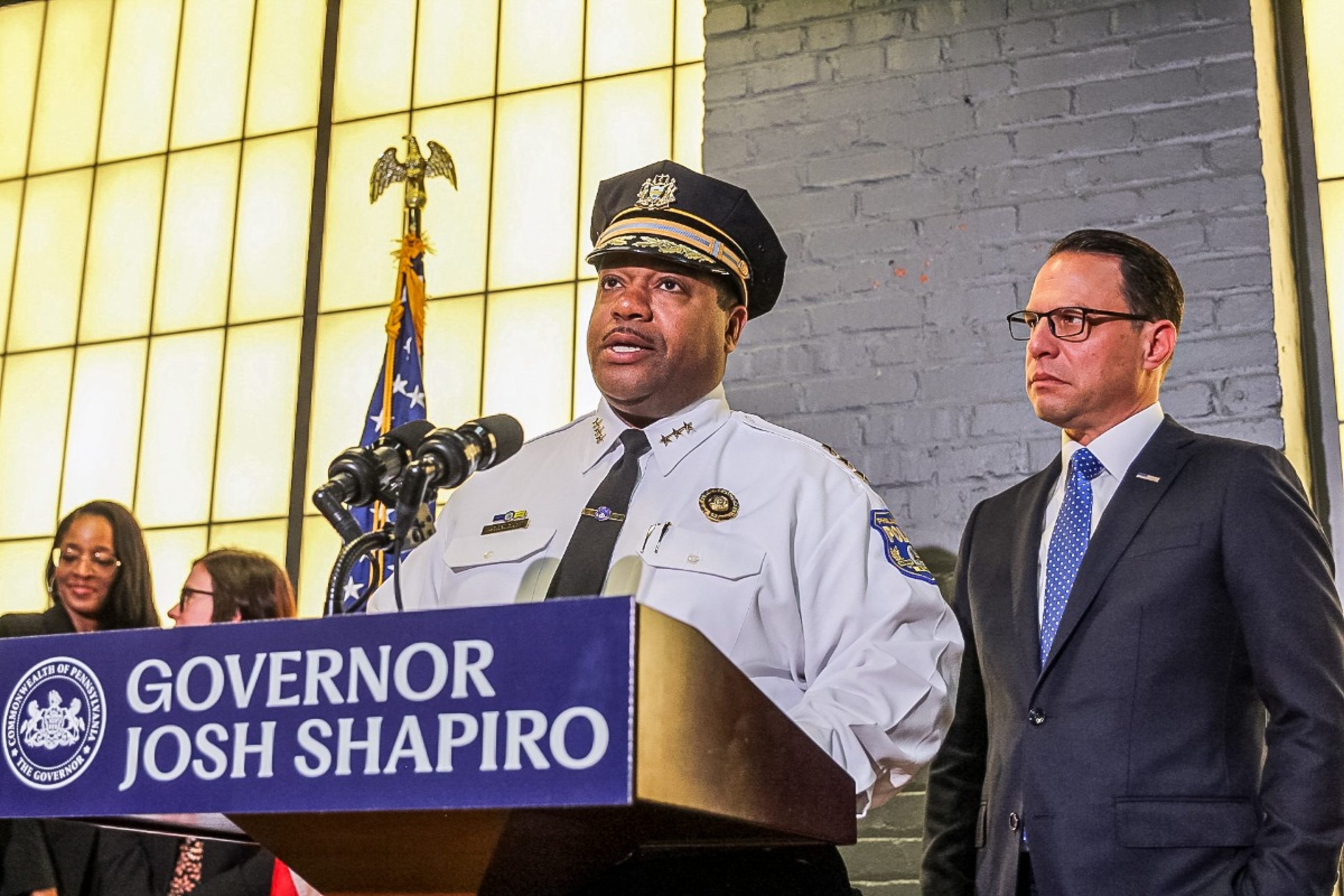 Notably absent from the press conference was Philadelphia District Attorney Larry Krasner. In response to a question about Krasner's absence, Shapiro said that district attorneys have the ability and authority to prosecute cases.
"You'll have to ask DA Krasner if he plans to prosecute after the Philadelphia Police or the state police charges," he added.
Jane Roh, the spokesperson to the district attorney, wrote in an email to The Philadelphia Inquirer that the changes would affect the healthcare industry more than law enforcement since xylazine is usually mixed with heroin or fentanyl, which are already scheduled.
Shapiro's announcement follows an April 12 press release from Dr. Rahul Gupta, the director of the White House Office of the National Drug Control Policy, designating the combination of fentanyl and xylazine as an emerging threat to the country.
"By declaring xylazine combined with fentanyl as an emerging threat, we are being proactive in our approach to save lives and creating new tools for public health and public safety officials and communities across the Nation," Dr. Gupta said in the press release.
PA Governor Shapiro's approach to the overdose crisis
During the Tuesday press conference, Shapiro emphasized a "multidisciplinary approach" to combat the overdose crisis through enforcement, prevention, and treatment.
Latika Davis-Jones, acting secretary for the Pennsylvania Department of Drug and Alcohol Programs, said that the new scheduling could ensure that more Pennsylvanians are "able to live a life free from addiction."
"The longer we keep people alive, the greater chance we have to get people into the care and treatment that they need and deserve today," Davis-Jones said.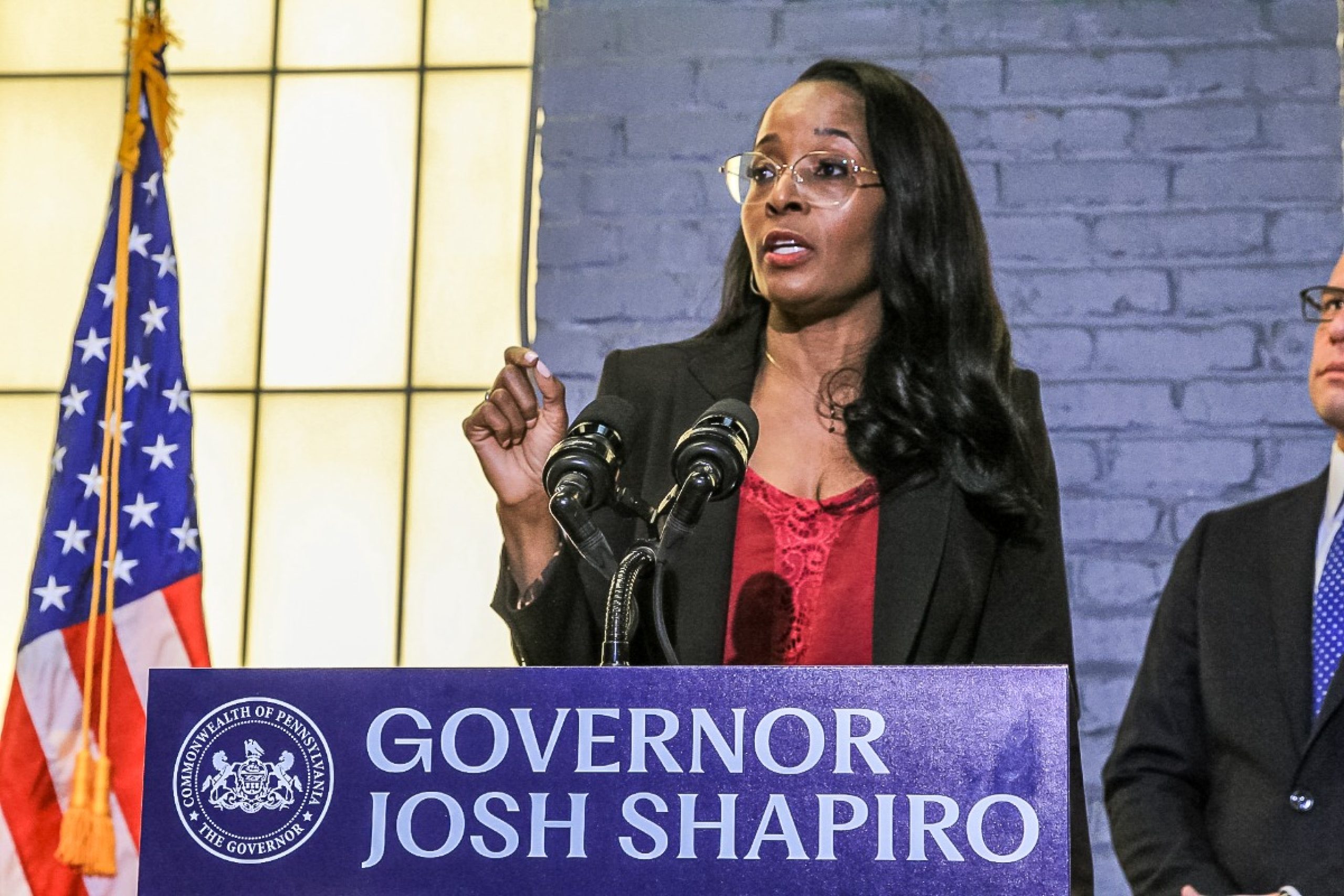 Shapiro's administration recently launched recovery hubs across the state to expand treatment efforts, and the state's proposed budget has $369.5 million allotted for the Department of Drug and Alcohol Programs. Locally, Philadelphia received $20 million earlier this year from the national opioid settlement, and funds will go toward expanded treatment, community outreach, and recovery housing.
The governor also doubled down on opposing safe injection sites or supervised consumption sites in Pennsylvania. Shapiro, who served as Pennsylvania's attorney general from 2017 to 2023, previously pushed back against safe injection sites in favor of prosecuting dealers and supporting the expansion of treatment options. As governor, Shapiro said his office would monitor the outcome of the recent conversations between the U.S. Department of Justice (DOJ) and harm reduction advocates and then determine the next steps.
"Suffice to say, we'll be prepared to take action should [safe injection sites] become a reality," Shapiro told the crowd.
Safehouse, the nonprofit leading efforts to open a safe injection site in Philadelphia, has been meeting with the DOJ. In February, the DOJ announced that it was evaluating the potential of allowing safe injection sites and assessing appropriate regulations for these facilities.
In March, a meeting between Safehouse and the DOJ received criticism for excluding local elected officials as neighborhood stakeholders were allowed to participate in the previously private discussion.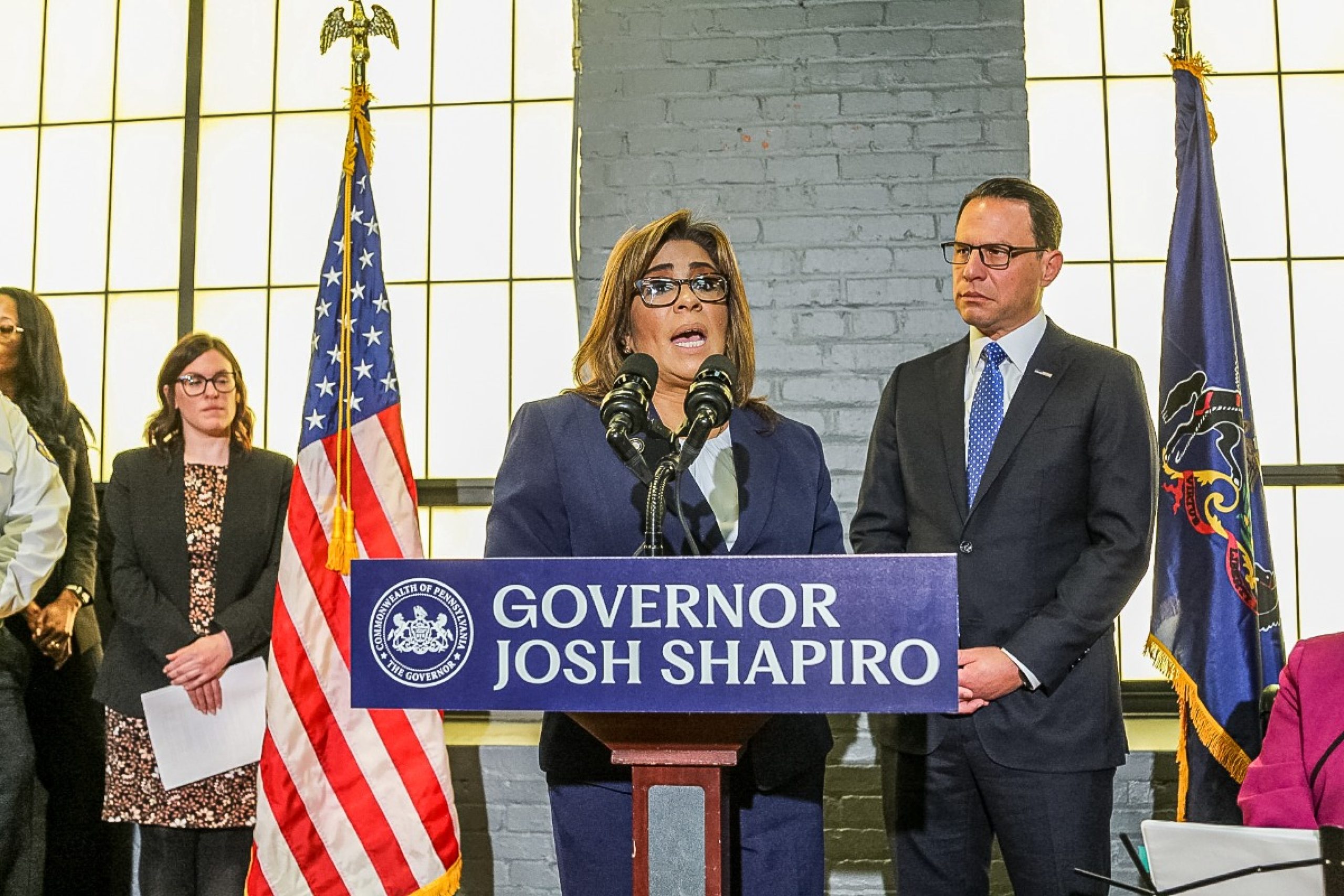 According to Shapiro, his approach involves partnering with leaders in public health, law enforcement, and local and state government. Elected officials present at the announcement included City Councilmembers Mike Driscoll, Jim Harrity, Mark Squilla, Quetcy Lozada, state Senator Tina Tartaglione, and state Representative Danilo Burgos. 
Kensington's District 7 Councilmember Quetcy Lozada thanked Shapiro for his investment in the community. In February, City Council unanimously passed Lozada's resolution for a Kensington recovery plan.
"An action like this one may not be a result of that resolution, but it is an action in the right direction," Lozada said. " … To the Kensington community, we see you. We hear you. We support you. And we are with you to the end and until we see an improvement to the quality of life in this community."
Call 1-800-662-HELP (4357) for SAMHSA's National Helpline. The 24/7 helpline provides free, confidential referrals to local treatment facilities, support groups, and community-based organizations. Visit ATLAS to view treatment options online.
---
Editors: Zari Tarazona / Designer: Siani Colón