Update 06/07/2021: The 2021 Opioid Response Unit Action Plan originally stated that in 2020 the city experienced the highest number of fatal overdoses since the city began counting. However, after finalizing last year's count of fatal overdoses, the Philadelphia Department of Public Health announced that a total of 1,214 fatal overdoses occurred in 2020 — the second-highest number of fatal overdoses the city has counted. This article has been updated to reflect that.
After 2020's record number of fatal overdoses in Philadelphia, the city's Opioid Response Unit released its first action plan for the city and Kensington neighborhood. The plan, released April 22, includes some existing and some new initiatives to address the ongoing crises in the area.
Background on the Opioid Response Unit
This isn't the first time fatal overdoses have spiked in the city.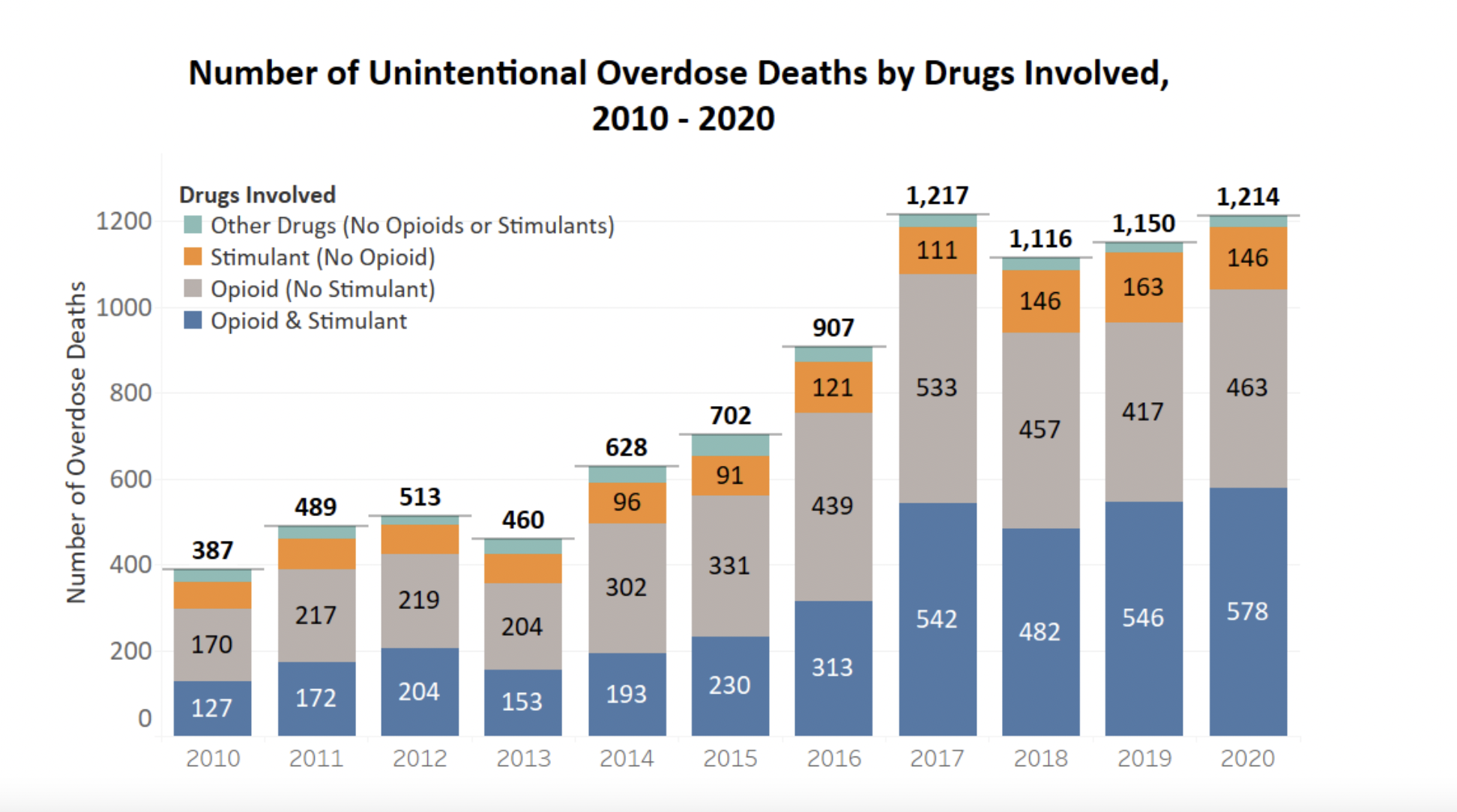 In 2017, fatal overdoses in Philadelphia reached their highest number on record since the city began tracking the number of people who die from overdoses. The following year, the mayor used an executive order to form the Philadelphia Resilience Project — an initiative that brought 35 city agencies together to respond to the overdose crisis in Kensington. When the mayor's executive order expired in December 2019, the city decided to continue those efforts.
By February 2020, the city formed the Opioid Response Unit (ORU). Tasked with many of the same responsibilities as the Resilience Project, ORU addresses the overdose crisis city-wide instead of a specific neighborhood.
Between 2017 and 2019, fatal overdoses in Philadelphia slightly declined and then remained at a steady rate, according to the Philadelphia Department of Public Health. But in 2020, the city experienced the second-highest number of fatal overdoses in a year, according to the Department of Public Health. 
The Medical Examiner's Office has kept track of accidental deaths caused by poisoning or noxious substances, which includes fatal overdoses, for decades, according to Department of Public Health Spokesperson James Garrow. The city has reported the number of accidental deaths caused by fatal overdoses since at least 2000, when deaths were in the low hundreds, according to a Vital Statistics Report. 
The Department of Public Health attributes the increase of fatal overdoses in 2020 to a variety of factors, including barriers to medical treatment and social isolation during the start of the coronavirus pandemic. A high percentage of overdoses occurred in personal residences as well.
According to the city's data for 2020, a significant increase in overdoses occurred among Black and Latinx residents, and the locations where overdoses occurred expanded in North and West Philadelphia.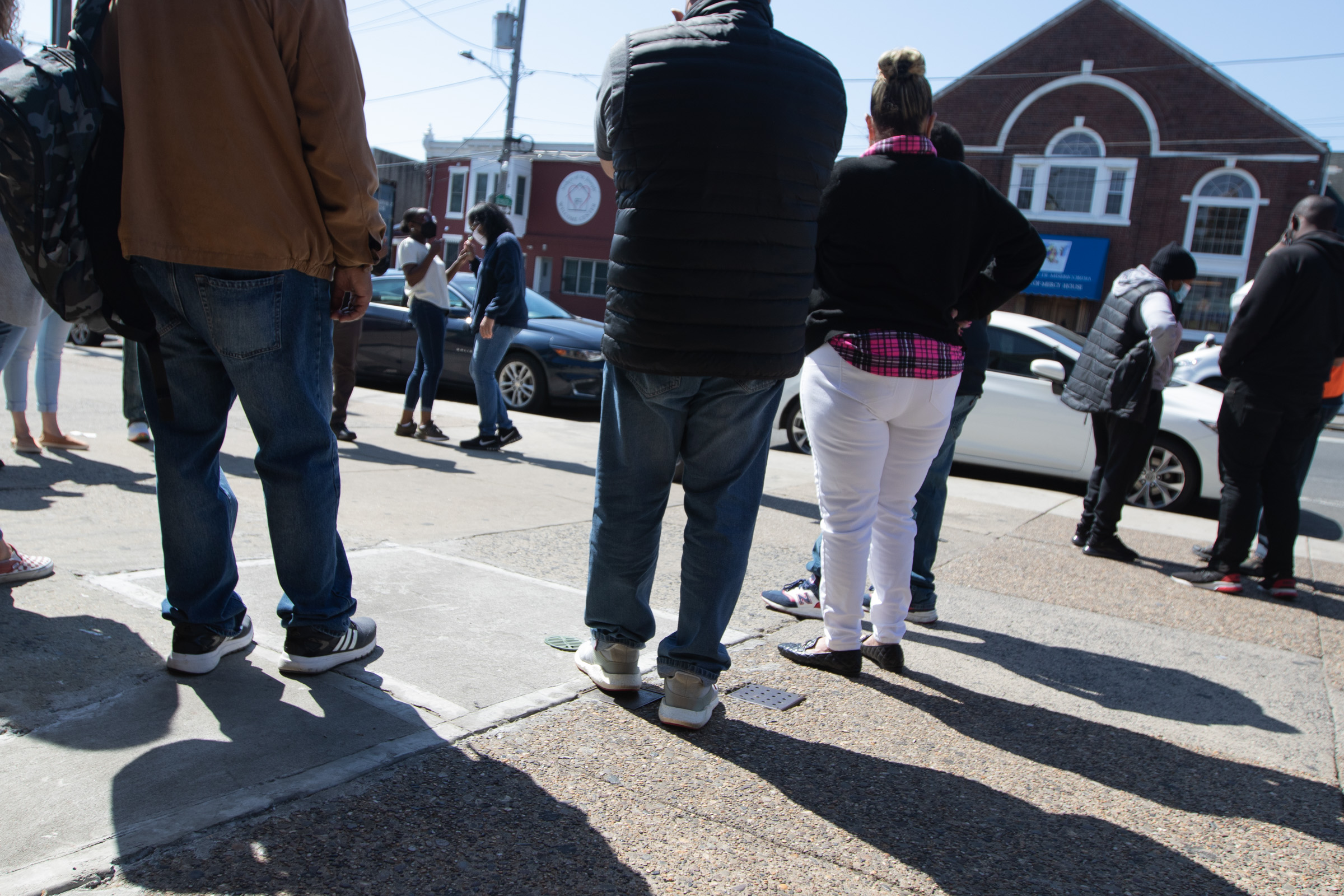 Feedback from Kensington residents
Kensington community members are used to calling for improvements to their neighborhood, as demonstrated in last month's march up Kensington Avenue due to SEPTA's closure of Somerset Station and last summer's protest in the heart of Kensington to send a message to City Hall.
In response to the new ORU action plan, Bill McKinney, executive director of New Kensington Community Development Corporation (NKCDC), wrote a guest opinion essay for WHYY detailing the many decades of city interventions that haven't produced "any form of measurable sustainable accomplishment for residents."
You can read more about what community members think about a range of neighborhood topics, here.
2021 Action Plan: Strategies and past accomplishments
ORU Director Noëlle Foizen is in charge of ensuring that city agencies operate under a unified strategy to prevent and treat opioid use disorders while supporting impacted communities. As stated in the 2021 Action Plan, the ORU consists of four strategy groups for community support, overdose prevention, public safety, and treatment. The 2021 Action Plan outlines past accomplishments and new goals to address those four strategies.
ORU has already launched some 2021 programs, like the Philadelphia Police Department's mini police district in Kensington. The mini district has 38 officers patrolling the neighborhood in addition to the officers who already patrol the 24th police district covering parts of Kensington.
Some ORU 2020 accomplishments in Kensington:
Restroom trailers with staff making referrals to resources for basic needs.
Distribution of harm reduction supplies like Narcan and fentanyl test strips.
SEPTA Police launched the Saving a Vulnerability Entity (SAVE) co-responder program, which pairs a behavioral health specialist with a SEPTA police officer. Two teams are currently stationed in Kensington.
The Kensington Coordination Strategy, a network of 10 providers who provide services in the community, meets every Tuesday at 707-711 E. Allegheny Ave. at 10 a.m. to coordinate available resources and identify areas where services are needed. Residents are encouraged to attend and participate.
To read the entire action plan, click here. For a detailed summary of the action plan, continue reading.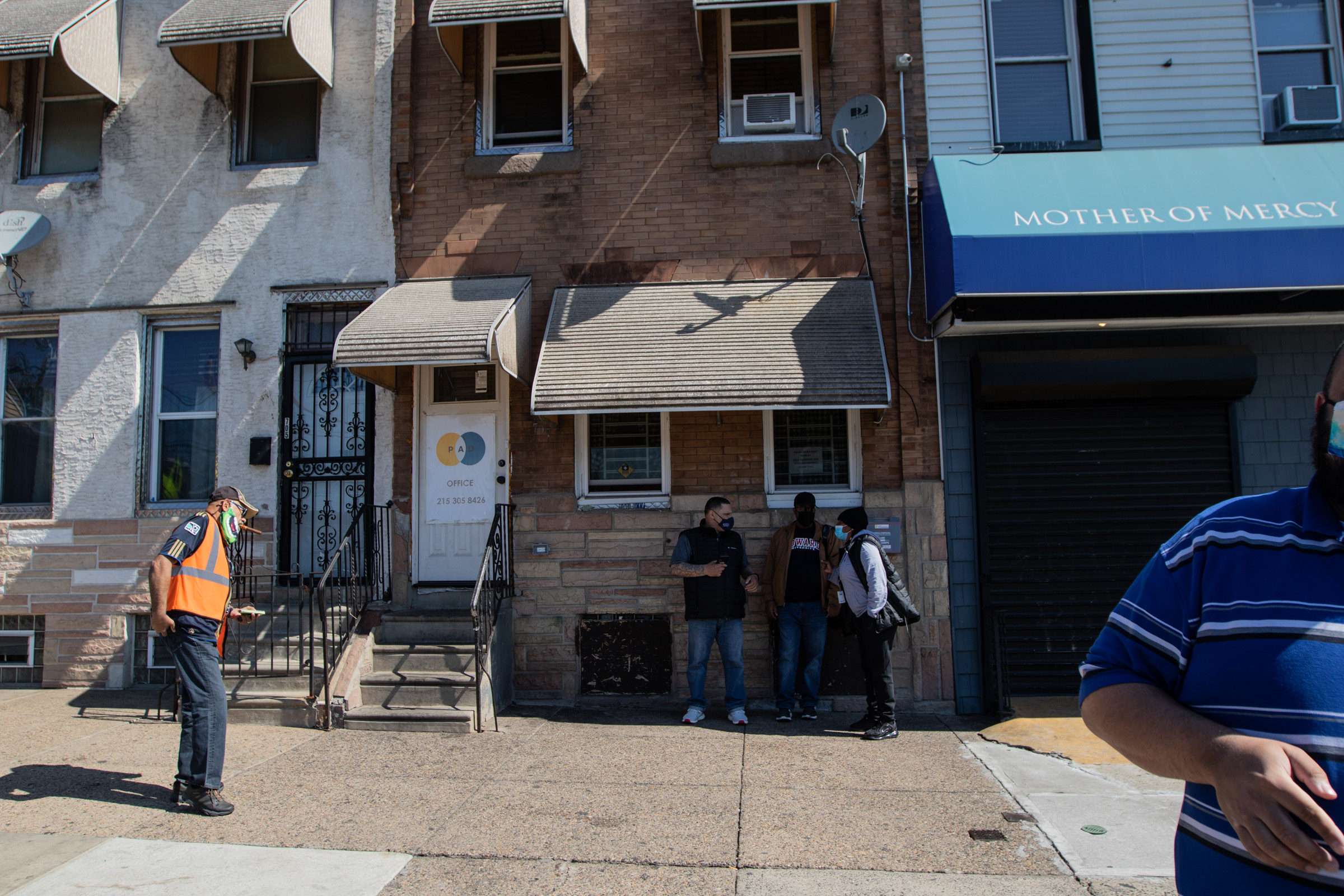 2021 Action Plan: Goals and initiatives
For the 2021 Action Plan, each strategy group came up with a list of goals to accomplish this year. Each goal addresses the groups' strategic initiatives.
Community Support Strategy Group
Initiative: Continue to grow "Housing First" and permanent supportive housing programs
The Managing Director's Office will partner with community members to identify locations for daytime drop-in service centers that provide social services like access to treatment and shelter, employment opportunities, public restrooms, laundry, and storage. These service centers will also provide a centralized drop-off location for donations.
In May, the ORU, the Office of Homeless Services, the Department of Behavioral Health and Intellectual disAbility Services (DBHIDS), and others will launch drop-in service centers at McPherson Square Park and at the intersection of Kensington and Allegheny avenues. A service tent at both locations will focus on connecting individuals to services and treatment, improving quality of life, and activating public spaces.
The Office of Homeless Services' "Help for the Hurdles" employment program began accepting applications on April 30. The program provides individuals in supportive housing with jobs, transportation, and childcare, among other services. To find out more and to apply to the program, click here.
The Office of Homeless Services is launching an Encampment Resolution Team in Spring 2021 that will engage with people experiencing homelessness to offer services and housing resources. OHS has contracted One Day At A Time (ODAAT) to operate this team. The team will work closely with city partners to identify and address encampments, according to a city spokesperson.
Prevention Point's low-barrier shelter beds are being relocated from their previous location on Kensington Avenue to Beacon House, a new shelter site at Temple University Hospital's Episcopal Campus. Beacon House is now open. The Office of Homeless Services is coordinating the relocation of beds, which is expected to be completed by this summer, according to a city spokesperson.
The Managing Director's Office is coordinating a $500,000 contract with HACE CDC to provide exterior home repairs to 100 homeowners living in Kensington, Harrowgate, and Fairhill. The Office of Homeless Services will run the contract, which is expected to be completed by this summer. Spots for this program have already been filled.
Health and Human Services will develop training recommendations for housing counselors to expand their ability in resolving "Tangled Title" issues where a homeowner's name is not listed on the property deed.
The Office of Homeless Services will maintain the existing temporary and long-term shelter units, and clinical services will be provided to all people in shelter services.
Initiative: Expand employment programs for youth
Health and Human Services is engaging with youth in areas where there are barriers to employment and assessing their needs for future programs.
By September 2021, Health and Human Services will launch at least one pilot program to engage and evaluate youth who are at risk of participating in the local drug trade.
Initiative: Develop trauma-informed engagement programming for communities impacted by opioid use disorder
Health and Human Services is developing goals, policies, and practices that follow trauma-informed and healing-centered principles to add to their existing programs.
Prevention Strategy Group
Initiative: Reduce overdoses and increase harm reduction
The Philadelphia Department of Public Health's "Fentanyl Is In Everything" media campaign will run throughout May 2021 to alert the public that fentanyl is being found in all street drugs, including cocaine and methamphetamine, also known as meth.
The Department of Public Health distributed 10 grants in February 2021, ranging from $10,000 to $50,000, to community organizations that serve Black and Latinx populations to promote harm reduction.
CLIP installed port-o-potties in McPherson Square as a pilot program in January 2021. There is no end date for this program. The Department of Public Health will adjust location and oversight based on future developments.
Initiative: Expand prescriber oversight, with targeted interventions at doctors' offices prescribing opioids at high volumes
In February, the Department of Public Health began a process of identifying patients who received opioid prescriptions and later died of an overdose. After a patient is identified, the department contacts the patient's prescriber to inform them of their patient's death and to encourage compliance with CDC guidelines for appropriate prescribing.
By December, the Department of Public Health will develop a team of buprenorphine "X-waivered" doctors who will be less restricted in prescribing buprenorphine. The team will operate a 24/7 clinical support line for Emergency Department staff. The Department of Public Health will also train "X-waivered" clinicians to support this team by December.
The Department of Public Health coordinated visits of trained professionals to healthcare providers in the area to promote buprenorphine treatment in April.
Editor's note: Buprenorphine is a prescription drug that is taken to help in the treatment of heroin and methadone dependency. As a partial opioid agonist, buprenorphine provides a weaker effect and a lower potential for misuse than a full opioid agonist, like heroin and methadone. An "X-waiver" refers to the federal legislation that allowed outpatient clinicians to prescribe buprenorphine. In order to write a prescription for buprenorphine, clinicians must have an X-waiver.
Initiative: Continue to grow the Alternative Response Unit, where the Philadelphia Fire Department and Department of Public Health emergency medical technicians work alongside a case manager to provide overdose reversals and wrap-around services
The Department of Public Health will expand its use of data for viral outbreaks and other medical issues to allow the Alternative Response Unit to better identify and offer resources.
The Department of Public Health will hire two peer recovery specialists for the Alternative Response Unit to provide individuals with basic wound care and disease testing while waiting for a treatment spot.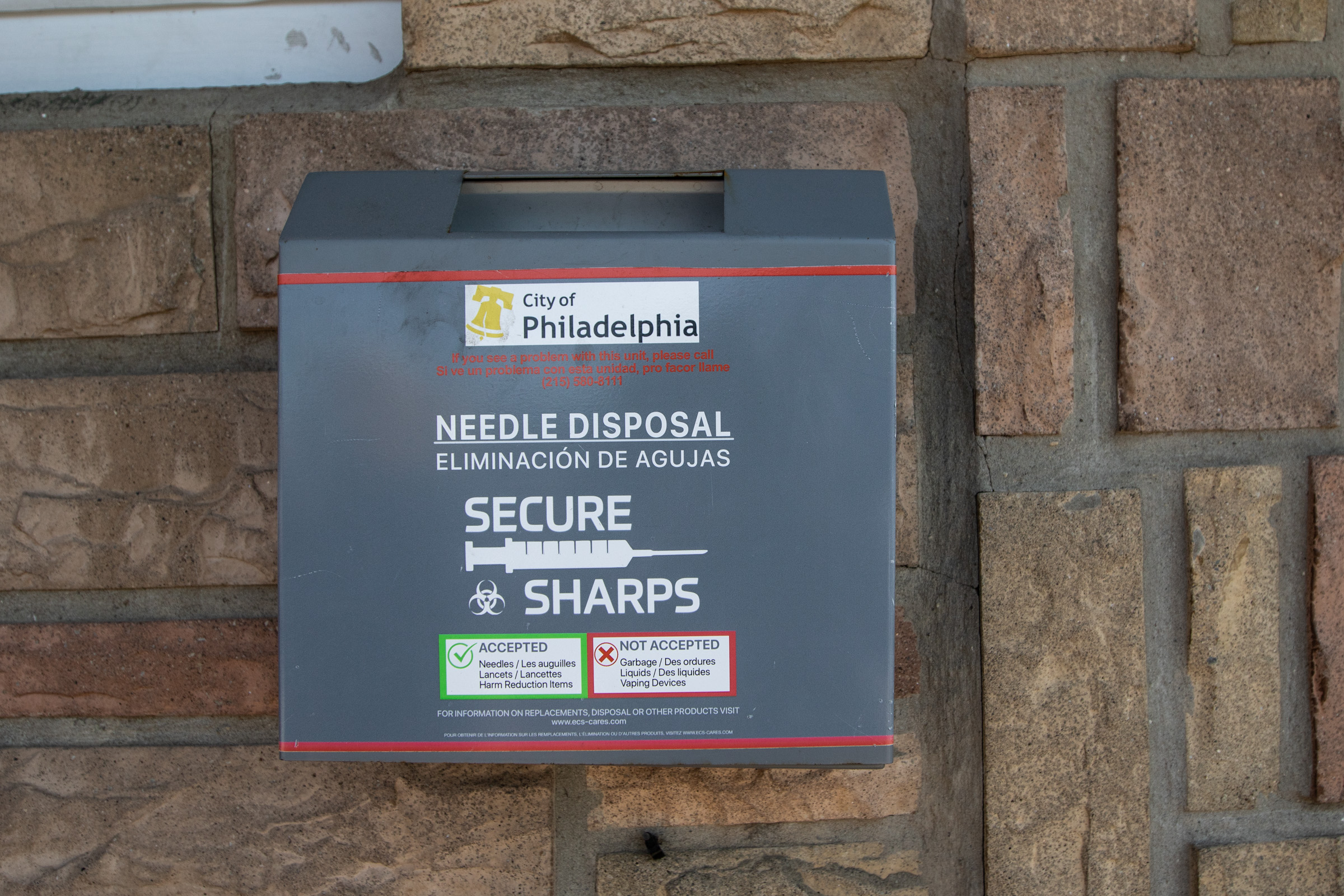 Public Safety Strategy Group
Initiative: Improve law enforcement coordination between local, state, and federal agencies by utilizing the Roadmap to Safer Communities
The Police Department's Narcotics Bureau will implement a strategy to send narcotics officers with foot patrol experience to target mid-level drug operations in the East Division, which includes the 24th, 25th, and 26th districts.
The Narcotics Bureau is coordinating with the Attorney General's interagency Kensington Initiative to maximize its effect in the area.
The Narcotics Bureau will advocate for more technology like street cameras and wiretaps.
Initiative: Pursue the permanent closure of drug corners and activation of community spaces in neighborhoods
In January, the Philadelphia Police Department launched the Kensington Police District, a new mini-police station that brought more bike and foot patrol officers to the community in hopes to better engage community members and improve police response times.
The Opioid Response Unit's advisory committee is recruiting community residents to assist the ORU in distributing grants to community organizations by June 2021. To learn more about the Kensington Community Resilience Fund, click here.
Health and Human Services will coordinate with the Philadelphia Police Department and local service organizations to support community members after a drug raid in their area.
The Department of Public Health is managing Project Reach, a trash, drug, and human waste-related clean-up effort that launched in 2020. In April 2021, the five to seven employees who were temporarily working on Project Reach were hired as permanent staff.
The Office of Community Services coordinated with community development corporations, civic groups, and neighborhood advisory committees to expand community engagement efforts in other areas in April.
The Philadelphia Police Department and Managing Director's Office will implement a Coordinated Diversion Model, which will include SEPTA's co-responder team, to disrupt outdoor drug use and connect individuals who are using substances to social services.
Editor's note: The Coordinated Diversion Model permits law enforcement to issue a code violation notice for people who are using substances in public spaces. Police officers and co-responders connect individuals who receive a code violation notice to available resources or treatment. For those who accept services, the code violation notice is waived. (A code violation notice can carry a fine of up to $300.) Instead of jail or prosecution, individuals who are using substances in public spaces will be directed to community-based services. According to a city spokesperson, this model is also intended to address community concerns about public safety and quality of life issues.
Initiative: Continue to grow Police-Assisted Diversion with co-responders Police-Assisted Diversion (PAD) is the Police Department's pilot program that diverts people away from the criminal justice system and into supportive, peer-based social services. Instead of jail, people who are charged with low-level, non-violent offenses are referred to free resources and a behavioral health specialist for treatment assessment. Kensington's Police-Assisted Diversion office can be found at 707-711 E. Allegheny Ave (corner of F Street and Allegheny Avenue).
In March, the East Division's Police-Assisted Diversion program expanded to have four full-time officers working Monday through Friday, during the day and night shifts.

Police-Assisted Diversion officers work from 7 a.m. to 11 p.m., Monday through Friday.
The Police-Assisted Diversion offices and services are open from 8 a.m. to 12 a.m., Monday through Friday.

The Police-Assisted Diversion program expanded its efforts to allow for a Salvation Army team to provide additional services to people involved in sex work and human trafficking in the community.
The Police-Assisted Diversion program is increasing the number of co-responders to the Police-Assisted Diversion program and SEPTA Police by collaborating with providers and advocating for more vehicles for officers to transport people who are eligible for Police-Assisted Diversion.
Police-Assisted Diversion will coordinate with Town Watch to provide social services and resources to community members after a drug raid in their area.
The Crisis Intervention Response Team (CIRT) pilot program will launch in a few weeks, however, the city does not have an exact day yet. The team consists of police officers and behavioral health specialists who respond to 911 emergency behavioral health calls together. The purpose of the team is to provide crisis intervention before an individual interacts with law enforcement. The program also includes two peer-based follow-up teams that connect community members to services.

CIRT units and follow-up teams will work in the East and Southwest Divisions, Monday through Friday, from 8 a.m. to 4 p.m.
The 911 Call Center will have updated scripts for 911 operators and a behavioral health navigator on-site to better identify, deescalate, and dispatch the correct units for behavioral health emergencies.
After the pilot is rolled out, expansions to the CIRT program will include extending the program's shift hours and increasing its coverage area.
Editor's note: In an email to Kensington Voice, the city emphasized that a long-term structure is being built into the CIRT pilot program. The city's police department has used crisis intervention programs since as early as 2007, and nearly half of all city police officers have been trained in crisis response, reported WHYY. However, following the police killing of West Philly resident Walter Wallace Jr., many, including Wallace's family, have called for the expansion and integration of crisis intervention programs within the police department. According to The Philadelphia Inquirer, Wallace — who was experiencing a mental health crisis when police officers shot and killed him outside his home last October — was regularly receiving treatment from the West Philadelphia Consortium, a mental health crisis response center. The Consortium also runs one of the city's mobile crisis units that 911 operators contact and send to mental health crises, neither of which were contacted on the day of Wallace's shooting, reported the Inquirer.
Treatment Strategy Group
Initiative: Expand the "warm handoff" program, including to individuals following their release from incarceration
A warm handoff is a program in Pennsylvania for individuals who have overdosed and are in an emergency medical department. Through a "warm handoff," the emergency medical department is able to provide the individual with a direct referral to a substance use disorder treatment facility, allowing for an easier transition into care.
The Department of Behavioral Health and Intellectual disAbility Services (DBHIDS) will identify a case management provider to support the warm handoff program and increase the service in Philadelphia prisons.
DBHIDS will identify one hospital or crisis response center to add to the Recovery Overdose Survivor Engagement (ROSE) project, for a total of 15 sites in the program. Crisis response centers and hospitals in the ROSE project have a team of Certified Recovery Specialists on-site to help connect people who have had an overdose to services and treatment.
DBHIDS will evaluate the Linkage and Establishment After Prison (LEAP) program for people with an opioid use disorder who are receiving medication-assisted treatment from the Philadelphia Department of Prisons. This program provides individuals with a case manager to assess their needs and to create a relationship in preparation for the individual's release from incarceration.
Initiative: Implement and expand "Medication First" policies, provider incentives for treating patients, and expanded access to treatment for substance use disorder
By October 2021, Community Behavioral Health will transition from alternative and fee-based payments to a value-based payment system that should incentivize health care providers to deliver a higher quality of care.
DBHIDS is coordinating with the University of Pennsylvania and Temple University to advocate for a waiver that allows qualified practitioners to prescribe medication-assisted treatment to patients while they are in the hospital.
Initiative: Expand mobile medication-assisted treatment, a program that provides buprenorphine inductions through a mobile RV in high opioid-use areas to assist patients in stopping the use of other opioids
DBHIDS will expand this program to more areas in addition to Kensington.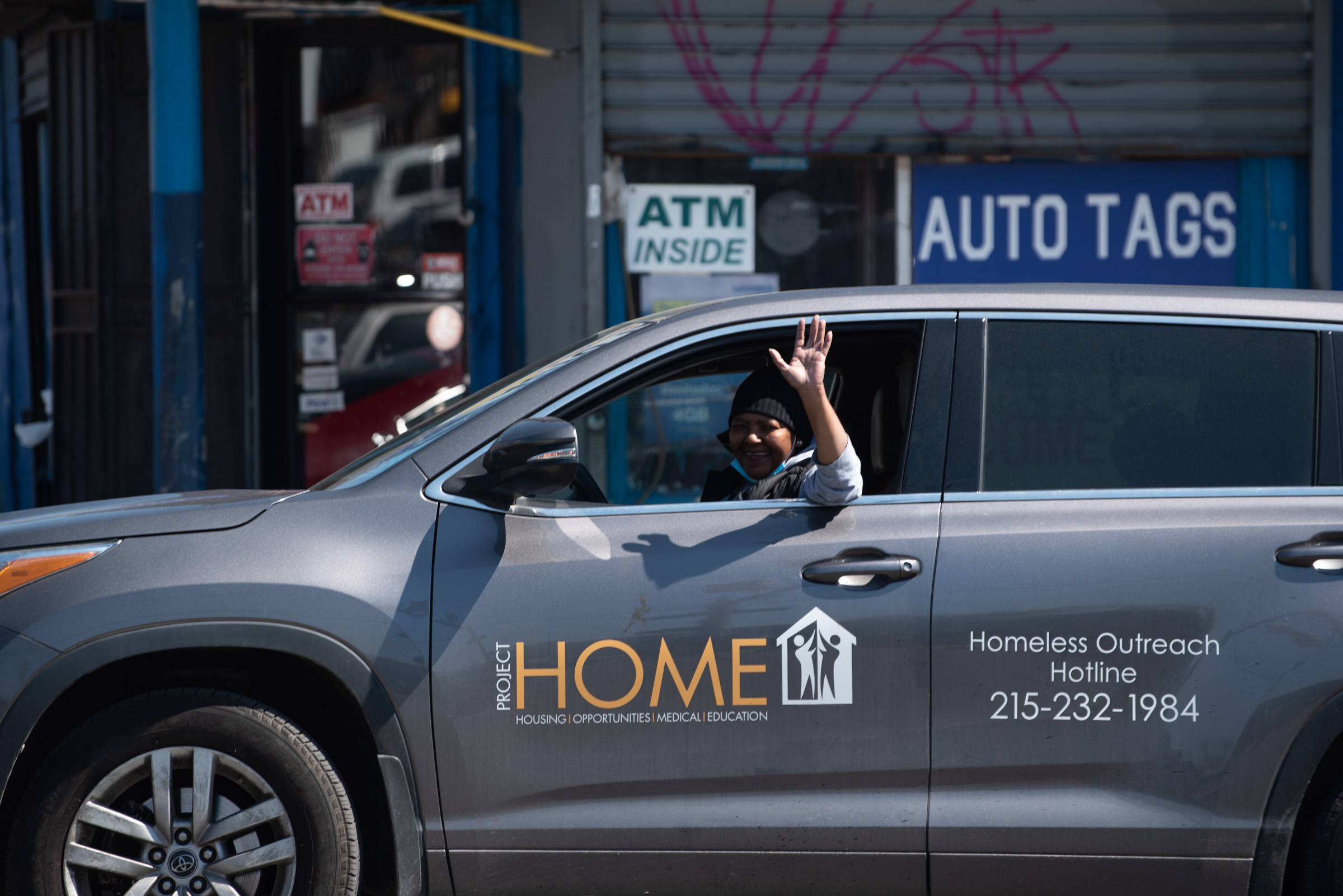 How residents can get involved, engaged, and give feedback
Attend 'El Barrio es Nuestro' monthly meetings
On the fourth Tuesday of every month, the Managing Director's Office of Community Services hosts a meeting called "El Barrio es Nuestro."
El Barrio es Nuestro meetings include presentations from city agencies and discussions on community topics with residents. After each meeting, the city emails participants a newsletter with a recap of the meeting and important updates. Additionally, community members can request presentations from city agencies. You or your community organization can reach out to the preferred city agency and request a representative be present at the next meeting.
Due to the coronavirus pandemic limiting in-person events, the meeting is hosted on Zoom. To register for upcoming meetings, click here.
Check for updates on city websites and social media accounts
Currently, the ORU is in the process of launching its own website and Instagram account to help residents stay up to date on the action plan. In the meantime, the Department of Public Health operates a website that provides information and resources regarding opioid use disorder. You can contact us at editors@kensingtonvoice.com for updates until then.
Apply for the Kensington Community Resilience Fund
As part of the action plan, the Kensington Community Resilience (KCR) Fund will bring Kensington, Harrowgate, and Fairhill residents together to help city representatives and funders decide where to distribute funding in the neighborhood. The KCR Fund will be awarding $10,000 grants to eligible community organizations and groups.
You can learn more about the KCR Fund, here.
To apply for the KCR Fund, click here.
Attend the Kensington Coordination Strategy meetings
Every Tuesday at 10 a.m. a coalition of city agencies and community-based service providers meet outside of the Police-Assisted Diversion office on the northeast corner of F Street and Allegheny Avenue. Attendees discuss available resources in the community and areas where engagement with services are needed. Residents are encouraged to attend, participate, and share their concerns with the strategy team at those meetings. Residents can also request a private conversation with a service provider to inform the strategy team about themselves or a loved one who needs services.
Continue to report sanitation concerns to 311
Residents can report sanitation concerns, illegal dumping, graffiti, and other non-emergency issues to Philly 311 to help the city's sanitation team track and address quality of life concerns more easily.
Attend Kensington Community Meals meetings
Residents who are interested in helping with meal distribution can attend the Kensington Community Meals (KCM) meetings, which are hosted by the Office of Homeless Services. KCM meetings intend to educate residents, foster relationships, and mobilize resources for residents to organize their own meal distribution networks. To attend, send an email to foodaccess@phila.gov.
Organize a community cleanup on your block or neighborhood
Small or large, you can organize and register neighborhood cleanups with the city, so sanitation crews know to come by and pick up whatever you collect. For more information on cleaning efforts in the neighborhood, visit the Community Life Improvement Program website.
To register your community cleanup with the city, click here.
---
Editors: Zari Tarazona, Claire Wolters / Designer: Henry Savage