When COVID-19 cut off some residents' access to healthy food, the Norris Square Community Action Network (NSCan) started the Unity & Survival Program — in partnership with the Philadelphia Party for Socialism and Liberation (PSL) — to reconnect them to resources.
As a food distribution network, the program provides fresh food and produce to residents in Norris Square — and two other zip codes in the city — who are discouraged from leaving their houses or visiting grocery stores due to COVID-19.
"We've been doing this for 10 weeks, and we've delivered upwards of 100,000 pounds of food to people," said Steve Powers, a member of the Party for Socialism and Liberation. "We have around a thousand boxes worth of groceries to families coming every week, and we haven't missed a single week."
Before launching the Unity and Survival program, PSL's Liberation Center conducted health studies that found that Norris Square is one of the neighborhoods with the highest concentration of respiratory illnesses in Philadelphia, Powers said. During a viral pandemic that attacks the respiratory system, residents who have these illnesses are the most vulnerable, Powers added.
"The asthma, the sickle cell anemia, the diabetes — all of these chronic illnesses are extremely dense here," Powers said. "We want to keep elders out of the grocery stores as much as we can. Not everybody has a support network."
Volunteers meet each Tuesday to stack boxes of fresh produce and dry goods. The food is shipped to them by their supply partners, such as The Common Market and the Share food program, and then distributed to the blocks surrounding Norris Square Park.
Each block has a designated captain who coordinates deliveries with NSCan and is responsible for knowing the specific needs of their neighbors, whether they are families in need with children, elderly, or have chronic health conditions.
According to Nilda Perez, co-chair of the Norris Square Community Action Network, they are customizing food and deliveries to meet individual and family needs, such as large families or families with elders who are sick.
"If you need a special diet, [we're] customizing groceries for diabetes," Perez said. "People that have a low sodium diet, so that's important."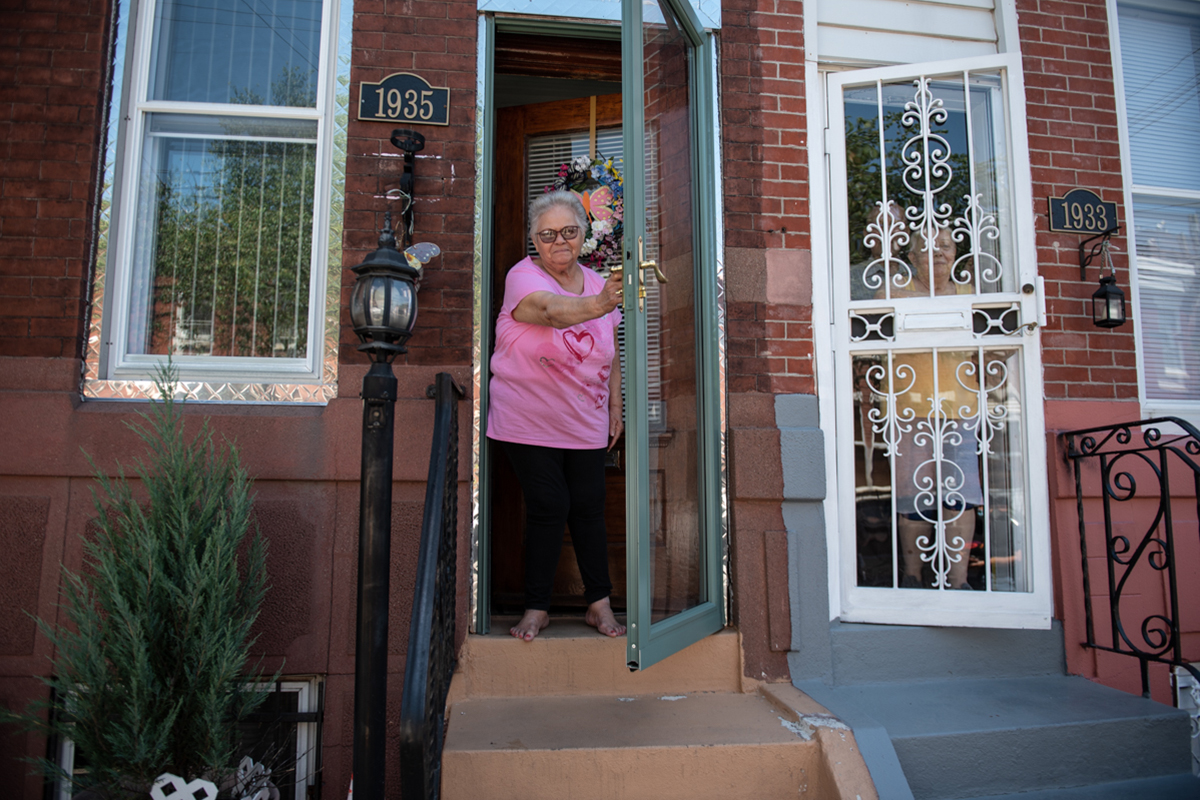 Margarita Hernandez, a Norris Square resident of 54 years, has been volunteering with the community action network since it started and is the 2000 Howard Street block captain.
"We have a lot of seniors on my block, and they're not allowed to go out because they're at a really high risk for COVID-19," Hernandez said. "We come out and help to distribute food because it'll make it easier for them. They can't go to the supermarket — they can't do a lot of things."
According to Hernandez, it's especially helping Latinos in the neighborhood.
"We eat a lot of rice," Hernandez said. "But now they are [eating vegetables] because that's all they have."
Prior to the Unity & Survival program, 74-year-old Diana Almer, who has lived in Norris Square her whole life, considered moving temporarily to the Jersey shore to live with family. But after getting deliveries from the program, she said she no longer felt a need to leave Kensington.
"I'm afraid to go out now," Almer said of her fears of COVID-19. "This is a big help."
Long-term Norris Square residents created NSCan as a resource to communicate and keep each other informed while advocating for equity in their neighborhood, which is quickly changing due to new development, Perez said.
"The idea of having block captains and people from the neighborhood distribute door to door is that they feel a sense of ownership, so that they acquire critical understanding of their situation," Perez added. "Why [are we] distributing food? It's because we still have a lot of inequities in the system."
Additional reporting by Henry Savage.
---

Kensington Voice is one of more than 20 news organizations producing Broke in Philly, a collaborative reporting project on economic mobility. Read more at brokeinphilly.org or follow on Twitter at @BrokeInPhilly.
Editors: Zari Tarazona, Jillian Bauer-Reese, Claire Wolters, Henry Savage / Designer: Jillian Bauer-Reese / Translator: N/A