Access to internet services is essential for people who live, work, and play in Philadelphia. However, the city's digital divide means some communities have high-quality internet services while others do not.
Philly Community Wireless (PCW), an organization based in Norris Square, is committed to closing that divide in Philadelphia. PCW is growing a Wi-Fi mesh network that the community owns — not corporations. Unlike traditional internet service providers, the wireless mesh network does not rely on power lines or subscribers. PCW provides the internet for free through partnerships and grants.
"You should have a Wi-Fi network everywhere so that you don't ever need to use an expensive data plan on your phone and pay a lot of money to just be able to look something up on the internet or call for an emergency or go to get telehealth or run your business," said Alex Wermer-Colan, executive director of Philly Community Wireless.
In 2020, the COVID-19 pandemic highlighted the need for affordable and accessible internet as schools and work moved to the digital space. That's when the PCW team got together — just a month into the pandemic.
PCW's collective of academics, technologists, and organizers decided to start their work in North Philly, where they identified the most inequality in internet access.
According to the City's 2021 Household Internet Assessment Survey, 77% of residents in North Philadelphia have broadband internet access, compared with the citywide average (84%) and other neighborhoods, like Center City (91%). Across the city, Black and Latine residents have substantially less internet access than white residents (43% and 19%, respectively).
The PCW team used this data to establish Norris Square as one of the highest areas of need, focusing on immigrant communities and English language learners.
"After three years of the federal and state governments trying to address this problem, there's still over 25% of people in those areas who do not have internet in their homes," Wermer-Colan said.
How does it work?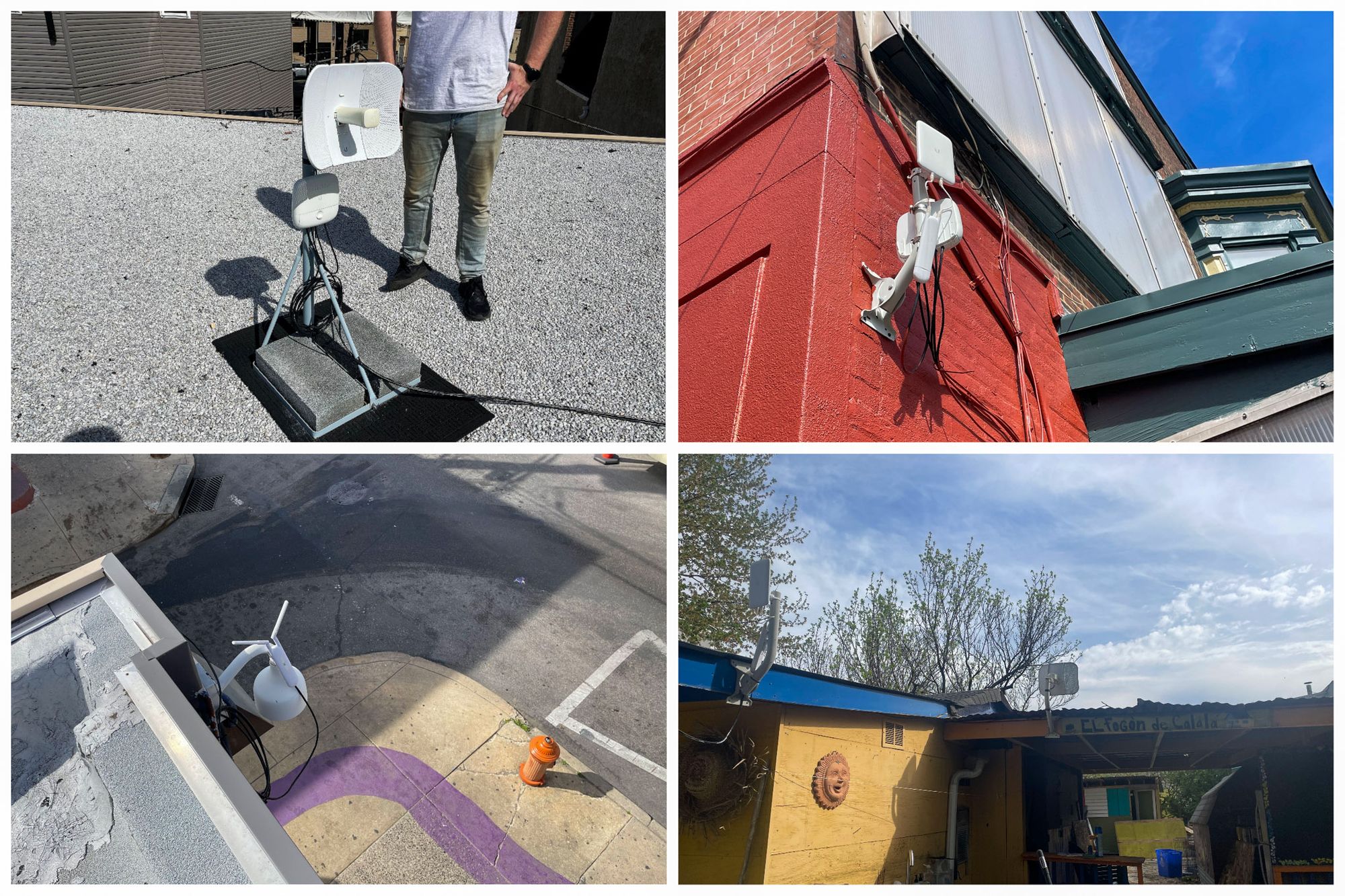 PCW's central hub, "Gotham Tower," has antennas that send out and receive signals to connect people to the internet. The headquarters is just a few blocks from Norris Square Park in the Norris Square Neighborhood Project (NSNP) building.
To build the network infrastructure, PCW set up antennas on roofs near the central hub. The internet service runs through antennas, routers, and Wi-Fi access points. The access points are small panels mounted on elevated surfaces. They can broadcast Wi-Fi within a 100 to 200-foot radius.
There are over 30 Wi-Fi access points throughout Norris Square. Select Philly Community Wireless in your Wi-Fi settings to connect to an access point. The network will not ask for personal information.
PCW partnered with PhillyWisper, an independent, Philly-based company, to provide internet service through their neighborhood network. PCW's Dylan Hutchinson, an install leader, said the team has leaned on the PhillyWisper team to teach them the ins and outs of installing a wireless mesh network.
"We've learned a ton of tricks of the trade from them, from drilling, mounting, and technology," Hutchinson said.
Building community to grow the network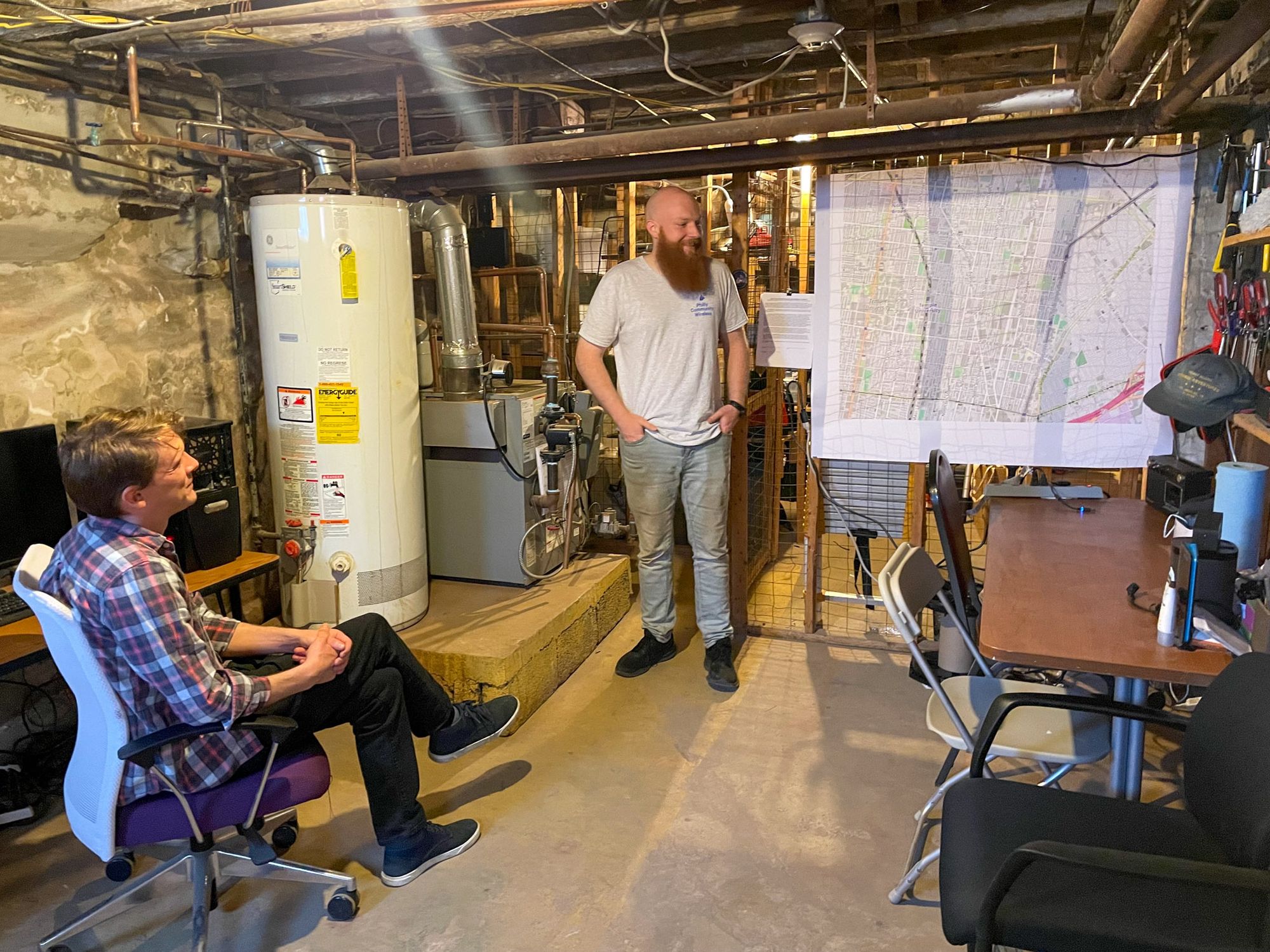 PCW offers a new approach to internet access that most people have never seen before.
"It's a constant process of finding people who are interested who both want to use the network, but also who can host the antennas," Wermer-Colan said. "And that requires us accessing their buildings. And so that can be a complicated process."
The PCW team advertises their services by putting out signs and stickers with sayings, such as "You have Wi-Fi," to let people know there are PCW access points in the area. Additionally, volunteers are a huge help not only on the technical side but also for canvassing, flyering, door-knocking, and tabling.
As a result, the PCW team has formed connections and partnerships with community organizations in the Norris Square area, including the Norris Square Community Alliance, Friends of Norris Square Park, Kensington Library, and GALAEI.
PCW's relationship with NSNP has helped it grow. According to Wermer-Colan, having a home base in Norris Square has been a crucial part of PCW becoming embedded into the community.
Sarah Palmer is a library supervisor at the Kensington Library. After learning more about the project, Palmer agreed to host an antenna to help provide free internet service to her neighbors. She is also a PhillyWisper customer.
Palmer said she is happy to participate in growing the neighborhood network and helping those who need access to free internet.
"Having idealistic people around is a really valuable counterpoint to companies that are kind of leeching off of people," Palmer added.
Reliability and drawbacks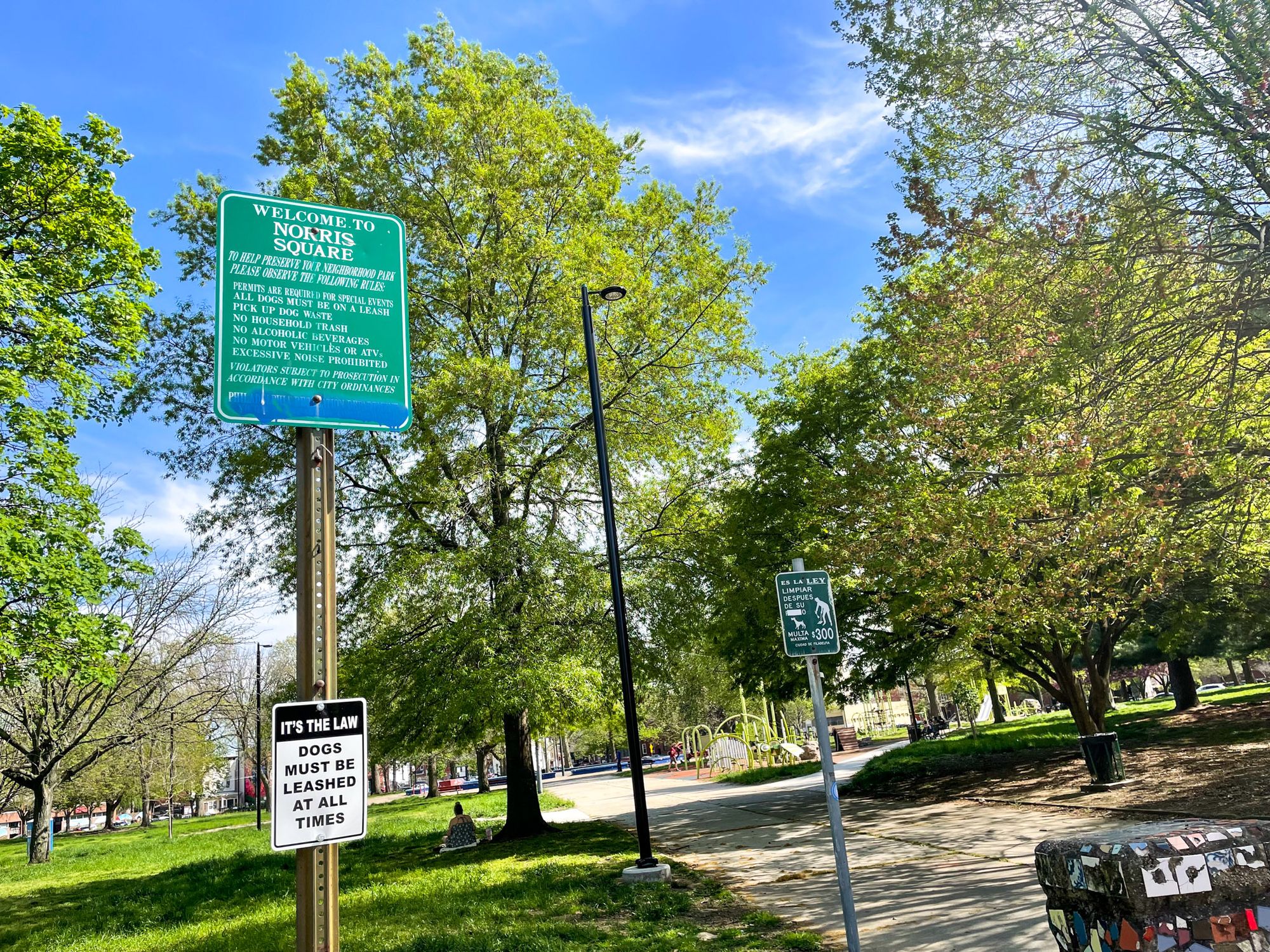 Many people are often curious about how well the service runs with multiple families online. When building a public mesh network, the main risk is having multiple people on at once, which can slow down the internet connection.
Wermer-Colan is aware of this potential drawback. The PCW team has installed multiple antennas around the park to increase bandwidth and ensure good coverage. But just like any internet service provider, if the weather is severe, that can affect the reliability of the service.
"The good news is we have had very few damaged antennas," Wermer-Colan said. "We've had antennas online for two years plus and needing no repairs."
One of the biggest operational challenges that PCW deals with is supply chain issues. Since the pandemic, the supply chain has been slower. Meaning there are sometimes delays in getting the equipment needed for installation.
PCW also uses Ubiquiti equipment and has to compete with commercial businesses for supplies. The team has set up email alerts across various distributors so they can purchase new equipment before it gets sold out.
How can you get involved?
In addition to Norris Square, PCW is interested in expanding into Fairhill and McPherson Square Park. Fill out a PCW form to access free wireless internet or host an antenna.
---
Edited by: Siani Colón, Jillian Bauer-Reese, Zari Tarazona Designer: Zari Tarazona