On June 15, a group of young people from Kensington and Fairhill presented their recommendations for safer and more equitable neighborhoods to an audience of community members and police officers from the 24th police district, including the Kensington and Allegheny sub-station district.
Over the past four months, the same Kensington and Fairhill youth and other young people from Philadelphia and beyond participated in the "My Voice Matters Safety Conversations," a policing and community safety study. The sessions were organized by We CAN (Change & Action Now), a community safety partnership between HACE, Impact Services, and NKCDC. Creative Praxis, an art-based, youth-centered training organization, facilitated the virtual sessions.
A report with highlights from the conversations and the youth's recommendations will be available next month here. You can also find the youth's recommendations here.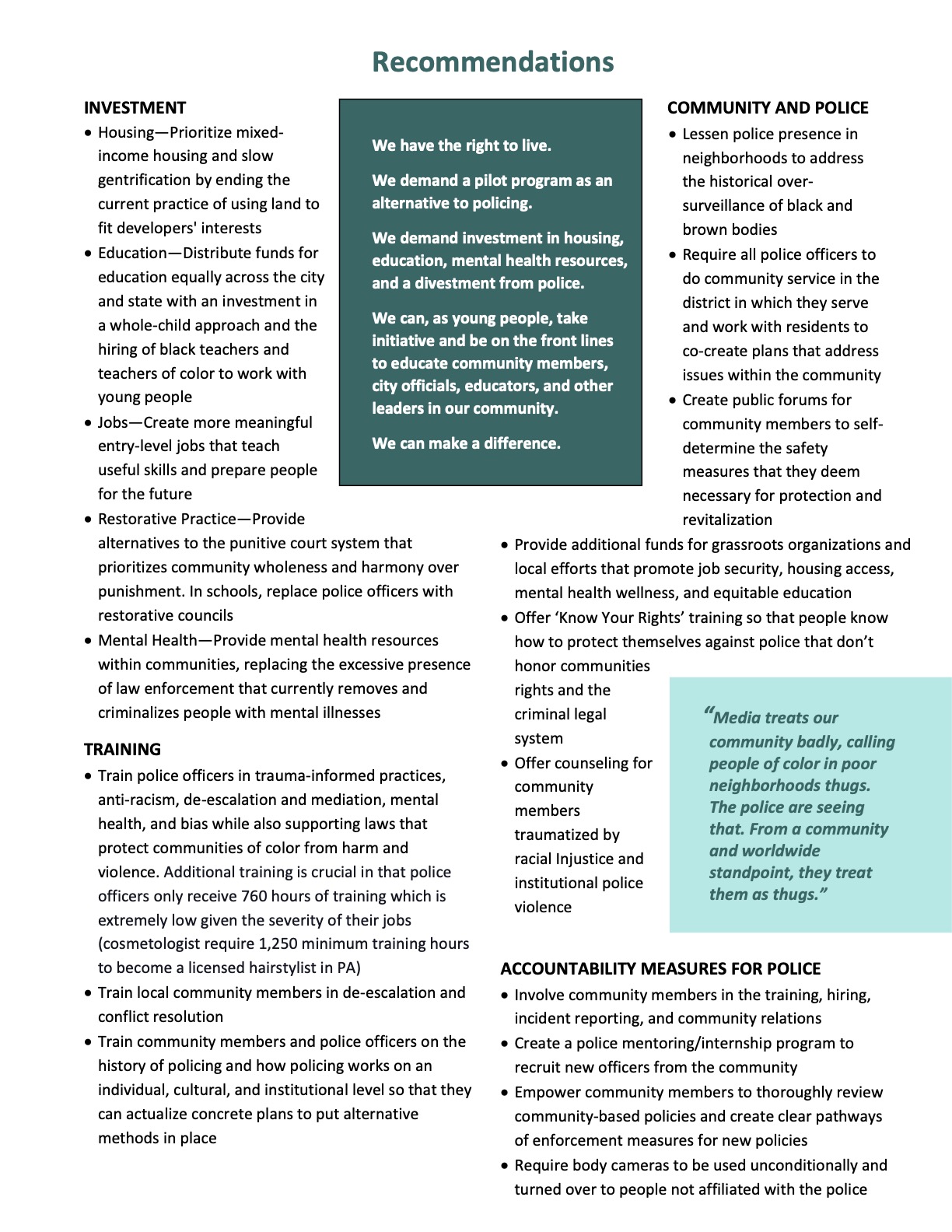 My Voice Matters Safety Conversations: 'These sessions are necessary, and we need to have more of them to open up these spaces of reflection and action'
Before the safety conversations, Creative Praxis interviewed community members to talk about Kensington's assets, history, needs, and their hopes for what comes out of the report, said Nia Eubanks-Dixon, founder and creator of Creative Praxis, during an interview with Kensington Voice on June 18.
When starting the sessions with the youth, Eubanks-Dixon said it's important to build community first so it feels like a safe space to share. Afterward, Creative Praxis used the arts to talk to the youth about topics like safety and public safety through collage-making and the history of policing through storytelling and movement.
According to the organization's website, "Creative Praxis believes in the power of the arts to heal, transform, educate, organize and ultimately catalyze individual and collective liberation."
The youth also discussed the root causes of issues in the community, like systemic racism and a lack of investment in communities, and their recommendations for community members, city leaders, and the police.
"The young people on the call were absolutely amazing and insightful and determined people, and it was a pleasure to hear their voices and to hear their ideas and suggestions on how we can move Philadelphia to a safer and more equitable city," Eubanks-Dixon said.
Eubanks-Dixon also amplified the need for opportunities for youth action.
"These sessions are necessary, and we need to have more of them to open up these spaces of reflection and action … to give [youth] an opportunity to act upon what they think or what they feel and to have the support from leadership for young people to really take a leading role in helping their communities," she added.
Chief Inspector of the Philadelphia Police Department's Community Relations Bureau Altovise Love-Craighead, who was at the community presentation, told Kensington Voice that she really liked the young people's recommendations.
"They thought outside the box, and they weren't surface issues. They're real issues," she said.
Love-Craighead added that she'd like to work with the youth on some of the recommendations, like the "Know Your Rights" training and community service requirement for police officers. She said that while others like lessening police presence in neighborhoods aren't impossible, they are more complex due to factors like crime trends and the collective bargaining agreement with the police union.
Love-Craighead also mentioned that the police department is starting a Youth Advisory Commission, and one of the tasks is co-creating public safety plans with the police.
"This will be the group to start that with," she added.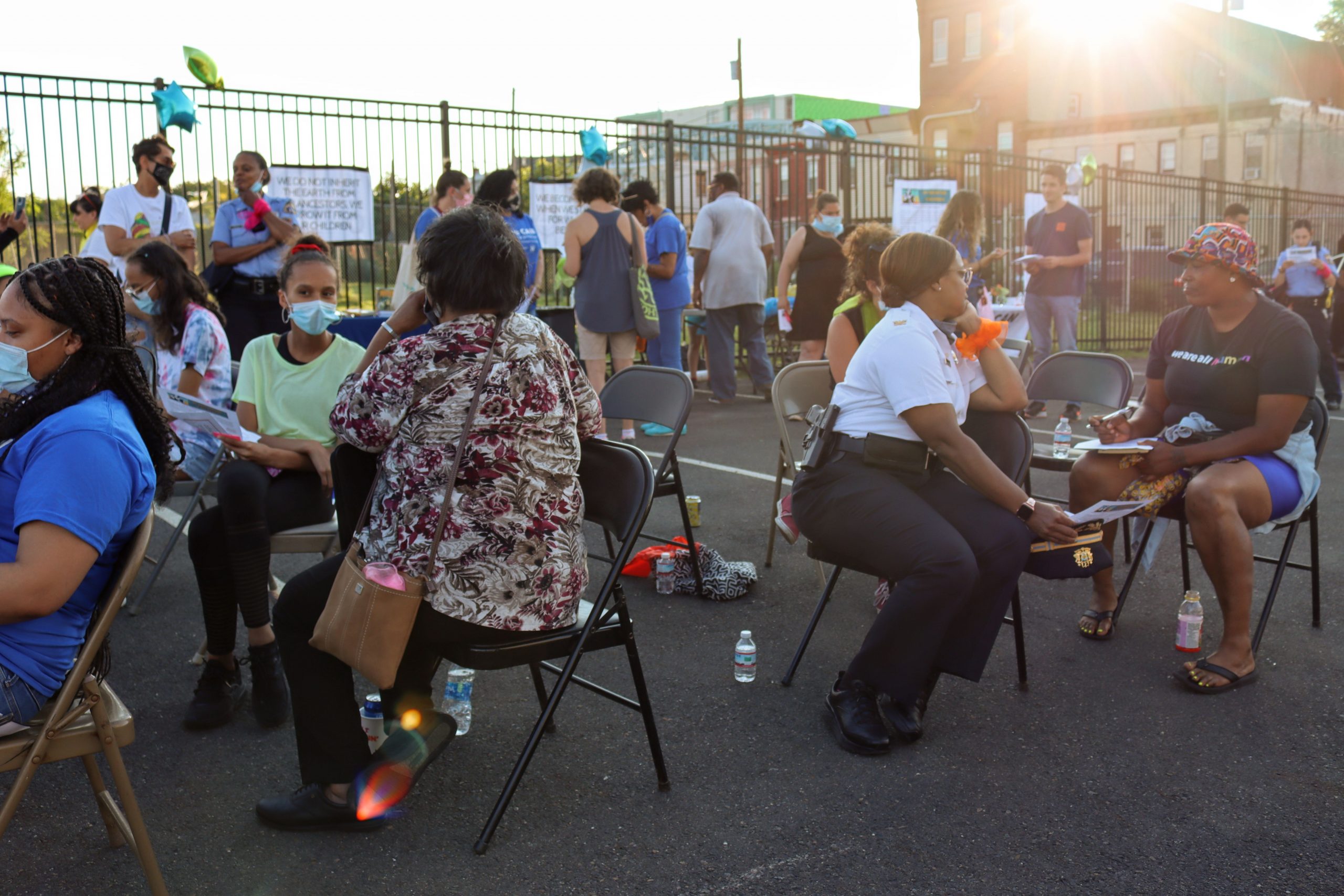 Community presentation: 'To be safe means that you see me as a full human being'
The presentation, held in the parking lot of NKCDC Orinoka Civic House, started with a community agreement: peace, love, and respect.
The first topic the youth discussed was the neighborhood's assets. My Voice Matters participant Daisie Cardona highlighted Kensington residents.
"We do what it takes to make sure everyone ends the day safe," Cardona said.
Eubanks-Dixon then shared how the youth defined safety during the sessions.
"Something that came up a lot in the report is young people saying that to be safe means that you see me as a full human being worthy of life, worthy of respect, worthy of honor, and worthy of value," said Eubanks-Dixon, adding that those who provide safety should honor that.
The young people then asked the audience to write down what public safety means to them. Noticeably, the young people and Eubanks-Dixon engaged the audience throughout the presentation, such as encouraging them to share their responses.
The youth's presentation continued by focusing on challenges in the neighborhood. Eubanks-Dixon moderated a conversation with My Voice Matters participant Reese Broadwater about issues like drug use, gun violence, homelessness, police brutality, and trash.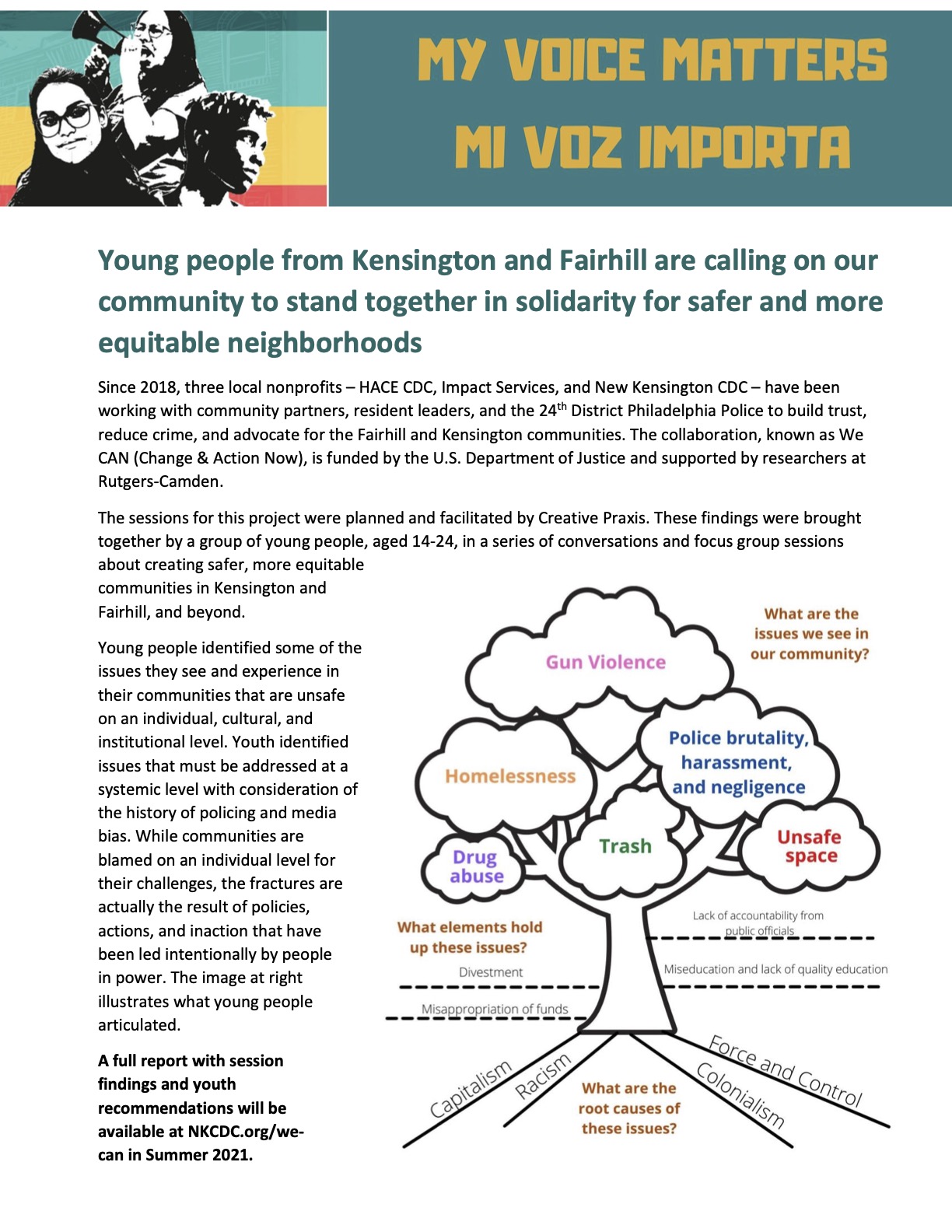 After the discussion, the audience reviewed the paper handouts that — in the form of a tree — showed the youth's perspectives on issues in the community, the root causes of those issues, and what elements hold up those issues. The youth's recommendations were listed on the other side of the handout, and the audience was encouraged to circle their favorite recommendation and to star the recommendation they'd like to help make happen.
At the end of the presentation, the youth leaders handed out and collected community pledge cards that stated the following: Young people from the Kensington and Fairhill community are calling on our community to stand together in solidarity for safer and more equitable neighborhoods.
The full pledge will be available online next month here.
My Voice Matters participants: 'It means a lot to have our voice heard'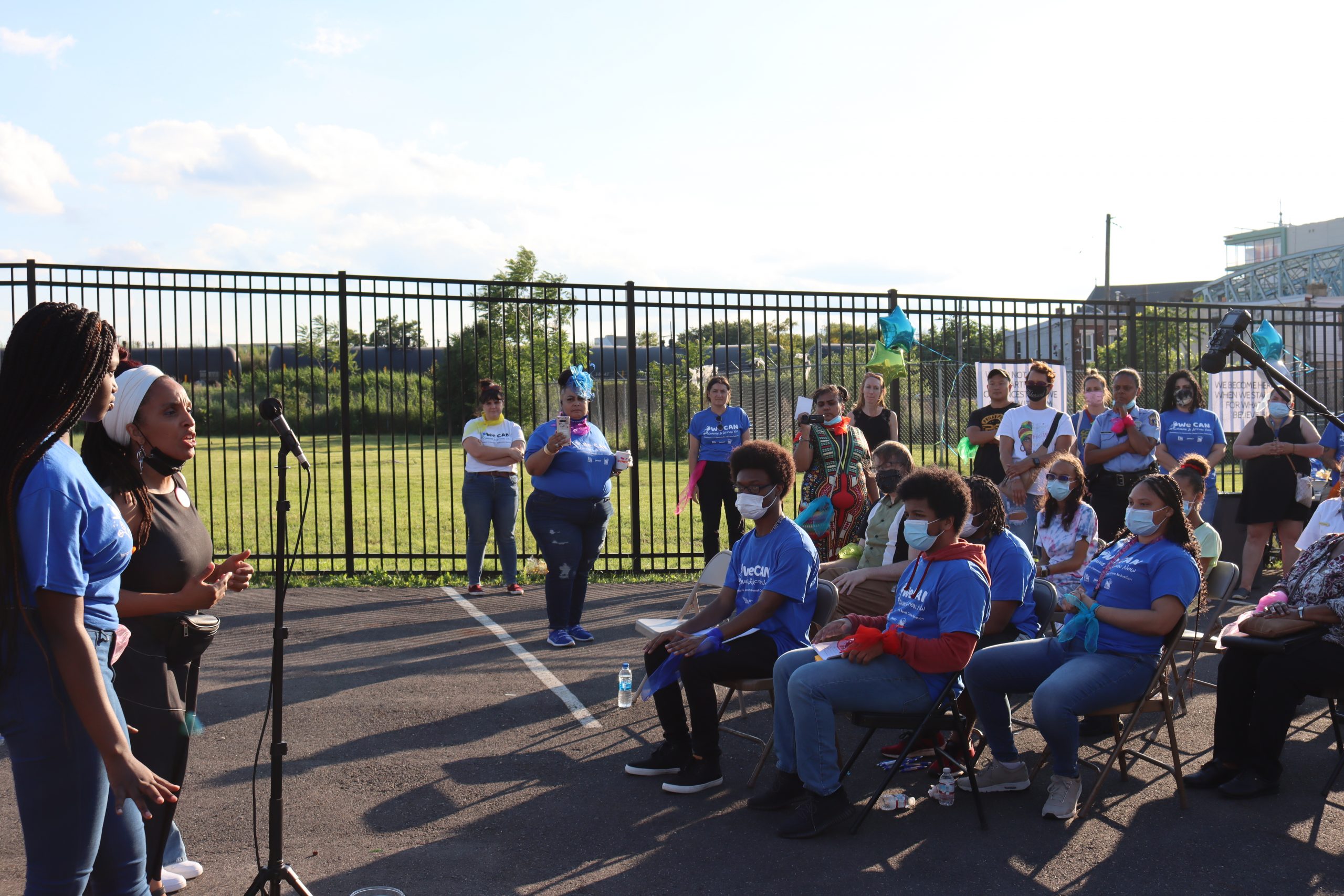 After the presentation, Kensington Voice spoke to the My Voice Matters youth leaders Stanley Santoni, Zion Puryear, Daisie Cardona, Reese Broadwater, *G. Vasquez, *I. Hernandez, *S. Vasquez, and Uriel Madiare Soukhona about the event and their hopes for the future. You can read the conversation below:
*Editor's note: Some first names were withheld for privacy reasons, and the following responses were lightly edited for clarity.
What does it mean to have your voice heard by the community?
I. Hernandez: It means a lot to have our voice heard. Especially being as young as we are, a lot of people don't listen to us. So, just having the community listen to us and having our own race and around our own age or further from our age listen to us. It feels so good.
Uriel Madiare Soukhona: Now I know there's gonna be change. Now we all know there's gonna be change. Like the police district, now they're actually listening in Kensington. So they're gonna have change, and we're gonna have less [people experiencing homelessness] in the street.
Daisie Cardona: It's been like a whole mission for kids to improve the police force. And it's really interesting that we're like, the first step of that. And that's really cool.
How were the conversations before this event? Any specific highlights?
Zion Puryear: When we were online, at first, there were more heavy topics. But as we came in person, it got a little lighter, but we still covered everything that we needed to cover.
What are your hopes for what's next?
S. Vasquez: More stuff like this. More community events so we can get even more people informed and people who were informed to stay informed. And I want to actually make change. We could go out and clean a park. Do something other than just talk about it and inform people about it. There's no point in talking about change when no one is doing it. We're here hoping that people actually do it.
I. Hernandez: I want to be able to go around more parts of Philadelphia and speak more on it than just Kensington or North Philly. Just everywhere because there's always something everywhere. As a community, we need to connect with other communities.
Daisie Cardona: It's our responsibility. We're teenagers, but we're not really kids anymore. So it's our responsibility now, especially that we've had this first step, to keep at it. The younger generations that we have to do this for, even if it means giving up our childhood so they can have theirs.
Any other thoughts?
I. Hernandez: More teens need to get in on stuff like this. Do stuff with your friends. You don't gotta wait for somebody else to do it. Figure out something. While you're out at a park hanging out, pick up trash, talk to people about stuff, help out little kids. Do something to impact without waiting for others to do it.
Daisie Cardona: Inspire others. We're a generation who have grown up with the internet. We've got the power of the world at our fingertips. Together, there's nothing we can't do.
[Best_Wordpress_Gallery id="49″ gal_title="My Voice Matters"]
---
Editors: Henry Savage, Jillian Bauer-Reese / Designer: Henry Savage