On Monday, City officials and law enforcement officers shared the results of a three-day multiagency operation targeting the open-air drug market in Kensington last week.
The collection of drugs and guns displayed at the press conference highlighted Kensington's public health and safety crisis.
Between last Tuesday and Thursday, local, federal, and state law enforcement:
Made 175 arrests, including 86 arrests for possession with intent to deliver
Confiscated $1.4 million worth of street drugs, including over 60 pounds of marijuana, 850 grams of fentanyl, and 1,200 grams of heroin
Served 79 warrants
Confiscated 27 guns
Issued 46 code violations
Confiscated around $100,000
Referred an estimated 27 people to Police-Assisted Diversion
The operation targeted properties on the first day, open-air drug markets on the second day, and public spaces on the third day — all within the 24th, 25th, and 26th police districts. The Kensington Mobile Wound Care Van assisted the operation in the open-air drug markets by treating people with wounds before they were processed for arrest.
Philadelphia Police Department Forensic Science Director Mike Garvey told reporters that the police department will also test the drugs for chemicals, like xylazine ("tranq"), over the next several weeks.
Frank Vanore, the Philadelphia Police Department's deputy commissioner of investigations, said the 24th and 25th districts are some of the areas most impacted by gun violence and drug trafficking.
"We got all our partners together, not only locally, but federally and in the state," said Vanore. "We all coordinated our efforts in conducting intelligence gathering and investigations in those areas."
Philadelphia Police Commissioner Danielle Outlaw thanked everyone involved in the operation, including District 7 City Councilmember Quetcy Lozada and Jacqueline Romero, the United States attorney for the Eastern District of Pennsylvania.
"The arrests made and the confiscation of firearms and narcotics during this operation underscores our unwavering stance against those who seek to harm our residents and jeopardize public safety," Outlaw said.
Who spoke at the press conference?
Several City officials spoke at the press conference, including (in order):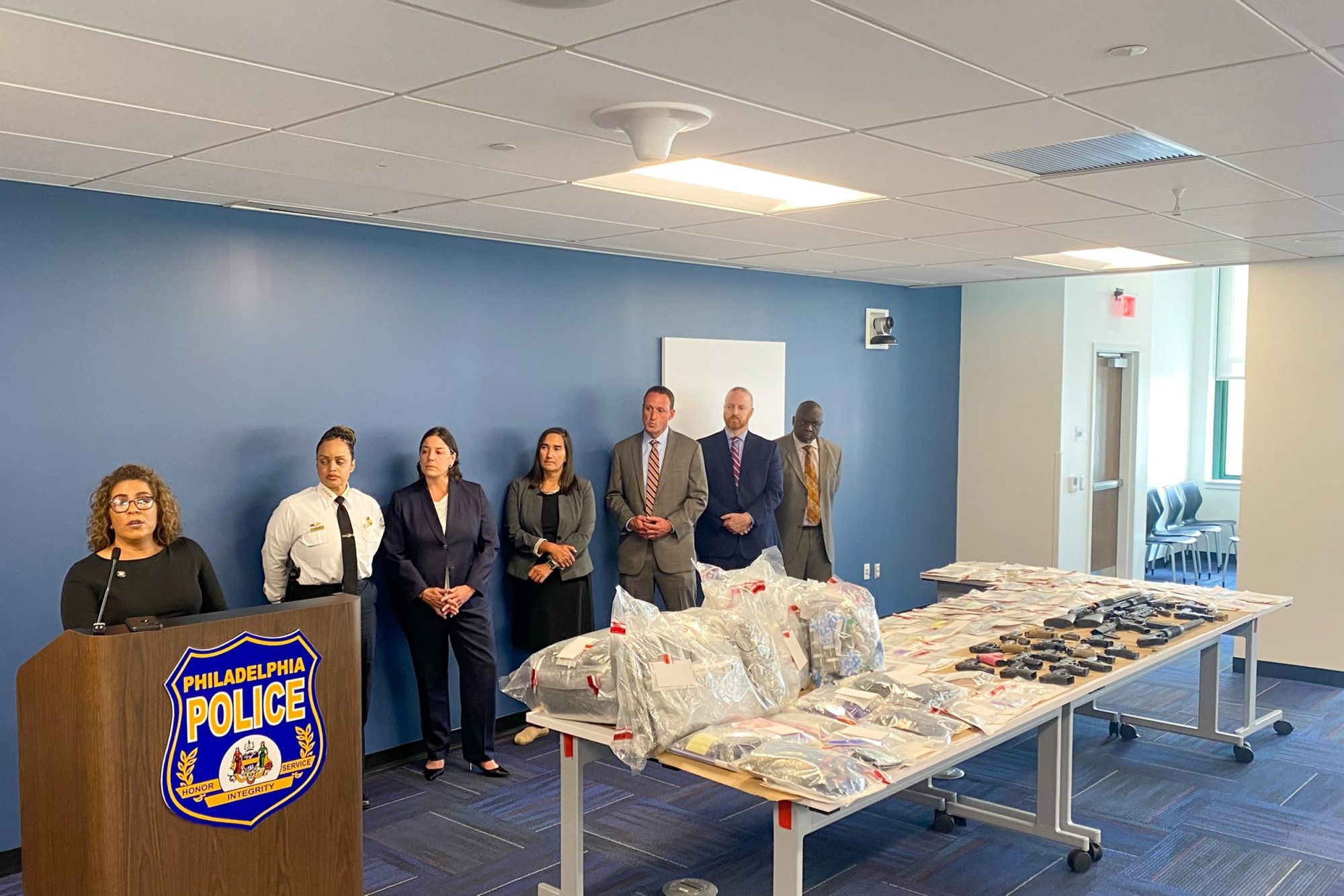 What's happening next?
While the police department wouldn't share information about future Kensington operations, it's highly likely due to the City's action plan and recent comments from officials.
First, at a Kensington press conference in April, PA Governor Josh Shapiro said that partnerships with public health, law enforcement, and intergovernmental leaders are part of his approach to the overdose crisis.
Second, one of the strategic initiatives from the Opioid Response Unit's 2023 Action Plan is to improve the "coordinated narcotics strategy between local, state, and federal agencies." It mentions disrupting the open-air drug market in Kensington.
After Monday's press conference, Foizen told Kensington Voice that the Opioid Response Unit will share a mid-year progress report in the next few weeks. She also encouraged Kensington residents to get involved with NKCDC and Impact Services' community-led Kensington planning process at kensingtonplan.org.
On June 21, NKCDC announced the six Kensington parks receiving money for improvements from the national opioid settlement fund. You can access the community surveys here. To help plan how those funds will be spent with neighbors, click here.
"The goal of the parks investments is to make sure that it's a very inclusive, participatory process, trying to get new voices to the table to decide what they would invest in," Foizen said.
How can Kensington residents support the City's efforts?
Lozada said Kensington residents should continue to report neighborhood issues to help the City improve their quality of life. Residents can call 311 or download the Philly311 app to report those concerns.
"I also want to say thank you to the officers of the 24th, 25th, and 26th police districts because … it's pretty easy for us to say that the work does not happen," Lozada added. "But there are really hard-working men and women who show up every day and do the work."
---
Editors: Jillian Bauer-Reese Designer: Zari Tarazona