A Puerto Rican superhero draped in red, white, and blue and holding the flag of Puerto Rico is making her grand debut in Norris Square.
The superhero, La Borinqueña, is the protagonist of the independent comic book series of the same name created by graphic novelist Edgardo Miranda-Rodriguez. Marisol Rios de la Luz, La Borinqueña's real identity, is an Afro-Puerto Rican who lives in New York City with her parents and attends Columbia University. She's just a normal student until, one day, she has a life-altering study abroad experience in Puerto Rico.
A representation of the Puerto Rican diaspora, La Borinqueña will now be featured on a mural at Norris and Mascher Streets near Norris Square Park. According to Alaina Ewins, the project manager of the mural at Mural Arts Philadelphia, the idea for the mural began when former program manager Julia Lopez approached Miranda-Rodriguez in 2019 at a comic book convention. Lopez proposed a collaboration with Mural Arts' art education program to create a mural.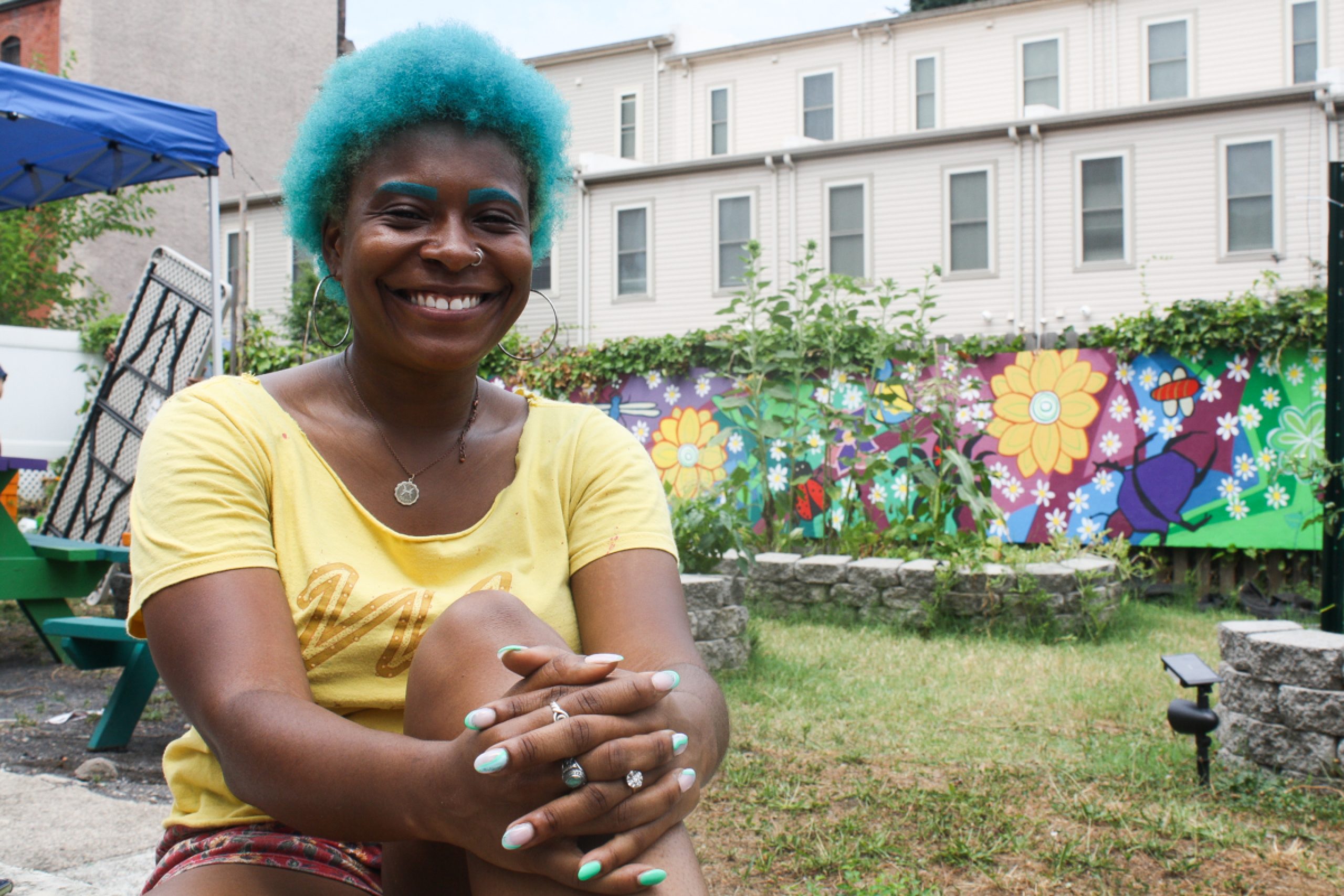 At that time, the art education program teachers were working with elementary and high school students in South Philadelphia public schools. Through Miranda-Rodriguez's comic book, the students learned to draw comics and talked about environmental issues, one of the central themes in the comic book.
"[Miranda-Rodriguez] visited our classroom, gave a little pep talk about the growth and the birth of La Borinqueña," Ewins said. "He met all of the teaching artists, gave out copies of La Borinqueña. It was just a really great time meeting him during our professional development."
However, when it came to making the mural, there were a few challenges along the way. After finding an exterior building wall in Norris Square for the mural, the homeowners of the property lost their home. After developers possessed the property, Mural Arts was no longer able to use that wall, Ewins said.
"We had it shopped around over the past two years," she said. "And even though we may have lost the student population we originally had started the project with, we still had a lot of the designs that they did and some of the La Borinqueña fan comics."
Despite the trials and tribulations, the mural found a new home in Norris Square.
The mural's location in Philadelphia is fitting since Philly has the second largest population of Puerto Ricans in the United States (beat out by New York City) with an estimated 135,000 Puerto Ricans. Throughout Norris Square are several markers of Puerto Rican culture, including the Norris Square Neighborhood Project's gardens and the design of Norris Square Park.
"Gratefully, the walls are in neighborhoods that will feel the impact most," Ewins said. "I'm absolutely stoked for this to finally come to fruition, and it's just a case of resilience."
Who and what are La Borinqueña?
The comic book's origins trace back to 2016 when Miranda-Rodriguez released a comic with Marvel about Groot, the tree-like creature from Guardians of the Galaxy. The comic focused on Groot's heritage as a Ceiba tree (Puerto Rico's national tree) and featured a loving Puerto Rican grandmother who felt "the spirits of our ancestors inside of him."
Following the popularity of the comic, Miranda-Rodriguez was approached by the National Puerto Rican Day Parade committee to create a hero that would be endorsed during the parade in New York City. After months of planning, La Borinqueña made her debut. Her superhero name derives from Borikén or Borinquen, the Taino name for Puerto Rico, and Boricua, a native term for someone from Puerto Rico.
Miranda-Rodriguez answered the question of "What's next?" by independently creating and publishing La Borinqueña. The comic explores social, economic, and political issues in Puerto Rico, including the debt crisis and environmental devastation.
The story follows Marisol Rios de la Luz, an earth and environmental sciences student at Columbia University in New York City. While studying abroad in Puerto Rico to conduct geology research, her classes at the University of Puerto Rico are canceled due to layoffs. Refusing to go home, she sets off to do her research on her own. As she's exploring a cave to save mysterious crystals before a flood arrives, the crystals awaken the Taíno goddess Atabex and her sons Juracan and Yúcahu. The gods granted her the following superpowers to become the hero she is today, protecting Puerto Rico: control of storms, flight, and super strength.
From Puerto Rico to New York City to Norris Square: The Puerto Rican Diaspora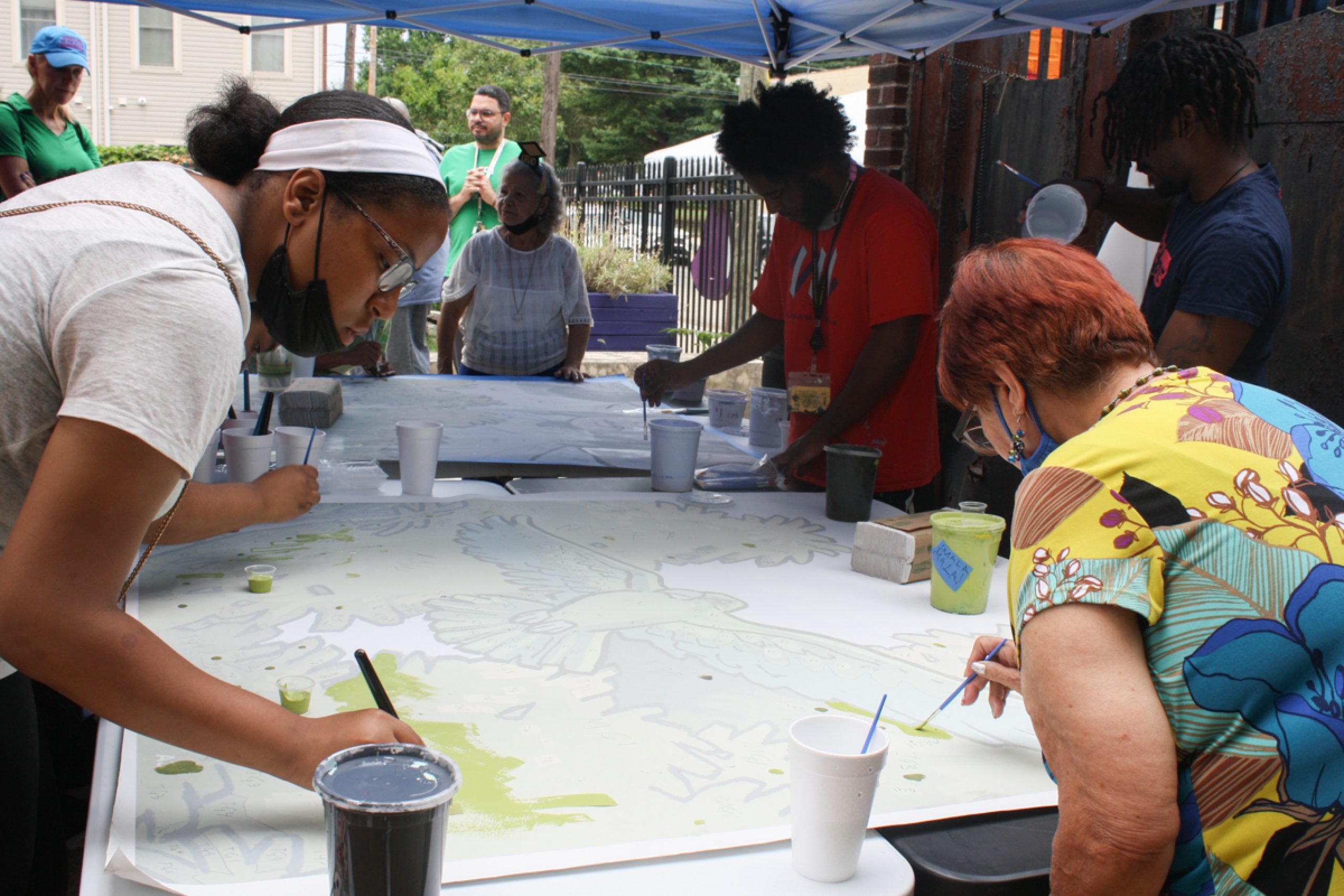 Every piece of the mural's design is inspired by elements of Puerto Rican culture and history. The mural was art directed by Miranda-Rodriguez, illustrated by Mike Hawthorne, and digitally colored by Emilio Lopez.
At the center of the mural is La Borinqueña, donning her signature superhero costume and carrying the Puerto Rican flag. Both the superhero costume and flag have the original 1895 Puerto Rican flag color of light blue, which was once used as a symbol of independence from Spain and then the United States until Puerto Rico's government officially adopted the flag in 1952 and changed the color to navy blue like the U.S. flag. Years prior, in 1948, Puerto Rico's U.S.-appointed legislators who were worried about independence activists passed the Ley de la Mordaza (Gag Law), which made the display of a Puerto Rican flag punishable by up to 10 years in prison. The Puerto Rican flag has undergone different variations over the years, including the 1868 Revolutionary Flag of Lares and the 2016 black and white flag of resistance.
Other elements of the mural include iguacas, native parrots to Puerto Rico; flor de maga, the national flower, and Ceiba, the national tree.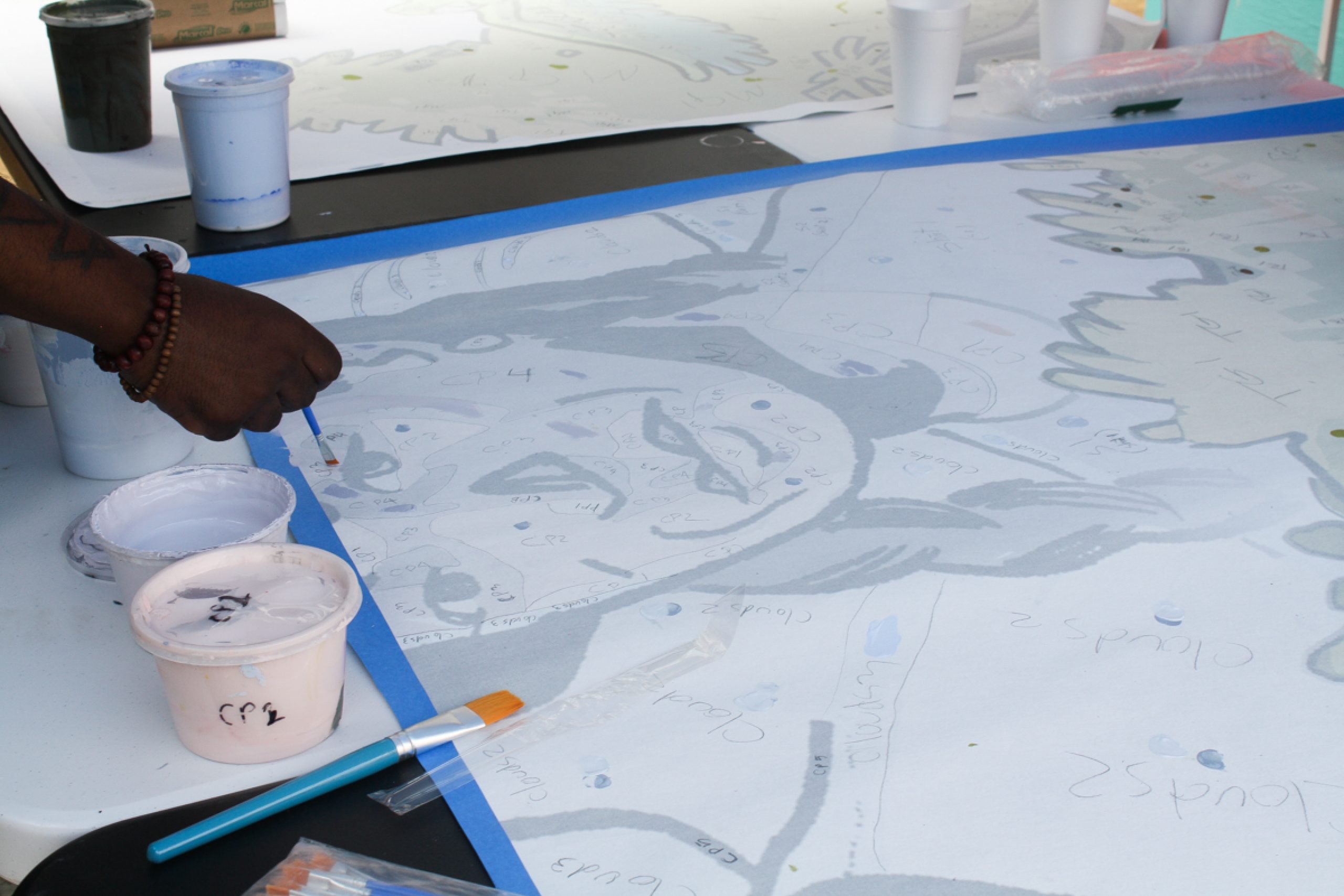 The mural also features other Puerto Rican women in history.
Community Paint Day: 'A mural that is a part of our culture is very important'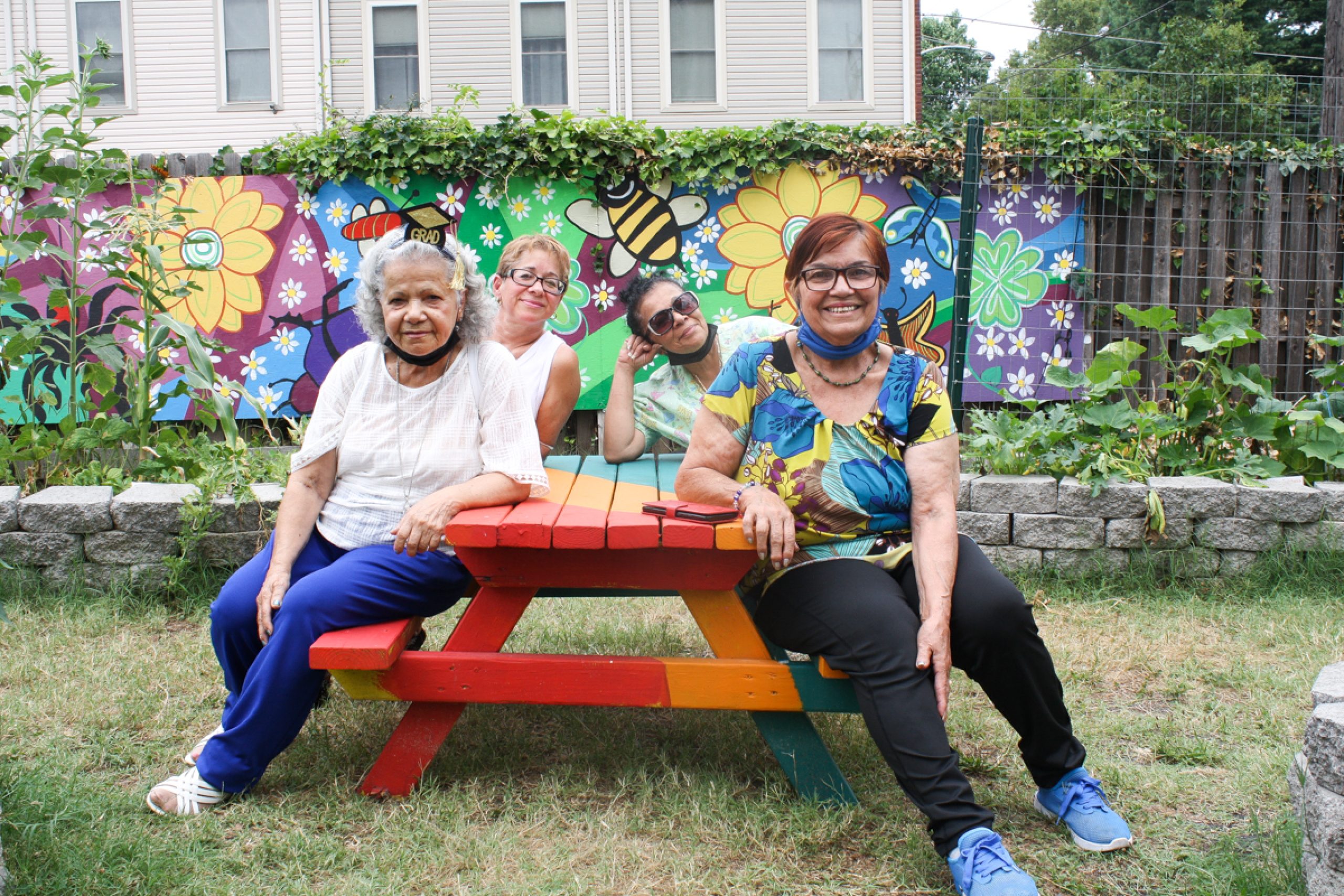 On July 29, the Norris Square Community Alliance hosted a mural paint day in its community garden in partnership with Mural Arts. Neighbors of all ages stopped by to help bring the mural to life.
Volunteers broke up into several groups, working on different aspects of the mural. Several women from the nearby Norris Square Senior Center came to paint.
"I am very content and grateful for this opportunity that they're giving us to help make Philadelphia like it deserves," said Josefina Rodriguez, a volunteer at the event.
Some people worked on coloring the foliage and iguacas, while others colored historical figures like Mariana Bracetti.
"I feel very happy to participate and paint a mural about Puerto Rico," said Maribel Baez Martell, a neighborhood resident. "It's important to our community."
According to Julia Ponce, another volunteer, the representation of different Puerto Ricans who've contributed to society will set an important example.
"It's excellent," she said. "La Borinqueña, a mural that is a part of our culture, is very important."
Ponce added that despite ongoing violence in Philadelphia, the artwork demonstrates to youth that there are better things in life than resorting to violence, like bettering your community.
The mural was completed during the last week of August at 148 W. Norris Street. A mural dedication took place on Sept. 23, the same weekend as Philadelphia's Puerto Rican Day Parade.
---
Editors: Jillian Bauer-Reese, Zari Tarazona / Designer: Siani Colón