At about 4 p.m. on Tuesday, two police officers wheeled their bikes into the Walgreens at Kensington and Allegheny avenues.
"We're here to say our farewells," said one of the officers to the store's staff.
According to a Walgreens spokesperson, Walgreens is permanently closing its Kensington location at 1809 E. Allegheny Ave. on March 2.
The pharmacy chain will be the latest corporation to close a store on the neighborhood's main corridors. In January, Dollar General closed its Kensington location three blocks east of Walgreens on Allegheny Avenue.
"As we expand as a leader in healthcare, we are focused on best meeting the needs of patients and customers in communities we serve by creating the right network of stores in the right locations," the company spokesperson said.
After the store closes on Thursday, the next closest Walgreens will be the location at Broad Street and Hunting Park Avenue, which is 2.4 miles away. There will be a total of 18 remaining Walgreens locations in the city.
While several independent pharmacies like Sunray Drugs and Global Pharmacy are located a few blocks away, the next closest pharmacy chain is the Rite Aid on Allegheny Avenue and C Street, which is 0.7 miles away.
Walgreens, which is a for-profit, publicly-traded company, is the second largest pharmacy store chain in the United States.
"When faced with the difficult decision to close a particular [store], several factors are taken into account, including our existing footprint of stores and dynamics of the local market, and changes in the buying habits of our patients and customers," the spokesperson said.
Gilbert Stull, who works as a private police officer at Walgreens, said the store is closing due to retail theft.
"They've had days where they're negative," Stull said. "That's why we were assigned to this area because retail theft was just so bad."
According to Stull, some of the other common challenges of working at the Kensington and Allegheny intersection include overdoses in the parking lot, people who feel agitated from their withdrawal symptoms, and gun violence.
However, Stull said the increased security measure — especially considering the cost of hiring private security — wasn't enough to deter retail theft and other crime. He said there was a shooting outside the store earlier that Tuesday around 8 a.m.
"They're paying to have us here the entire time this door's open just to try to make a profit, and it's still not working," he said. "It hurts the people that live in this community. All of a sudden, they don't have anywhere to get their medicine."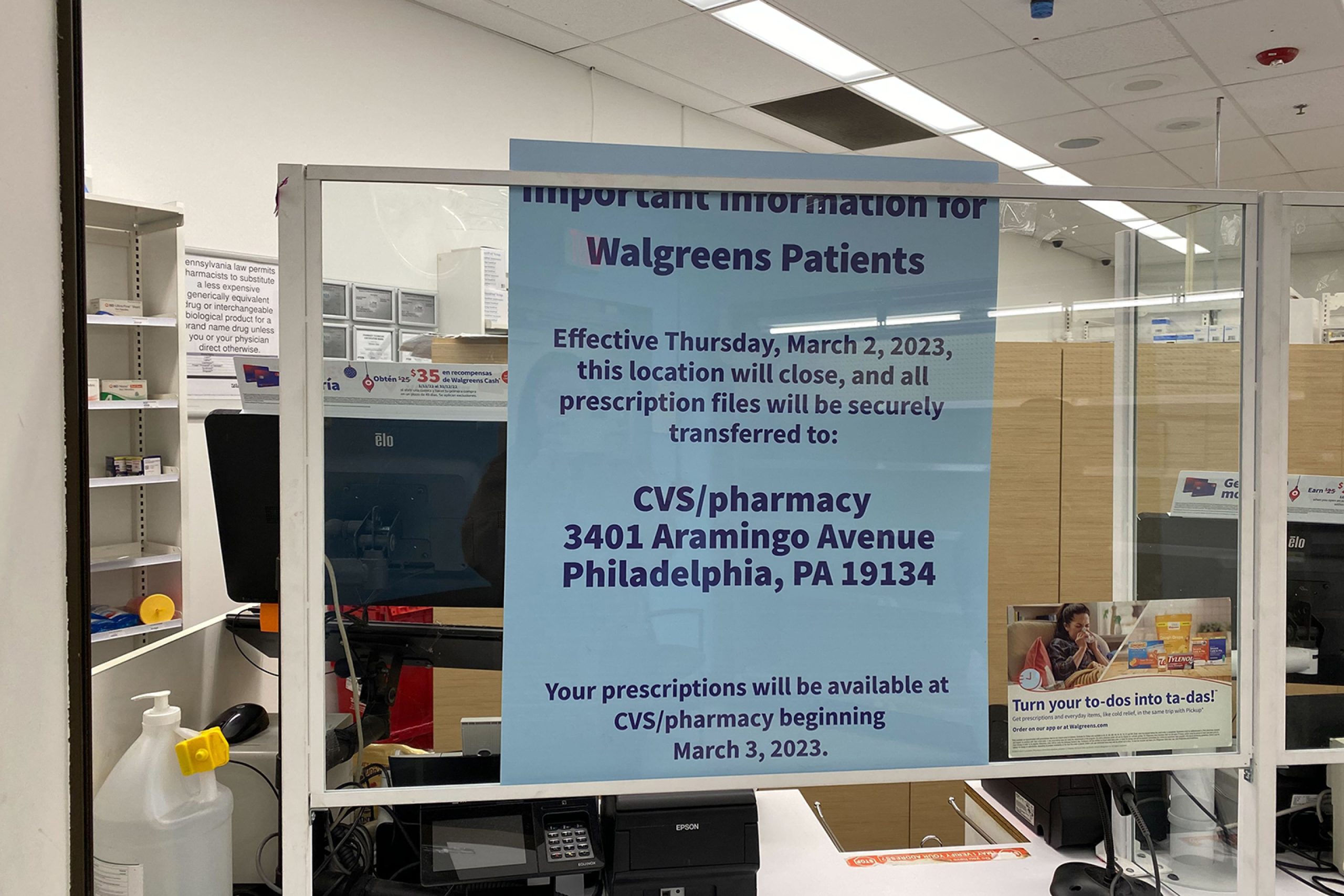 How the pharmacy chain is notifying patients, many of whom depend on critical medications
As of Tuesday afternoon, no signs were posted in the store or pharmacy to inform customers and pharmacy patients about the closure. By Wednesday, there was a sign at the pharmacy window informing patients that the store would close the next day.
Walgreens mailed a notice to its patients about the closure, according to the company spokesperson. They said that notice included details about how patients can access their prescriptions and other services.
According to a pharmacy employee who asked to remain anonymous, the pharmacy's staff has also communicated with some of their patients through Esperanza Health Center, which is located across the street. Esperanza has worked to notify its patients of the closure, too.
"Esperanza identified all of our patients who get their scripts filled at the K&A Walgreens, prepared a flier, and texted them with information about the closing and what they can do to transfer their scripts to the pharmacy of their choice, including Esperanza's own dispensaries at each of our clinics," said Donald Price, director of operations at Esperanza Health Center.
Price said the clinic can also arrange medication delivery for patients as well.
The Kensington Walgreens pharmacy commonly dispenses critical medications that treat conditions like diabetes, high blood pressure, and seizures, the pharmacy staff member said. Kensington residents disproportionately suffer from poor physical and mental health, including those and other health conditions like adult asthma, heart disease, and stroke.
The pharmacy employee said the pharmacy also dispenses critical addiction treatment medications, like buprenorphine. Buprenorphine, commonly known by its brand name Suboxone (a combination of buprenorphine and naloxone), is one of the three gold-standard medications to treat opioid use disorder.
However, some independent pharmacies in Kensington have chosen not to stock buprenorphine due to its street value, making it more difficult to find than medicine that treats other chronic conditions. According to a recent research study that surveyed nearly 5,000 pharmacies across the country, more than half did not carry buprenorphine. The researchers also found that pharmacy chains were more likely than independent pharmacies to stock it.
According to the pharmacy staff member, the pharmacy's employees are doing their best to get customers to pick up the prescriptions the pharmacy has already filled.
The pharmacy employee said that some of their patients who know the store is closing have already transferred their medications to other pharmacies. The new CVS at 2400 Aramingo Ave. purchased the Kensington Walgreens' patient profile, so some patients have transferred their medicines there, they said. The CVS, which is on the corner of Aramingo Avenue and Ontario Street, is about a mile away.
Although the pharmacy staff member said the Walgreens corporate office hasn't told them exactly why they're closing, they had a few ideas.
"It could be that we weren't making enough or maybe safety," they said. "There were a bunch of gunshots this morning, and it was kind of scary."
From a financial perspective, CVS and Walgreens are both publicly-traded companies in the U.S. stock market. In the past 5 years, CVS' stock price (or the company value) has increased 22% while Walgreens' stock price has decreased by 50%.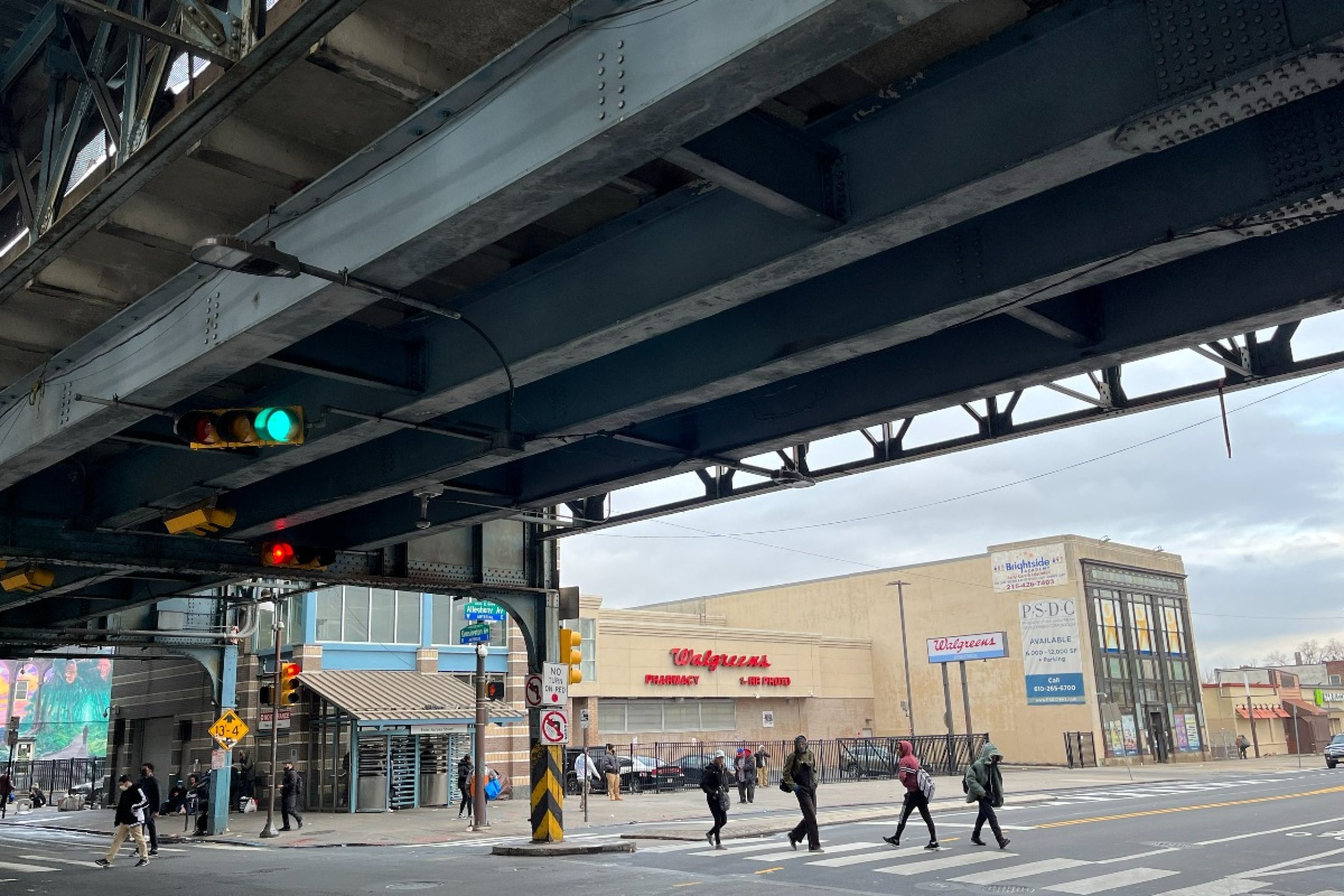 Community response brings up neighborhood quality-of-life conditions
When Kensington resident Heriberto Rosado walked out of Walgreens with his girlfriend's prescriptions on Tuesday afternoon, he said he still hadn't heard the news.
Even though Rosado didn't know that Walgreens was closing, he wasn't surprised to hear it would close. He called the neighborhood's conditions "out of control."
"The cops are right there with their lights on, playing on their phones," Rosado said. "They think people using drugs are gonna get scared because their lights are on."
Rosado, who bought a house in Kensington 13 years ago, said he has watched the neighborhood decline since about 2017.
"When I moved here, everything was clean," Rosado said. "Then almost seven years later, all this started showing up — and it's getting worse."
Rosado blames the store closures on people who use drugs, who he said loiter in front of and steal from the stores. He also thinks the police need to spread out and move people along.
But for now, Rosado is left to focus on the present issue: finding a new pharmacy.
"They just opened up a CVS on Aramingo … so now we're gonna have to drive instead of walking," Rosado said. "More wasted money on gas."
---
Editors: Siani Colón, Zari Tarazona / Designer: Siani Colón

Kensington Voice is one of more than 20 news organizations producing Broke in Philly, a collaborative reporting project on economic mobility. Read more at brokeinphilly.org or follow on Twitter at @BrokeInPhilly.