Editor's Note: This news article was written and reported on by NKCDC's Commercial Corridor Manager Lee Nentwig through a community partnership with Kensington Voice. For the next few months, Nentwig plans on spotlighting small businesses in Kensington and the surrounding neighborhoods with support from Kensington Voice staff.
What Déjà Vu Barbershop owner Danny Ruiz says he has always enjoyed the most about being a barber are the relationships he develops with his team and customers.
Over 10 years ago, Ruiz trained to become a barber while serving time in prison. According to Ruiz, the vocation provided him with a creative outlet and positive direction in life.
"When I was in there, I took advantage of educating myself and chased this goal," Ruiz said. "But I just wanted to become a barber. I wasn't thinking of owning this business."
When he was released from prison, Ruiz began working in a salon on North Front Street. According to Ruiz, he quickly realized that being a barber meant more than just cutting hair; it was an opportunity to support people.
"We're not just barbers; we're like therapists because you're dealing with people for years, and every person has a problem," Ruiz said. "Every person also has good things [in their life] — you've got to find out how to talk to them. You might give that person hope when he's looking in the mirror feeling good and, believe me, it makes a difference."
Having lived through his own challenges earlier in life, Ruiz identifies with a lot of the experiences shared by young men sitting in his chair. Ruiz said he provides words of encouragement to help get them through hard times.
"Kids like that," Ruiz added. "They used to come not just for a haircut, but because something was bothering them — a wrong decision or a family problem or a relationship. I didn't realize that I was doing that for them, that they could come and open up to me like that. … That felt good."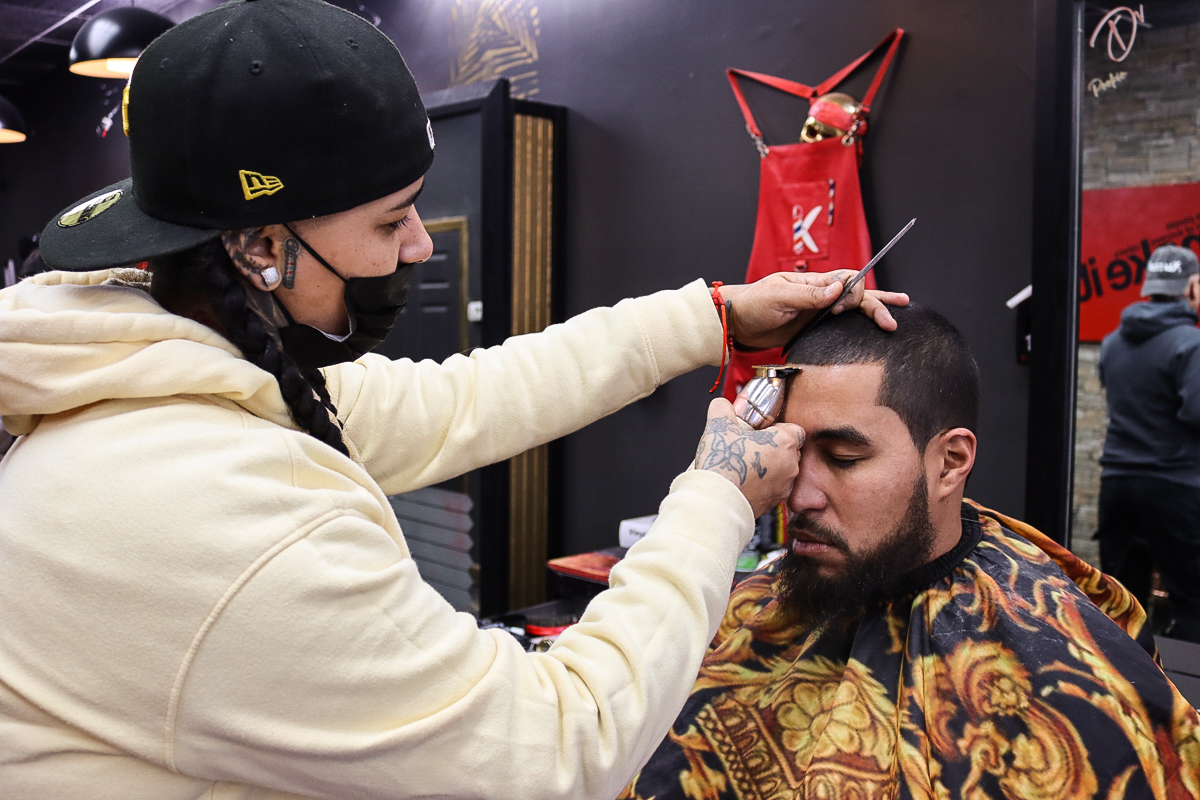 Building a supportive space: 'He took the time to teach me'
When Ruiz opened Déjà Vu Barbershop 11 years ago, he said he wanted to create a supportive environment for his customers and staff.
Pookie, a barber at the shop who requested to be referred to by nickname only, has worked at Déjà Vu for more than five years after being trained by Ruiz.
"I would stand by his side for like six hours a day — learning from watching him — and he took the time to teach me. He's my guy," she said.
Ruiz said he recognized Pookie's talent as a barber early on and admired her determination.
"It's incredible what she can do with her cuts, her vision, and her way of learning people," he added. "She doesn't just deal with cuts. She deals with everybody."
Pookie and Ruiz both said she faced discrimination early on from men who didn't like seeing a woman behind the chair. Clients would try to intimidate her and make her feel as if she didn't belong in the industry. But Pookie loved the craft and, like Ruiz, valued the friendships that came from being a barber. That passion combined with encouragement from Ruiz kept her going.
"I care less about the money, but I love what I do. That's why I came this far," she added.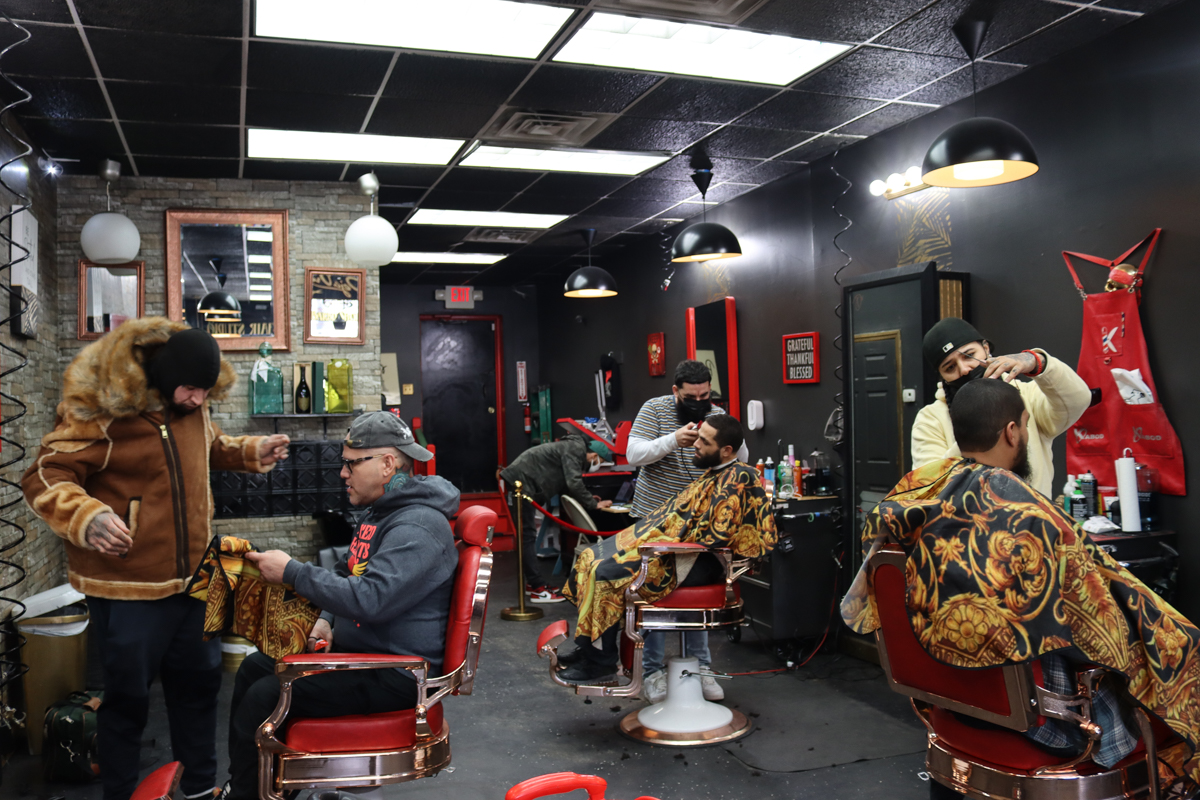 Investing in the community
The positive ways in which employees are supported at Déjà Vu carry over to the staff's relationships with their clients and community members.
Walk-ins and children are always welcomed at Déjà Vu. Every August, when the new school year begins, the Déjà Vu team offers free haircuts to kids in the neighborhood for three days and hands out free backpacks.
On a more personal level, during the interview, Ruiz pointed to a photo on the refrigerator of a Déjà Vu client who had recently passed away, an older man named Bolo. According to Ruiz, Bolo and many of the men in his family— sons, grandsons, and nephews— have been customers at Déjà Vu for years. His funeral was taking place later that week. Ruiz and members of the shop's staff planned to attend.
A few minutes later, Bolo's nephew passed through the shop and thanked Ruiz for investing in his clients.
Pulling through two difficult years of the pandemic
COVID-19 devastated the business in 2020, Ruiz said. Starting in March, the shop was closed for several months due to the City of Philadelphia's order to temporarily close all nonessential businesses.
According to Ruiz, all the barbers on staff, including himself, had to stop working to become eligible for unemployment benefits. For Ruiz, it was difficult accessing the federally-funded Paycheck Protection Program for small businesses, so he used his own unemployment benefits early on to cover the shop's rent.
Once the shop was allowed to reopen in June, Ruiz said he discovered plumbing damages caused by construction taking place behind Déjà Vu had flooded the entire shop. The floors were ruined, along with the furniture, and Ruiz had to pay thousands of dollars out-of-pocket for repairs. His landlord didn't reimburse him.
In addition to the repair costs, when Ruiz and his team were making the repairs, Déjà Vu received a fine from the City's Department of Licenses & Inspections for not having the proper permits to do such renovations.
Despite all of this, Ruiz said he remained determined to push forward, and his team and customers were there to have his back. Eventually, the business did pick back up. Ruiz was also able to access federal relief funding in the form of an Economic Injury Disaster Loan.
"Since we got over that wave of COVID and we're still here, I feel like I'm built for this because it was a lot of sacrifice," he added.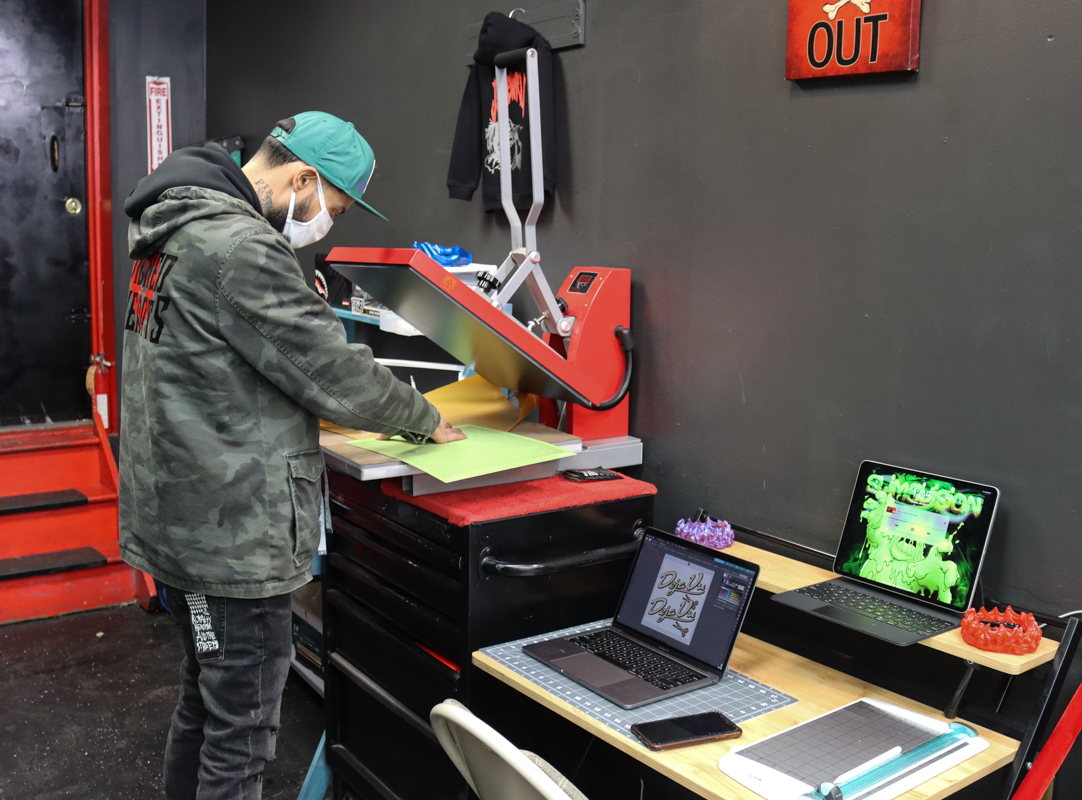 'Looking forward towards a new beginning'
Now, Ruiz and his team are looking forward to the future. The barbershop is moving to a new storefront in Kensington at 2006 N. Front St. this week. The new location provides more space, which will enable the team to offer more services to the community.
Graphic designer Johnny Aponte, owner of the brand Wicked Hearts, will be printing on-site apparel for Déjà Vu and their own brand at the new location. Déjà Vu will also begin to offer beauty and care services for women. Ruiz's business partner, Cheryl Lutts, even organized financial counseling services at the shop to support single mothers in the community.
"Now, we're looking forward towards a new beginning," Ruiz said. "We're aware of what's going on in the world. The economy is bad. A lot of people are out of work. A lot of people are hungry. A lot of families are breaking up. Hopefully, we stay alive, keep people smiling, and keep people looking forward to good things."
To see what Déjà Vu has in store for the future, follow the shop on Instagram here.
---
Editors: Siani Colón, Khysir Carter, Zari Tarazona / Designer: Jillian Bauer-Reese