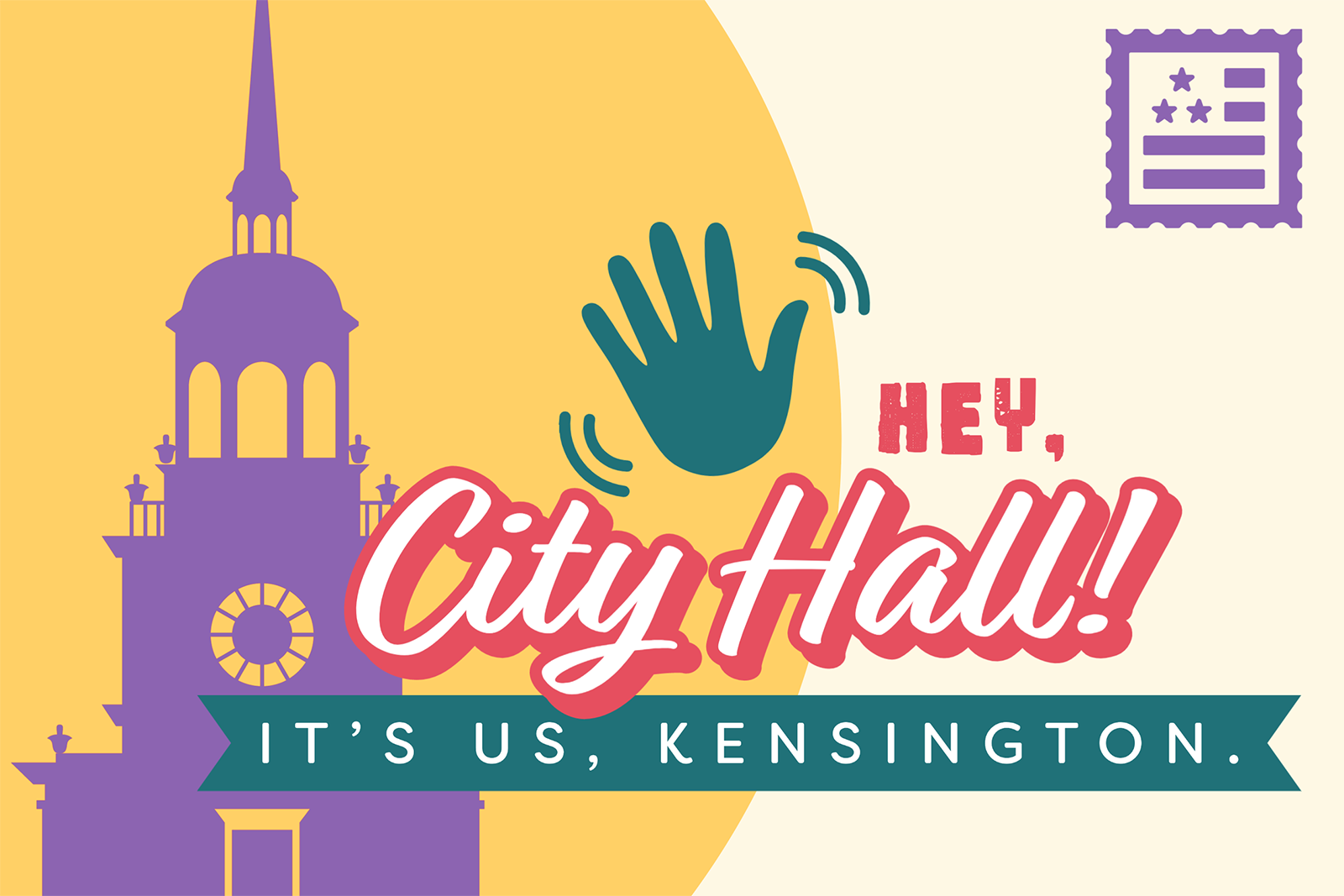 On Tuesday, Kensington voters visited their polling place to participate in the most expensive race in Philadelphia history. Former Councilmember Cherelle Parker won the Democratic nomination for mayor, potentially setting her up as the first woman to hold the position in Philadelphia.
The 2023 primary election had a packed ballot, with voters selecting candidates for 12 positions, including the mayor, City Council, and other local and state seats. This election also triggered a special election for City Controller to fill the remaining two years of Rebecca Rhynhart's term after she resigned to run for mayor.
The results started showing up online after 8 p.m. on Tuesday, starting with mail-in ballots. Precinct numbers from polling places began trickling in about an hour later.
As of Thursday morning, citywide turnout was nearly 27%, despite over 1 million registered voters in Philadelphia. The voter turnout was lower than expected and under last November's turnout of 46%. Poll workers at several locations described the day as slow.
Election background information
The May primary election was met with a large number of candidates, with 10 people running for mayor and over 30 people running for City Council At-Large.
Due to the number of mayoral candidates, some voters criticized the city's current majority voting system and stated that ranked-choice voting, also called instant-runoff voting, would have made the election easier.
In an instant runoff, voters rank the candidates, and then their votes are transferred until a candidate has more than half of the votes. Unlike other major cities with ranked-choice voting, Philadelphia candidates only need to secure a majority of votes. For example, Parker won the Democratic mayoral nomination on Tuesday with support from 7% of registered voters and 4% of the city population.
In light of these conditions, there has been a push toward election reform in Philadelphia and statewide. The mayor's race also made history, with campaign spending reaching over $31 million.
Pennsylvania's closed primary system also complicated matters, barring voters from voting outside their registered party.
Election results
Philadelphia mayor
Former Councilmember Cherelle Parker won the Democratic nomination for mayor, potentially setting her up as the first woman mayor in Philadelphia history. In the November general election, she'll face off against former Councilmember David Oh, who ran unopposed under the Republican Party.
Parker had overwhelming support in Wards 33, 7, and 19, while Allan Domb and Helen Gym had narrow leads in Wards 45 and 25, respectively.
Philadelphia City Council At-Large
For City Council At-Large, there are seven seats up for grabs in the November general election. However, five seats are for the majority party (Democratic Party) in Philadelphia, and two are for the minority parties (Republican Party and Independent parties).
In the Democratic primary, Councilmembers Isaiah Thomas and Katherine Gilmore Richardson won first and second place, respectively. Newcomers Rue Landau (third place) and Nina Ahmad (fourth place) will join them on the ballot in November. Landau would be the first person from the LGBTQ+ community elected to City Council, and Ahmad would be the first South Asian person. The fifth-place winner isn't official yet, but Councilmember Jim Harrity has a narrow lead over Eryn Santamoor.
In the Republican primary, from first to fourth place, Drew Murray, Frank Cristinzio, Gary Grisafi, and Jim Hasher were the winners. The fifth-place winner hasn't been called yet, but Mary Jane Kelly is in the lead over Sam Oropeza.
The Republican primary election winners will compete for the two minority at-large seats in the fall, along with any independent candidates. Since the Democratic Party has five majority at-large seats, the primary election winners will most likely be elected to City Council in the general election.
Philadelphia City Council Districts
City Council's District 7 race wasn't determined until Wednesday evening. Councilmember Quetcy Lozada won over Andrés Celin with nearly 60% of the vote, results from 4 divisions are still pending.
While Lozada had more support from Wards 33, 7, and 19, Celin had support in Wards 31 and 18, close to his home base in Norris Square.
Councilmembers Mark Squilla (District 1) and Mike Driscoll (District 6) ran unopposed and won their party nomination.
Local races
Additional party victories that will compete in November include:
Omar Sabir (D), Lisa Deeley (D), and Seth Bluestein (R) for City Commissioner
Christy Brady (D) and Aaron Bashir (R) for City Controller
John Sabatina (D) and Linwood Holland (R) for Register of Wills
Rochelle Bilal (D) and Mark Lavelle (R) for Sheriff
To see other election results, click here.
Statewide races
Several statewide judicial seats were up for grabs for Pennsylvania Supreme, Superior, and Commonwealth courts. The candidates going head-to-head this November include:
Daniel McCaffery (D) against Carolyn Carluccio (R) for PA Supreme Court
Jill Beck (D) and Timika Lane (D) against Maria Battista (R) and Harry Smail (R) for PA Superior Court
Matt Wolf (D) against Megan Martin (R) for PA Commonwealth Court
The influence of campaign outreach methods in packed Philly races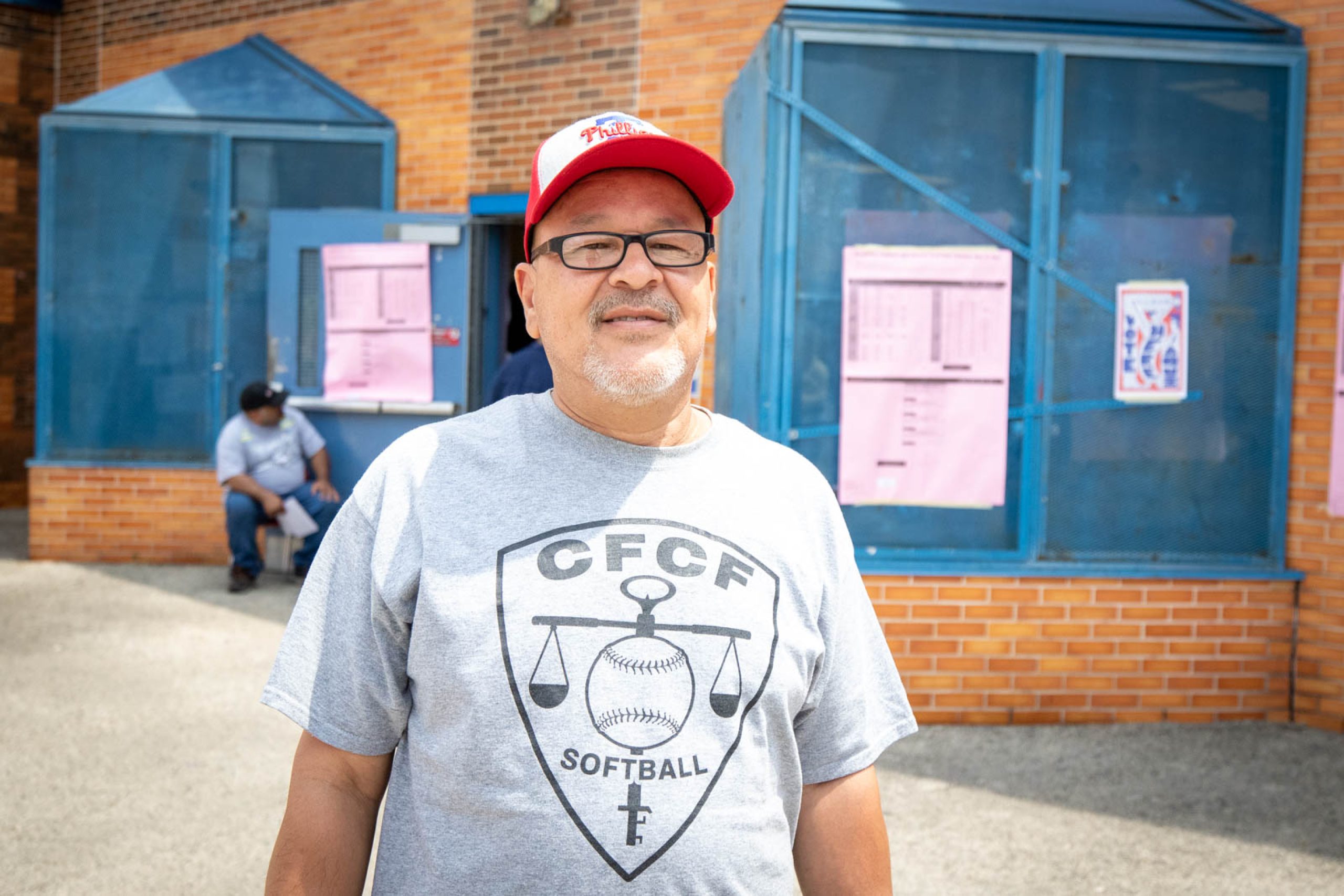 Wilfredo Malave, a Harrowgate resident voting at John H. Webster Elementary School, paid close attention to the mayoral, council, and judicial races.
"I always vote, but the crime — just like everything else — the crime is number one," Malave said. "Jobs, too. I'm a retired corrections officer, so I vote whatever's backing our union and our city employees."
Malave cited endorsements from his union, AFSCME District Council 133, Local 159, as the resource that helped him determine who to vote for. He gestured at a pamphlet from the local union recommending which candidates for residents to vote for.
"Our union supports them, but in order to support them, they have to know what their beliefs are and who they're gonna work on what behalf," Malave said. "So we always get people elected who's going to help city workers, when it comes to pay rate, when it comes to benefits, when it comes to more, clean city streets."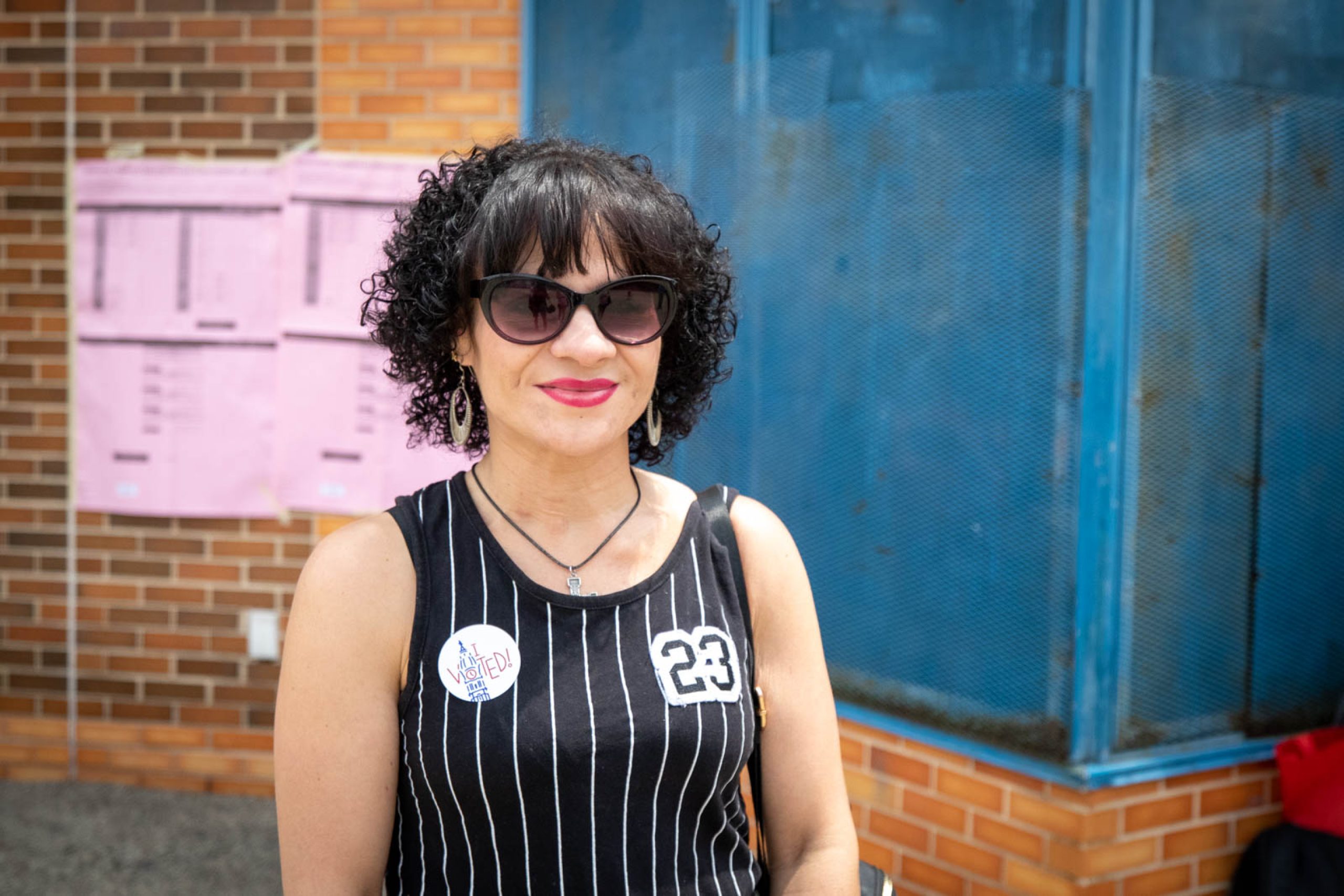 Vangie Orozco, who has been voting at Webster for 10 years, anticipated an Allan Domb win in the mayoral race. She said the television ads helped her decide who to vote for.
According to Ad Impact, a media-tracking firm, over $22 million has been spent on ads for the mayoral race. Most dollars were spent on televised ads, with Domb taking the lead on spending.
Although workers at the site said the day was mostly running smoothly, it wasn't without hiccups. William Kirk, a Harrowgate resident paid to hand out flyers for the Democratic Party, cited accessibility issues like wheelchair access and voting technology slowing down the voting process.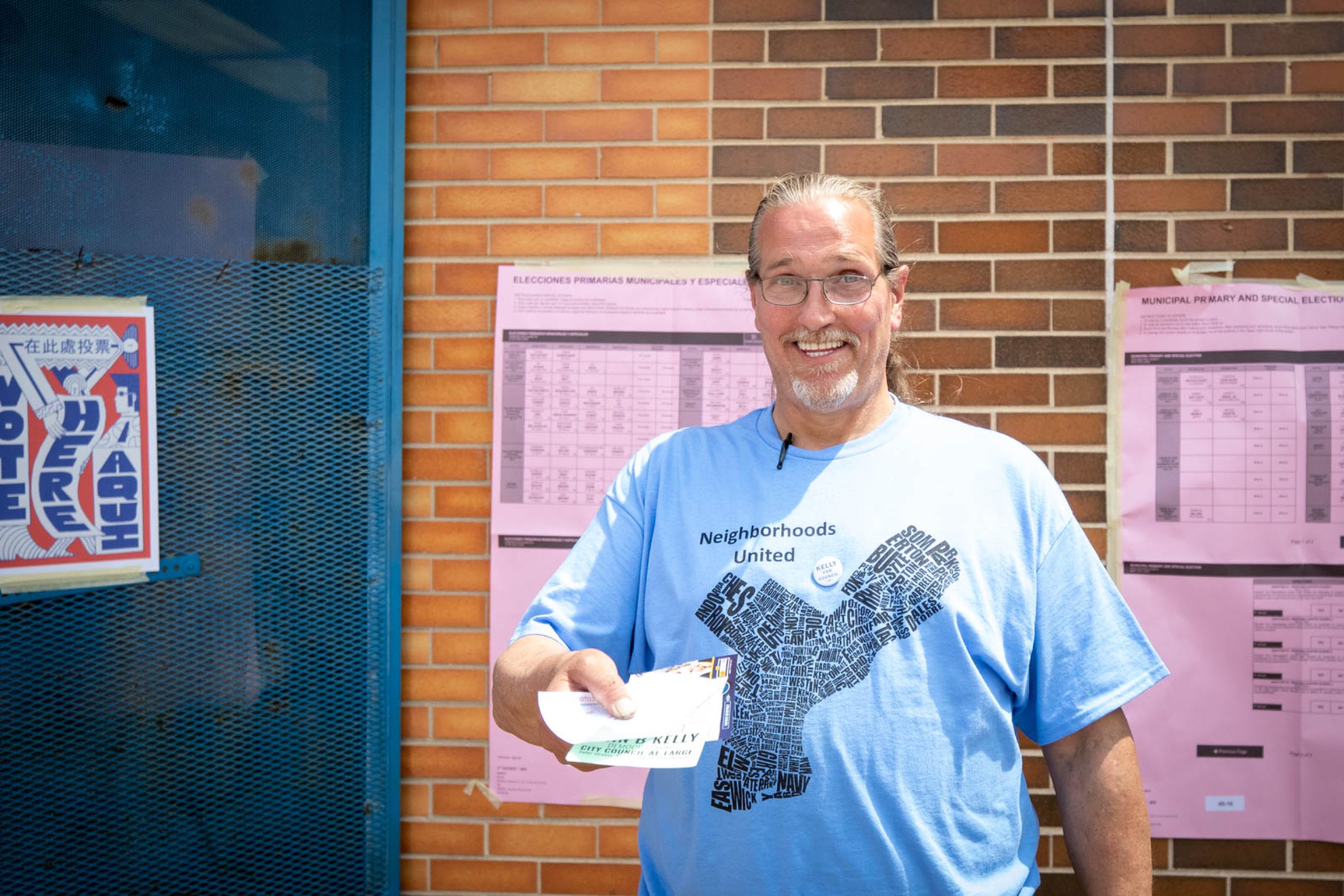 One new change to the election this year was the introduction of electronic poll books on tablets to replace the old-school paper books to speed up the check-in process during voting. For workers and voters, the lack of a stylus made it difficult to sign the device.
Kirk said one poll worker had a cut on her finger, making it hard to sign.
"One of the ladies that works here had an issue with — she had a notepad to assist the voters, but she didn't have a stylus for signatures and such, and it made her job a little more difficult," Kirk said. "So I ran home and got a couple of styluses for her."
Although Kirk wished there was a larger turnout, he was pleased that people did make it out to vote and was encouraged to work more elections in the future.
Moving forward, he wishes that campaigns would spend less time belittling each other and put funding to better use.
"All their election funds and campaign contributions, I think it should be used on what they are going to do and not to pay for slamming the next guy or what he's done or 'supposedly' done in the past," Kirk said. "Why can't we just work on the issues at hand and fix things that need to be fixed?"
Norris Square: District 7 race, childhood civic engagement, and provisional ballots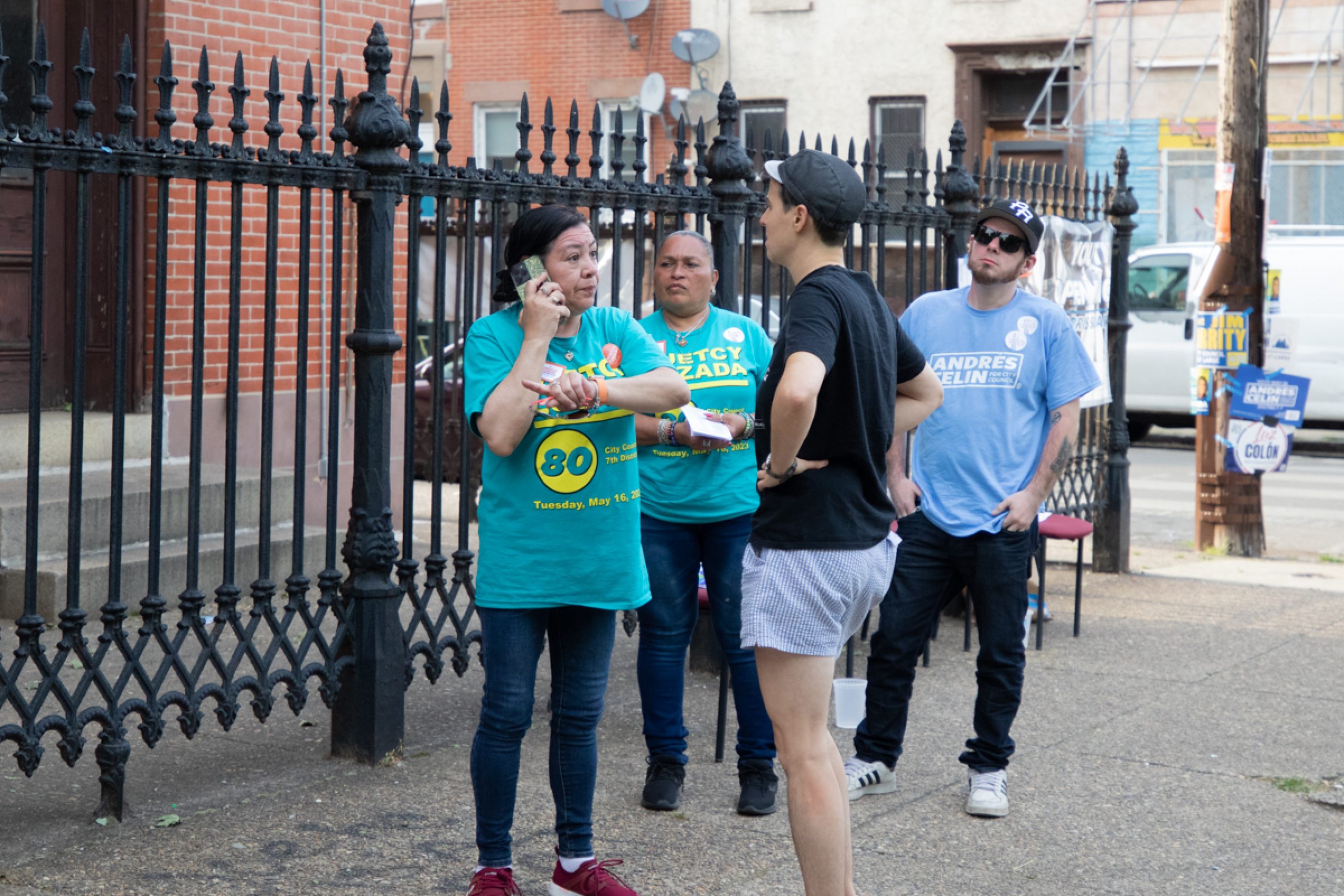 The City Council District 7 race impacted Norris Square and surrounding neighborhoods, from dueling campaign signs to heated exchanges between incumbent Councilmember Quetcy Lozada and Andrés Celin, a social worker and community activist.
For context, Lozada won the special election last November after being selected by ward leaders as the nominee on the ballot following Maria Quiñones-Sánchez's resignation to run for mayor. Lozada has been representing the district in City Council for the remainder of Quiñones-Sánchez's term, so Lozada had to run for re-election.
On Election Day, an Al Día reporter shared on Twitter reports of a "scuffle" between the competing campaigns outside the polling location at Welsh Elementary. In contrast, during the evening at Towey Recreation Center, supporters coexisted while handing out flyers on the sidewalk.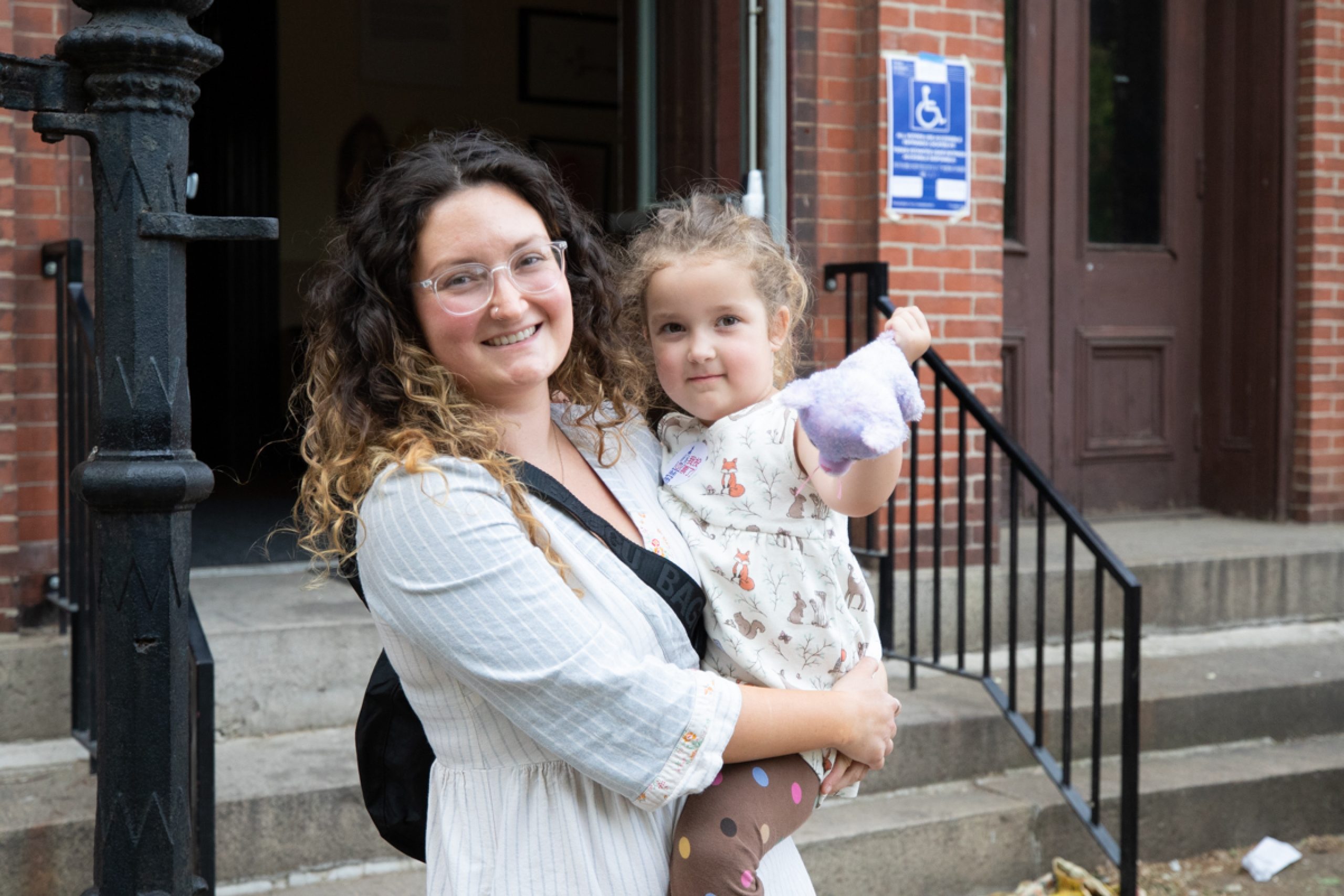 Over by Norris Square Park, community members used the basketball court and playground as West Kensington Ministry received voters from Ward 19 Division 12.
Norris Square resident Catherine Lowther's recent move from Fishtown and the difference in funding between neighborhoods motivated her to vote in the primary election. In addition, Lowther wanted to teach her daughter the importance of voting at an early age.
"Living in the 19125, now living in 19133, the difference in how the City pays attention to the communities is shocking, just living a couple blocks away now from K&A," Lowther said. "And I mean, obviously, that's a huge issue for a lot of people, a lot of candidates, and a lot of people casting their votes today. So I'm hoping to see a lot more pressure put on the candidates and at City Council and the mayor's race to really get some good harm reduction and prevention in the neighborhood."
Lowther added that she was happy to see a variety of candidates on her ballot and that she voted for Celin in the District 7 race.
Elizabeth Shapiro enjoyed voting in person ever since accompanying their parents as a child to pull the mechanical lever on the voting machine.
Shapiro was surprised to find out from the poll workers that the electronic poll book listed them as having requested and received a mail-in ballot. However, they've never applied for a mail-in ballot in any election. The poll workers helped Shapiro through the provisional ballot process to get their vote counted.
"[Affordable] housing and just basic city maintenance are the things that really made me come out and vote," said Shapiro, who spoke in detail about potholes and trenches in the streets from the constant development.
Shapiro added that they didn't like filling out a provisional ballot and hoped the problem wouldn't happen again in the November general election.
Fortunately, one of Lozada's supporters handing out papers outside told Shapiro that she would inform Ward 19 Democratic Leader Carlos Matos about the issue on Shapiro's behalf.
Click here to look up your party ward leaders and committepeople.
'I really hope she does what she says she's gonna do'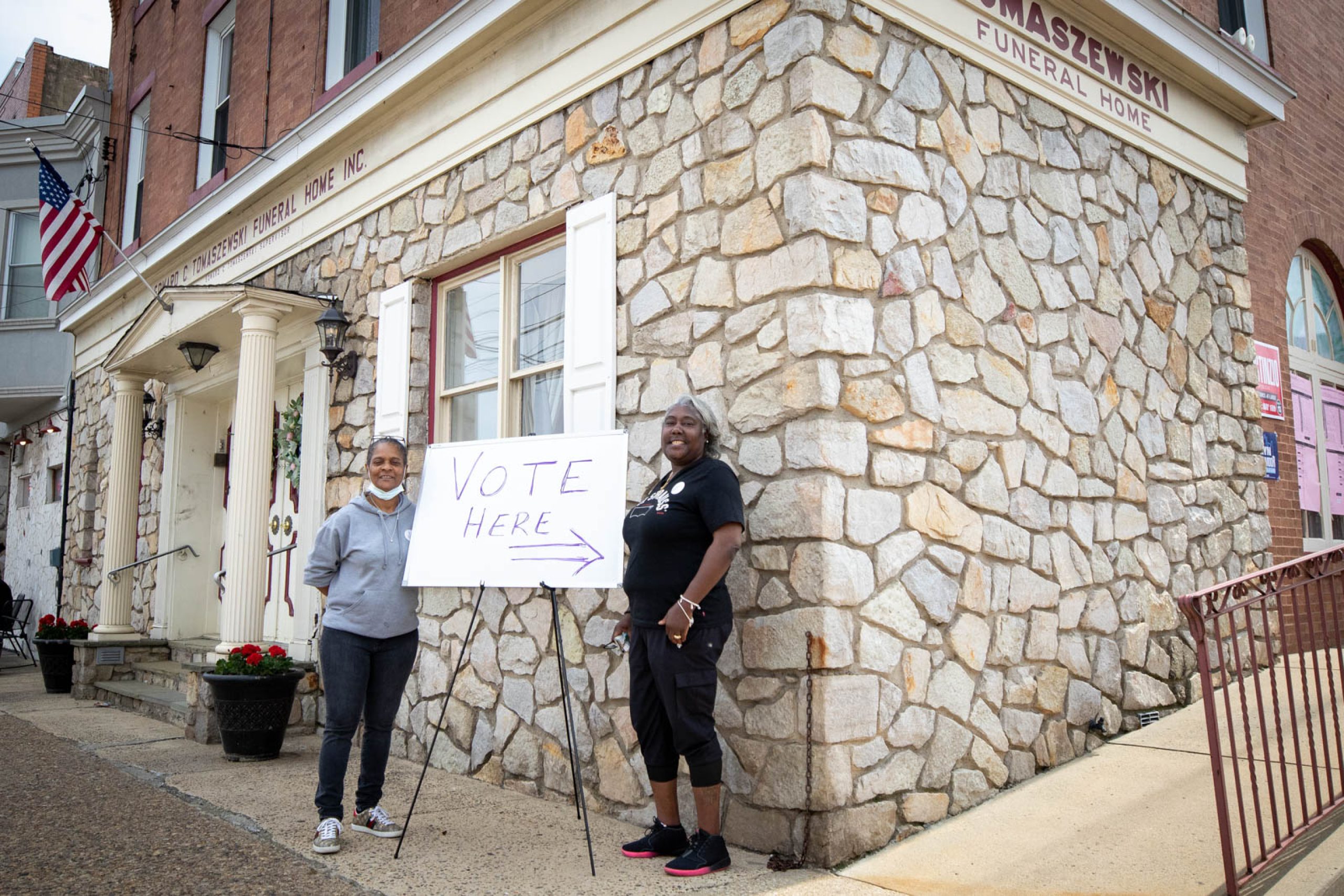 Although voters were coming and going from Edward C. Tomaszewski Inc. Funeral Home in Port Richmond, one poll greeter described the vibe at the voting site as "dead."
Sherry Meleski, a former poll worker, wasn't discouraged by the location, as it isn't the first time a funeral home in the neighborhood served as a polling place. While the setup was the same as any other site, she wasn't used to the new technology.
"The only thing is that I used to do this and everything now is machines — everything's electronic," Meleski said. " … Everything's so different than when we did it a couple years back. It was different, it was quick, it was easy, though."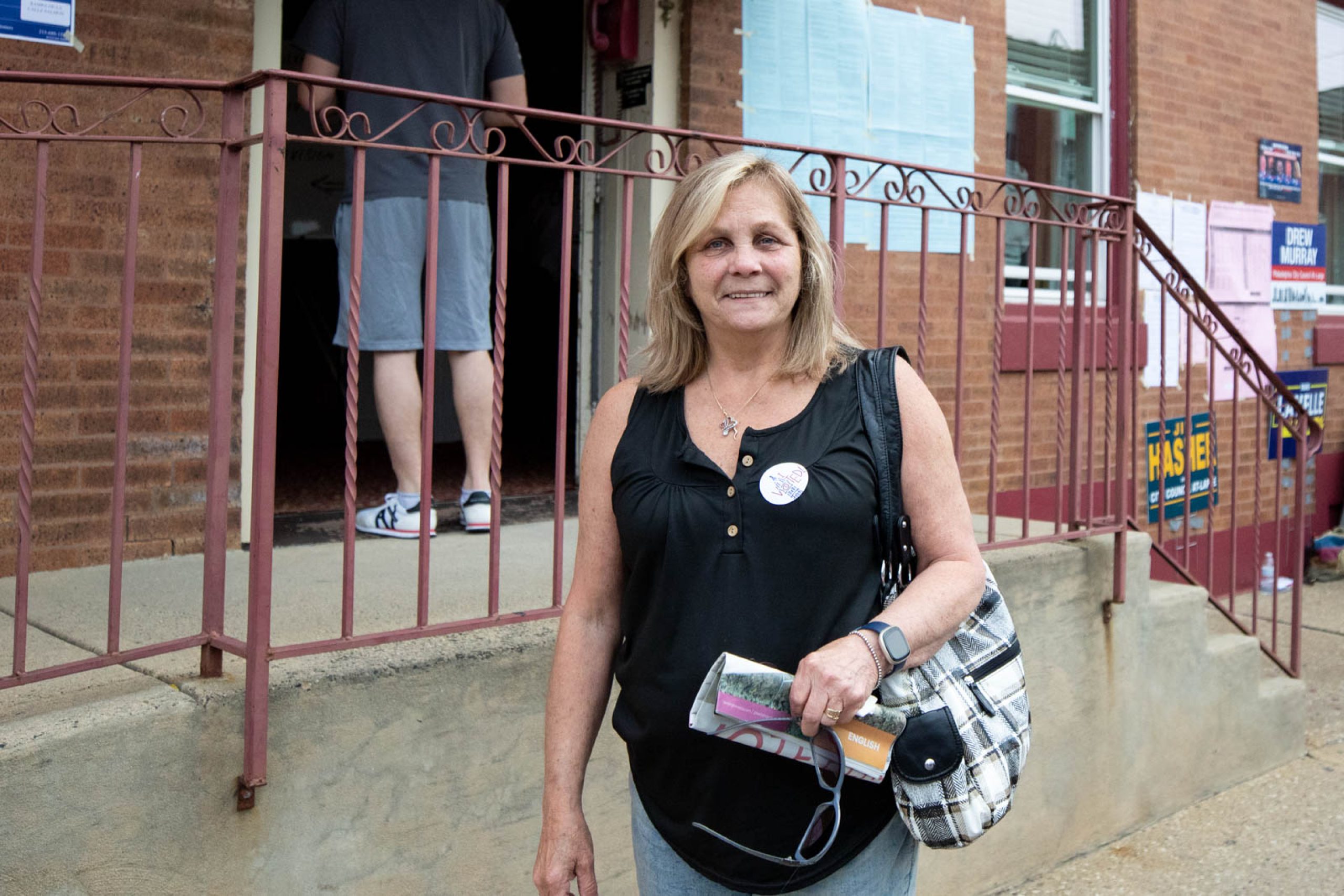 A registered Republican, Meleski hopes the election brings in a new mayor who does their job. While Pennsylvania's closed primary rules meant Meleski could only vote within her party, there was one mayoral candidate she would have voted for had she run as a Republican.
"I actually spoke with Cherelle Parker … I was impressed," Meleski said. "I really was impressed with her. But I wish she was running for the Republicans because I would have voted for her."
Pennsylvania's general election will be on November 7, 2023. Although locally, Democratic nominees are predicted to win their seats as registered Democrats outnumber Republicans in Philadelphia, no candidate is guaranteed a seat until the general election. In November, independents will be allowed to vote, and all voters can vote across party lines.
"If [Parker] wins, I really hope she does what she says she's gonna do," Meleski added.
---
Editors: Jillian Bauer-Reese, Siani Colón, Zari Tarazona Designer: Zari Tarazona

This content is a part of Every Voice, Every Vote, a collaborative project managed by The Lenfest Institute for Journalism. Lead support is provided by the William Penn Foundation with additional funding from The Lenfest Institute, Peter and Judy Leone, the John S. and James L. Knight Foundation, Harriet and Larry Weiss, and the Wyncote Foundation, among others. To learn more about the project and view a full list of supporters, visit www.everyvoice-everyvote.org. Editorial content is created independently of the project's donors.