When it comes to keeping Philadelphia clean, wealthier neighborhoods like Center City are continually ranked among the cleanest areas in the city. In Kensington, where trash has been a major issue for years, residents feel like the city's efforts to solve the problem haven't improved the area.
According to the city's 2019 Litter Index Report, the Kensington and Fairhill neighborhoods have among the highest litter indexes — a rating system for how much litter is in a neighborhood — in the entire city. In contrast to Center City, where residents are predominately white and make on average about $65,000 a year, Kensington is home to significantly more Black people and Latinxs with median household incomes ranging from about $16,000 to $40,000.
"Other communities, outside of Black and Brown and low-income communities, are not responsible for keeping their own streets clean," said Katsi Miranda-Lozada, director of community engagement at New Kensington Community Development Corporation (NKCDC). "Cities keep those streets clean. So, why is it our responsibility to then jump in and fend for ourselves?"
[Best_Wordpress_Gallery id="15″ gal_title="Trash Dumping in Kensington"]
Miranda-Lozada lives in Kensington and works with an NKCDC team called Community Connectors, which consists of block captains, mothers, and life-long residents who tackle the trash crisis through community cleanups. Some consider the group "the backbone of trash deterrence initiatives in the area," and without them, many more blocks would be overflowing with garbage, Miranda-Lozada said.
City-led initiatives have focused on Kensington's trash crisis in the past, like the 2018 Kensington Neighborhood Litter Control Plan and the 2018 Philadelphia Resilience Project. But some residents say Kensington is still experiencing the same issues today.
Now, Kensington residents don't just want new sanitation programs — they want the city to give their neighborhood the same treatment as other areas of Philadelphia.
Restore Kensington Action Plan to begin illegal dumping and trash programs
In July, neighborhood protests brought more attention to the conditions in Kensington, and the Managing Director's Office implemented the Restore Kensington Action Plan later that month. The plan outlines a response to illegal dumping, proposes a pilot program for community dumpsters, and introduces once-a-week service days with several city agencies, among other services.
However, in July, the city only had enough resources to fund about half of the 15 initiatives in the plan, wrote Noëlle Foizen in an email to Kensington Voice. Foizen is the director of the city's Opioid Response Unit, which oversees the action plan under the Managing Director's Office.
According to Foizen, the city still can't confirm which other initiatives received funding, but discussions are ongoing. The city did confirm that the proposed Kensington Police Special Services District should phase in early 2021 and that same-day pay funding has been extended to June 2021.
The city expects to lose $749 million in tax revenue this year, but it is still trying to reallocate resources from the budget to fund the rest of the plan. The end goal is to have all the initiatives operational and sustainable by the end of the year, Foizen said.
Keith Warren, the Streets Department's deputy commissioner of sanitation, said Kensington is a very proactive community, and the department wants to build a partnership with them as it rolls out new initiatives to deter trash piles and illegal dumping.
"We will be dedicating some staff specifically to this project to assist with the collections," Warren said. "Any cleanups that [the community] wants to do themselves, we're happy to support it."
As more neighborhood cleanups happen, Warren said cleanup crews should remember to notify the city for collection. Sometimes the Streets Department or 311 doesn't get notified of a community cleanup, which can result in an uncollected trash pile that was intended to be removed, he added.
'That's not good enough'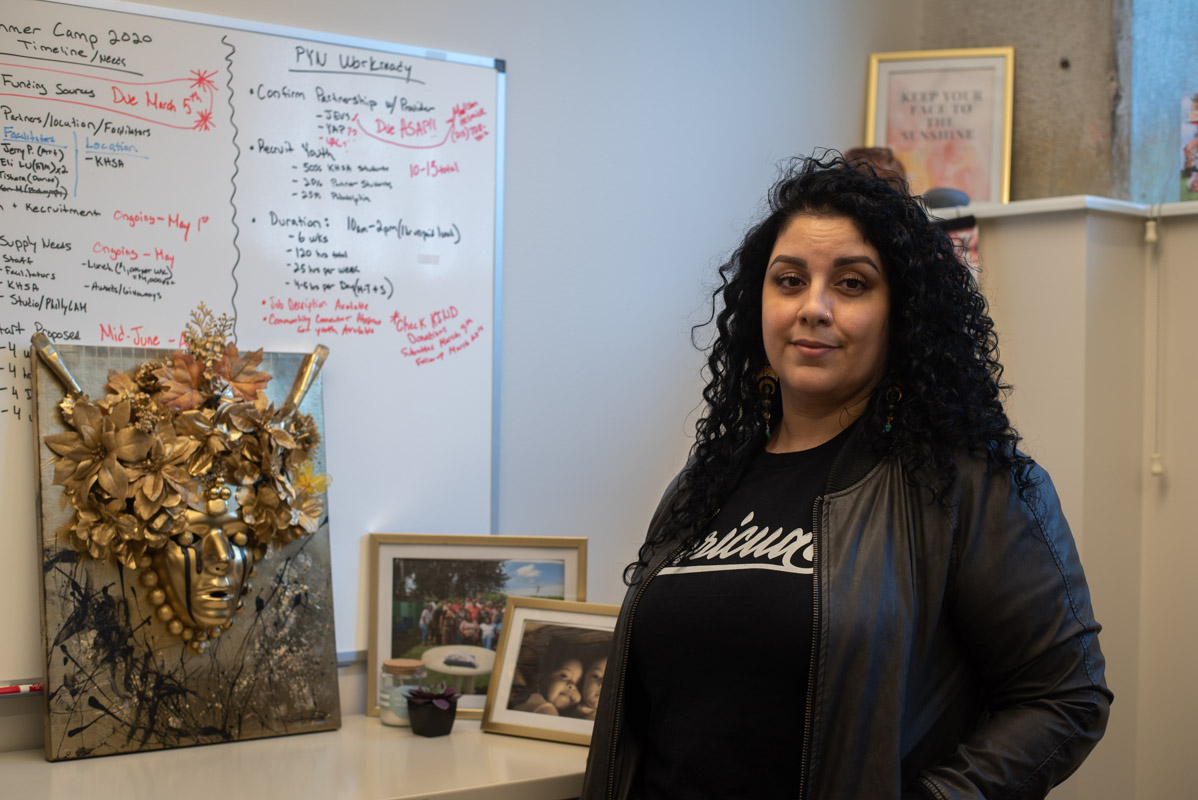 Despite current initiatives, some residents feel as if the Restore Kensington Action Plan isn't enough.
"It's like a 'Part B' to the Resilience Project," Miranda-Lozada said. "It's a cute idea, but in response to the protests that happened, the response to Maria Quiñones-Sánchez's letter, and their response to the neighbors that spoke up, we got a month's worth of cleanups. We're gonna have to figure out other things because that's not good enough."
As a part of the 2018 Philadelphia Resilience Project, the city proposed sanitation initiatives — like community cleanups, pilot programs for dumpsters, and weekly service days — that are similar to the initiatives in the Restore Kensington Action Plan.
Despite residents' concerns that past initiatives haven't provided enough improvement to their community, the Streets Department maintains that they provide equitable service to the Kensington area.
"Neighborhoods that are densely populated or have transient populations often have greater incidents of litter than other areas of the city, as is the case in Kensington," said Streets Department spokesperson Crystal Jacobs, referencing the 2019 Litter Index Report.
The Streets Department sends two crews that perform street-cleaning and hand-cleaning in Kensington during the week, plus one that captures heavier trash not collected by a sweeper, she added.
"The Streets Department will continue to leverage resources to support partnerships and efforts that aid in ridding communities of litter in neighborhoods such as Kensington," Jacobs said.
It takes a 'Village'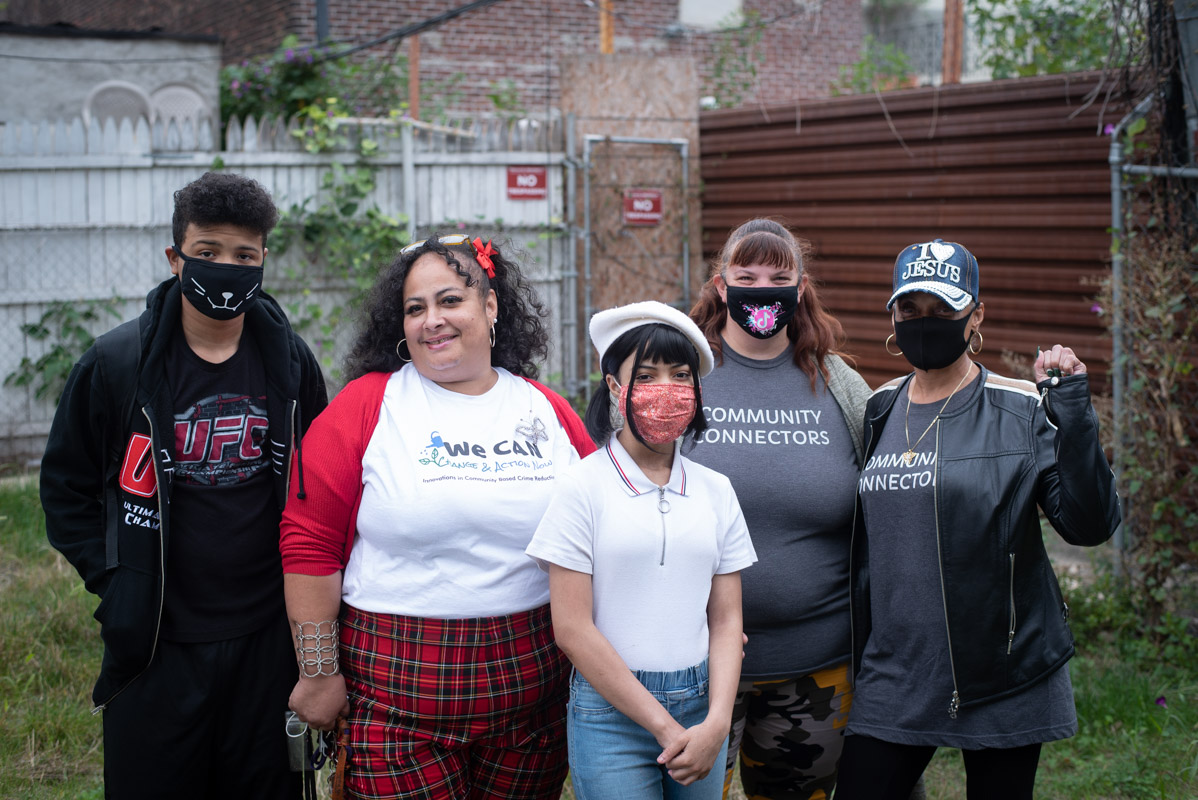 For these new initiatives to work, city leaders need to realize that fixing Kensington's trash crisis isn't just about beautification, it's a matter of improving residents' livelihoods, NKCDC Community Connector Gloria Cartagena said.
With trash piling up around her neighborhood and quality of life concerns increasing, Cartagena feels that her children's generation don't have a safe environment to play or hang out.
"I think about the children, and I know at this point in time, the kids don't have anywhere to go," said Cartagena, who is a community activist and Kensington resident of over 35 years. "It's like they are stripped of everything."
Cartagena, who goes by "Smooches," has worked with her fellow NKCDC Community Connectors, to clean and maintain the streets and vacant lots surrounding Somerset Street for decades.
The two-block area from Somerset to Sterner streets and between Jasper and Helen streets, also known as "The Village," is home to a collective of residents who are active in neighborhood cleanups.
"You can always tell when you come into 'The Village,' that neighbors take [seriously] the initiative to keep their blocks clean, and that we're very protective about people dumping trash here," said Brenda Mosley, a NKCDC Community Connector and block captain of "The Village."
However, as Mosley puts it, "You can tell where 'The Village' starts and Somerset begins." One block over on Hart Lane, where NKCDC Community Connector Joan Dansette is the block captain, there is more trash in the streets. Dansette, who often cleans up the area by herself, is starting to feel frustrated due to the lack of help from the city.
"On the corner of my block are drug dealers and [people who use drugs], so after I clean up, they leave all their trash," Dansette said. "Now I'm dealing with rats coming out of the sewers and when it rains the water comes all back up my side of the house. I'm even finding needle caps in my yard."
To these residents, their community cleanups can only do so much. As the NKCDC Community Connectors engage with the city's new sanitation initiatives over the next few months, Mosley said that at least the residents know they can rely on each other.
"Between the three of us here, we fight for our area, but that doesn't stop the foot traffic, the drug activity," Mosley said. "As far as keeping ['The Village'] clean, I can [do] that. But all these other things? I try to look at the positive and do what I can do," she added.
Resources
To report trash piles, litter, or quality of life complaints call 311 using your phone, file a complaint online, or file a report on the city's mobile app. Available for download on iOS and Android.
Looking for the nearest sanitation center to drop off trash collected during a cleanup? The Port Richmond Sanitation Center is the closest one to Kensington.
3901 N. Delaware Ave., Philadelphia, PA 19137 – (215) 685-1358
Open Monday through Sunday from 6 a.m. to 8 p.m. Visitors must wear a mask.
To engage with community cleanup crews and the city's new initiatives, contact a local organization to inquire more:
friendsofmcpherson2013@gmail.com
167 W. Allegheny Ave. Suite 200 Philadelphia, PA 19140
215-426-8025
harrowgatecivicassociation@gmail.com
1952 E. Allegheny Ave., Philadelphia, PA 19134
215 739-1600
info@impactservices.org
2771 Ruth St., Suite 1 Philadelphia, PA 19134
215-427-0350
info@nkcdc.org
2913-2915 Kensington Ave. Philadelphia, PA 19134
215-634-5272
267-896-0068
---
Editors: Zari Tarazona, Claire Wolters, Siani Colón / Designer: Henry Savage

Kensington Voice is one of more than 20 news organizations producing Broke in Philly, a collaborative reporting project on economic mobility. Read more at brokeinphilly.org or follow on Twitter at @BrokeInPhilly.
What did you think about this story? Send a note to editors@kensingtonvoice.com, and we'll consider publishing it in our Voices section. You can also tell us what you think in person at our neighborhood events.