Twenty years ago, Julius Rivera and his neighbors were organizing to improve the conditions on their block in East Kensington. But they soon realized the playground was a barrier to their efforts.
"If there was drama in the playground, there was drama in our community," Rivera said. "If the playground was cool, our community was cool."
Rivera said Hagert Playground on East Hagert Street near Amber Street was neglected. The park's equipment was in disrepair. Motorcyclists drove right through the play area, making it unsafe for kids. The City's website did not even list it as an active park.
Eventually, Rivera and his neighbors had enough. They organized a group of volunteers to monitor the park, which would become an official Park Friends group through the Park Friends Network. The group's goal was to focus on community development.
"Having some influence over what happened in the playground helped to shape the spaces around it," Rivera said.
The park is much cleaner now, with a maintained basketball court and regular programming such as concerts, movie nights, and drumming circles.
Across Philadelphia, the City's Parks and Recreation department is responsible for the maintenance and sanitation of the city's parks. However, for a variety of reasons, that doesn't always happen.
For example, parks and other public spaces in Kensington face common challenges, including but not limited to litter, drug use and distribution, and old or damaged playground equipment.
But Park Friends groups are an opportunity for residents to advocate for improving these spaces.
According to Jennifer Lewis, Trenton and Auburn Playground in Port Richmond was in "terrible" condition before she and her neighbors formed a Park Friends group about six years ago. Lewis, who now serves as the group's secretary, said that until then, the park had been maintained mostly by residents.
"The basketball court had always been utilized," Lewis said. "But neighborhood people – my husband included, were replacing the rim, the net, and everything."
Today, Trenton and Auburn Playground has a new basketball court and a natural playground. According to Lewis, they could not put traditional playground equipment there due to a water basin on the site, so the playground is built with natural materials.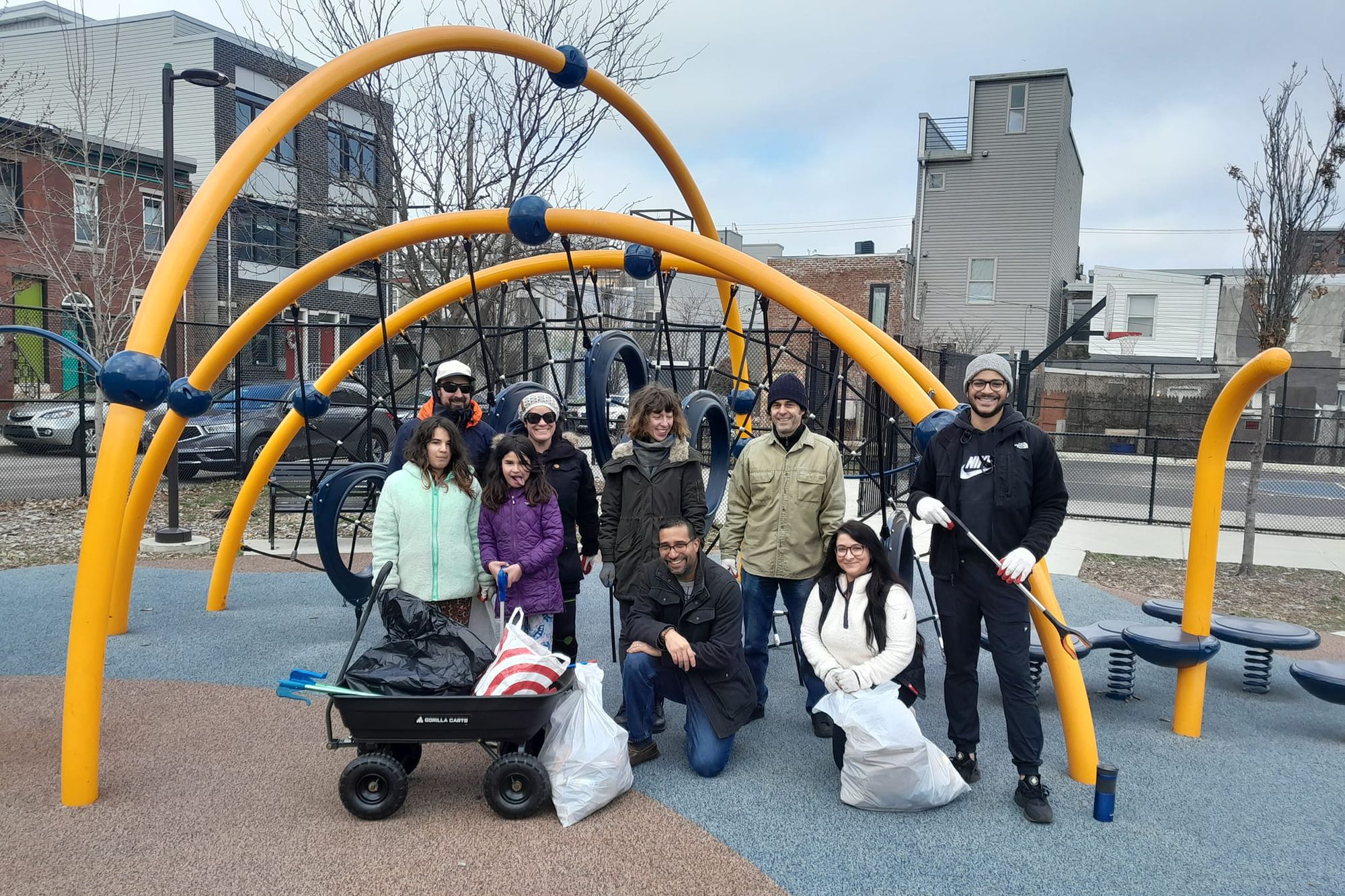 What exactly is a Park Friends group?
In 1993, the City's Parks and Rec department created the Park Friends Network. Since then, residents have formed over 140 Park Friends groups.
A Park Friends group is an independent group of volunteers that partners with Parks and Recs. The volunteers have a direct connection to the park and are committed to preserving and enhancing public spaces where they live.
"A Friends group really reflects both the park and the people who support the park," said Marian Dalke, the community initiatives specialist from Parks and Rec who works closely with the Park Friends groups in Kensington.
To qualify as a Park Friends group and receive the benefits of a City partnership, groups must be part of a watershed or smaller-scale parks and playgrounds, Dalke said. Parks and play spaces with recreation centers or dedicated staff for the facility (like Heitzman Recreation Center in Harrowgate) are ineligible. Residents who want to advocate for those public spaces can join an advisory council instead of a Friends group.
Park Friends groups are the eyes and ears of the parks, Dalke said. They have a direct line of contact with a Parks and Rec liaison, to whom they can report any problems, such as fallen trees, broken play equipment, and other issues affecting the quality of life. Groups can also organize activities (such as cleanup days) or advocate for additional funding and resources.
However, these groups are not a replacement for the City services required to care for and maintain the parks.
"I think it's complicated to ask neighbors to do what the City and what hired people from the City should be doing with regard to creating a vision and seeking out financial support," Rivera said. "Regular people who are working regular jobs shouldn't be obligated to replace the City services."
Instead, the Park Friends groups represent their park and neighborhood in addressing common problems. It's an opportunity for park stakeholders to share their ideas about public spaces where they live, Dalke said.
"In the ideal world, I think about how Park Friends can be this avenue of community voice and community control over public spaces," said Dalke. "The Friends Groups being organized – they're the ones that are going to be consulted if there's going to be a capital improvement."
What are the benefits of being part of the Park Friends network?
The Park Friends Network has a partnership with the Fairmount Park Conservancy, a non-profit that supports improvements and activities in public parks, playgrounds, and programs in Philly.
Park Friends can apply for mini-grants that supply up to $1,000 for special programs or supplies through that partnership. They can also borrow tools for park cleanups and attend quarterly meetings to find and share resources with other groups in the network.
Local Friends group members say that being an official group within this network has fostered skill sharing, put their park on the department's radar, and helped clarify misinformation on their park spaces. They also have the satisfaction of knowing they made an impact. The impact on her immediate community has been the most rewarding, Lewis said.
"There are people in the community who are appreciative that we are trying to do something," Lewis said. "...As long as I'm here, I got to do whatever I can to try to help the community to get what I think they deserve."
What are the challenges of being part of a Park Friends group?
Common limitations groups face are low engagement and time spent waiting for approval or response from the City on issues and projects, several Park Friends group members said.
According to Rivera, one big challenge is that not all neighborhoods in Philadelphia face the same issues with their parks and public spaces. In some cases, Rivera said, specific barriers (like the open-air drug market and street homelessness crisis in Kensington) discourage people from joining or starting groups.
"It's hard to encourage people who are in a neglected neighborhood to start putting energy into a park or playground if they have to deal with picking up human feces or replacing their car window because somebody broke it," Rivera said.
For Brendan Black, president of Friends of Campbell Square, one of the biggest challenges is money. Activities and improvements such as tree plantings or new lighting not only take time but a lot of money, Black said.
"You're not going to raise five or ten bucks to do that; it takes significant, significant amounts of money to accomplish those things," said Black. "And that's always been a challenge, from my perspective, as a volunteer in the Park Friends group."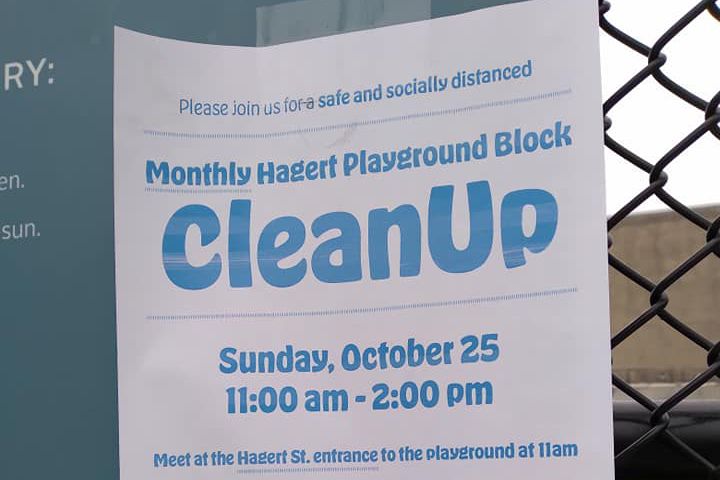 What kinds of activities do Park Friends groups do?
At Trenton and Auburn, organizers have hosted school supply giveaways, health fairs, and community days. These events have acted as meet-and-greets for neighbors to get to know one another and learn more about the Friends group that made the event possible.
"We feel like the way to get to the parents is to get to the kids, to let the kid know 'Hey, let your parent know we're here' or 'here's a flyer to give to your parents,'" Lewis said. "We just try to support the neighborhood whenever we can."
Additionally, the Park Friends Network hosts events all groups can participate in, such as their signature biannual Love Your Park event.
Love Your Park is a celebration of Philadelphia's parks that occur twice a year, nine days in the spring and one day in the fall. This fall's Love Your Park service day will be on November 11. Registration for that event is now open.
Other regular activities parks in the area have hosted include PlayParks, movie nights, cleanups, and seasonal festivals.
How can I start a Park Friends group?
If your park or playground doesn't have an existing group (you can check to see if there's a group registered here), people can register a group on Park and Rec's website in the early winter.
To start a group, the group must have three people from separate households who live in the park's neighborhood, according to Dalke. The group must hold at least one public meeting each year (though they can host multiple meetings if interested).
Groups must also register annually to remain officially active.
My park has a Friends group, but it's not very active. What's going on?
Friends Group members are volunteers, so groups can do as much or as little as they have the capacity to do, according to Elisa Ruse Esposito, the park stewardship administrator for Parks & Rec. Each group's activity level will depend on how many members the group has and any outside resources involved.
For example, some groups have additional support from local nonprofits or a nonprofit created to support the park's Friends group, like Friends of Campbell Square. Others are more grassroots, like Fairhill Square Park.
According to Black, Friends of Campbell Square has been around for 20 years and currently has about five active volunteers. While their events have been successful, they may not have been as impactful as the group would like, Black said.
"You want to run events that are meaningful to the community and have impact on the community, but you also have to do it with the folks that are available, " said Black. "… Sometimes the event scale has to come down to a certain degree."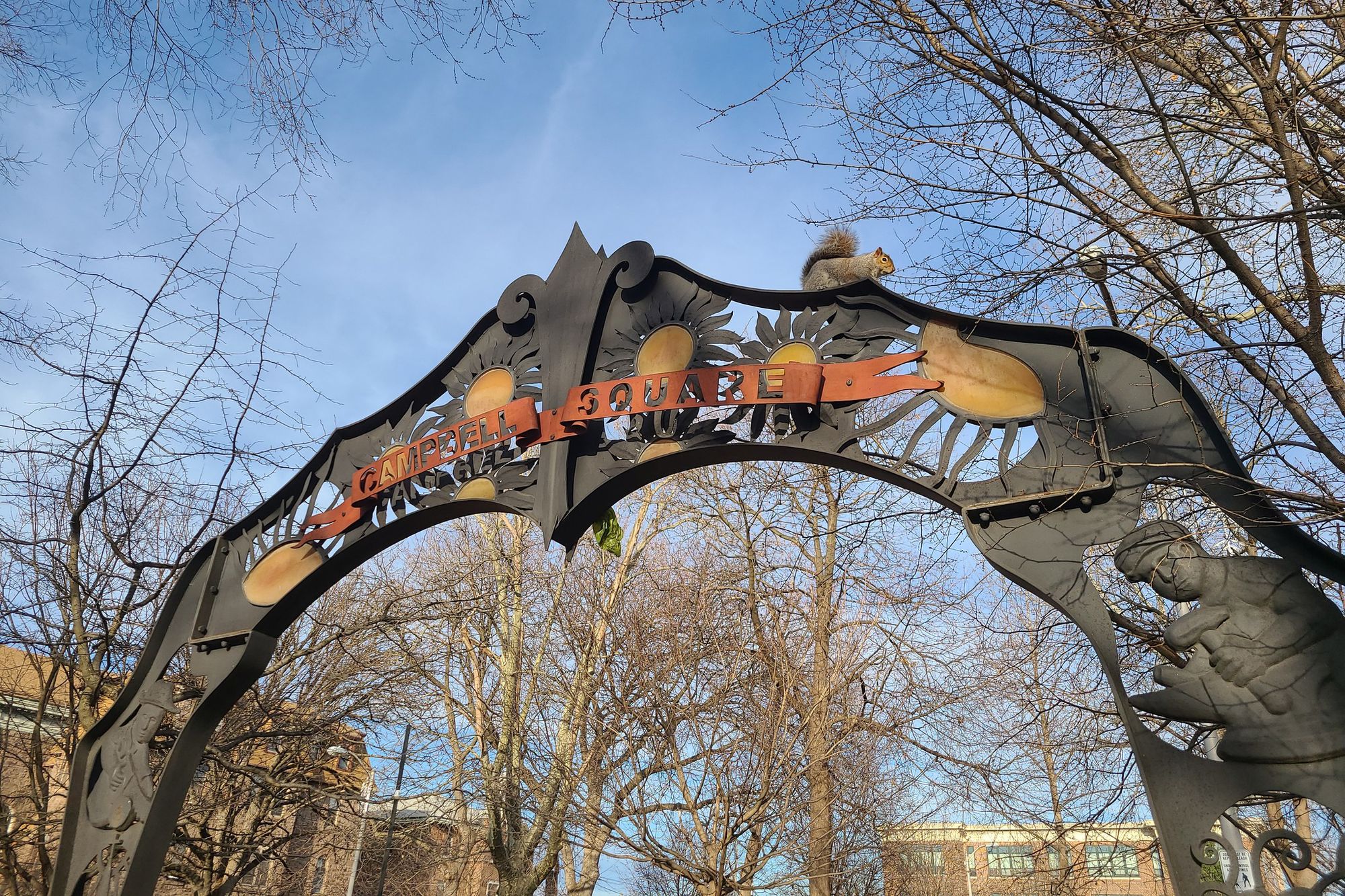 How can I join a Park Friends group in or near Kensington?
There are nearly 10 Park Friends groups registered in the Kensington area. People who are interested in volunteering can join by directly contacting their neighborhood group through the contact information below.
Friends of Campbell Square
Address: 2535 E. Allegheny Ave., Philadelphia, PA 19134
Email: FOCS19134@gmail.com
Meetings: Monthly
Friends of Fairhill Square Park
Address: 2601-61 Lawrence St., Philadelphia, PA 19133
Email: pprstewardship@phila.gov
Friends of Hagert Playground
Address: 2040 E. Hagert Street, Philadelphia, PA 19125
Email: hagertplaygroundfriends@gmail.com
Meetings: Seasonally
Friends of Harrowgate Park
Address: 3455 Kensington Ave., Philadelphia, PA 19134
Email: FriendsOfHarrowgate@gmail.com
Friends of McPherson Square
Address: 601 E. Indiana Ave., Philadelphia, PA 19134
Email: friendsofmcpherson@impactservices.org
Meetings: First Tuesday of every month at 6 p.m. in-person at McPherson Square Library and online.
Friends of Norris Square Park
Address: 2100 N. Howard St., Philadelphia, PA 19122
Email: friendsofnorrissquarepark@gmail.com
Friends of Rainbow de Colores
Address: 2326 N. 5th St., Philadelphia, PA 19133
Email: pprstewardship@phila.gov
Phone: 267-415-1697
Meetings: Third Thursday of each month, times vary.
Friends of Trenton & Auburn Playground & Park
Address: 2200 E. Auburn St., Philadelphia, PA 19134
Email: friendsoftaplayground@gmail.com
Meetings: Fourth Thursday of each month 6:30 p.m. at Disney-Nichols AME Church
Friends of Pop's Park
Address: 2101 E. Hazzard St., Philadelphia, PA 19125
Email: friendsofpopspark@gmail.com
---
Story edited by Jillian Bauer-Reese