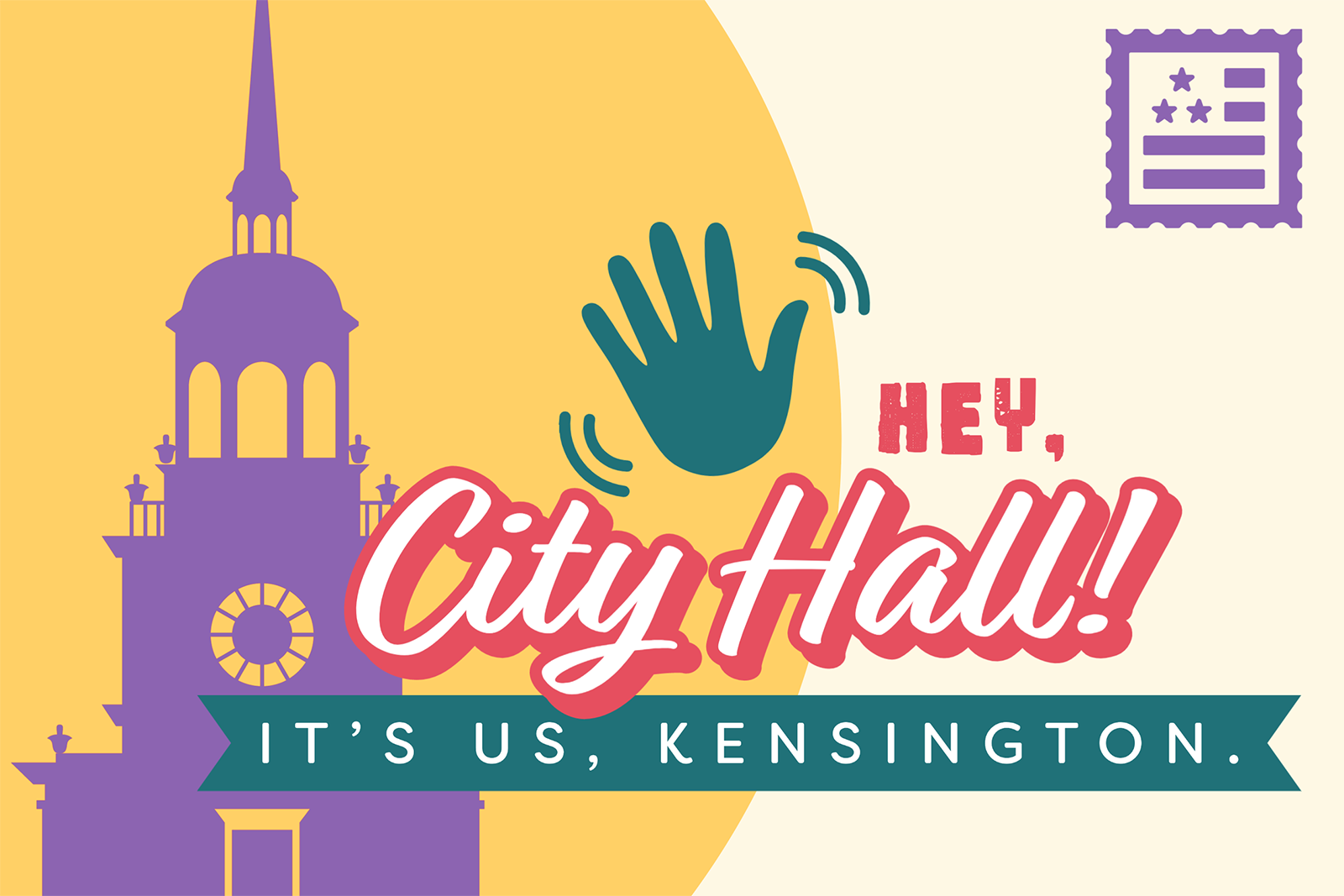 On May 8, four of the 10 Philly mayoral candidates Kensington Voice invited joined us for an election forum at McPherson Square Library. The candidates were Amen Brown, Jeff Brown, Jimmy DeLeon, and David Oh.
About 50 people attended the forum. Some asked the candidates questions directly. Here are the questions they asked and what the candidates had to say.
You can also click here to read how the 7th Council District candidates responded, too. 
Editor's note: This forum took place over two hours, and several candidates needed to leave early for various reasons. Therefore, we decided to cut any questions and responses that didn't include more than one candidate. However, you can watch the full stream here.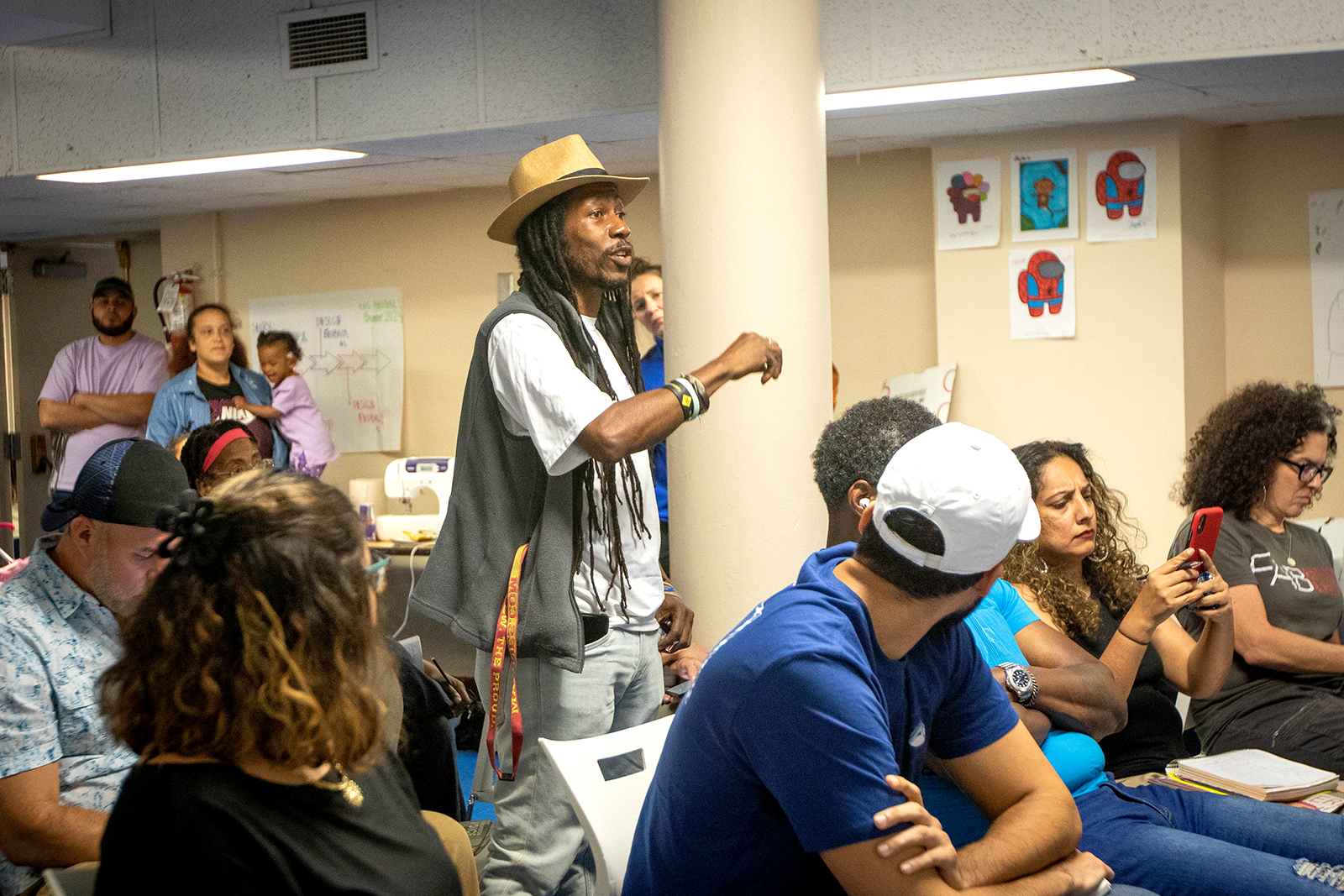 What does a mayor do? How are you here to help our community?
Full Context: Asked by a mother on behalf of her young daughter.
Amen Brown: What mayors do? We work for you – we work for the people. We are community servants, and that's a lot of elected officials – we work for the people. It seems we kind of lost our way with that. A lot of elected officials feel like it's the other way around, and that's not how it should be. So the most plain way to answer it is that you're my boss and I work for you. So you let us know what you need and we are here to serve you.
Jeff Brown: The mayor is the person in charge – the manager, the boss of the city. Their job is to listen to every community like this community, and make sure they understand things and to take action to fix the problems this city has. Directly to your question about what should the mayor do to help this neighborhood, we talked about it. People who are breaking the law, we have to enforce the law – that's something that the mayor can do. With the lawlessness cleaned up here, we have to restore the neighborhood. And this neighborhood needs investment to bring businesses back and clean it up. That's what a mayor should do.
Jimmy DeLeon: A mayor is supposed to basically help you. He's almost like a father figure, where you come to the mayor with the problems that you need help with, and the mayor is supposed to sit down with you and ask you, "What do you feel you need? How can I help you?" And then he's supposed to provide the services that you need to make you feel better. So that's specifically what a mayor is supposed to do. And that's what we're trying to have a mayor do here in Philadelphia, listen to the problems that you would have, and help you solve those problems. So I'm going to try my best if I'm the mayor, to help you solve your problems, okay?
David Oh: There's a government that the people elect, but the people don't want all the power to be with one person. We don't want a king, we don't want an emperor. So there is an executive that is the Mayor. There's the legislative branch – that's the City Council. City Council makes rules, they make laws [that say], "You can do this, you can't do that." They also raise and lower taxes. The mayor, however, is the one who does the work. So I was a city councilperson. I had eight people working for me. I introduce a bill. There's 16 other people [on City Council]. If they don't vote for it, it gets defeated. But the mayor decides whether the mayor is going to do it or not, no matter what. So the mayor – I have eight workers, he's got like 30,000 workers. He has all the police. He has firefighters. He has licensing and inspections. Most of the services you're talking about, the mayor says, "We will or we won't do this." Some of the complaints [you made], the mayor said, "The police won't arrest people. You won't talk to the drug-addicted." Those are the things the mayor can do.
We know we're a containment facility, so don't try to tell us we're not. We want to know real solutions – steps that you all are going to take to help us because we're tired.
Full Question: "Kensington is a billion-dollar-plus-a-year drug business. We've seen disinvestment, I've been here for 27 years. I'm tired of the smoke, so please don't blow it. I want to know exactly what you are going to do about the residents that live here that see people shooting up, have people having sex in their backyards, have drug dealers throwing packs in their backyards when the cops come in, then go in and retrieve it. I need some real facts about what you all are going to do. So please, I need you all to come correct because this here out here is very traumatizing. You can see a child walking to school and a junkie shooting up with reckless abandon. I came to work and see somebody shooting up in her privates, while kids were walking past going to school. We know we're a containment facility, so don't try to tell us we're not. We want to know real solutions – steps that you all are gonna take to help us because we're tired. I'm tired."
Amen Brown: So, thank you for that heartfelt question. You're right, and that's why we need drastic change now. Ever since I've been in the state legislature for the last two and a half years I've made some very tough decisions. I've been building relationships on the other side of the aisle, which typically Democrats don't do. But I understood that was the only way to get things done and deliver for my community. I've voted with Republicans on things to get things done. Typically, Democrats don't do that. So as your mayor, I will make those tough decisions to make sure we deliver for our city. And like I said, this community has been ignored for far too long. It is not okay that those things are happening to you. And I'm going to be tough on crime because crime is tough on us. And I guarantee you, I want to work with you all and law enforcement to make the city safe. It's literally that simple. Thank you.
Jeff Brown: Let's start out with that we're not enforcing a lot of our laws. That's a big part of our problem, and I have a plan to address it. I've met with all the police unions and all the police, and I have the endorsement of every police organization in the city. They feel that I'm the manager they can work with. I'm no nonsense. I have a heart, but I'm not gonna allow this to continue on. People cannot stay on the street. They can't stay on the street and sell drugs – we're going to arrest them. The people that are shooting up in the street and breaking other laws, if they won't take our offer of supportive housing and treatment, we will arrest them. They will be in front of the drug court and they will have the choice to get treatment or go to jail because we're not leaving this like this anymore. That's where I'm coming from.
RESIDENT INTERJECTION: The DA is not enforcing any crime. So you can lock them up all you want, but Krasner is just putting them back out in the streets, so it's useless. What about that part of the component of the situation?
Jeff Brown: I believe I can get some movement. If not, I have the strategy to deal directly with the state that addresses this problem.
David Oh: So the problem is that the Avenue itself – by being lawless, by having so many open air drug dealers – is causing all the people who visit here end up staying here. Without Larry Krasner – without the DA's prosecution, the police can review and observe through drone technology and infrared night vision. They can monitor everything that's going on, notify the community that we're going to target this corner, we're going to target this corner and these corners, and send their units out to begin to arrest the open air drug dealer and to arrest them and to arrest them, and to continue to arrest them. That is disrupting the flow. The other thing is when they see someone purchasing or using drugs, they get arrested as well. If they need a detox, if they need mental health, if they need behavioral health, they can get those things. But that's what stops the flow of people. The flow of people and the allowance of this open air drug is what's creating all the violence and murder in these communities.
Jimmy DeLeon: You have to have faith in my local incident management system. I'm part of the team that recovered the community from Hurricane Sandy. I'm part of the team that recovered the people from Hurricane Katrina. This is the system that we used to recover those communities. All that has happened is that it's now been formulated for the City of Philadelphia to recover Kensington. We're going to reduce the crime, treat the people and recover them, and recover the neighborhood. We're going to use the Chambers of Commerce to put these businesses back up in operation. And we're going to take everybody that's here, we're going to triage them as displaced people, and we're going to move them out of the neighborhood. You have to have faith in the system – the system works, it's a change in government.
Are you for or against injection sites? And will you support or continue to fund the syringe exchange in our community?
Full Quote: "My parents migrated from Italy to the Harrowgate section in 1954. I was born here, I was raised here. I still live here. I've worked at Prevention Point. I've worked at the shelters. I've seen what's been going on. I've had enough. I can't walk my streets. I can't go to the El without going around needles. And our children, our children, this is not normal for their brain developments. They see you're injecting drugs and then right next to them, you're selling drugs. They should not have to witness this on a daily basis. My son brought a business into this area, and I'm so proud of that and we're going to try to bring change here."
Amen Brown: I'm a big "no" on safe injection sites. There's other ways that we can address that situation. For the syringe exchange, I'm not as familiar with that.
Jeff Brown: No for safe injection sites. It doesn't make any sense to me. And the problem with eliminating the syringe exchange is the spread of AIDS and other diseases. But here's the thing: If you want a syringe, you got to return your old syringe and not leave it on the ground. And that's what I'll enforce. If you want a new syringe, you got to return to your old syringe, a bit on the ground. And that's what I'll enforce.
Jimmy DeLeon: You're living in this situation, so you're feeling. What I'm trying to tell you is that with my program, you're not going to feel this anymore. You're not going to see the syringes, you're not going to see safe injection sites, you're not going to see children seeing people shoot up. All that goes away with the local incident management system. No, there cannot be a safe injection site. We're going to treat each one of these people individually. No, here in Kensington, you are not going to be exchanging needles – those people will not be here anymore. They're going to be moved away. We have to recover this neighborhood. You have to have faith in the system. I'm going to give you back your lives so that you can walk these neighborhoods the way you walked them before. You have to have faith in the local Incident Management System. I am an incident specialist. This is what I do in life. I recover communities. I'm going to recover your community. Go to my website, deleonformayor.info, [where there is] a specific plan to Kensington.
David Oh: So I will not support heroin addiction sites. I oppose them and if I'm mayor, there will be none throughout Philadelphia. We will however help people who want to get off of drugs. Treatment – not enabling – we want to help them escape the life of addiction. The second thing is that I do believe in syringe exchange or needles. However, what has happened is that instead of making a needle available, they get a lot of needles, and they take those needles and they distribute them and they put them all over the place. They should be limiting the number of needles and as was said before, you may use them until they're dull, they save them, they come back, and they exchange. The failure of the needle exchange program is people take the needles, they use them, they share them until they're blunt, and they only go back to get a bunch more needles. The needles are being shared and the disease is being spread.
What is the timeframe that you're hoping to accomplish what you're hoping to accomplish?
Full Question: "I was born and raised in the City of Philadelphia. It was never like this when I was growing up, and I gotta say, we are in such a crisis right now. I want to know, what is the timeframe that you're hoping to accomplish what you're hoping to accomplish?"
David Oh: So I think the most important thing the mayor needs to do when they get started in January, they need to immediately show the people of this community and the rest of Philadelphia, and people outside of Philadelphia, that things are different. It can't be a secret, it has to be very public. So one, in this neighborhood, you will see police, laws will be enforced, trash trucks will clean up the community, trash will be taken away, illegal dumping will be enforced. That has to be a 24/7 thing with technology. In terms of the school, I will ask for the resignation of all school board members. I will start instituting new things about the school because those school board members are non-responsive to the community. There has to be responsiveness. When it comes to things like affordable housing, you have to see things begin. When we go to our worst neighborhoods, they have to see that something is different, visible.
Jimmy DeLeon: So as part of my local incident management system, right from winning that primary, my people will start to get training. I'm going to work with the mayor that's in there right now to make sure that my people and his people that are in there right now will get training to be incident specialists. I'm also going to have David [Oh] be part of that just in case because he needs to see what's happening, because he's a leader himself. So he has seen what's going on as far as how a new system of government is coming into play in Philadelphia. So right at the general election, from day one on swearing in, the local incident management system will be in place to move straight into operation. Kensington is declared a dramatic incident, the school system has declared a dramatic incident, the guns that are happening all over the Philadelphia City of Philadelphia, they're declared a dramatic incident. So you're going to have three separate local incident management teams going out at the same time on day one.
Jeff Brown: In Kensington in particular, the police will understand that we are going to enforce the law and you will start seeing action. But we have so many people in Kensington that we don't have room in the prisons or in housing and we don't have the capacity to absorb everyone at one time. So the Kensington situation, you will see it unfold over a year or maybe two years. But you will see dramatic improvements in the first couple of months because we're going to focus on it. As far as everything else, everything will have a time table. I want to pick up abandoned cars. In the first 100 days, I want to pick up 50,000 abandoned cars in the city. I want to start enforcing the law all through the city so we can have a civilized place to live where people aren't killing each other. As far as the schools, you will see the plans to start bringing career and technical education back to our system. Because we've diminished greatly, and most of our young people, that's where they're going to find meaningful work out of poverty.
Amen Brown: I can't give you a direct timetable. But we can explain how serious our plans are. For example, our administration, we're going to implement 24/7 bench warrant enforcement. We don't enforce our bench warrants anymore. They might do it once every couple of months. We're going to bring it back 24/7 to remove the violent criminals off our streets. Because we've had repeat violent offenders wearing ski masks, walking around free willy-nilly, committing more violent crimes, and nothing has been done about it. So once we enforce that, you'll start to see drastic changes in the community. And we're going to work with the DA's office and with law enforcement to make sure that these individuals don't get put back on our streets. So effective immediately – that's something for January. But we're tired of waiting for change. So we need to hold our current elected officials accountable, and I'm one of them. Unfortunately, I don't have this area, but I'm gonna be excited about representing our city.
Can you please talk about your approach to collaboration and how you plan to collaborate across city systems and coordinate and collaborate with organizations like Fab Youth Philly to help achieve your goals?
Full Question: "I'm the executive director and founder of Fab Youth Philly, a youth-serving organization that provides summer and after-school jobs in Kensington and in West Philly. I actually was just a co- moderator for a mayoral forum on Monday night, on issues pertaining to older youth. City agencies like parks and recreation, DBHIDS, and DHS often work in silos, although often towards shared goals, but from different perspectives. Can you please talk about your approach to collaboration and how you plan to collaborate across city systems and coordinate and collaborate with organizations like Fab Youth Philly to help achieve your goals?"
Amen Brown: The point of my campaign is to give our city a fresh start, to end the division, and to get people in these offices and these jobs that actually care. Because what we're noticing is that a lot of people who are in these offices or are working in these spaces, they gave up. They gave up 10, 20, or 30 years ago. So that's why we need to bring our city into the 21st century and get young people involved and end division. So that's what we're gonna do. We're gonna work with professionals. We're not going to act like an administration that has all the answers. We're gonna have cabinets all over – professionals in those spaces – to make sure that we're doing what's needed and what the people want.
David Oh: I've been a councilperson at-large, which means that I have no money to distribute. So when I deal with after-school programs, I have to raise it for nonprofits from corporations and foundations. What I do see what you're talking about is really two things. One is, politically, each entity gets their money from a different silo. They have a different mission, but they try to protect the scarce resources for whom they want to give it to, and therefore they don't work together. They should have a united front. There's a lack of transparency, so people don't know what's going on. A lack of transparency, a lack of accountability – they're not responsive. So putting them all forward, putting their cards on the table, what their money is, what they're trying to achieve, who's getting what money and why. But another thing that happened is the school district when it was going broke, they fired the grants program people who brought in all the money for school, and so did the City. We need more money for your work.
What are you going to do to protect renters in this district and Philadelphia?
Full Question: "I teach eighth grade, six blocks south of here. Every day I have students come in, and it's clear that their learning is going to be limited by the fact that they spent the last night in a shelter. So my question is simultaneous to the drug crisis in Kensington is a housing crisis. The number of evictions per month in Philadelphia has gone from 100 a month to 400 a month in the last two years. So nothing is going to happen for my students and frankly, for the addiction crisis without secure housing. Philadelphia, for example, has no rent control, no cap on how much a landlord can increase rent is less landlords price gouge, put someone on the street and flip units for a profit. Added to that is that development, lot of use and landlord lobbies make up a third of campaign donations to this election cycle. So people are being put on the street for profit, people whose children respectfully I spent every day with. So what are you going to do to protect renters in this district and Philadelphia?"
Amen Brown: I'm the only candidate who has a people-powered campaign. I haven't taken money from the local developers, citywide, statewide – we have a real magical people-powered campaign. And we're going to keep it that way. We actually turned away millions of dollars from developers. Because we don't believe we're not going to owe anybody. We're going to owe the people who vote for us and the residents of the city. Our housing plan includes adding a line item in the city's budget to PHA. Because currently, right now, the operate off of $400 million from the federal government. Of that $400 million, 93% comes from federal government. 6% comes from rent, and 1% comes from city grants and things of that nature. Eighty percent of that $400 million goes into overhead, and things of that nature, so there's no way that we can invest and build more. So we're going to do our year one, $100 million to PHA for development on the city-owned vacant lots. And then those those development sites that we build, they're going to transition over into homeownership. Because like my mother, she never owned anything in her life. I'm the first person in my family to own anything.
David Oh: In 2018, I introduced the goal to put $50 million a year into housing trust fund, because at the time, the housing costs have been getting between 14 and 17 million per year for affordable housing in the city of this size. 50 million a year 10 Year $500 million to leverage that's step one that though was defeated, by the way. So what then happened a few years later is another bill was introduced about 25 million. And that will test and I voted for two, but why not 50 million. The problem about the affordable housing in Philadelphia is too much of it is focused on inclusionary housing. The problem with inclusionary housing is this. You have developers that want the hottest property area, you have a building trades that want to make the most money building it. And so by the time you get to inclusionary housing was optional, it's too expensive and it's too limited. You'd have to then reform diet and trust funds to build housing, affordable using community labor and build many more units.
There are at least 10 nonprofit organizations in Kensington. I own a warehouse and two mixed-use buildings. But I can't find any individual, government entity, or organization that can use them and do the repair under contract. We have all these organizations, but there is no one willing to help. How will you resolve that problem?
David Oh: Yeah, you're bringing up an interesting thing, because I'm always looking for someone like you. When I was in Council, approached by so many people who want to find space, buy space, or rent space. How are we gonna get space when we can't find the space? But if you have the facility, and you want to have it repaired and made available, that's fantastic. I think typically what happens is, I'm an at-large council person, I was. I will put you in touch with the district council person in this district to have that initial conversation. They have infrastructure money to be put into possibly repairs. The other side of that, though, outside of your district councilperson is the administration mayor and the mayor staff that has all the money and listen, the overall budget of the city somewhere around $14 billion. People always focus on the general fund operating budget that is only about $6 billion, but the overall amount of money, including grants and everything, $15 billion.
Amen Brown: So thank you for not selling your property, hold on to it. And waiting for a strong administration who's definitely going to invest in community partnerships. We're going to need you. [In] West Philadelphia, there's a lot of individuals who want to be a part of this solution, just like yourself. So just hang in there as long as we can. May 16 is only a few days away. Thank you.
How will you be supporting and implementing positive investment into our community and aiding the efforts that already are happening here? Because good things are happening here – they are. How are you considering our overall health? And that includes gun violence.
Full Question: "I've lived in Kensington I guess my whole adult life, which is about 15 years. I do gardening work, community work, and some community organizing. If you have lived in Kensington, no matter what age you are, whether you've lived in a house or on the street, you have experienced trauma over and over. The residents of Kensington have been doing the city's jobs for decades. This place has been left behind and divested from. We're tired of doing the city's job, so stop asking. We will happily sit at the table, but we're not going to do your job. We're tired of not being able to answer our children's questions of why where we live is the way that it is. How will you be supporting and implementing positive investment into our community and aiding the efforts that already are happening here? Because good things are happening here – they are. And how are you considering our overall health? And that includes gun violence."
Amen Brown: Thank you for the work you're doing in this community. Our plan includes investing heavily in beautification programs, especially in neighborhoods like Kensington and throughout the city. That's something that's working well in my legislative district of West Philadelphia. [There are] nonprofits and organizations that we are making sure get off the ground. We're funding them, and they're doing phenomenal work in the community, turning around and creating several green spaces all throughout West Philadelphia. So we are going to make sure we have a large amount of money going into community organizations for beautification. We're going to invest in aggressive blight removal programs, vacant lot fencing, and [sealing of] abandoned buildings. We're going to revamp L&I. So to answer your question, neighborhood beautification is going to be done by the people who live in the communities because we love our communities, and we should be a part of the solution. And it's our job to fund you guys.
David Oh: You have a choice. You're going to vote for somebody for this district and for the mayor of the city. And depending on who you vote for, because of what they say, that's what you get, right? Our problem in this city is we have 1.6 million people, and only 300,000 People are going to vote in the Democratic primary. Five-hundred-thousand Democrats aren't going to vote. And if this race were to end on May 16, that will be it. The race has to go to November 7, so that you get a more full answer to your questions and not just 90-second snippets, because that's all we can do with these words. But I will say this, first of all, there's a lot of wishful thinking. It's wonderful, but it's very wishful, and all of these things have been said time and time again. The fundamental thing is you have a right to have the laws enforced, you have a right to not be ignored, you have a right not to be treated like you don't have rights. You pay your taxes, you have every right to express your feelings. But what I would do, I would enforce the law, and I would make this neighborhood safe, and then clean it up.
On day one, what strategic steps will you take to bring this nightmare to an end?
David Oh: I'm an attorney. By trade. What troubles me so much is that so many people are not asking for more than their fair share. They're asking that the laws be enforced. What I mean is you cannot have schools, public schools that are so amazingly different, so underfunded and under-resourced. You cannot have these things that are not permissible under the Constitution. You cannot have DHS go out and take people's children without a basis in law. You cannot have them, place them with other families where they get physically hurt, emotionally harmed, and sexually violated. The government is very good at measuring what other people do, but it doesn't measure itself. On day one, I want to ensure that this city government will abide by the law and all the things that as opposed to do as required by the Constitution. 

Amen Brown: Yes, so day one you're going to let the city know that each and every community matters. And one of the most beautiful things about our campaign is that everyone has a seat at the table, no matter where you go home to, and who you pray to, or which your ZIP code is or what your income is. We will be a mayor for you and the city will know that day one. We're going to address this crime. Like I said, I've been on both sides of it. I support 100% reforms, but I also support accountability. And we're gonna make the city safe. We're gonna get creative. We're gonna have a full 24/7 Social Media Task Force. We have one now, but that's going to be on steroids. And we're going to have the tools and make sure that that department is staffed with individuals who understand what's going on on social media. We're going to do things and be creative by banning ski masks, because we should not feel the way we feel when we see three or four individuals getting out of the vehicle. So that's my time. But thank you guys for being here. It's good to know that we're going to have folks like you to work with to build this community.
Editors: Jillian Bauer-Reese, Zari Tarazona Designer: Khysir Carter

This content is a part of Every Voice, Every Vote, a collaborative project managed by The Lenfest Institute for Journalism. Lead support is provided by the William Penn Foundation with additional funding from The Lenfest Institute, Peter and Judy Leone, the John S. and James L. Knight Foundation, Harriet and Larry Weiss, and the Wyncote Foundation, among others. To learn more about the project and view a full list of supporters, visit www.everyvoice-everyvote.org. Editorial content is created independently of the project's donors.