On July 14, Kensington, Harrowgate, and Fairhill residents, city officials, and local funders gathered at Harrowgate Park to announce the first round of grant recipients of the Kensington Community Resilience Fund. 
The KCR Fund, a public-private-community partnership, launched in April 2020 with a promise to award $10,000 grants for general operations to community organizations or groups that address at least one of the following areas:
Blight removal and beautification
Building resilience by addressing community trauma
Connecting residents to resources
Public safety and gun violence
Workforce development and training
Youth development from birth to 24 years old
The KCR Fund also prioritizes the community's perspectives. More than a dozen representatives from Kensington, Harrowgate, and Fairhill community organizations, civic associations, and faith-based organizations served on the Community Advisory Committee to decide the fund's priorities. Many members of the committee are also residents, according to the fund's administrator and facilitator Bread & Roses Community Fund. Additionally, 11 residents from Kensington, Harrowgate, and Fairhill served on the Community Grantmaking Panel to decide which groups would receive a grant.
Read more: Kensington Community Resilience Fund will award $10,000 grants to eligible community groups this summer 
The grant announcement at Harrowgate Park featured several speakers from the Community Advisory Committee, the Community Grantmaking Panel, and the Managing Director's Office, including Managing Director Tumar Alexander.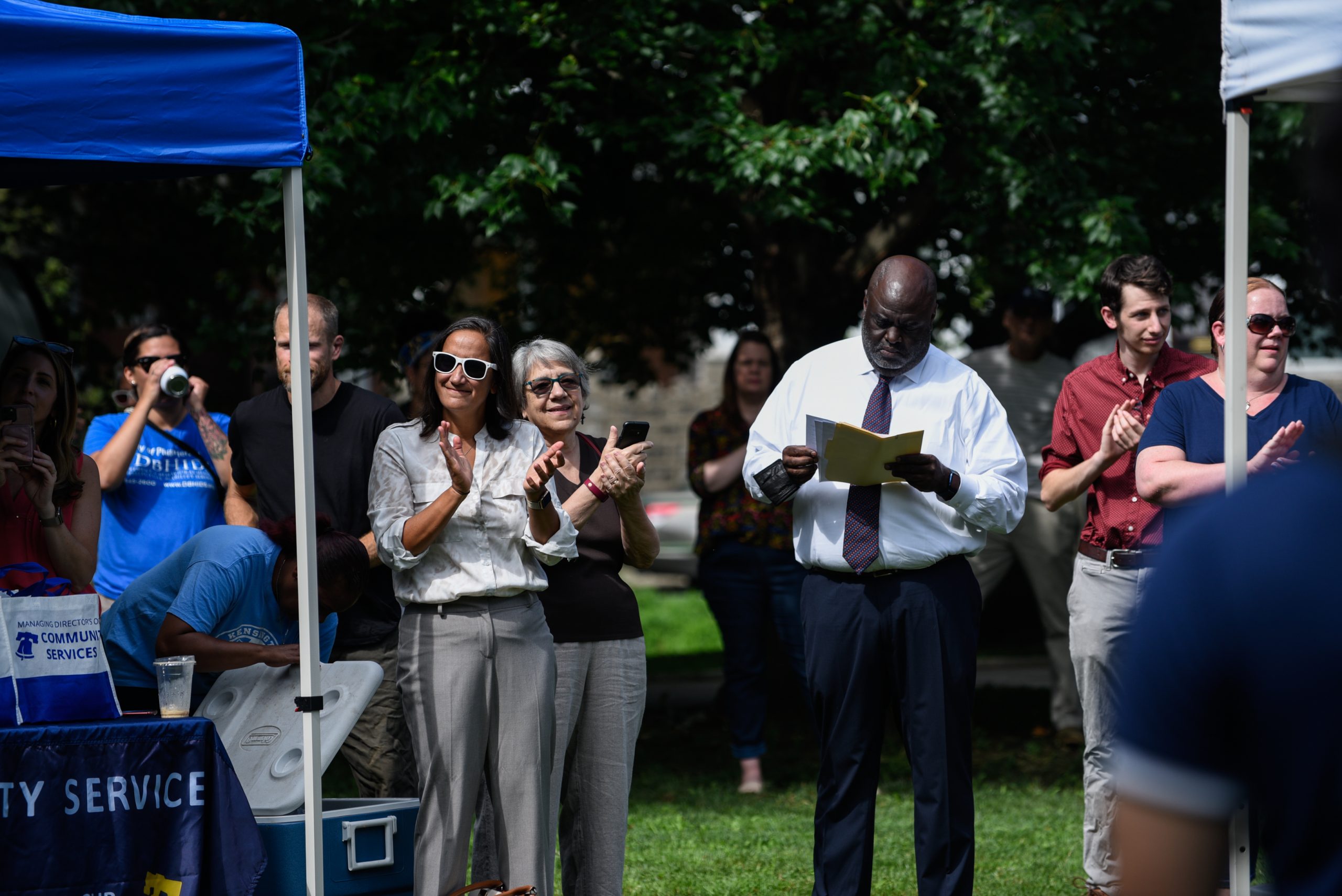 "This is round one of the city's commitment to this effort," Alexander said. "I know at times, we may not do everything right. Or, at times, you all may question some of the things we do. I just want you to know our commitment is there."
Deputy Managing Director for Community Services Joanna Otero-Cruz told the audience that the KCR Fund is the first grant program of its kind in Philadelphia that elevates the voices of residents and community partners. 
One of the fund's goals is to promote wellness, build resilience, and improve the quality of life in Kensington, Harrowgate, and Fairhill, she added.
"Beyond this primary objective, the participatory process was envisioned to address the systemic inequity that residents in these communities have faced for years," Otero-Cruz said.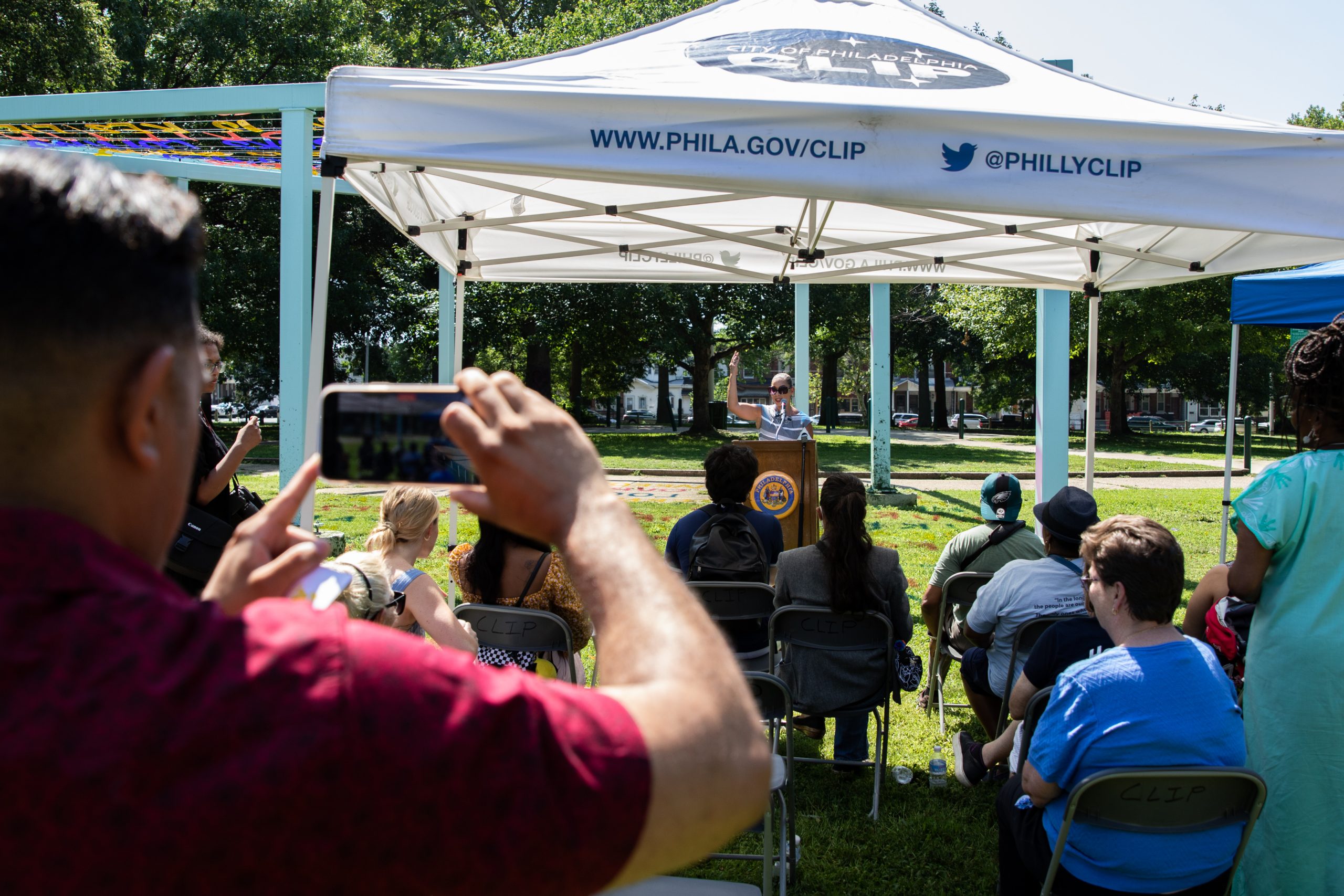 While many community members involved in the fund's committee and panel expressed their gratitude and excitement for the fund during their speeches, some of those individuals also criticized the city for a lack of community input in the past.
Kensington Neighborhood Association President Eduardo Esquivel, a Community Advisory Committee member, started his speech by thanking the funders, the city, and Bread & Roses Community Fund.
"It was an incredible experience to serve on [the committee] and to have the voices of community members and stakeholders really put to the forefront on what is needed in this community. I look forward to this being an effort that can continue in this way because I think without hearing those voices, nothing will get done in this community. I think we've seen a lot of years of not successes here because those voices have been marginalized," he said.
Harrowgate resident Sonja Bingham, a Community Grantmaking Panel member, said there is an abundance of resources in Kensington but it isn't directed toward people with housing.
"For all of the people that were involved in creating this space, we say thank you. We really really do. For the first time, we had someone who wanted to hear what we wanted in our house," Bingham said.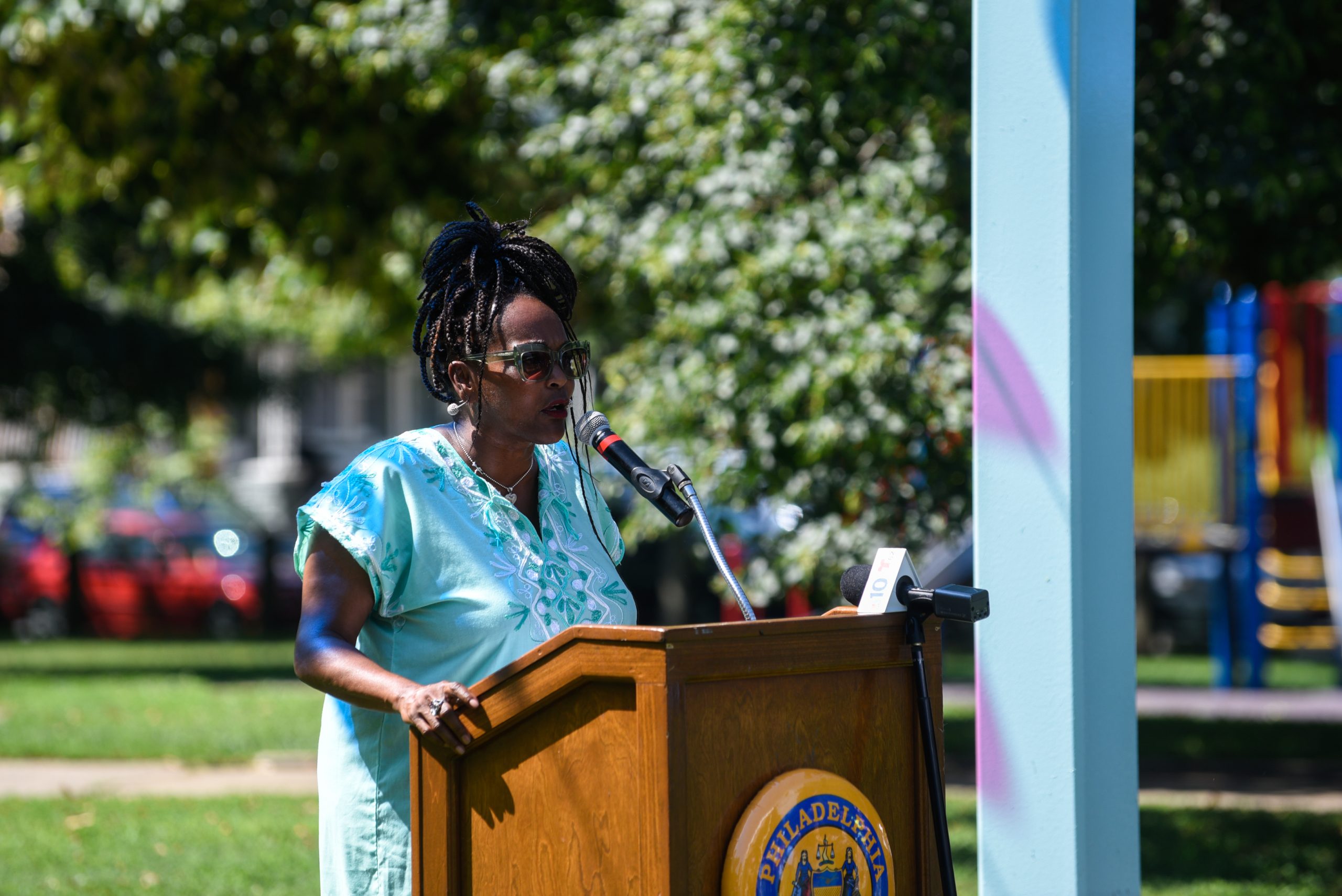 Roxy Rivera, a Community Grantmaking Panel member, told the audience that she feels confident the panel members made their selections based on the needs of their communities.
"We have many vulnerable populations here. We have children, youth. We have people who are unemployed. We have veterans, the elderly, the disabled. These are the people that we need to fight for. These are the people that need resources more than anyone else," Rivera said.
KCR Fund's first round of grantees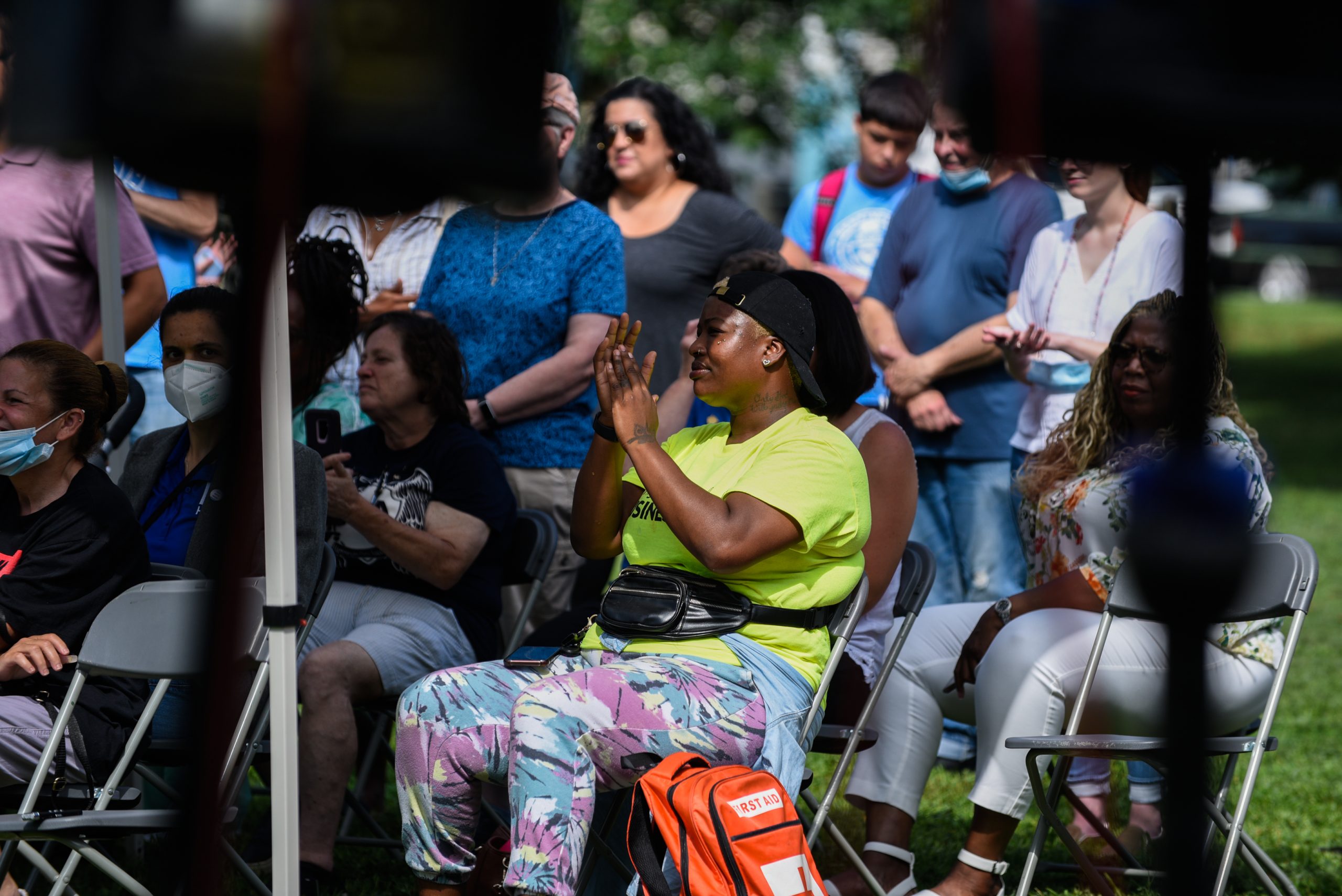 Below is a list of the 20 grantees and project proposals, according to the fund's administrator and facilitator Bread & Roses Community Fund. Another round of funding is expected in Fall 2021.
To follow the grantees' progress, you can subscribe to El Barrio es Nuestro's newsletter and attend their meetings. 
Community Center at Visitation: This grant will support one year of hosting family-friendly monthly dinners and resource fairs. 
Good Host Plants: This grant will help them convert five to 10 empty lots into community pollinator gardens. 
Harrowgate Civic Association: This grant will go toward helping residents with neighborhood cleaning by distributing trash cans and other cleaning supplies. 
Hart Lane Neighborhood Farm: This grant will help them replace broken sidewalks in their garden and reconnect the space safely to the neighborhood with an ADA-compliant access point. 
Kensington Soccer Club: This grant will support their core programming, which includes connecting families to legal assistance, health care, college financial aid, and leadership development.
Papermill Food Hub: This grant will support them in renting permanent space to store and prepare food for their weekly deliveries, starting a garden to grow produce for families, and hiring a staff member to lead garden classes with neighborhood children. 
Photography Without Borders: This grant will help expand their youth photography program to Kensington Health Sciences Academy in an after-school setting. 
Power Street Theatre: This grant will support their programs, including free bilingual performance and playwriting classes.
Providence Center: This grant will be used to hire former trauma ambassadors to recruit and train the new cohort. 
Ride Free: This grant will complete their new studio with professional-grade instruments and equipment. 
Rock Ministries: This grant will fund a subscription to medical record software that tracks patient treatment and a mini-split heating and cooling system to operate their Wellness Center year-round. 
Sisters Returning Home: This grant will support ongoing programming and the purchase of beds and bedding for clients transitioning into long-term housing. 
The Sisters of Saint Joseph Welcome Center: This grant will improve their English for Speakers of Other Languages (ESOL) and citizenship test preparation classes and expand their outreach program that provides food and gift cards to students.
Taller Puertorriqueño: This grant will support investments in staff, data entry technology, general operations, and educational arts programming. 
Team NAS: This grant will support the creation of a cooperative, neighborhood-wide clean and active block initiative through ongoing outreach, providing needed equipment, and cultivating platforms for neighborhood exchange and celebration. 
The Block Gives Back: This grant will be used to support ongoing programming such as affordable events and services to children and youth aged 5-24 in the Kensington neighborhood. 
The Salvation Army: This grant will be used to maintain staff, cover transportation costs to appointments, purchase supplies for clients, secure increased security measures, and other operational costs. 
The Simple Way: This grant will be used to hire one of their current volunteers, digitize systems, and purchase inventory software. 
Urban Extreme Youth Development: This grant will help them implement programming for mentoring, youth community engagement, and family engagement and support a third Bold and Beautiful Girls Conference to build power among female Kensington High School students. 
Youth United for Change: This grant will provide stipends for members to participate in community outreach efforts for their upcoming community campaign focused on trash and litter.
---
Editors: Henry Savage, Jillian Bauer-Reese / Designer: Henry Savage