On March 13, the gymnasium at the Community Center at Visitation on Lehigh Avenue was converted into an art gallery to reflect on the neighborhood's collective power and commitment to community care.
Expanding Our Roots, an exhibition hosted by Mural Arts' Kensington Storefront, showcased art, visual storytelling, and community programs from the past year.
Notably, the title of the exhibition took on a double meaning. Since the closing of the Kensington Storefront's public community space on Kensington Avenue near Somerset Street, the organization has modified its programming and relocated its office to the Community Center at Visitation. Instead of operating from a permanent location, the Storefront now hosts workshops throughout the neighborhood and acquired a van to reach more residents.
The second meaning of the exhibition title comes from a recent increase in community-led programming, storytelling, and resources that have allowed residents to care for one another due to the stresses of the pandemic and other social factors.
As spring arrives and community organizers begin to gear up for another season of neighborhood programming, Pamela Draper, the Kensington Storefront's program manager, wanted what the community achieved in 2021 to be recognized.
"Let's pause, and let's look back at last year," Draper said. "And let's celebrate what we did last year."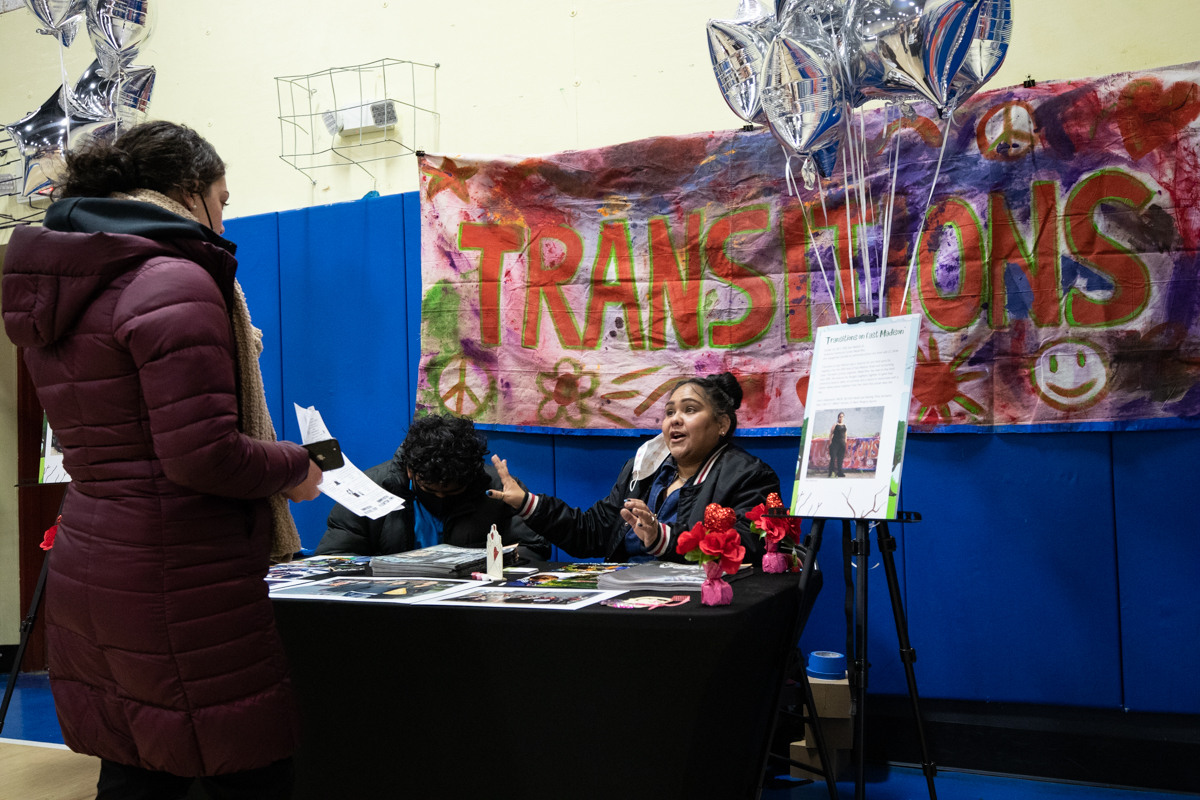 Artists and residents display their community art and programs
Throughout the afternoon, attendees took in artwork, visual storytelling, and community programs from 12 exhibitors, as well as engaging in arts and crafts activities, taking in the entertainment, and learning about resources they have access to.
Tykira Mitchell, a visual artist whose artwork "The Art of Self-Reflection" was on view at the event, led a series of art workshops from March through May in 2021 at Covenant House, an organization that provides housing and services to young people experiencing homelessness. Mitchell said the peer-on-peer connection throughout the workshop series gave her the confidence to speak on topics that are important to her, such as the trauma inflicted upon Black youth. As a former resident of Covenant House, Mitchell said she thought the workshops were a good opportunity to connect her past to her present.
"When I was at Covenant House, I felt that it was really hard for me to express myself as an artist because there weren't a lot of opportunities and things like that," Mitchell said. "There weren't a lot of workshops and stuff that was for the people that were in the community at the shelter."
Patrick Ossel, a resident art instructor at the Community Center at Visitation, also participated in the exhibition. He displayed artwork from the men's and children's art programs at the center. The artwork was made up of recycled materials such as ceramic pieces, wood, and aluminum.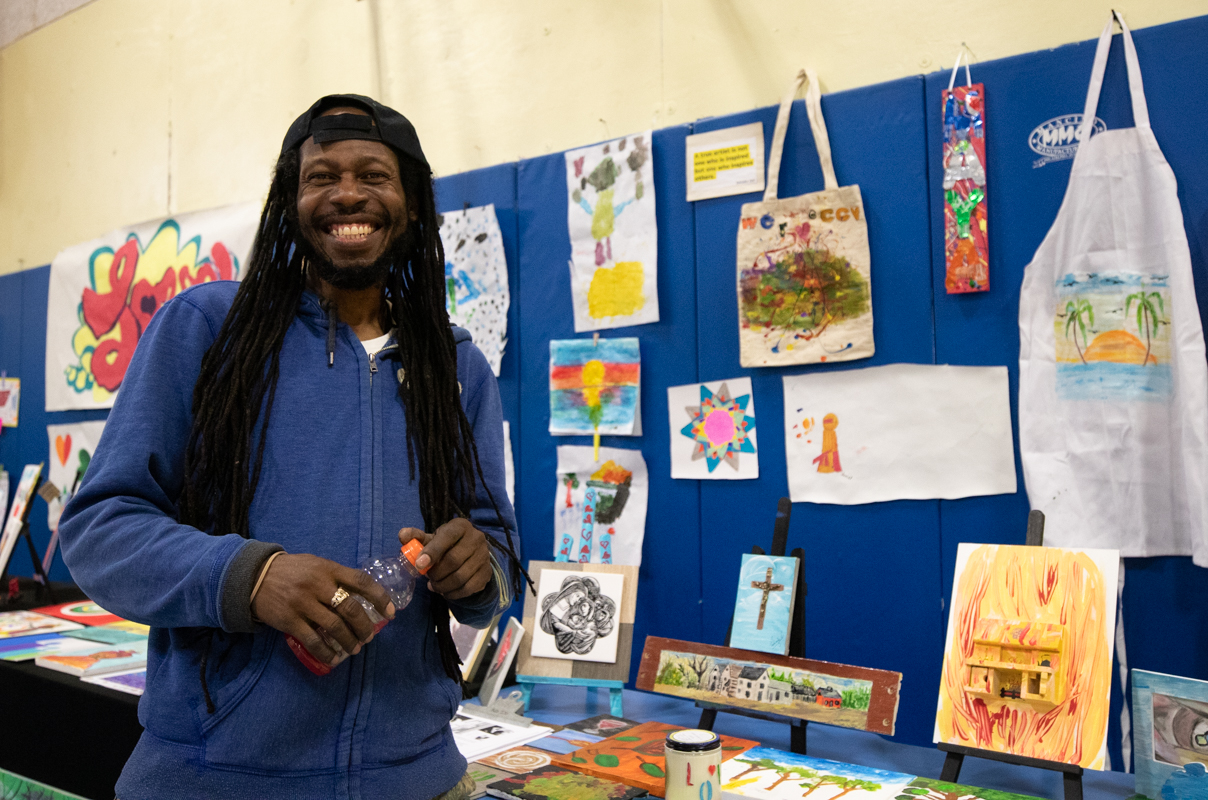 "The main message is nothing is trash," Ossel said. "You can recycle them. Somebody can use them."
Ossel added that he hopes the artwork from the center's programs can eventually be sold in an auction to raise funds for additional services and resources beneficial to the neighborhood.
Throughout the event, attendees had the opportunity to make their own art too. People were encouraged to sit at tables and bond with one another as they made original artwork from paints, yarns, and other craft materials.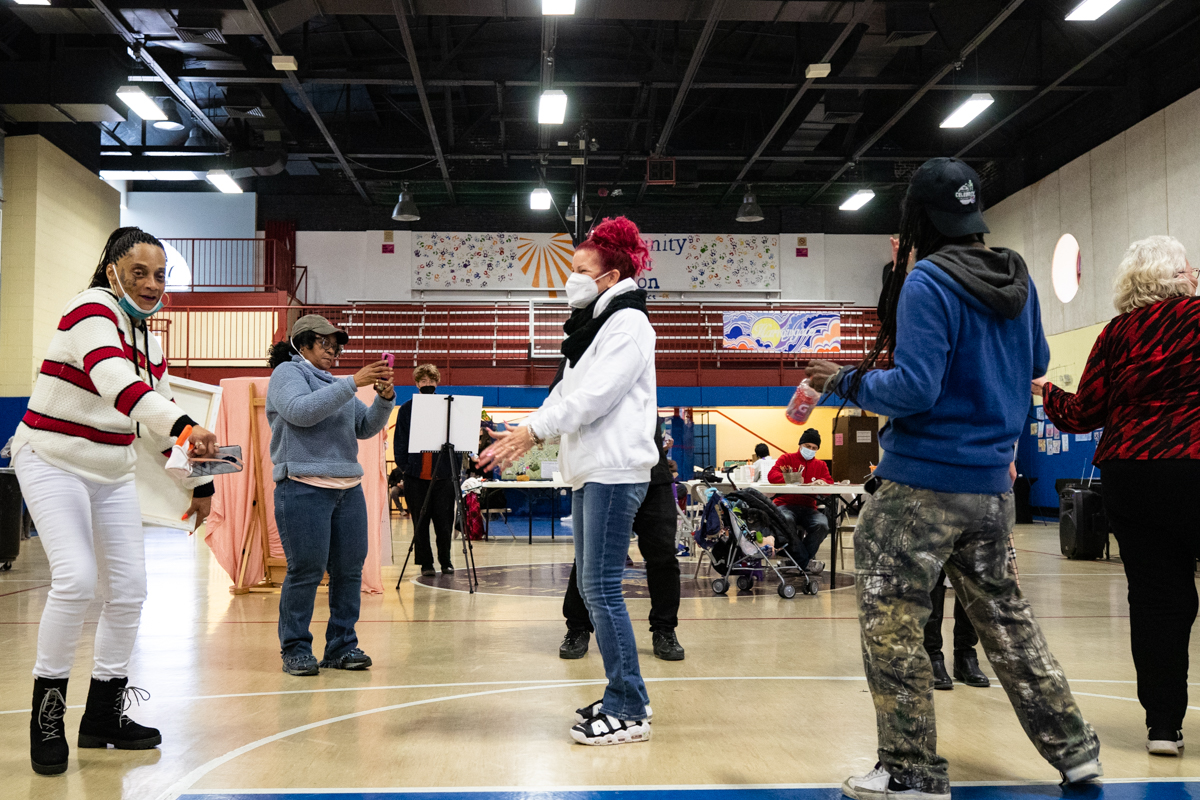 Music kept the spirits high as community members danced along to the "Cha-Cha Slide" and sang birthday wishes to participants. Daisie Cardona, a Kensington resident and photographer, performed live poetry for the audience as well.
"Here's a moment to show off the bright shine, the amazing resilience, the amazing healing, all in one space," Draper said. "I hope the exhibit has helped tell some of those stories, like the way that people use the arts to help themselves get through another day, to tell their story, to heal from trauma."
Exhibitors included the following artists and programs:
The Art of Self-Reflection: Participants explored their personal art styles while discussing trauma and coping mechanisms at this 10-week-long program hosted at Covenant House's Germantown and Kensington locations. Lead artist Tykira Mitchell took inspiration from the works of Audre Lorde and bell hooks.
The Artist's Way Workshop: Led by Ashley Ernest, this 13-week-long workshop based on Julia Cameron's book "The Artist's Way" offered residents the opportunity to have "artist dates" with themselves, and build confidence in their creative skills. The hybrid workshops were hosted on Zoom and at the Emerald Street Community Farm.
Campfire Art Studio: This program led by Kathyrn Pannepacker, Lisa Kelley, and Michael Worthy brought participants together outside around a bonfire as they painted on parachute cloth, which was stripped and woven into banners.
Casa Indiana: HACE'S new senior living facility, located at 2nd Street and Indiana Avenue, hosted a variety of programming for its residents, in part thanks to the creation of their Arts and Culture Committee. Collaborating artists included Claudia Peregrina, Don Stephens, Kathryn Pannepacker, Los Bomberos de la Calle, and Pamela Draper.
Clean-Ups at D & Westmoreland: Hosted by Yulianna Cerezo and Yari Agostos Baez — with support from Dennis Payne, Gilberto Gonzalez, and the Philadelphia Anti-Drug/Anti-Violence Network — these longtime Kensington residents regularly organized community cleanups to address sanitation issues in the neighborhood. On display was a timeline illustrating the amount of trash accumulated over the years. Neighbors can join cleanup efforts around McVeigh Park by reaching out to Baez at yaribaez81@gmail.com.
Color Me Back: Mural Arts' Same Day Work and Pay Program provides individuals experiencing economic hardship the opportunity to connect with social services while earning wages through art-making. To sign up to work on a mural, visit the Emerald Street and Lehigh Avenue underpass Monday through Thursday at 7:45 a.m. Selected participants will be called to work and are paid $50 for four hours of work Monday through Thursday from 8 a.m. to 12 p.m.
Daisie Cardona: A local resident and photographer, Cardona uses her colorful photography to tell a different story of the neighborhood. Cardona photographed the Lots of Lots of Love events (mentioned below). Cardona's photos from the events will be featured in a mural at one of the lots.
Let's Draw and Paint with Don Stephens: Stephens is an instructor who has developed drawing and painting classes for all age groups, with a special interest in serving older adults. Stephens led a series of workshops at the Juniata Park Older Adult Center and Mann Older Adult Center in collaboration with Philadelphia Parks & Rec.
Lots of Lots of Love: In partnership with Mural Arts and Impact Services, this event series activated vacant lots through art activities in the community from September to October 2021. The series will be remembered with an installation of a mural at 3236-56 Kensington Ave. this spring. John C. Zerbe was the lead artist for the series in collaboration with Damon Bain, Jose Bustamante, DISTORT, Leon Rainbow, SEPER, and Gabe Tiberino. Read more about the series here. 
Mothers Helping Mothers and A Father's Grief: These two programs were led by Brenda Mosley, a Kensington resident and executive director of the organization By Faith Health and Healing, and local artist John C. Zerbe. Both of the programs were created in 2021 to support parents dealing with grief and trauma due to gun violence, incarceration, and addiction, among other issues. Collaborators included Pati Codina, Hashim Sharif, Ramon Cruz, Luis Soto, Patrick Ossel, and Ernest Rossi. Read more about the programs here.
Streetwear for Survivors: This project from local artist Ashley Flynn was a collection of wearable art inspired by community members and their personal stories. The designs were presented at a runway show at the Love Lot this past May. Read more about Flynn's experiences and work here.
Transitions on East Madison: Hosted by Kensington resident Neyda Rios, this resource fair and block party for neighbors on the 2000 block of East Madison Street brought residents together for food, art activities, community resources, and a balloon release to honor neighbors who have passed away. Cory Kram and John C. Zerbe led art projects for the event. Read more about the event here. 
---
Editors: Christopher Malo, Zari Tarazona / Designer: Siani Colón