When Alyssa Bigbee opened Rebel Arts Movement in 2020, she wanted to create a safe community space for people to express themselves freely through the art of movement.
"Originally, I just wanted a place for people to play," Bigbee said.
Bigbee, an accredited dance choreographer, acrobatics instructor, and gymnastics coach from West Philadelphia, has over 15 years of experience in tumbling. She has also coached and taught at dozens of dance studios in the Philadelphia area.
With few low-cost dance studios available for Philly youth, Bigbee decided to open Rebel Arts in Harrowgate at the corner of North J Street and Kensington Avenue.
Today, the studio (located inside the J-Centrel building), offers acrobatic, dance, and gymnastic tumbling programs. While they offer adult and youth classes, most of their programs focus on children and adolescents. Some are totally free, while others cost between $60 and $150 per month.
"I am hoping that because we have this affordability, that more youth will be able to be involved and immersed in activities," Bigbee said. "I'm hoping that this can be a hub for families to also connect with one another and just [have] a go-to space."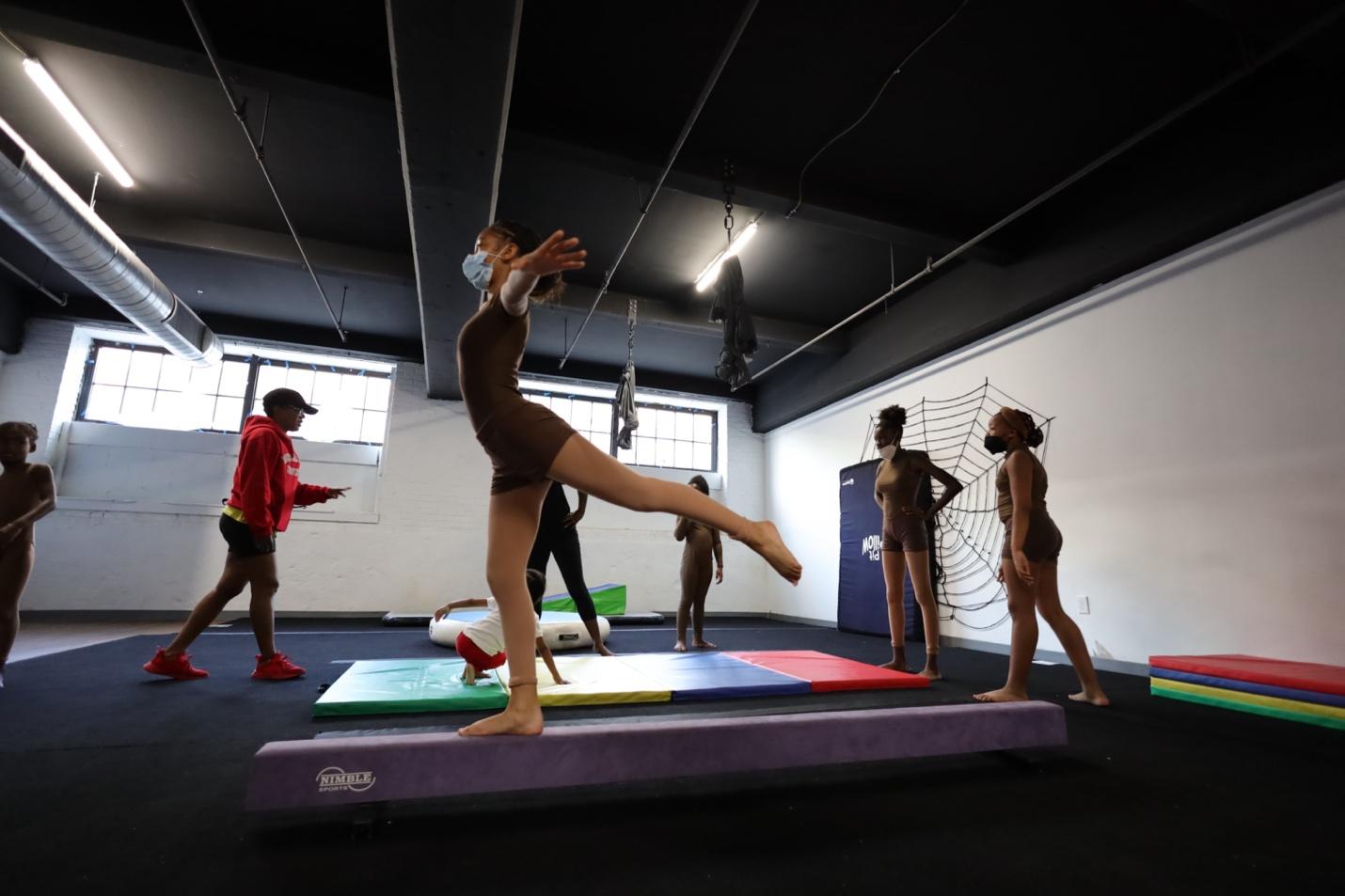 This fall, Rebel Arts is offering four main programs on Thursdays, Fridays, and Saturdays. Those programs include the Rebel Youth program, the Amber Michael REDZ Beginner Training program, Open Gym, and Open Play. The studio's fall programming begins on September 7.
The Rebel Youth program is a year-long program for kids interested in acrobatics, aerial arts, and tumbling. It costs between $60 to $150 per month depending on the number of classes kids take each week. Classes are broken down into mini-rebels (ages two-and-a-half through six), junior rebels (ages seven through 12), and senior rebels (ages 13 through 18).
Meanwhile, the REDZ Beginner Training program provides scholarships for accepted students for one Rebel Arts class per week and one dance class with one of their partner organizations Living Arts Dance.
The Open Gym program is a pay-what-you-want tumbling studio for adolescents 13 and up. It is open on Friday nights from 6 to 7 p.m. runs on Friday nights. The Open Play program is an indoor obstacle course where children can explore and play for free on Saturday mornings from 10 to 11 a.m. It's recommended for children under eight.
Kay Crawford, a parent who makes the trip to Rebel Arts from Chester, PA, described the studio as a peaceful and welcoming place for her 10-year-old daughter to learn.
"It's quiet, tucked away, and everyone is really nice," Crawford said. "She learns a lot of new skills she can add to her repertoire."
One of the draws of Rebel Arts, Crawford said, is that it is a space to stay active while many recreational centers in the Philadelphia area aren't fully operational due to gaps in funding and safety concerns.
"This place is great for children," Crawford said. " … kids need something to do, and what could be better than moving your body and getting exercise?"
For Ebony Dyson, who works as the administrative assistant at Rebel Arts, one of the studio's biggest strengths is that they also hire teens as teaching assistants and demonstrators for their classes. Dyson said this benefits her students because it teaches them to give back to the community.
"It's kind of like a pipeline – an opportunity for students that are in cheer at school and have grown and gotten so much better that they're no longer students, they are teachers," Dyson said. "And now they are teaching the next generation how to be tumblers, and how to do aerial arts and things like that."
Together, Bigbee and Dyson use a strengths-based approach to guiding teens into the workforce by concentrating on skills they already have, Bigbee said.
"Just by us exposing [teens] to these new art forms that they would probably not have access to on a typical day, I think that's a big impact in itself," said Bigbee, "Truly all of this at the core is about empowerment – empowering the communities that we serve. We understand that movement can do that in so many different ways."
This September, Rebel Arts will be busy. In addition to their fall programs, on Sept. 15, 16, and 23, they will be performing at the Cannonball/Philly Fringe Festival in Liberty Lands. That production, called "The Rebellion: Modern Warfare," will include a performance that blends aerial, acrobatics, and hip-hop to explore social issues.
Bigbee hopes that by showcasing students' skills, it will draw more people to their programs and benefit the neighborhood.
"The more people that come out here, the more people patronize Kensington [and] the more this neighborhood is going to thrive and flourish," Bigbee said.
---
Story edited by Siani Colón & Jillian Bauer-Reese