Editor's note: This story was updated on Oct. 21, 2022, and Nov. 13, 2022.
A new coalition of Fairhill residents and community partners is finding creative ways to address the neighborhood's trash and illegal dumping, starting with a "trash funeral."
Die Dumping Die (D3) is a collaboration between Fairhill United for Livability, HACE CDC's Team NAS, and Mural Arts. The group's mission is to raise awareness about sanitation issues in Fairhill and Kensington. The name, Die Dumping Die, was inspired by a classic horror movie, "Die, Monster, Die."
D3's origins can be traced back to HACE's Livability Academy in Fairhill. The academy is an eight-week-long program designed to empower Kensington, Fairhill, and St. Hugh residents to create innovative solutions to community issues. The program accepts adult and high school participants.
During Fall 2021, academy participants formed groups based on their interests. Fairhill United for Livability's vision was to activate public spaces through historical education workshops, cleanups, and community celebrations.
"The pandemic fractured a lot of social connections in the neighborhood, and our interest was in helping build and maintain a sense of community," said Nishi Dsouza, a D3 member and Fall 2021 academy participant. "Part of that is in celebrating who we are and what we bring to the table."
After garnering interest from other community organizations to join the cause, Fairhill United for Livability rebranded itself under the D3 umbrella. Dsouza hopes the group's collective action can put an end to the illegal dumping and trash problem in the community.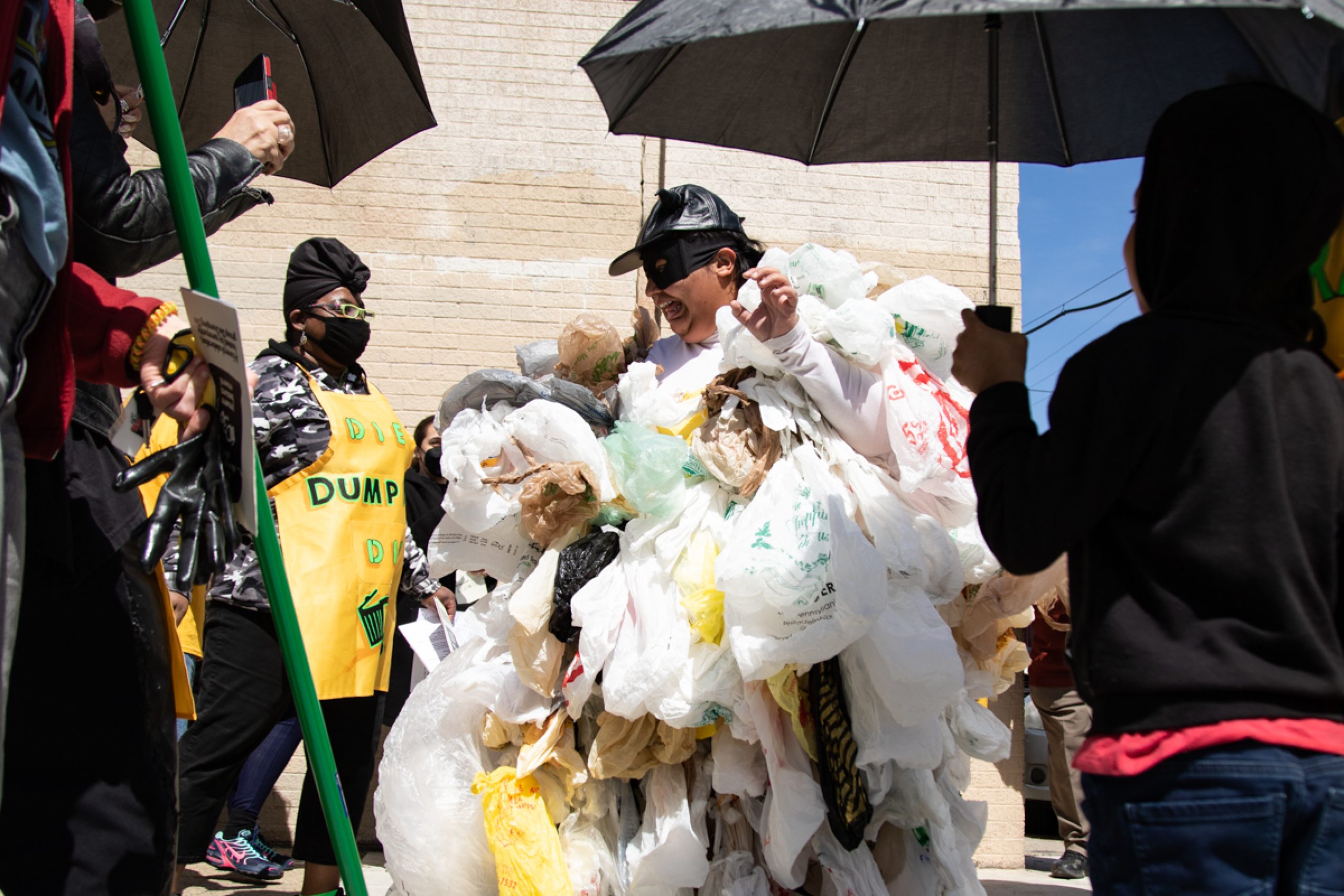 'If we live in this trash, we're going to die in this trash'
Teea Tynes, a D3 member, has been living in Fairhill on and off since 1979. Although the neighborhood was never pristine, she said that illegal dumping has gotten worse over the years. 
"What about pride in where you live?" Tynes asked, frustratedly. "How can you not take care of where you live? Even if not for your sake, what about the children? Why would you want your kids running around in filth?"
Community members are encouraged to report illegal dumping in action to 911 and the aftermath to Philly311. According to 311 request data from August 2022, approximately 5% of the thousands of reports were because of illegal dumping.
According to Tynes, the Philly311 service is too overwhelmed by the influx of reports, and there needs to be more community support.
"311 is a useful tool," Tynes said. "[The trash] is just a constant problem that you have to constantly keep up on. How can any entity keep up with all that?"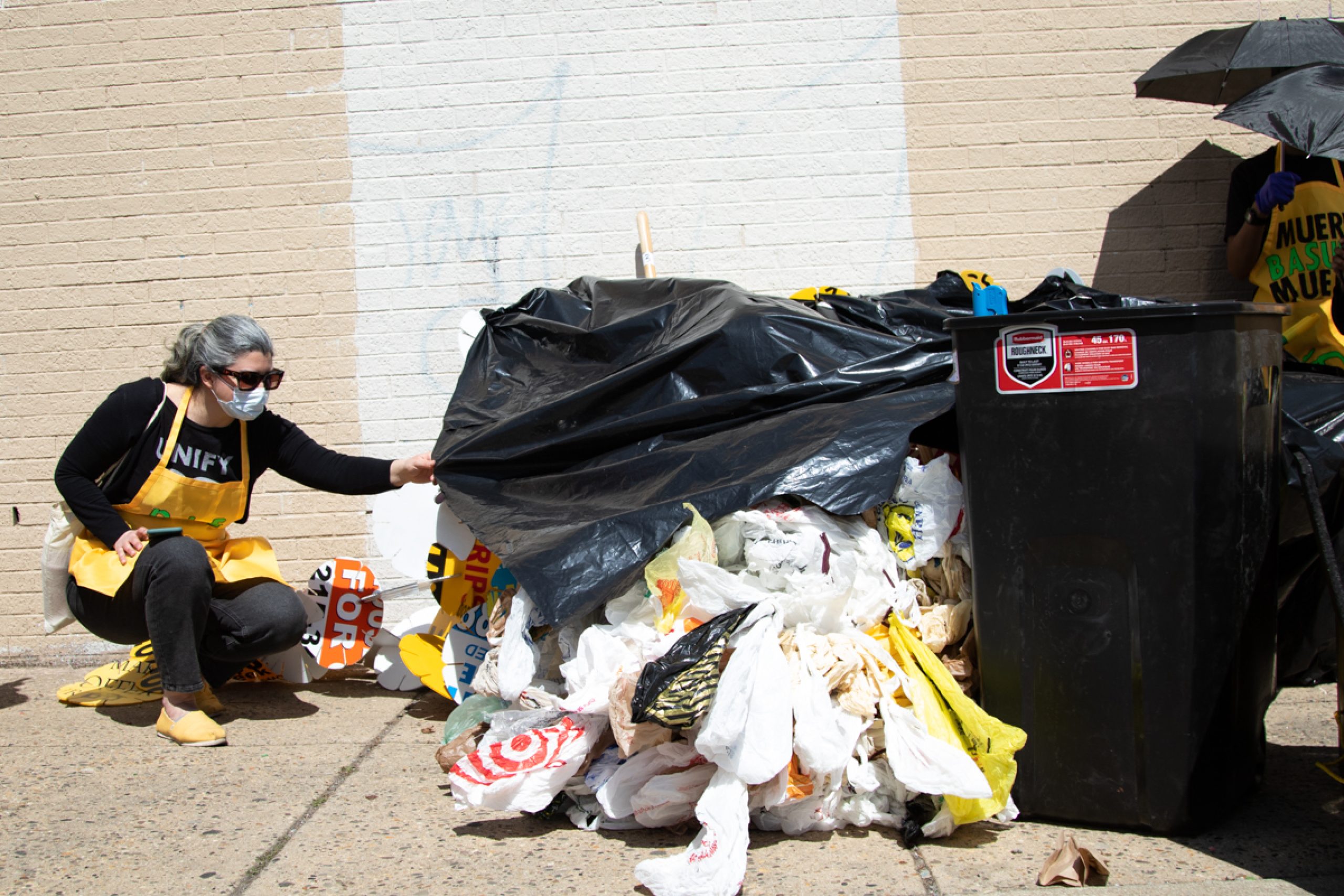 Roxanne Bell, a Fairhill resident of two years and D3 member, regularly helps clean Fairhill Square Park. As a former block captain in Frankford, she tried to keep her block clean but struggled to get others to participate.
"If we live in this trash, we're going to die in this trash," Bell said. "We want to live, and we want to live healthy, and in order for us to live healthy, we have to clean our areas."
Read more: Trash pile-ups and illegal dumping in Kensington: 'Why is it our responsibility to then jump in and fend for ourselves?'
In April, the City expanded its Mechanical Street Cleaning Pilot Program based on data from the Litter Index. The expansion covers 14 areas, including Kensington, Fairhill, and Port Richmond.
Although the program was met with praise, there have been challenges. The Philadelphia Parking Authority issued more than 1,500 tickets a month after the start of the expansion. Despite signs posting the scheduled cleaning periods, drivers haven't been moving their cars, preventing street-sweeping trucks from cleaning the streets. 
Rest in Peace, Dumpington Baggins
On April 2, D3 hosted a one-of-a-kind trash funeral and parade in Fairhill to celebrate the death of Dumpington Baggins, a fictional character meant to represent Philly's trash problem.
Prior to the parade, D3 members worked with Mural Arts to brainstorm a "creative disruption" event to advocate for cleaner neighborhoods. Mural Arts has experience with creative advocacy, such as its Trash Academy, an anti-litter campaign. The D3 initiative was a chance for Mural Arts to expand its environmental work in the neighborhood.
"Art is an amazing mechanism to discuss a serious topic in a playful manner," Dsouza said.
The procession began at 6th and Somerset streets and traveled toward Fairhill Square Park for a community celebration. Local drumline Mad Beatz Philly performed music similar to New Orleans jazz funerals. Armed with brooms and shovels, D3 members swept Baggins into a bin. Dsouza, who was dressed as a flower, took the place of Baggins in the procession to represent rebirth.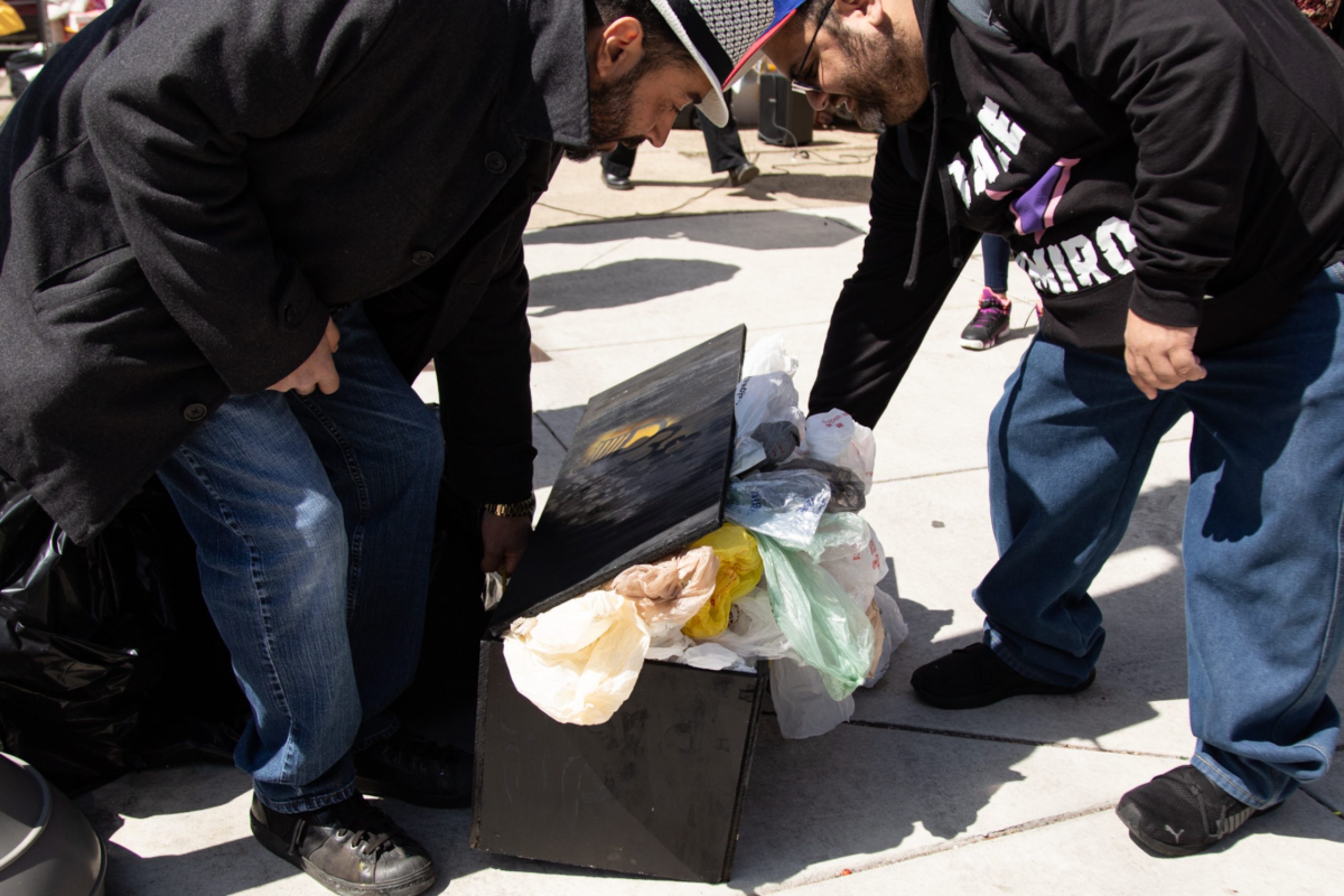 As part of the event, Tynes gave a comedic eulogy for Baggins' funeral. For example, she described sanitation workers as "pallbearers" coming to take Baggins and others every week. She also "trash-talked" the deceased, describing Baggins as bad, stinky, and lazy but tolerated by the community.
"It's like that one relative that likes to lay up on your couch and not do anything," Tynes said.
The event ended in the park with music, food, and resource tables from local organizations.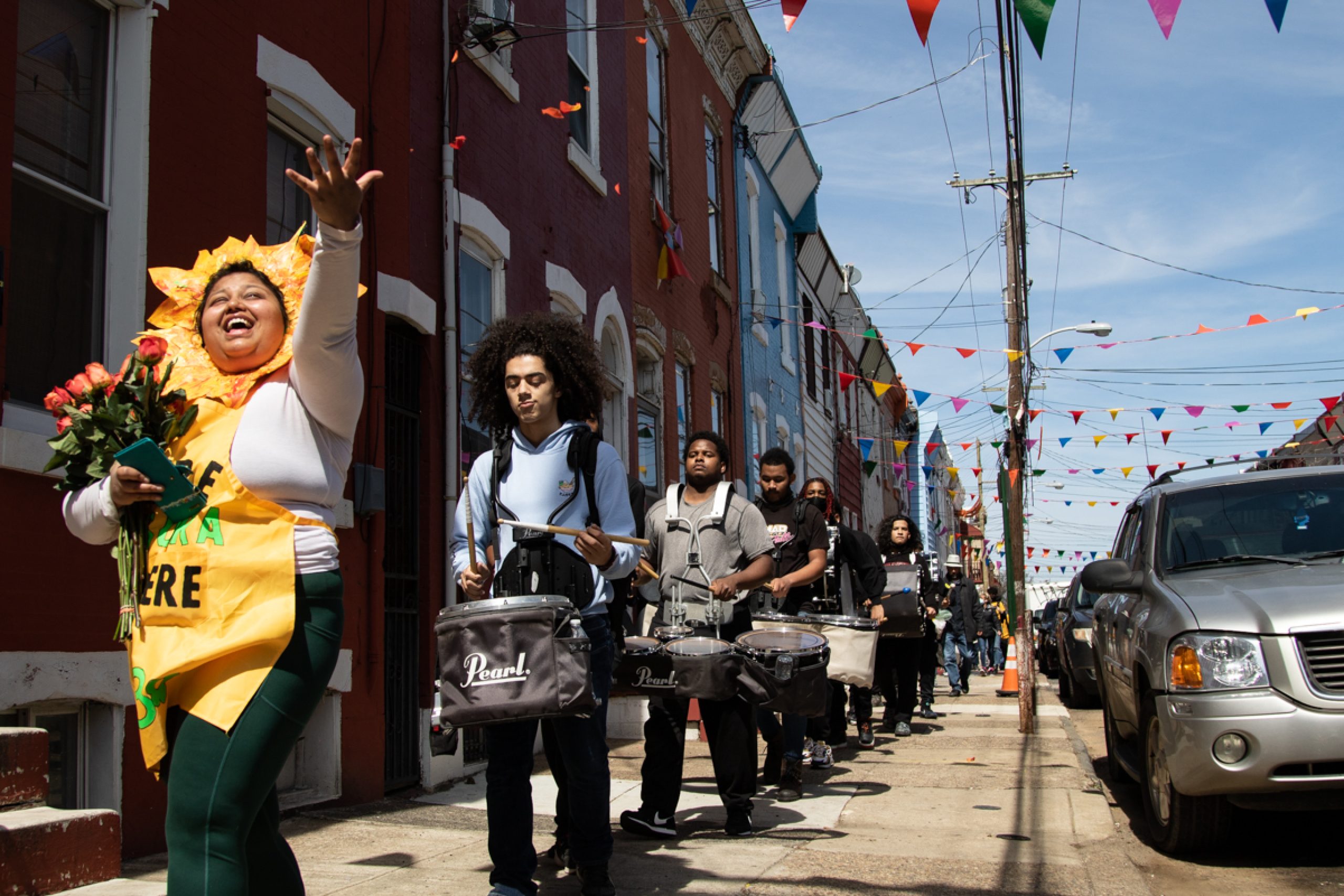 'I want to see the neighborhoods get better and flourish'
Looking toward the future, D3 members are focused on building their coalition and encouraging more residents to participate throughout Philadelphia.
"I want to see the neighborhoods get better and flourish and be stable," Tynes said. "So that when the kids behind me grow up, they can take pride in the neighborhood and carry on what their parents have done to keep the neighborhood beautiful."
Bell said D3's outreach efforts should target youth and community elders.
"Young people have a lot of things to say and do want to see beautification, but if they are not given an opportunity, they're not going to take it," she added.
In terms of institutional change, Tynes said she wants to see more support for sanitation workers' safety, free trash receptacles for every household (the City only gives out free recycling bins), and lower costs per ton to dispose of construction material waste.
According to several D3 members, the group wants to work with city officials to address community concerns, provide residents with information on available resources, identify dumping sites for trash funerals, and create community principles with residents.
This fall, D3 hosted events in September, October, and November. A community cleanup took place on Sept. 24 at 6th and Somerset streets at 10 a.m., followed by a celebration at noon at Fairhill Burial Ground at 2901 Germantown Ave. 
On Oct. 22, D3 led a cleanup at 3rd and W. Ontario streets at 10 a.m. and celebrated afterward at the 3300 block of N. Lawrence Street.
D3's final celebration and performance of 2022 took place at McPherson Square Park at 601 E. Indiana St. on Nov. 12 in collaboration with the park's Love Your Park Week event. The cleanup began at 10:30 a.m., followed by lunch at 11:30 a.m., and ended with a skit at noon.
"The more we do, the more we succeed, and we have that determination," Bell said. "If we want to beautify our communities and our cities, we have to do it. And if we continue to put forth that effort, eventually, those higher up in government and city officials will see that we're not going away."
---
Editors: Zari Tarazona / Designer: Siani Colón

Kensington Voice is one of more than 20 news organizations producing Broke in Philly, a collaborative reporting project on economic mobility. Read more at brokeinphilly.org or follow on Twitter at @BrokeInPhilly.