As one of the country's leaders in public art — with over 4,000 murals — and the birthplace of musicians such as Billie Holiday and Jill Scott, Philadelphia has an abundance of music and art that spreads throughout the city.
In North Philly, multi-disciplinary artist Daniel de Jesús is continuing this tradition through their art, music, and teachings as an educator for the Youth Artist Program at Taller Puertorriqueño, a Latinx cultural arts center in Fairhill.
"I would describe myself as an artist who weaves mysticism, psychology, and art history together in a tapestry of painterly gestures and luscious string music," de Jesús said.
Two art forms, same mind
Born and raised in North Philadelphia, de Jesús began their art career in 2005 after graduating from the University of the Arts in Philadelphia. Their paintings draw inspiration from historical figures, like Saint Teresa and Dante Gabriel Rossetti, and feature aspects of Baroque art in Latin America, Pre-Raphaelite elements, and Surrealism, an artistic and literary movement from the early 1900s.
A year later, in 2006, de Jesús started their professional music career. De Jesús now sings, writes music, and plays the cello. In the last 15 years, they've released nine records and performed at well-known venues like Park Avenue Armory in New York City and World Cafe Live in Philadelphia. Their music is a blend of baroque pop and neo-goth, which mimics some of the same themes from their visual art.
When asked about how they combine their music and art, de Jesús said they consider their talents as two different tools that help them express the same thing.
"It's a language that you speak," de Jesús said. "But it's a language that's translated through a medium … And when I do composing, rather than a paintbrush, I have an instrument that makes sounds."
[Best_Wordpress_Gallery id="38″ gal_title="Daniel de Jesus"]
The importance of identity
Over the years, De Jesús' talents took them to many places across the country. But their footsteps always lead them home. As the educator for Taller Puertorriqueño's Youth Artist Program, de Jesús helps children develop their visual arts skills and prepares them for college or careers after high school.
And Taller Puertorriqueño, a Latinx arts and culture non-profit organization, provides de Jesús with more than just employment. At CAPA, de Jesús' art history teachers didn't teach much about Latin American art, they said.
"I'm learning all this history, and I started to understand the importance of that, but none of it related to myself," de Jesús said referring to their art history classes at CAPA. "I started to seek it out, and Taller Puertorriqueño is this place that really helped me dive into that."
According to de Jesús, their own experience inspires them to provide the students at Taller a well-rounded art education, including the opportunity to learn about their cultures sooner rather than later.
"When I do presentations and talk about artists that they should know, I am always conscious to show someone who's an artist that's specifically a person of color because I want them to be themselves in the world of art," de Jesús said.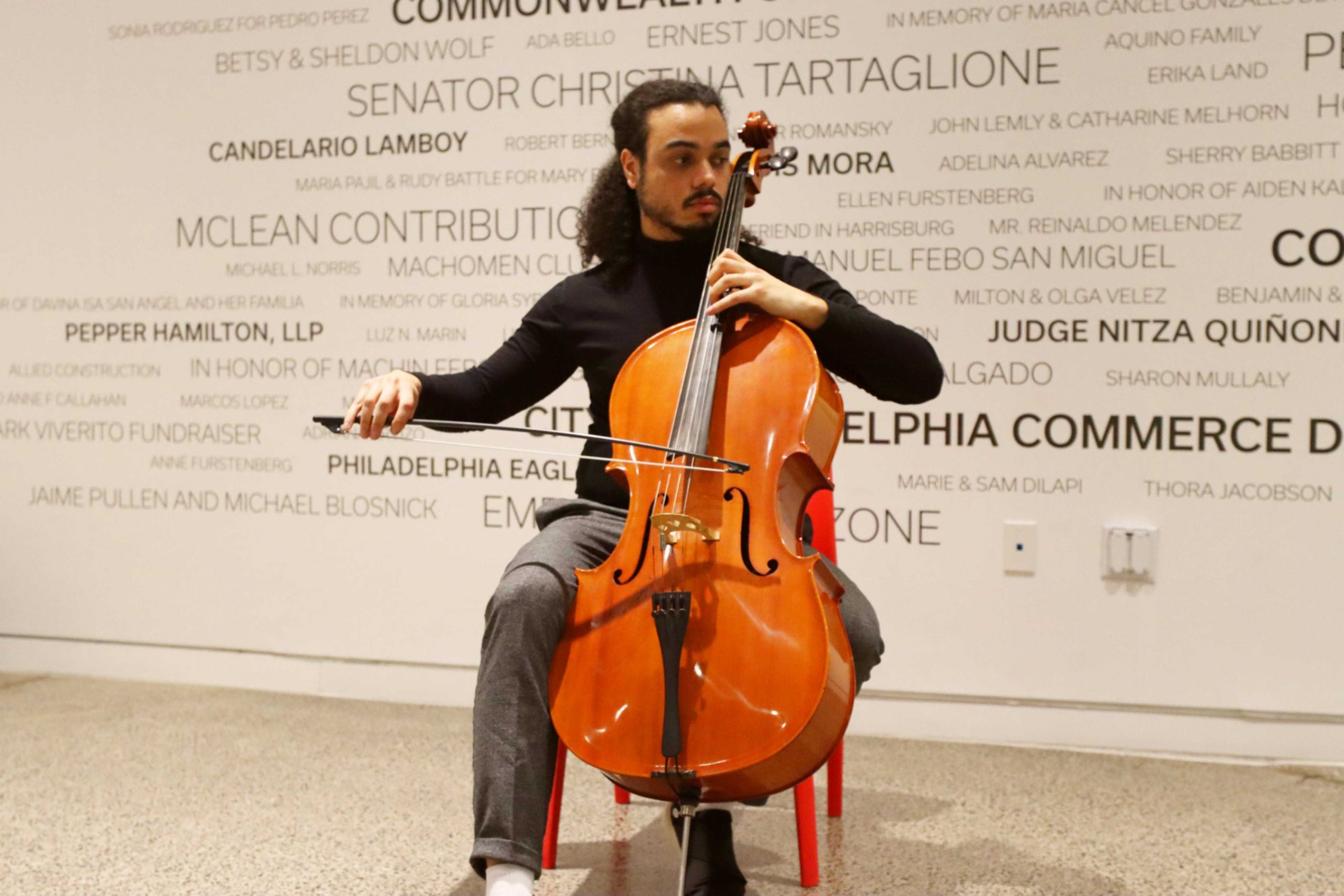 'Kyrie,' a cry for mercy
In de Jesús' latest album "Kyrie," which comes from the Greek words "Kyrie, eleison" meaning "Lord, have mercy," they explore their own inner anxieties and search for solutions. De Jesús delivers the album's focus through a lens of mysticism and spirituality. For example, pulling text from "The Gospel of Mary Magdalene" for their track "Craving" and referencing God, religion, and the afterlife throughout the record.
"'Kyrie' is an album that feels extremely vulnerable," de Jesús said. "Through a lens of mysticism and psychology these songs represent an analysis of my own psyche"
De Jesús hopes people can listen to this album and begin to find peace with their anxieties.
"Some people have the issue where you don't feel like you're good enough or imposter syndrome," de Jesús said. "And sometimes I also have a question like, 'Why am I this way?' Or , 'What's wrong with me?'"
Many of these sentiments are reflected in de Jesús' album statement, which reads, "Kyrie begs to ask mercy from ourselves, to be kinder to ourselves, and to look at the fears we are willing to cradle or let go."
"Kyrie" is out now. Click here to stream it.
If you would like to hear the rest of their music, click here. If you would like to view their art, click here.
Daniel de Jesús performs "Divine Rapture"
---
Editors: Zari Tarazona, Siani Colón, Claire Wolters / Designer: Henry Savage Video by: Solmaira Valerio, Khy Carter
What did you think about this story? Send a note to editors@kensingtonvoice.com, and we'll consider publishing it in our Voices section. You can also tell us what you think in person at our neighborhood events.