Editor's note: This story was originally published on WHYY.
For 45 minutes, the children on the 1900 block of Thayer Street in Philadelphia's Kensington neighborhood are having a quintessential summer play day. The fire hydrant is open and gushing, and kids in soaked-through tee shirts are running the length of the block like it's a football field. A spirited round of keep-it-up elicits shouts and squeals from the older players as a pair of barefoot toddlers creep down from their stoops. They peer cautiously at the action and then turn their attention toward a pile of hula hoops.
The games began earlier that morning when a group of teenage play captains rolled onto the block with a cart full of sports equipment and activity books. The cadre of mentees is in charge of the fun on Playstreets — designated blocks that the city's Parks and Recreation department ropes off to traffic for the purpose of providing enrichment and free meals to kids.
In Kensington, which is known for its open-air drug markets and some of the highest rates of gun violence in Philadelphia, play streets offer an oasis of safety. Just a short walk from Thayer, the neighborhood's daily routine of deals, altercations, and overdoses churns on.
But the city is pulling back on the Playstreets program in Kensington. This summer, the Philadelphia Police Department canceled seven blocks in the area due to safety concerns. Since 2015, 295 people have been shot within a five minute walk of Kensington and Allegheny, a busy intersection at the heart of the neighborhood, according to a Philadelphia Inquirer analysis.
Here are the currently operating Playstreets and those that the city canceled this summer, in relation to crimes in the neighborhood over the past two weeks (click the top left icon to open the key):
Some residents feel the city's decision unfairly robs young people of places to play. And the choice to downsize Playstreets raises concerns about whether the city is abandoning the area rather than finding comprehensive solutions to its deeply rooted problems.
"Once we have determined that a street is too unsafe to have activities on, but children still live there, what are we doing?" asked Bill McKinney, longtime resident and executive director of the New Kensington Community Development Corporation.
"There seems to be a comfort we have just declaring that something is so unsafe that we are encouraging children, essentially, not to come outside."
The Playstreets program has been in Philadelphia since 1955. Program language on the city's web page says there are typically 300 to 350 streets blocked off, but this summer there are only 230. The city said in a statement that the number of Playstreets varies from year to year based on how many residents volunteer to be supervisors on their blocks, and that the police department makes final decisions about whether to approve proposed blocks based on crime, violence, and impact to emergency services.
"The Kensington community is facing significant challenges including narcotic sales and gun violence," said the mayor's office in an e-mail response to WHYY. "The Philadelphia Police Department is working diligently with city, state, and federal partners to address each facet of this problem in a collaborative approach to improve the quality of life and conditions in this community."
That includes meeting weekly with community representatives, partnering with the Community Life Improvement Program (CLIP) on environmental safety, and working with elected officials to address concerns shared by constituents, the statement said.
But some residents feel city departments can do more to work with Kensington residents to find a sustainable solution for children.
"The neighborhood becomes vibrant because there's activity happening," said Rebecca Fabiano, president of nonprofit Fab Youth Philly, which hires and trains the teen play captains. "But if we're not doing anything in the neighborhood to make the residents safe … then the Playstreets program doesn't really get us ahead in any way."
'It's like frogger'
From Monday to Thursday in the summer months, the play captains begin their workday at various locations in the neighborhood. Some of them start at SEPTA's Allegheny Station, right at Kensington Avenue. The notorious intersection, sometimes referred to as "K&A", is on a busy commercial corridor where drugs change hands in front of hair salons, auto shops, and food markets. People roam the area in various states of drug-induced stupor, folding their bodies up against walls, sprawling on sidewalks, or attempting to stand as their heads droop toward the concrete.
Von' Dera Bass, 15, said she's gotten used to the obstacles on her morning route.
"Homeless people, the needles, the snorting … but we're very professional. We handle ourselves with a lot of the stuff that happens around here."
Beyond the train station and nearby McPherson Square Park — which is part play area and part drug user hangout — families on residential side streets are faced with the daily challenge of navigating a labyrinth of criminal activity, if they want to leave their homes at all.
"It's like frogger trying to get through some of these neighborhoods," said Fabiano, who is also a 15-year Kensington resident. "The people who live in this neighborhood have been dealing with this for years."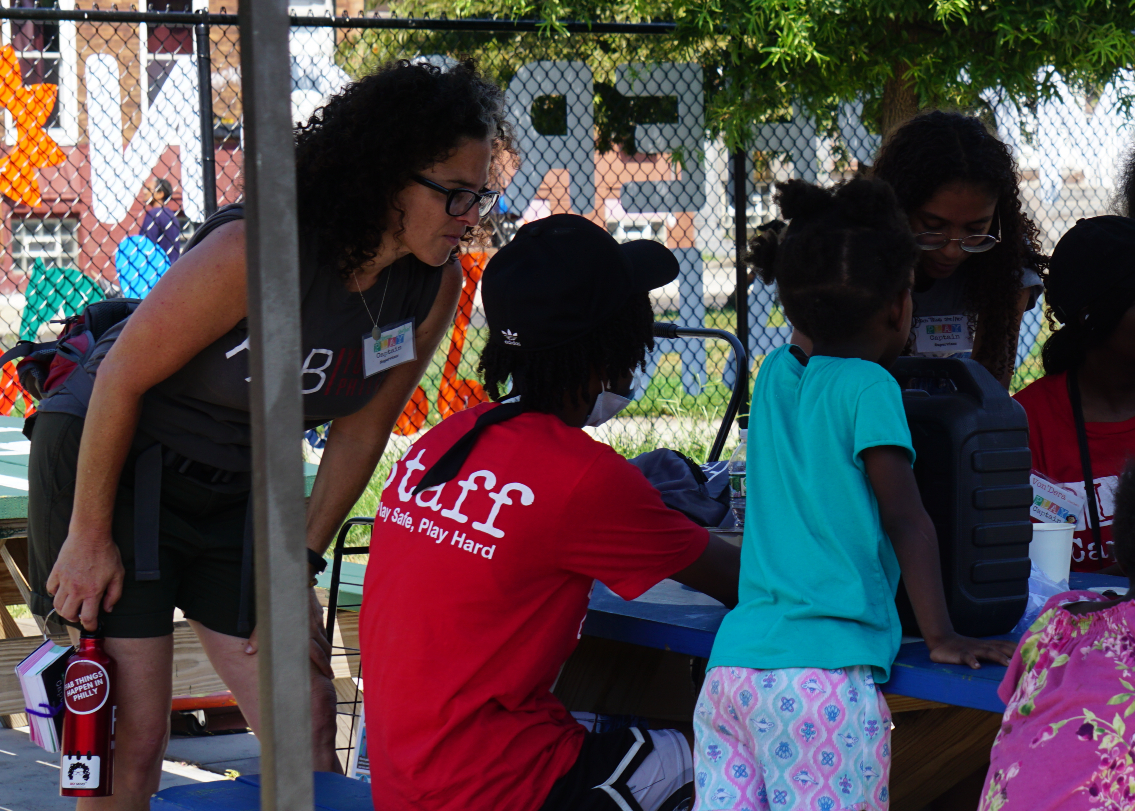 Many school doors close in the summer, eliminating a safe haven for Kensington's children. The Gloria Casarez Elementary School on Ontario Street can't run programs when it's hot because the facility isn't equipped with air conditioning. It's a common problem in Philadelphia.
That leaves students vulnerable to the "summer slide", said Casarez principal Awilda Balbuena, referring to the loss of academic gains that typically affects low-income kids.
"When we go out on summer break, it's like a lock-in for them," Balbuena said.
Casarez is in the rough part of Kensington, about a quarter mile from K & A. Just a few miles toward Center City, gentrified areas like Olde Kensington and Fishtown are home to high-end apartment complexes, breweries, and retail corridors.
Even in the chaotic part of the neighborhood, there are pockets that appear to be shielded from the dire conditions. Like Thayer, which sits between a park and a school and is mostly used by the people who live on it.
A half mile from there is Willard Street, a residential block that was canceled from the Playstreets program this year. It's a little closer to K & A and just two blocks from Tampa Street, which on a recent morning was flooded with adults either selling or using drugs.
The city is focusing its resources on certain gathering places. McPherson Square, Hissey Park, and Harrowgate Park are designated "PlayPark" locations "offering free fun and play activities to Kensington youth", according to the city. McPherson Square also offers free meals and snacks, as do the McVeigh and Scanlon recreation centers.
But Balbuena said many families are afraid to take their children to the library or the swimming pool because of what's happening in the streets.
"The things that the children have to see along the way from point A to point B, no one should be seeing it," she said. "I have seen parents closing their children's eyes as they're walking past … having to do that is traumatic enough."
Residents have long complained about the city's failure to address crime and blight in the area, positing that law enforcement contains problems to Kensington to preserve upscale areas in Center City. They say conditions make it difficult to do everyday things like visiting the grocery store or the pharmacy. In March 2021, SEPTA announced the closure of Kensington's Somerset Station due to unsafe working conditions caused by needles and human waste. After the community protested, SEPTA reopened the station and began making repairs.
"What we're saying is that we want this area to just shut down and to no longer have resources put into place? I don't agree with that," said McKinney, the NKCDC director. "It's like having something medically wrong, right? You don't go in and the doctor goes, 'Hey, you have clogged arteries, good luck.' Right?. You go, 'Clogged artery, here are the options we're going to look into so that you can get back to your life.'"
Rebecca Fabiano at Fab Youth Philly said she and other neighborhood leaders refuse to give up on the area. As we walked she pointed out several anchor residents — one who sits on her porch daily and watches the kids play, another who runs a summer camp out of the church.
"There's something about the east side of north Philly that just resonates," she said. "That feels vibrant, that feels gritty, that feels lived-in, worn, loved."
Fab Youth Philly has 43 teen employees spread across 13 streets, some of them in West Philly. That's just a fraction of the 230 streets the city has closed off for play this summer.
Play captains work at each site for about 45 minutes before moving to another roped-off block.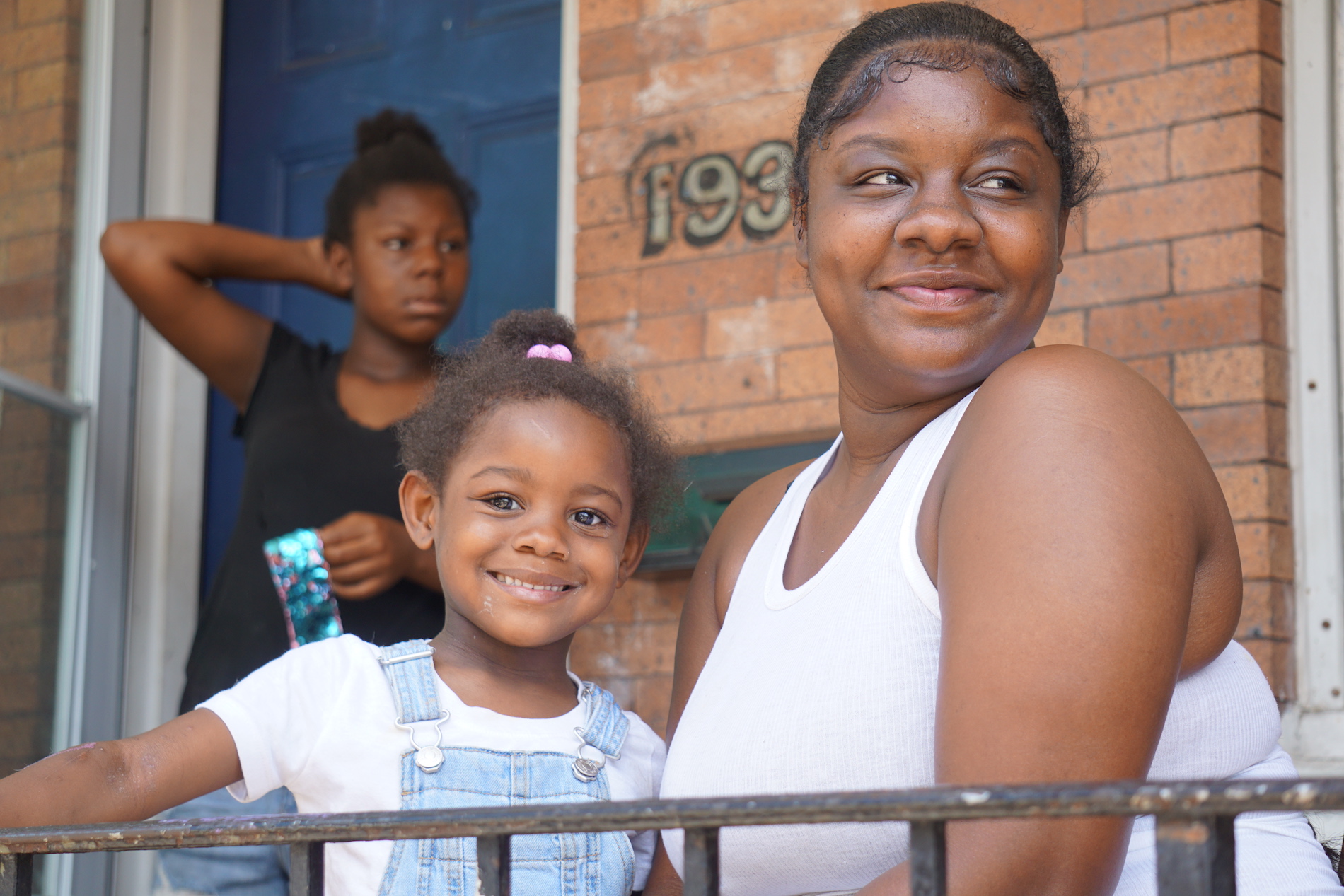 Kiara Askins was sitting on her Thayer Street porch with her 4-year-old daughter when the play captains showed up on a recent morning to engage the neighborhood kids.
She said she's concerned about violence in Kensington, but she feels comfortable with her kids playing on their own street.
"They have fun, every time," Askins said. "They play games, they have their faces painted."
Which streets?
As soon as the city releases the list of Playstreets, Fabiano starts walking the neighborhood to determine which ones she's comfortable assigning her teen employees to. There are places that she had already ruled out before the city sent her the list of canceled blocks.
But there are also blocks where Fabiano said she would have loved to have her play captains, but can't because they're off the roster.
"I know they're not going to get playful learning activities from my teens," she said. "They're not going to get peer role models, they might not get a visit from the Free Library."
Ryan Joseph Antipuna is 20, and lives on Monmouth Street. He grew up there, and remembers being able to travel the neighborhood on his own as a kid. But he says things started to change when he was in middle school — the streets felt more dangerous, and parents became more fearful.
He says now there are hardly ever any kids outside, unless they're supervised.
"There is a lot more restraint on what they can do, mainly because of the fact that it's horrible in the neighborhood now," he said. "Their parents have to be like hawks."
Last year his block was a Playstreet, and he said it was a big hit. He proposed that his block be part of the program again, but the city didn't approve it.
"I think it's a shame," he said. "You could tell they were enjoying themselves and they really appreciated it, especially the little ones, the younger kids."
To be eligible, a block must be a small, one-way street that is at least two blocks away from another approved Playstreet, playground, or rec center. Seventy-five percent of residents on the block must agree, and there must be a block volunteer to supervise the area.
The volunteer supervisor for one of the canceled streets, who spoke to WHYY on the condition of anonymity, said she disagrees with the city's decision to exclude her street because she feels it's safe.
On a recent morning, her street was open to traffic and void of children.
"They were coming outside to play when we had the block closed, and now that it's open again they don't come outside anymore," she said. "Instead of [the city] stopping the lunches, why can't they do something to make it safer?"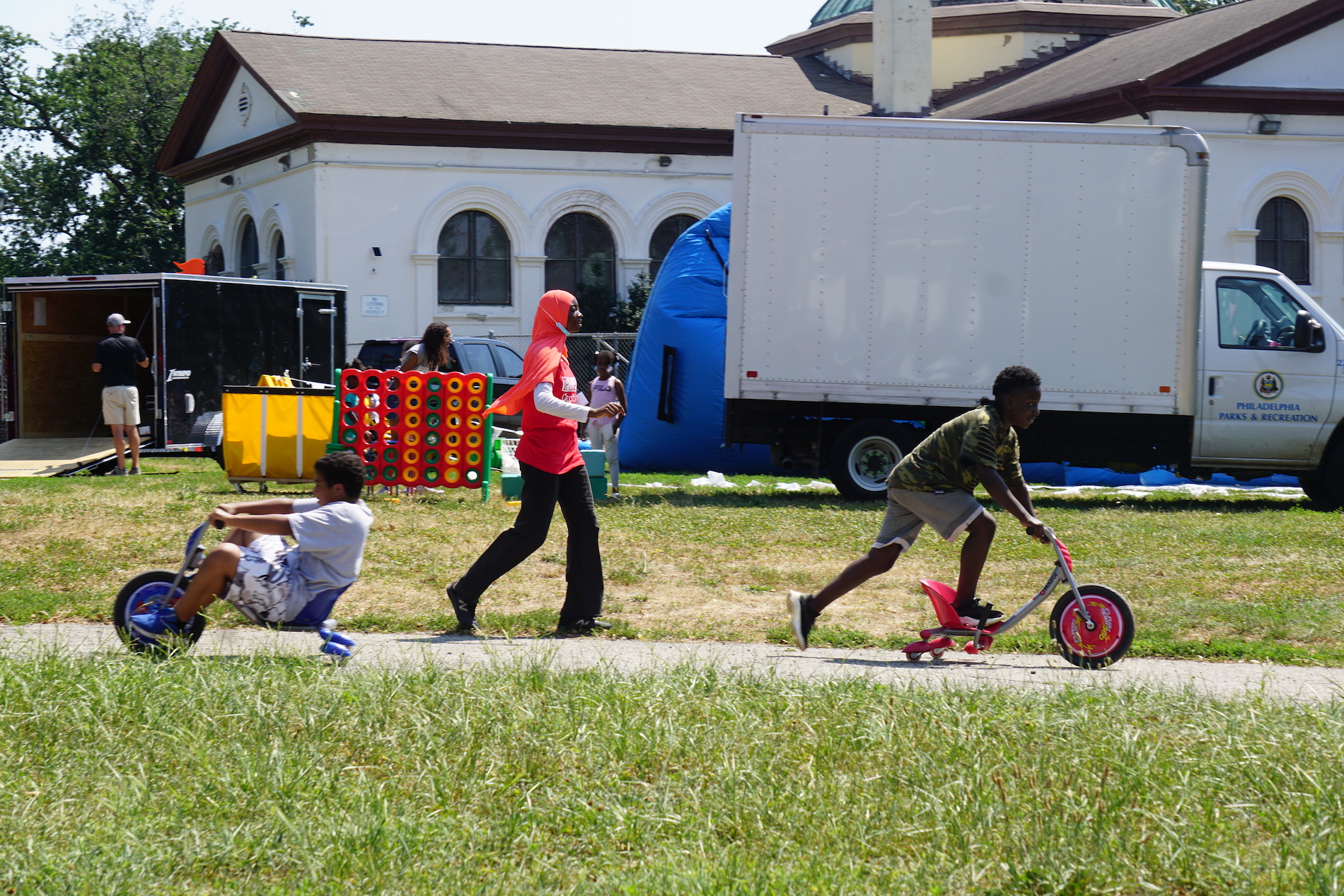 A place to play
The city has made investments in childrens' services in Kensington. The playground at McPherson Square Park is newly decorated with vibrant, floral decals along the fence. A matching pattern adorns the Scanlon Pool about a half mile away, creating a sense of uplift and cohesion for these public spaces.
This summer, the McPherson Square Library is running storytime for preschool-aged children in the playground, and the New Kensington Community Development Corporation is hosting cooking classes.
Parks and Recreation staff are bringing additional resources to the playground. On a recent morning, they unloaded a truck full of tricycles, which children swiftly mounted and started racing around the park in, and set up a highly anticipated water slide.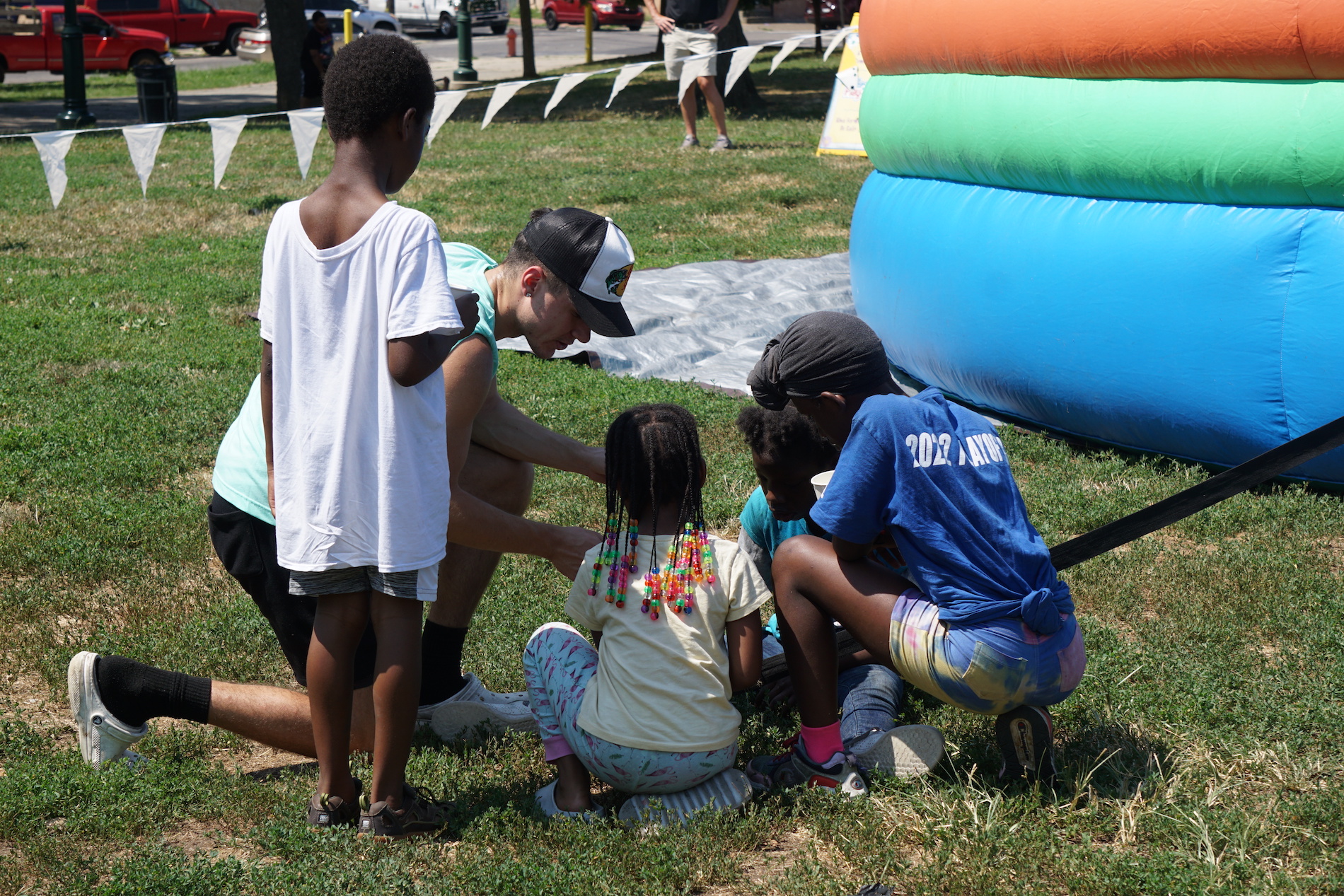 Bill McKinney, of the community development corporation, called the summer programming at McPherson a "breakthrough" but said the changes came after years of disinvestment.
"Those are driven, I would absolutely argue, by residents. It's driven by the desire and the demands for this to happen, but it needs the direct support of the city and state."
In 2020, councilmember Maria Quiñones Sánchez introduced the "Restorative Investment Plan for Kensington Residents", which promised to increase drug addiction services, improve sanitation, expand summer programs and "reclaim" known intersections that perpetuate gun violence. In January 2021 the Philadelphia Police Department established the Kensington Police District to address narcotic sales and gun violence.
"Since the KPD's inception, their patrol area has seen decreases in violent crime, and we expect that to continue as we increase staffing, and go to a model that ensures continuous coverage," the mayor's office said in a statement.
Rebecca Fabiano, of Fab Youth Philly, said investing in the play streets program could create the safe pathways needed to connect children and families to resources.
She envisions taking the program even further by having the fire department check homes on play streets for fire alarms, or having medical providers perform screenings for chronic conditions.
But most of all, she said the resources offered need to be consistent from year to year, to prove to the neighborhood that the city is invested in their future.
"What's going to happen after the summer?" she said. "What happens after 3 o'clock? What happens on the weekend? Residents are still left to figure it out on their own."
WHYY reporter Sam Searles contributed to this story.
If you or someone you know has been affected by gun violence in Philadelphia, you can find grief support and resources here.
---
Editors: WHYY / Designer: WHYY