When Cantina La Martina owner chef Dionicio Jimenez first arrived in Philadelphia in the late 1990s, he didn't expect to stay long.
Jimenez was raised in the state of Puebla, Mexico, a region of the country from which a large population of immigrants migrated to Philadelphia in the late 1990s and early 2000s, so much so that South Philadelphia took on the nickname "Puebladelphia."
Jimenez was working as a sous chef in Mexico City when his brother, who was living in Philadelphia at the time, suggested he come join him in the United States.
"Come here," Jimenez said his brother told him. "The food is different; the restaurants are different. You can learn something and go back."
After thinking it over, he decided to go. Jimenez thought he'd come to Philadelphia, expand his skills as a chef, make money for his family, and return home.
When he first arrived in South Philadelphia, he moved into a cramped apartment with more than a dozen working-class immigrants from Puebla. According to Jimenez, this was a common experience for many Mexican immigrants at the time.
"Back then, everybody used to come here to make money and go back," Jimenez said. "No one had it in their mind to have a life here, to settle here."
However, in the decades since, Jimenez and other immigrants from Puebla have grown roots in Philadelphia. They've raised children, started businesses, and helped revitalize the South 9th Street commercial corridor and its surrounding neighborhoods in South Philadelphia.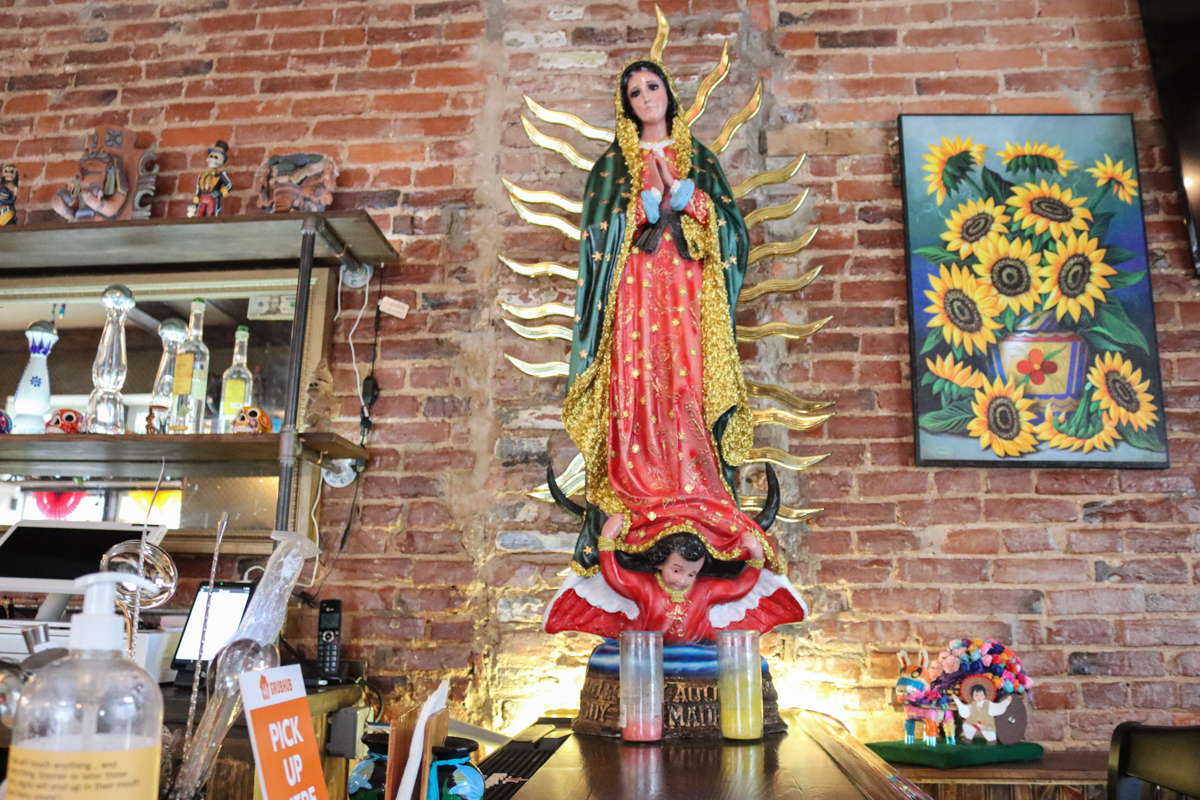 'Someway, somehow, I'm going to do it'
Jimenez's close-quartered living situation wasn't the only challenge he experienced when he first came to Philadelphia.
In Mexico, he had worked as a high-level chef at restaurants in Puebla City and Mexico City. However, Jimenez didn't speak any English, which made it near impossible for him to get an advanced-level kitchen position in Philadelphia. Instead, he started out as a dishwasher.
Outside of work, the language barrier also made other aspects of everyday life difficult.
"Anywhere you'd go, it was hard to find somebody to speak Spanish," Jimenez said. "I remember my first two months — I held my paychecks. I couldn't cash them. Because everywhere I'd go, everyone was speaking English and I didn't know what they were saying, so I'd leave."
"One day, I said to myself, 'I need money. Someway, somehow I'm going to do it,'" he added.
Jimenez went to a small corner bank, spoke to a teller with what English he could muster, and gave her his boss's phone number to help communicate. The teller cashed the check and asked him to continue coming back so she could help him with his banking from that day forward.
Experiences such as those helped strengthen his sense of determination. With time, he learned English and climbed the ranks of Philadelphia's restaurant industry. Jimenez began working under chef Philippe Chin and took on a second job under chef Marc Vetri at Vetri Cucina, a critically acclaimed Italian restaurant.
"Dionicio basically started with me as a teenager just coming from Puebla," Vetri said. "He was a dishwasher for about a year before he made his way on the cooking line."
According to Vetri, Jimenez excelled at making pasta. He was the restaurant's pasta chef for seven years. After his time at Vetri Cucina, Jimenez became the executive chef at Mexican restaurants Xochitl and then El Rey, a Stephen Starr restaurant. In 2015, he became a U.S. citizen. 
"I imagined someday he would own his own restaurant," Vetri said. "I was happy when he landed at Starr and I thought that was a great next step for him."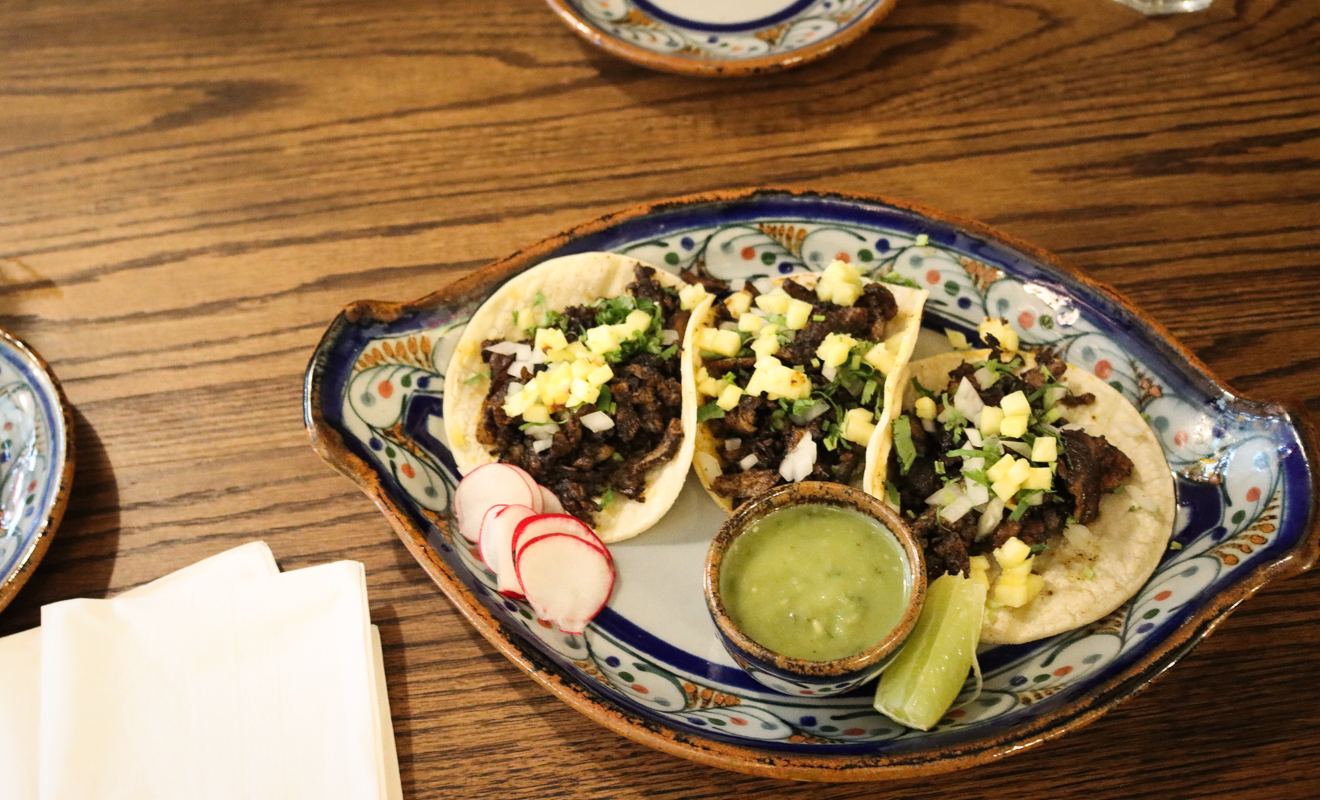 A taste of home in Kensington
Despite the challenges he faced when he first arrived in the city, Jimenez has many fond memories of his early years in Philadelphia, including the trips that he and his friends used to make to Taquería La Raza on the corner of Allegheny Avenue and American Street.
"I think it was the first taquería that we came to in the city," Jimenez said about the restaurant, which is still open today. "Somehow we found it."
For Jimenez, meals with friends at Taquería La Raza were a break from the hustle of everyday work. The restaurant also brought back memories of Puebla, which he said helped make Philadelphia feel more like home.
Meals like those at Taquería La Raza inspired Jimenez when he decided to open his own restaurant, Cantina La Martina, in Kensington. Jimenez said he wanted to create a place where families in the neighborhood could come to enjoy a nice meal and where he could share the tastes of Puebla with the community.
"People in this neighborhood deserve good meals and shouldn't have to walk far away to have one," he said.
Many dishes on the restaurant's menu, such as Jimenez's Mis Tres Amores mole plate, are inspired by family recipes from his childhood. The ambiance of the restaurant is warm, and the space is beautifully decorated with photos, artwork, handmade plates, and linens sourced from street vendors in Puebla.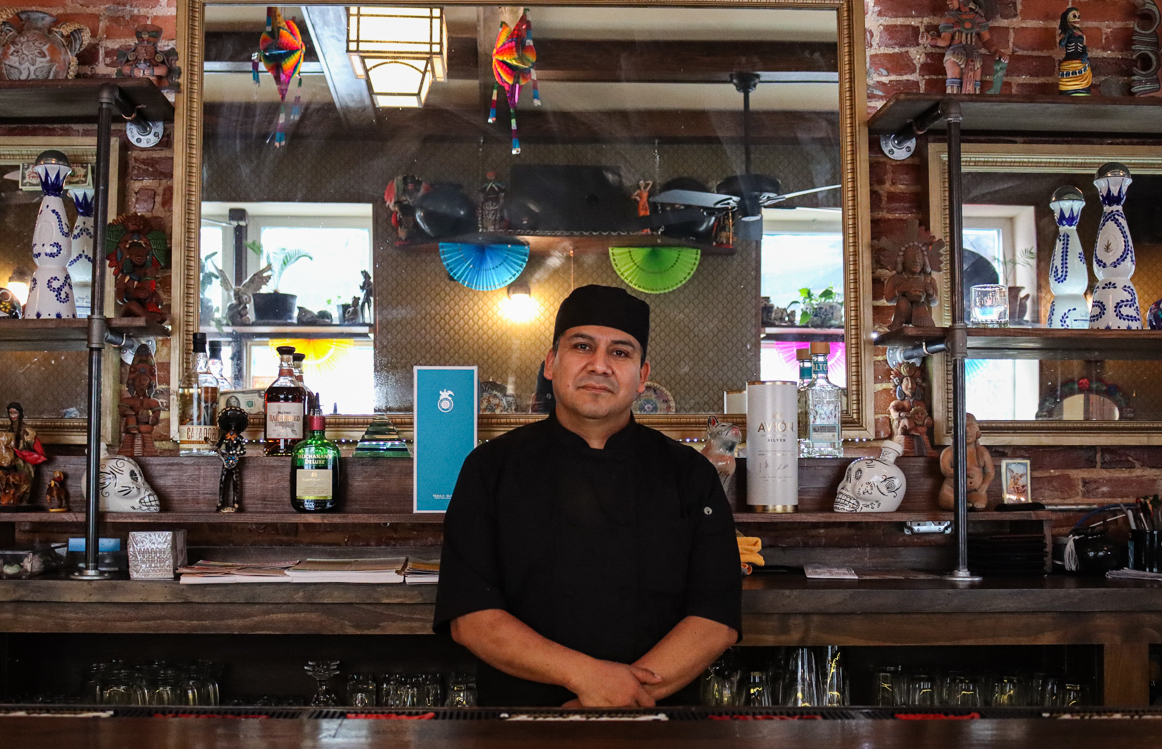 Investing in Kensington
Cantina La Martina is the first restaurant that Jimenez has opened, and he's invested himself wholeheartedly into the venture. He moved into an apartment above the restaurant in the fall of 2021. The cantina opened in late February of this year.
Although he has nearly three decades of culinary experience, Jimenez said certain challenges to owning a restaurant go far beyond being a skilled chef. So, he approaches each day with a humble sense of enthusiasm.
"It feels good to have a place of your own," he said. "You wake up every single day, and you go to work and open the doors, and this is my home, and you keep fighting for your dream."
In addition to the traditional trials of opening a restaurant, Jimenez is doing it on the corner of D and Somerset streets along Kensington Avenue, a business corridor that has suffered from decades of divestment and has been burdened even more in recent years by the compounding challenges of an opioid epidemic, housing crisis, rising gun violence, and the impacts of the COVID-19 pandemic. Nevertheless, Jimenez said he wants to accomplish his dream and provide a restaurant that families in the community can appreciate.
"I think this neighborhood deserves something better," he added. "I think people in this neighborhood deserve to go somewhere and have a nice meal and go home. A lot of families live here and instead of driving into Center City or Fishtown, they should be able to walk to a restaurant like this one."
Jimenez never expected to one day open his own restaurant. He never even imagined he'd stay in Philadelphia or that one day he would move to Kensington. Now, he has faith that his Kensington restaurant will be successful.
"I don't want to be rich," he said. "I just want to have enough to cover the expenses, pay everybody, and give a job to people around here so that they can take care of their family."
---
Editors: Zari Tarazona, Christopher Malo, Khysir Carter / Designer: Khysir Carter