Every January since 2013, Rosalind Pichardo pitches a tent, rolls out a sleeping bag, and spends a blistering cold weekend outside to bring attention to Philly's worsening gun violence epidemic.
"It's always a somber moment when I'm there for three days of reflection," said Pichardo, a Kensington resident and harm reduction worker who founded the "Campout for Peace" event. "There are always moments where there's a little bit of sadness because now we have new families and new faces."
This year's campout lasted from Friday, Jan. 29 to Sunday, Jan. 31 and had two participants — Pichardo and fellow violence prevention activist, Jamal Johnson. The two slept at a makeshift campground on a vacant lot at 11th and Tioga streets, near Temple University Hospital. During the day, Pichardo created art and spoke to local news channels to spread her message of peace, while Johnson drew attention to a City Council resolution through his then on-going hunger strike — which ended two weeks after the campout. At night, the duo sheltered in their tents to sleep through below-30-degree temperatures.
"I have never canceled this event," said Pichardo, who is also the founder of Operation Save Our City. "It's rain or shine, snowstorm or not, I set up a tent."
On the first day of every campout, Pichardo places photos around her tent of Philadelphians who were murdered — some with homicide cases still unsolved after 10 years — as a reminder of the lives lost and the increasing need for activists to continue their work. Over the nine years of campouts, the number of homicides in the city has doubled.
With coronavirus straining public health and financial stability in communities, Pichardo, Johnson and other violence prevention activists are emphasizing the dire need for immediate action.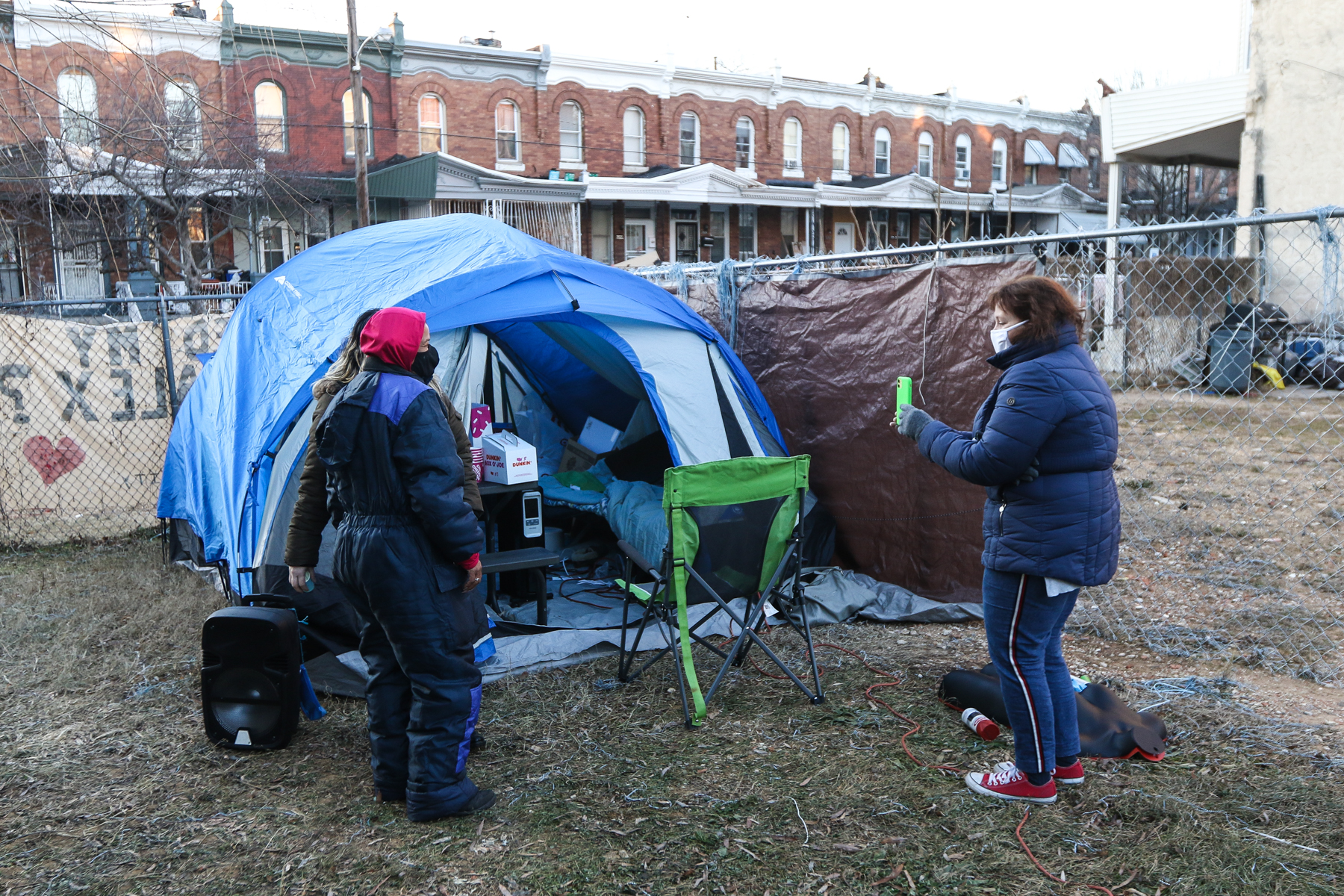 Philly's unsolved homicide cases
In 2020, 499 Philadelphians were killed in homicides, reported The Inquirer. A number that the city hasn't reached since 500 people were killed in homicides in 1990. Pichardo has lost several loved ones to gun violence throughout that time period — beginning in 1994 with the murder of her boyfriend Talvird Jackson, she said.
"The numbers are staggering," Pichardo said. "… I've seen violence, but never to the amount that it is now."
After losing her boyfriend in 1994, Pichardo would go on to lose her twin sister Kathleen Pichardo to suicide, and later her younger brother Alexander Martinez to gun violence. Martinez died in January 2012 in a fatal shooting at 3500 N. Hutchison St. — a block away from where she now sets up camp.
Pichardo first created Campout for Peace to honor Martinez, she said. But after nine years of campouts, his murder case remains unsolved, and the campout has evolved into a way to honor other local survivors and families of homicide victims whose murder cases are unsolved.
In Philadelphia, families whose loved ones are murdered often don't get to see justice. In 2018, 60% of murder cases went unsolved, reported WHYY. For Pichardo, sleeping outside in the cold is "brutal," but it is a small price to pay in order to bring attention to the city's unsolved murder cases.
"I could have said, 'Oh, the hell with it,' and went inside, but, I feel like I'd be dishonoring my brother," Pichardo said after the first night of this year's campout. "I gotta be persistent. I gotta stay strong for him. I gotta stay strong for the many families of the many faces that I hung photos of."
"I represent every single face," she added.
A hunger strike for accountability
Back in September 2020, City Council approved a resolution introduced by Councilmember Jamie Gauthier that urged Mayor Kenney to declare gun violence a citywide emergency. Kenney declared gun violence a public health crisis back in 2018, but advocates say it hasn't done enough.
Johnson said he hoped that the resolution would prompt the city to respond to gun violence with a similar sense of urgency as the COVID-19 pandemic. Meaning a multi-agency, public health approach that can draw on additional government resources.
Four months later, Kenney has yet to simply respond to the resolution. And as a result, Johnson has taken a hunger strike.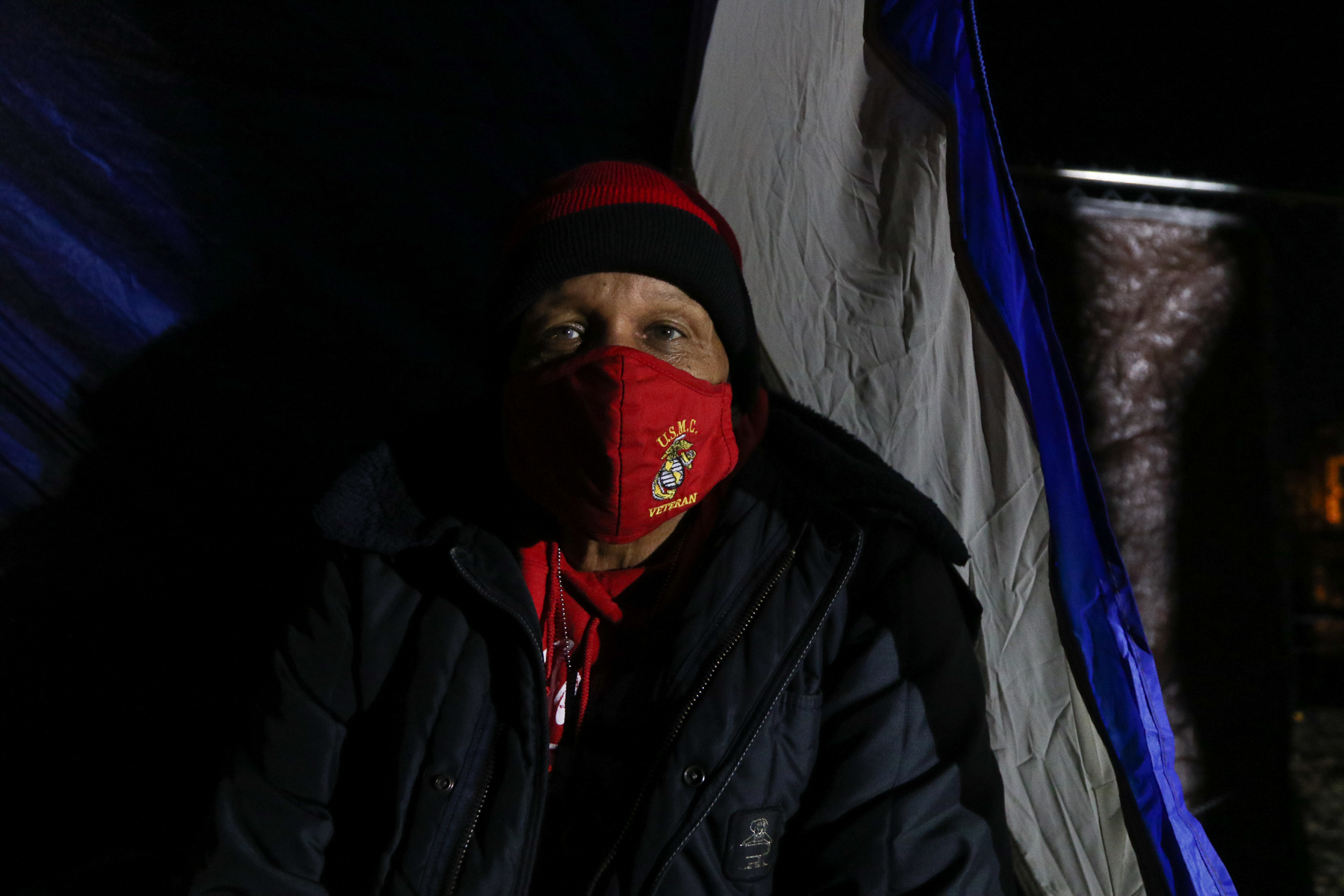 At the time of publishing, Johnson, who is a Germantown resident and U.S. Marine veteran, hasn't eaten since Martin Luther King Jr. Day on Jan. 18 — more than two weeks ago. According to an article from the National Institutes of Health's database, it is possible for someone to survive for up to two months without food, however, the side effects can be damaging. So far, the 63-year-old has experienced panic attacks, weight loss, and fatigue, but he hasn't let those consequences stop him from participating in the campout, or protesting daily at City Hall.
"We haven't seen any difference in what gun violence was like before [the city] declared it a health crisis [in 2018]," Johnson said. "As a result of that, I've taken a hunger strike. It will cease when the mayor acknowledges that resolution, and lets us know what and if anything he intends to do about it."
UPDATE: 26-day hunger strike ends after activist extracts Kenney promise to act on gun violence
Two weeks after the campout on Feb. 12, Johnson ended his hunger strike after Mayor Kenney met with him during his daily City Hall protest to acknowledge the City Council resolution.
Activists hope for a proactive year despite city government
As activists like Pichardo and Johnson gear up to address gun violence in 2021, they say the majority of their energy will be put into building up their fellow advocates and community organizations. According to Pichardo, events like the Campout for Peace allow organizers to support one another, even if the city doesn't follow through.
"I'm tired of going to City Hall and sitting through hours of hearings for a resolution that doesn't become law," Pichardo said. "What we really need is for people to show up and inform communities."
Pichardo wants to see city agencies come into neighborhoods with high levels of gun violence, like Kensington, to provide education and resources. According to the City Controller's office, the 19134 zip code, which covers a majority of Kensington, had the most fatal shootings out of any other zip code in the city last year.
Until a city-led response materializes, Pichardo said she will continue to advocate for safer gun storage laws, services for survivors, and gun violence prevention education.
"Our mission is to save the lives of the people in the 19134 zip code until the city gets their act together," Pichardo added.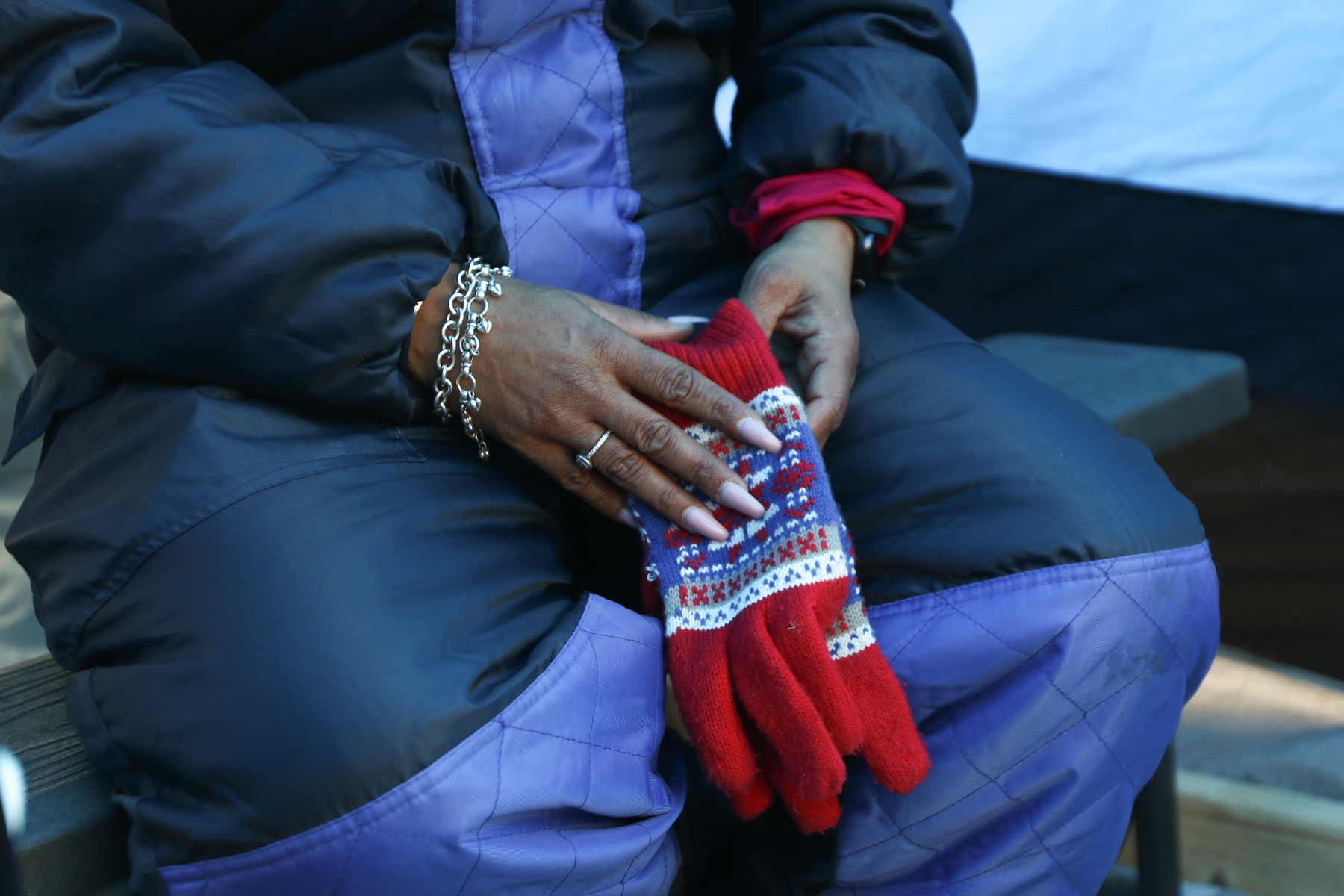 Kensington Voice photojournalist, Erin Blewett, followed Pichardo with her camera throughout the weekend campout. To see the photos behind the article, click here.
Philly Gun Violence Resource List
Local news site Billy Penn compiled a list of resources for people affected by gun violence. From mental health and victim services to youth and counseling services, this guide can help you find a place to start. You can read through it here.
Submit an anonymous tip
If you have information regarding the murder of Alexander Martinez, you can submit an anonymous tip here. You can view the suspect's description and more information regarding the crime here.
---
Editors: Zari Tarazona, Claire Wolters / Designer: Henry Savage
What did you think about this story? Send a note to editors@kensingtonvoice.com, and we'll consider publishing it in our Voices section. You can also tell us what you think in person at our neighborhood events.